It finally feels like Spring outside.  The weather has warmed up dramatically.  It has me thinking of getting my vegetable and herb garden going again, as well as that dreaded moment when I need to take the lawnmower out of the shed and see if it still works.  There was even a thunderstorm last night!  You know it's been a tough winter when you get excited over a thunderstorm.
Anyway, the endless parade of Cinco de Mayo recipes continues.  Burrito bowls are coming up next and Asheley's really excited.  She loves burrito bowls.  I'm actually more partial to tacos myself.
But hold on, let's slow down.  We're getting ahead of ourselves.  This rice deserves it's own post.  It's sick and tired of being treated like some second rate ingredient that you throw a bunch of better tasting stuff on top of.  Rice has feelings, you know.
Asheley and I love Chipotle… well except that you have to pay for chips.  I love when places give you free chips.  There isn't a Chipotle by our house, but we still somehow manage to eat there around once a month.  And you guessed it, Asheley always gets the burrito bowl.
At a lot of Mexican-type joints that have a similar design concept as Chipotle, the rice is just plain boring.  But not there.  They spike it with fresh lime and herbaceous cilantro.  It gives the rice a character all on its own.  I like that.
Toasting the rice in some oil before cooking it in liquid helps to enhance the flavor of the finished product.  You develop some nice nutty, toasty undertones.  Some say it also helps the rice stay firm and fluffy and not turn into a gummy mush.
Feel free to use white rice instead of brown rice.  Just remember that the cooking time will be a lot less for white rice.
Yes, this rice is fantastic for those burrito bowls.  But it's also a great side for any Mexican dish you're planning on whipping up.
But if you're set on that burrito bowl after all this burrito bowl talk, stay tuned for Monday's post 🙂
Print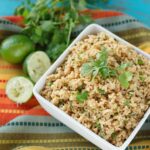 Cilantro Lime Brown Rice
---
1 tablespoon

neutral-tasting oil

1

small to medium onion, finely chopped

2

cloves garlic, minced
Kosher salt

1 cup

brown rice

2 cups

chicken broth or water

1

or

2

limes

1/3 cup

loosely packed cilantro, chopped
---
Instructions
Heat the oil in a large skillet over medium heat. Add the onions, season generously with Kosher salt and cook, stirring occasionally for 3-4 minutes. Add garlic and cook for 1 minute, stirring to avoid burning.
Reduce the heat to low and add rice. Cook for 2-3 minutes, stirring constantly. Add broth, the zest and juice of 1 lime, and a pinch of salt. Raise heat to medium-high and bring mixture to a boil. Reduce heat to maintain a gentle simmer, cover, and cook until the rice is done as per the directions on your bag of rice (my brown rice took 40 minutes to cook, but different brands and types of rice have different cooking times).
Once liquid is completely evaporated and rice is cooked, fluff rice with a fork and stir in cilantro. Taste and add the juice of the second lime if needed. Mine did not need the second lime because the first one was really juicy.
Serve immediately as a great side dish for any of your Mexican favorites, or as the base for burritos/burrito bowls.
Can be refrigerated for several days. Reheat over low heat and stir frequently, or on low power in microwave.