So did we all have a great Memorial Day weekend?  Mine was pretty fantastic.  Nothing crazy happened.  Just good times with great people.  Some bbq action.  Some NYC action.  Even some East End vineyard action to enjoy some chilled rosé while listening to our friends' band play.  Oh, and we totally nerded out a bit and played The Settlers of Catan
.  Twice.  If you've never played it, you're missing out.
And I cooked up a couple things that I can't wait to share with you soon.  But let's back up a second.  Remember how I was telling you about testing out a bunch of new recipe ideas on my family this past Mother's Day?  The strawberry rhubarb crisp went over really well.  So much so that my brother Paul just told me he made it for a little Memorial Day bbq soiree he hosted for his wife's family.
This creamy potato leek soup, inspired by the amuse bouche we were served during the chef's tasting menu at Hearth, was another one of the successes at Mother's Day.  Asheley was a big fan, enthusiastically requesting all of the leftovers the following day for dinner.  She did not share.  Meanie.
It's kind of impossible to not like a rich and creamy soup like this.  It's perfect on those milder, rainy Spring days like we had here in New York last week.  Or even if it is sunny out, it makes for a perfect little amuse bouche.  Just fill up shot glasses with the stuff and present it to all your dinner guests.  No spoons required.  They will think you're super trendy.
I've been really digging the delicate onion flavor of leeks this past year.  I'm still in love with the Grilled Flatbread with Leeks, Apples, and Bacon.  Don't be intimidated by having to break down the leeks.  Just remove the darker outer leaves and cut off the root ends.  Give it a good rinse... it's been playing in the dirt and grit gets stuck in the darndest places.
Another reason why I love this soup?  I get to use my super awesome immersion blender
.  It's literally like the highlight of my day.  Don't judge me.  I lead an exciting life, okay?!
The parsley oil isn't really super essential but it adds a nice earthy herbaceousness to the creamy soup.  And it also gives a nice pop of color to an otherwise tannish blob.
.
Print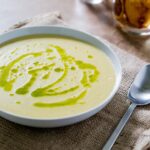 Creamy Potato Leek Soup
---
2 tablespoons

unsalted butter

2

leeks, trimmed, washed, and sliced

1 teaspoon

fresh thyme, roughly chopped

1

bay leaf

3 cups

vegetable stock

1

pound small yukon gold potatoes, washed, peeled, and cubed

¾ cup

heavy cream
Kosher salt
Freshly ground black pepper
For Parsley Oil
1

bunch parsley
Olive oil
---
Instructions
Melt butter in a medium stockpot over medium heat. Add leeks, season generously with Kosher salt, and cook until soft and wilted, about 8 minutes. Stir occasionally to avoid burning. Add thyme and cook for about 30 seconds.
Add bay leaf, vegetable stock, and potatoes. Season with Kosher salt and freshly ground pepper. Bring to a boil and then reduce heat to maintain a simmer. Cover and cook for 20-30 minutes, until the potatoes are tender and cooked through. Remove the bay leaf.
Using an immersion blender or transferring the mixture to a blender, purée soup until smooth. If using a regular blender, return soup to pot. Stir in heavy cream and cook for about 5-10 minutes more.
Ladle soup into bowls and top with a drizzle of parsley oil.
For Parsley Oil
Bring a small pot of water to a boil. Blanch parsley for 30 seconds, then transfer the parsley to an ice bath to stop cooking and preserve the bright green color. Puree parsley in a food processor (if it's not pureeing easily, add a couple drops of olive oil to help it along). Place pureed parsley into some cheesecloth (I just used 2 paper towels since I didn't have any), and squeeze parsley so it releases its juice into a small bowl. Whisk in a little bit of olive oil (⅛-1/4 cup).