Rhubarb.  It's a word that we all hear over and over this time of year.  There's no escaping it.  Rhubarb this.  Rhubarb that.  This filled with rhubarb.  That topped with rhubarb.  You get the idea.  And as ashamed as I am to admit it, I've never actually cooked with rhubarb before.  And, since I'm on an honesty kick today, the first time Asheley and I even tasted rhubarb was only a few weeks ago at the amazing meal we had at Hearth restaurant.
Judge me as you will.  I'm okay with it.
I figured one of the safest and easiest ways to break into the world of this crazy, weird looking celery look-a-like pink vegetable... oh, you thought it was a fruit too, huh?  Glad I'm not the only one.  Or am I.  Uhm, okay, well anyway, making a crisp seemed like a great way to introduce rhubarb into our household.  Making a strawberry rhubarb pie was also in the mix, but let's be honest... crisps are way easier and simpler to make, comes together in no time, and I actually think they taste better 83% of the time.  Scientific fact.
The first time I made this strawberry rhubarb crisp was actually this past Mother's Day, when Asheley and I pulled out the fancy paper plates to host my parents and brother's family over for dinner.  I love having my family over, because typically even if a dish fails miserably, they'll still eat it and pretend to like it.  And my mom will swear over and over that it was the best meal she ever had.
Nothing like the unfailing ego boost you can always count on from your mom.
Needless to say I took full advantage of the opportunity to test out some new recipe ideas on them.  Some were a big success, and some, well, let's just say you won't be hearing about those anytime soon.
My friend Sandra over at Kitchen Apparel has been taking all these really cool, dark and moody photos lately.  I was totally inspired and had some fun with these strawberries and rhubarb.
And side note, man I love strawberries.  I think they are my favorite fruit.  And not the ones shipped from like 2,000 miles and placed under the sad fluorescent lights at the supermarket.  Like real, legit, picked ripe fresh from the vine strawberries.  It's one of spring's sweetest gifts.
Pairing those sweet, juicy strawberries with the tartness of the rhubarb makes for one heavenly dessert.  Of course the butter and modest* amounts of sugar doesn't hurt either.
*I "might" be using the word modest quite liberally.  Might.
I love how the strawberries and rhubarb create this beautiful, deeply hued sauce within the crisp.  When combined with a generous scoop of vanilla ice cream, it creates this creamy goodness that can only be explained as divine culinary intervention.
This recipe has been adapted from Ina Garten (i.e. The Barefoot Contessa).  I love her addition of fresh orange.  It adds such a lovely dimension of flavor.
Print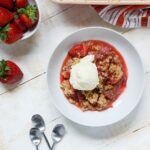 Strawberry Rhubarb Crisp
---
for the Filling
4 cups

rhubarb (

4

-

5

stalks), cut into a ½"-1" dice

4 cups

strawberries, hulled and large ones halved

½ cup

sugar

1

orange, zested and juiced (try to get approximately

¼ cup

juice)

½ tablespoon

cornstarch
for the Topping
12 tablespoons

(

1

and

½

sticks) unsalted butter

1 cup

flour

1 cup

rolled oats (not instant)

¾ cup

lightly packed light brown sugar

¼ cup

sugar

½ teaspoon

Kosher salt
Vanilla ice cream, for serving
---
Instructions
Preheat your oven to 350°F. In a mixing bowl, toss together the rhubarb, strawberries, ½ cup sugar, and orange zest. In a separate small bowl, dissolve the cornstarch in the orange juice, and then mix into the fruit.
Transfer the mixture to an 8x11" baking dish and place on a parchment paper-line baking sheet (in case of spill over, this makes cleanup super easy).
For the topping, you can either use cold butter with a stand mixer fitted with the paddle attachment or let the butter soften and then mix by hand. First, combine the flour, oatmeal, brown sugar, ¼ cup sugar, and salt. If using cold butter, cut into chunks and with the mixer on low speed, add it to the dry ingredients and mix until it's a moist, crumbly mixture. If by hand, combine topping ingredients until it's a moist, crumbly mixture.
Sprinkle the topping over the fruit and cover it completely. Bake for approximately 1 hour, until the fruit is bubbling and the topping is golden brown. Serve warm with generous scoops of high-quality vanilla ice cream.