If at first you don't succeed, try, try again!  About a month ago, Asheley and I attempted to dine at April Bloomfield's The Spotted Pig in the West Village with two of our good friends.  We arrived in Manhattan way before dinner time, so we took the opportunity to travel around the city for some pre-dinner snacks.  By the time we were hungry again, it was 8 p.m. and we called The Spotted Pig to see what the wait time was like... 2 and ½ hours.  No thank you.  It was a Sunday night and we all had to get up early the next day for the work week.  Wanting to see what the buzz was all about at this place (and there is a lot of buzz), we quickly found another date that worked for all of us a few weeks later and we tried again.  Here's a rather detailed recap of our experience.
The Spotted Pig is popular.  Very popular.  Dinner service starts at 5:30 p.m. daily and they do not accept reservations, so we decided to arrive on that Sunday around 5 p.m. and see if we could put our names in a little early.  After securing our spot on the coveted list, we took a stroll around the charming West Village for a bit (Magnolia bakery is just down the block by the way) to pass the time.  Back to The Spotted Pig at 5:30, we wiggled our way through the already packed bar/waiting area/restaurant and were luckily seated by 5:45.  This place was not just crowded, it was literally PACKED.  Good thing we put our names on the list when we did, because if we waited until 5:30, our wait would have been at least an hour or two.
Coined as a "gastropub", The Spotted Pig serves upscale seasonal British and Italian pub fare with local ingredients when possible.  It is quite small and cramped inside, only seating about 100 diners in the two-story restaurant, plus the drones of people that wedge themselves in at the bars.    The walls are covered in a host of different pig paraphernalia and other tchotckes, with a copper/tin roof that fits well in the pub decor.  Tables are very close to one another, the closest I've ever experienced in the many restaurants at which I've dined.  Although I was displeased that they only offer stools to sit on (unless you are on the booth side of the table), they were actually pretty comfortable.
We went into The Spotted Pig wanting to try as many different dishes as we could, so we ordered a bunch of different items and shared.   Please excuse the poor picture quality... I normally whip out my camera it was so crowded I didn't want to deal with taking out the bulky camera and my flash going off (it's dark in the restaurant) every time food arrived at the table, so I just used my phone camera.
Bar Snacks
The Deviled Eggs were quite delicious and Asheley's favorite part of the meal.  Topped with chives, chili flake, and olive oil, these little bites packed quite a big punch of flavor.  There was just the right amount of kick from the chili flake and the chives added a nice bit of delicate onion flavor.  What made these Deviled Eggs so different from any others I've ever had was the pronounced vinegar flavor in the yolk mixture.  Although my fiance would disagree, I found that there was a little too much vinegar in the eggs and it was a bit overpowering.  However, I would most likely order the deviled eggs again.
The other bar snack we wanted to try was Devils on Horseback.  Whole prunes are soaked in warm dark tea for several hours, then stuffed with sliced pickled pear, wrapped in bacon and dusted with chili powder.  The dressed up prune is then broiled until the bacon crisps up a bit.  These were pretty good (what doesn't taste good with bacon wrapping it?).  The overall flavor of the dish was as expected:  the saltiness of the bacon complemented to sweetness of the prunes.  The pear wasn't as ripened as I thought it would be, but that added some crispy texture to the dish.  I didn't really taste any heat from the chili powder, so a little more of that would have been a  nice addition, as would have been crisping the bacon a little more.  All in all though, a successful little dish!
[divider2]
Plates
The first appetizer we ordered was one that every single person who walks through the front doors of this restaurant absolutely must order:  Sheep's Milk Ricotta Gnudi with Brown Butter and Sage.  What's not to love about this dish?!  The gnudi are soft, pillowy, creamy, smooth bundles of absolute bliss.  The sheep's milk ricotta added a tangy note to the flavor profile.  One of the nicest surprises of the dish was the delicately fried sage leaves.  Personally, I find sage can be an overpowering herb when used with too much brute force.  April Bloomfield's ingenious preparation of the sage by frying it slightly mellowed the intense herbaceous flavor and made the dish truly sing.  For those of you who don't know what gnudi are (I didn't until I looked it up prior to my The Spotted Pig visit), it is similar to gnocchi.  Where gnocchi is made with potato and when ill-prepared can be heavy, dense, and chewy, gnudi is made with soft cheese and is extremely light and pillowy.
Going into The Spotted Pig, my friend and I knew we wanted to try the Crispy Pig's Ear Salad.  It's not every day you see ear on menus, and we have never eaten the ear of anything before.  My female counterpart was not as excited about tasting pig's ears, but she was easily swayed to at least try it.  The pig's ear were well fried and had a nice crunch to them.  Considering the ear is mostly cartilage, they were a bit chewy but still were good.  The best part about this dish was the dressing.  Lemon and caper is always a good pairing, and the acidity really brightened up the entire dish.  I did not quite understand or enjoy the need for so much whole leaf parsley in the dish.  We ended up pushing all the parsley to the side.  All in all, I was happy we ordered it.  I can now say I've tried pig's ear, but I'm not sure if I would rush to order this salad again.  Instead, I would rather have two orders of the gnudi!  They are that good.
[divider2]
Entrees
We each ordered a different entree, which allowed us to try a large number of her dinner selections.  The grilled skirt steak was cooked to a perfect medium rare, as requested.  I am personally not a fan of horseradish, but the person that ordered this dish is and he absolutely loved the horseradish cream that accompanied the steak.
Asheley got the entree special, which was Braised Goat Shoulder with some sort of apple cider reduction I believe.  I was impressed that she ordered goat, since none of us have ever eaten it before.  I assumed it would have the same sort of texture as braised pork shoulder or pulled pork.  It was very similiar, although I found the goat to be a little more chewy and dry than it's swine equivalent.
I ordered the Hampshire Pork Belly with Polenta and Rainbow Chard.  This was my first time ordering pork belly as an entree.  I've had it before as a part of an entree, it's purpose complementing the main protein.   But never have I had it as the main protein.  At first bite of the pork belly, I loved the crispy crunch of the pork skin and the richness of the fat to meat ratio of the pork belly.  However, the vast amount of pork fat in the belly got very overwhelming very quickly.  I ended up not finishing the dish.  I find pork belly to be better as a smaller part of the dish and not the main star of it.  It was just too heavy and fatty for my palette.
Almost every single review I read about The Spotted Pig (and there are many) mentioned one entree over and over again:  The Chargrilled Burger with Roquefort and Shoestring Fries.  People rave about it and swear by it.  This burger has a cult-like following in NY.  I personally didn't order the burger because I thought to myself, "how good could a burger really be?  I can get a burger anywhere.  I'm at this nice, upscale, gourmet gastropub and I'm going to just order the burger?"  Stupid me.  I'm totally kicking myself about the decision now.  My friend let me try a bite of her burger and some of the fries, and all the reviews are right.  This burger is quite simply: amazing.  The brioche bun is toasted and buttered on both sides, and the secret beef blend 8 oz. burger was cooked perfectly and was extremely flavorful.  I'm personally not a roquefort cheese fan as I do not like blue cheese, but I made an exception for this burger.  The fries were piled high and thankfully so.  I ate one, then another, and then another, and I was hooked.  Seriously, I have an addiction.  The fries are super thin and crispy and reminded me of a gourmet transformation of those potato stick chips I used to love so much as a kid.  Next time I go back to The Spotted Pig, I'm getting this burger and fries, AND I might even order an extra order of fries (yes, they do that).
[divider2]
Dessert
I definitely have a sweet tooth.  No matter how full I am from a meal, I need to have dessert!  Taking the server's recommendation, I ordered the Flourless Chocolate Cake with Creme Fraiche.  Wow!  This was amazing.  So rich, so moist, so packed with chocolate flavor.  It had the consistency of flourless chocolate cake meets chocolate mousse meets molten chocolate cake.  The creme fraiche was a perfect complement, cutting through the richness of the chocolate to counterbalance the sweetness and richness of the cake.  Simply amazing.  Hands down the best flourless chocolate cake I've ever had.
[divider2]
My Tips on Dining at the Spotted Pig
 1) If going for dinner, arrive at 5 p.m. to give your name to the hostess.  Then, take a stroll through the West Village for a while or grab a drink at one of the bars (main level or upstairs).  Dinner service begins at 5:30 p.m.  The closer it gets to 5:30, the more names will be on that list and the longer you will have to wait.  When we arrived at 5 pm, we were 6th on the list.  When I checked back at 5:30, the list was at least 30 names long.
2) What to order: Without a doubt, this is what you should order for a homerun meal:Deviled Eggs, Sheep's Milk Ricotta Gnudi with Brown Butter and Sage, and the Chargrilled Burger with Roquefort and Shoestring Fries.   That is what I intend to order the next time I am there.  I will be finishing that off with a slice of the Flourless Chocolate Cake with Creme Fraiche.  I'm getting excited just thinking about that meal.
3) They serve lunch from 12-3 and a bar menu from 3-5.  Flourless Chocolate Cake, Deviled Eggs, and The Chargrilled Burger with Roquefort Cheese and Shoestring Fries are offered on both the lunch and bar menus. Sheep's Milk Ricotta Gnudi is available on the lunch menu.  If your eating time is flexible and you want to avoid the crazy packed atmosphere that occurs at night, this may be a good option for you.
Have you been to The Spotted Pig?  Leave your comments below!
You may want to also check out...
The Top 10 Foods You Have To Eat In NYC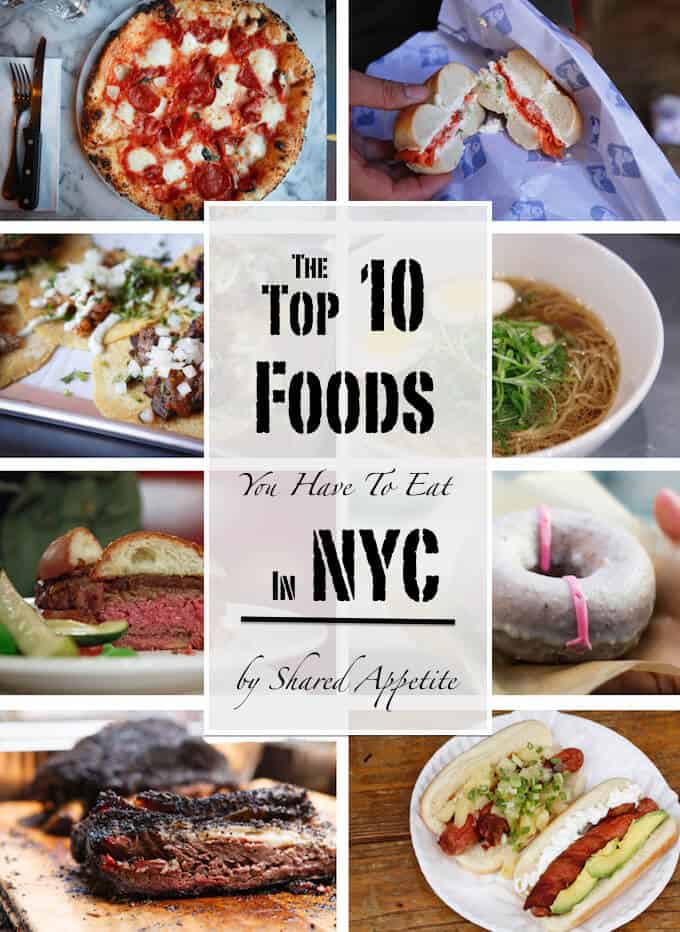 The 10 Best Ice Cream and Frozen Treats in NYC