This recipe for Elotes Avocado Toast with a Fried Egg was created in partnership with Simply Avocado. As always, all opinions and recipes are my own. Thanks for supporting the brands that support Shared Appetite!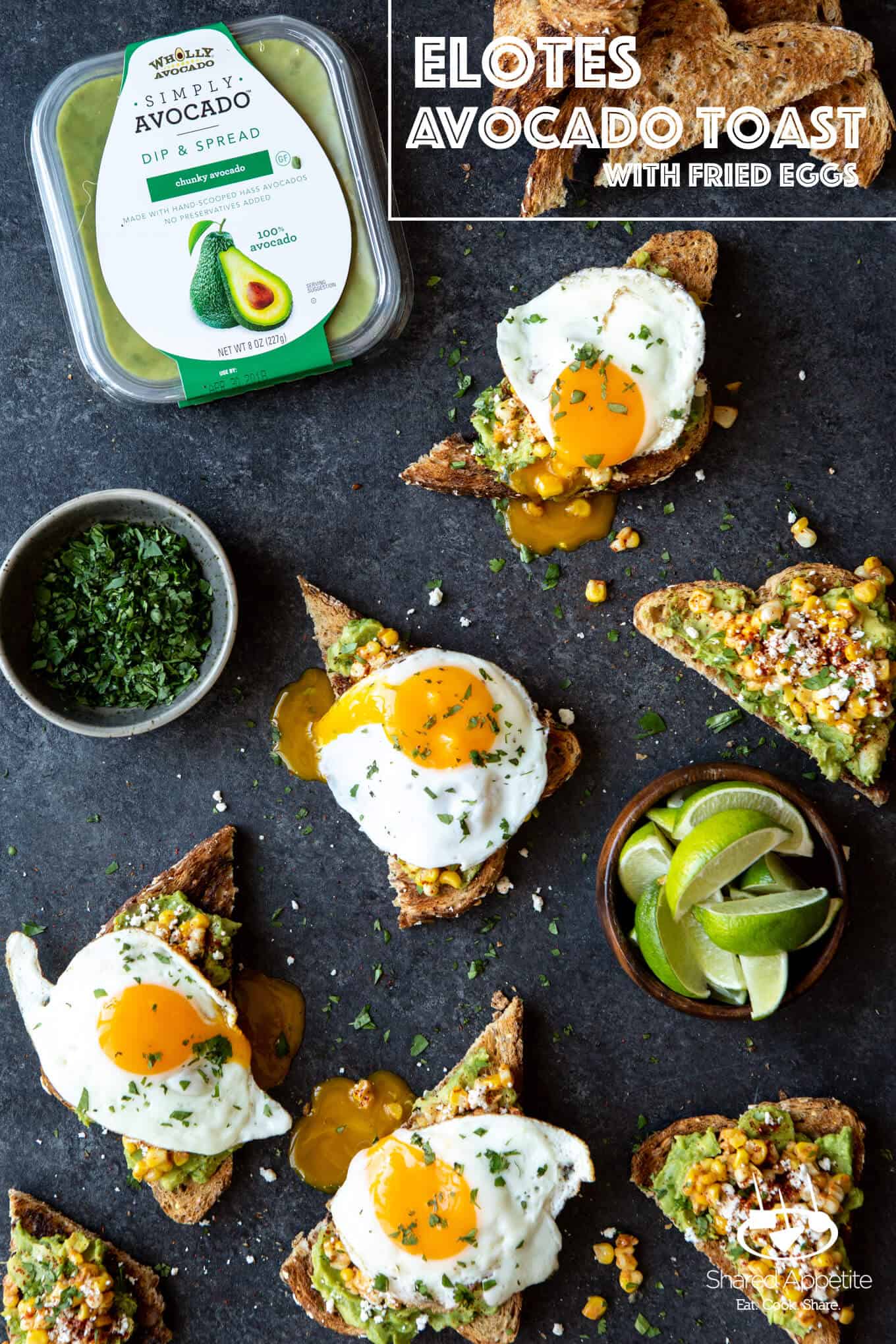 We are just about a week away until one of my favorite days of the entire year. Cinco de Mayo!
Yes, I'm serious.
It's no secret that Mexican, Tex-Mex, and Southwest flavors are totally my jam. I've shared plenty of recipes here for tacos, nachos, and churro desserts. But it hit me that I'm seriously lacking in the breakfast department. And with just a short 24 hours to cram in as much celebrating as possible, we have to get a Cinco de Mayo breakfast recipe happening like now. Besides, that means we can indulge in a breakfast margarita, right ?
My daughter and wife are obsessed with avocado toast. They like it straight up… toast + avocado. Me? You know I need the big, bold flavors in my life. So I decided to jazz up their simple breakfast with some legit flavors. This, my friends, is what needs to be on your breakfast table this Cinco de Mayo (and really, it's perfectly acceptable to put this recipe on repeat throughout the year)… Elotes Avocado Toast with a Fried Egg.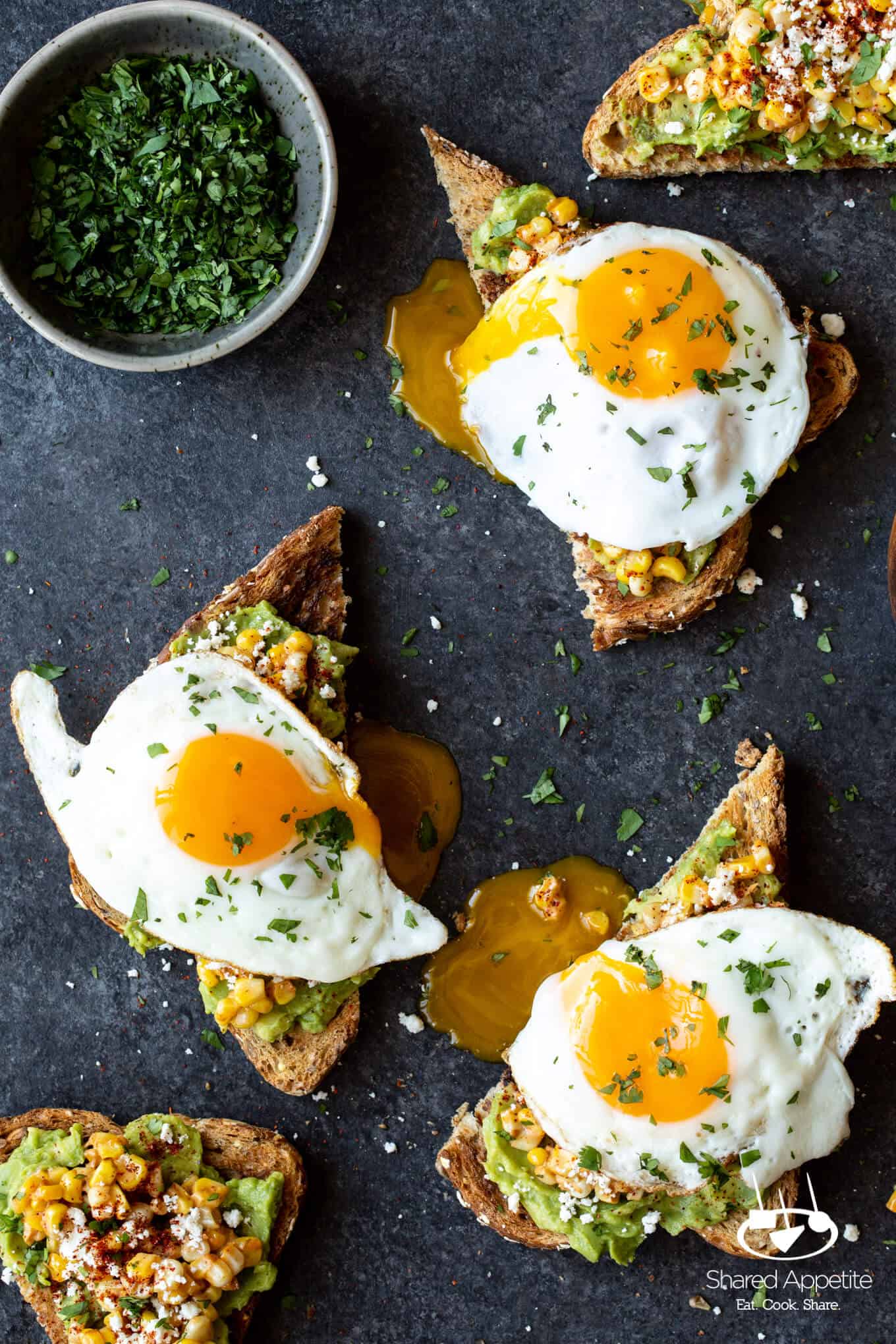 Elotes… we're talking about Mexican Street Corn. If you've never had the stuff, let's just put it this way. I'm pretty confident that on the seventh day when God rested, he did so with elotes in one hand and a margarita in the other. The chips and guacamole weren't far away, either.
Mexican Street Corn is one of my favorite side dishes to whip up whenever I get my hands on fresh corn throughout the season here in New York. What's not to like about roasted corn slathered with mayo, chili powder, cheese, and lime?! It's divine.
Side note… if you can't find fresh corn for this recipe, you can most certainly use frozen. No judgement here.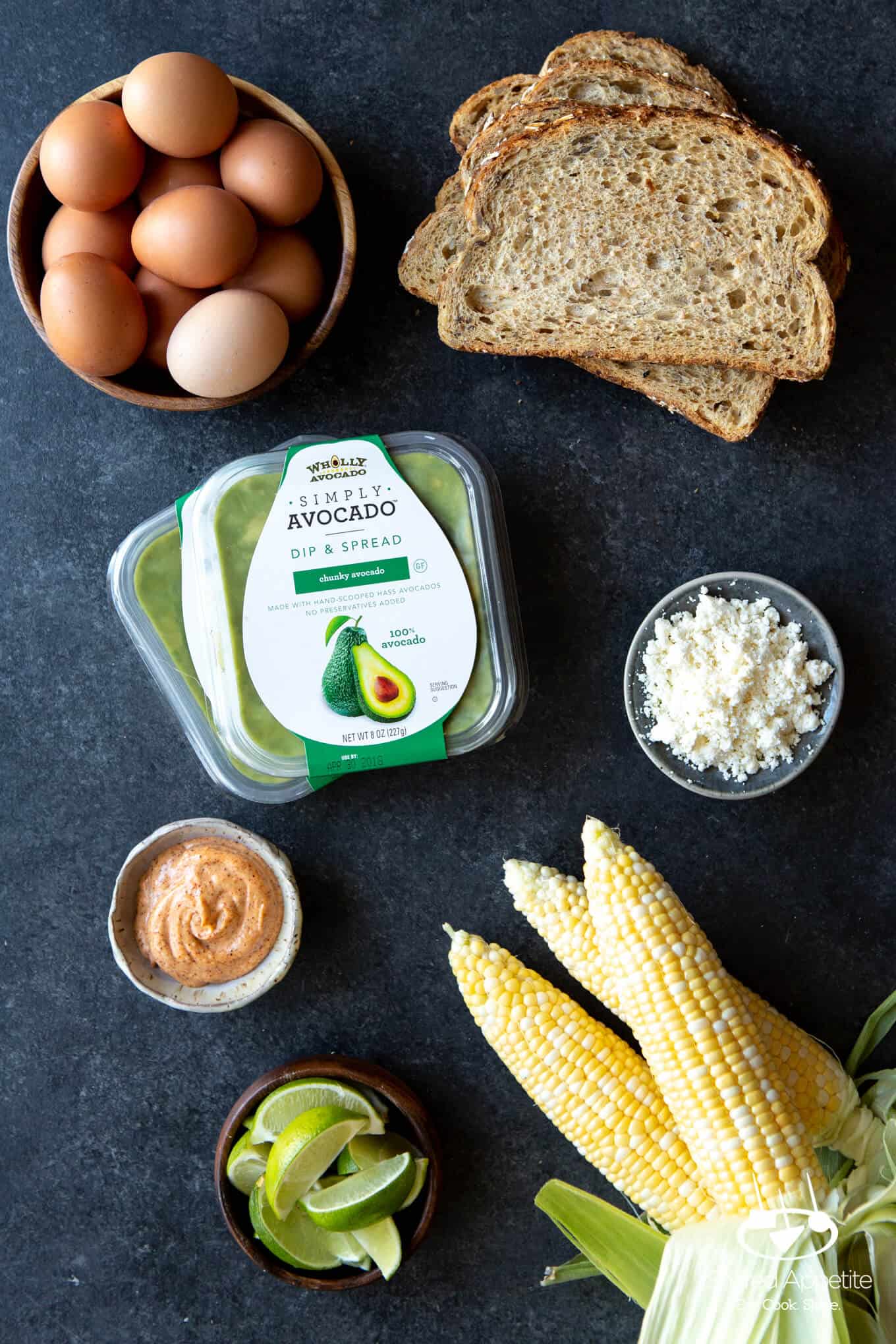 So back to my wife and daughter's obsession with avocado toast. It's seriously a daily occurrence in our house. The problem with that is keeping up with buying all those avocados and getting them to be ripe on a daily basis for them. It's a full time job in itself.
Well, problem solved.
I recently discovered Simply Avocado! It's a new line of pure, wholesome avocado dips and spreads from the makers of Wholly Guacamole, and they are made with real, hand scooped Haas avocados, and each variety is made with just four ingredients or less!
Best part, it's always ripe and ready to eat, which means keeping up with my wife and daughter's avocado toast habit is a breeze (and it made making this Elotes Avocado Toast so simple). There's no need to wait for a ripe avocado, or in my wife's case, guess incorrectly when the avocado is ripe (she always isn't patient enough!).
Simply Avocado is available in three tasty varieties… Sea Salt, Chunky Avocado, and Garlic & Herb, with Roasted Red Pepper and Jalapeno & Lime flavors coming soon! You can find them in the produce department at Walmart stores and also online at Mexgrocer.com.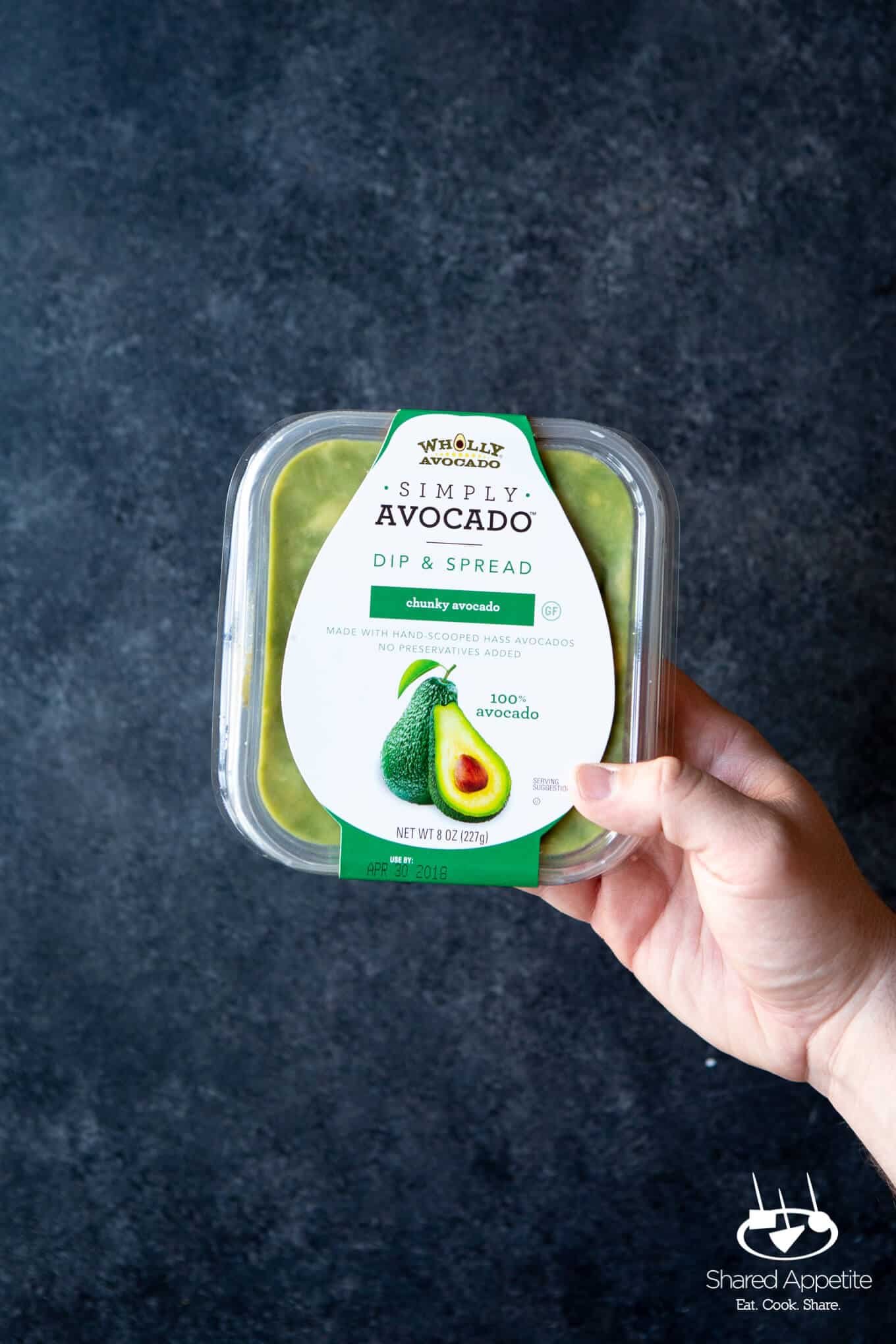 Let's break down how easy it is to whip together this Elotes Avocado Toast with a Fried Egg for breakfast:
it all starts with the bread. Don't make it an afterthought. Seek out some good-quality bread. I like some sort of thick-cut seeded whole grain loaf.
look how vibrant and fresh that Simply Avocado looks… so good. Make sure to slather on an even layer of the stuff so the elotes has something to adhere to!
the Mexican Street Corn… don't be shy here. Pile it on!
top with some extra chili powder and some crumbled cotija or queso fresco (I personally prefer queso fresco, but that's just me). If you're in a pinch, feta works ok as a substitute, or you can just omit the cheese if you're trying to keep it dairy free.
Get that beautiful fried egg on top. It's all about that #yolkporn. Your stomach (and Instagram feed… you know you're going to take a picture of it) will thank you.
This Elotes Avocado Toast with a Fried Egg would also be perfect for easy entertaining! Just make a batch of Elotes, whip up some fried eggs, and let guests assemble their Elotes Avocado Toast themselves! It's the perfect addition to your next brunch!
The best part is that the most undesirable task… breaking down all those avocados and mashing them up… is already done for you thanks to Simply Avocado! Such a great time saver, and the quality is top-notch. It's a win win!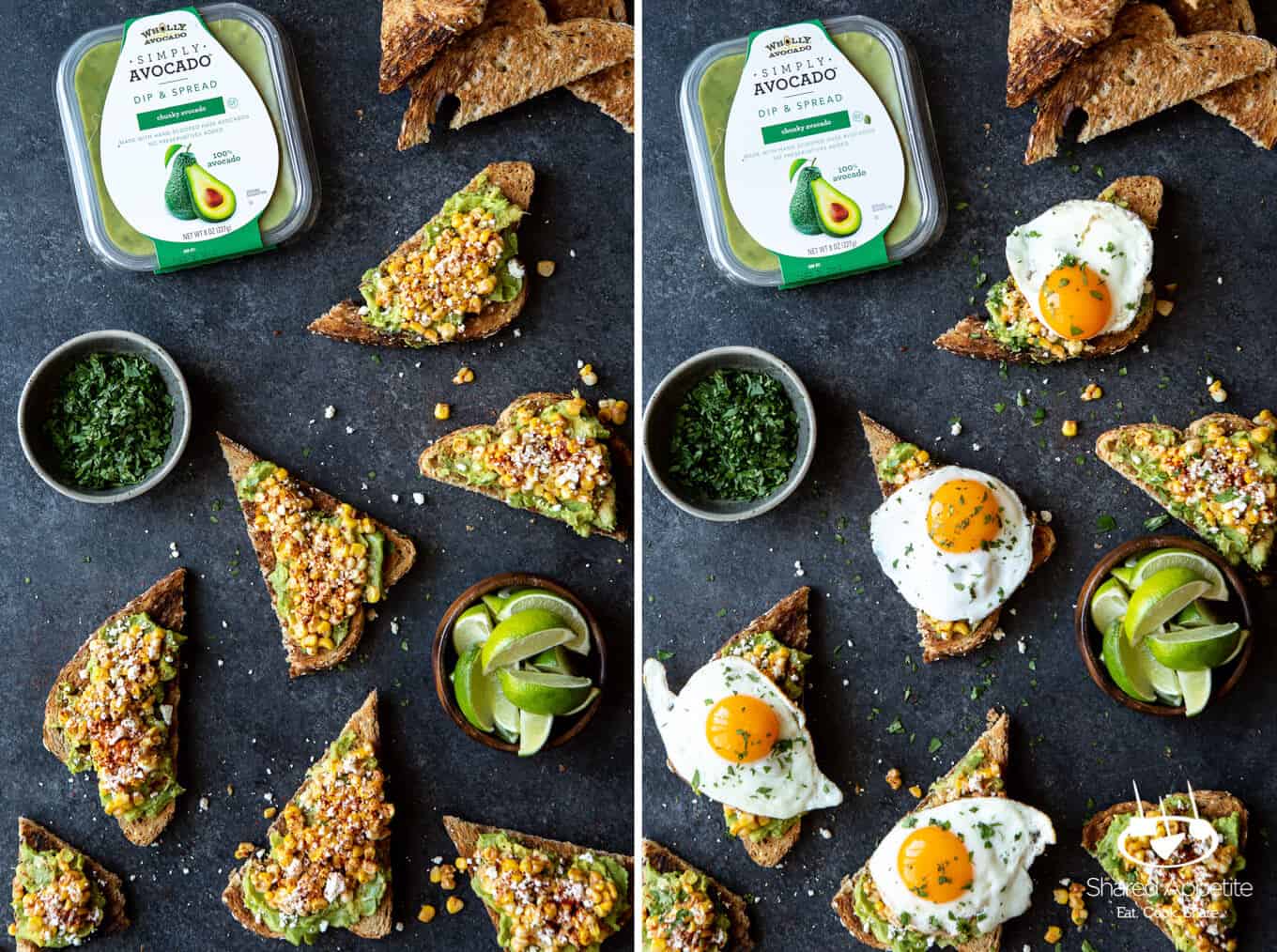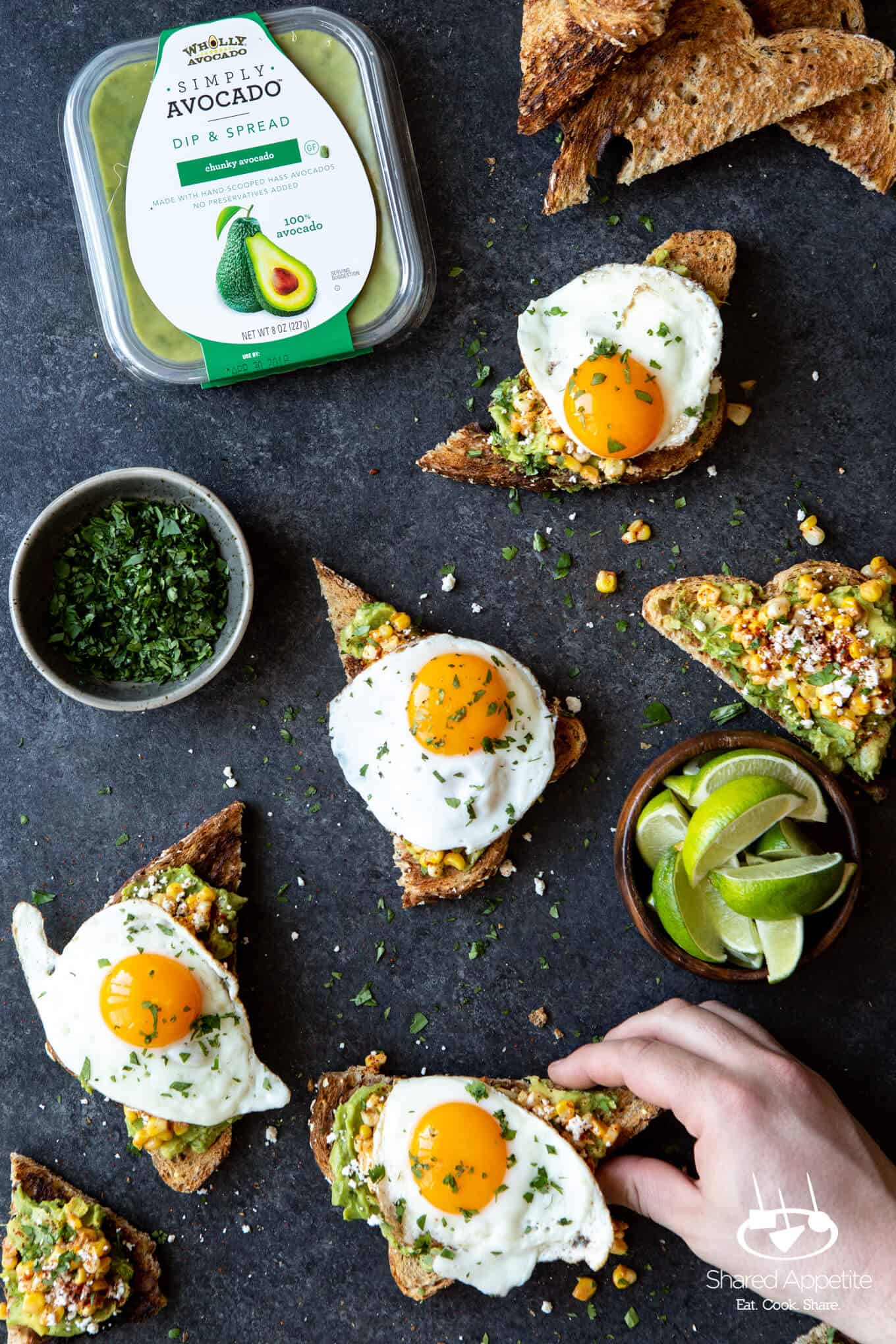 Print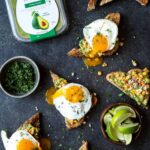 Elotes Avocado Toast with a Fried Egg
---
4

thick-cut slices of good-quality bread, toasted

2

(8 ounce) packages Simply Avocado Dip & Spread

1 tablespoon

unsalted butter

3

ears corn, kernels removed

1 tablespoon

mayonnaise

1/2 teaspoon

lime juice

1/2 teaspoon

chili powder
Kosher salt

4

eggs, fried
Crumbled cotija or queso fresco, for garnish
Chopped cilantro, for garnish
Chili powder, for garnish
---
Instructions
Heat butter in medium skillet over medium heat.  Add corn kernels and season generously with Kosher salt.  Cook, stirring occasionally, until corn is tender and cooked through, about 5-8 minutes.
Meanwhile, stir together mayonnaise, lime juice, and chili powder.  Season generously with Kosher salt.  Once cooked corn has cooled slightly, mix mayo mixture into corn.
Top toast with Simply Avocado Dip & Spread and then the corn mixture.  Sprinkle with chili powder and queso fresco/cotija.  Top with a fried egg and chopped cilantro.  Devour!
Notes
*I prefer to use ancho chili powder.  It's got less heat and more smoky/earthiness to it.
Prep Time:

10 minutes

Cook Time:

10 minutes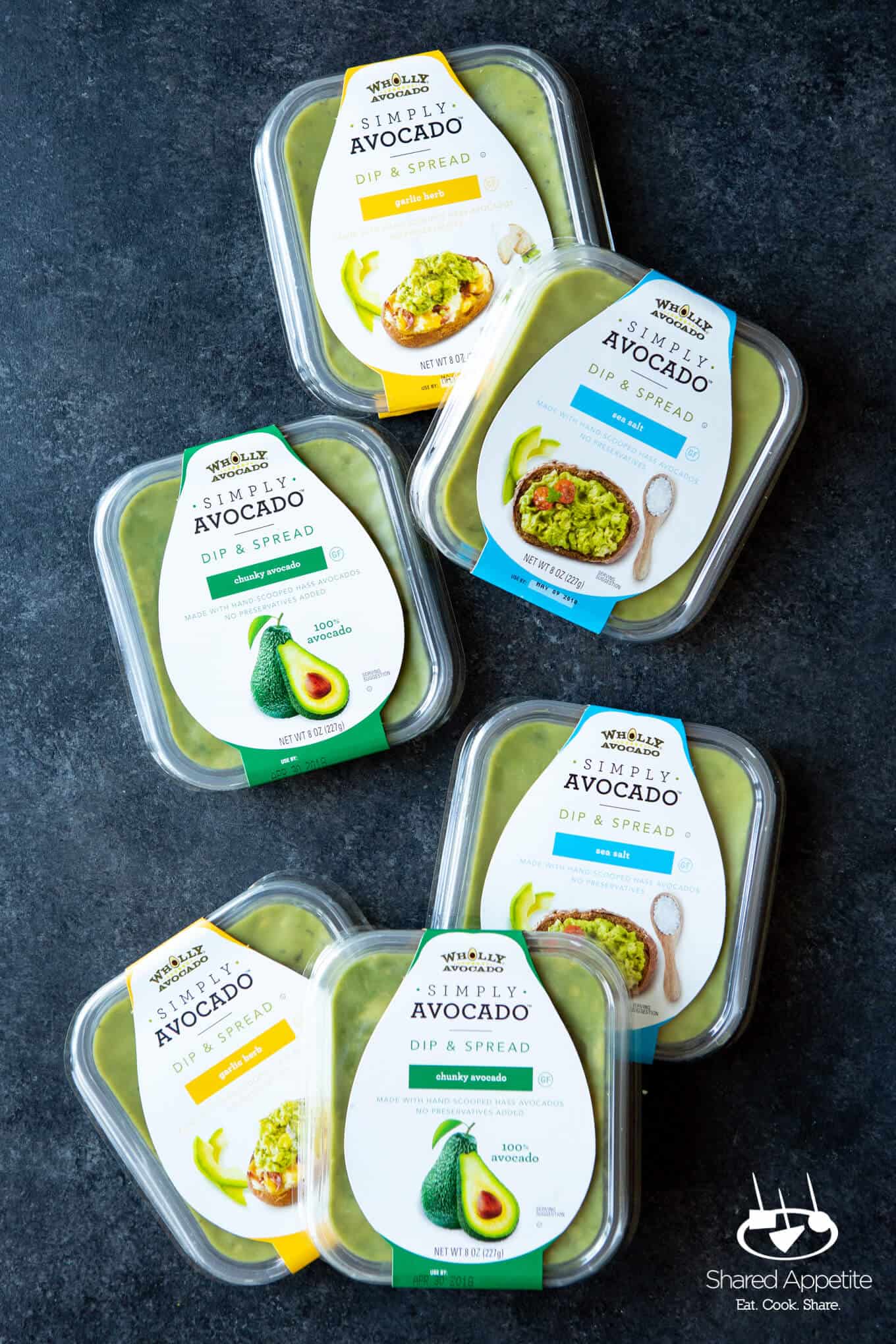 Elotes Avocado Toast with a Fried Egg