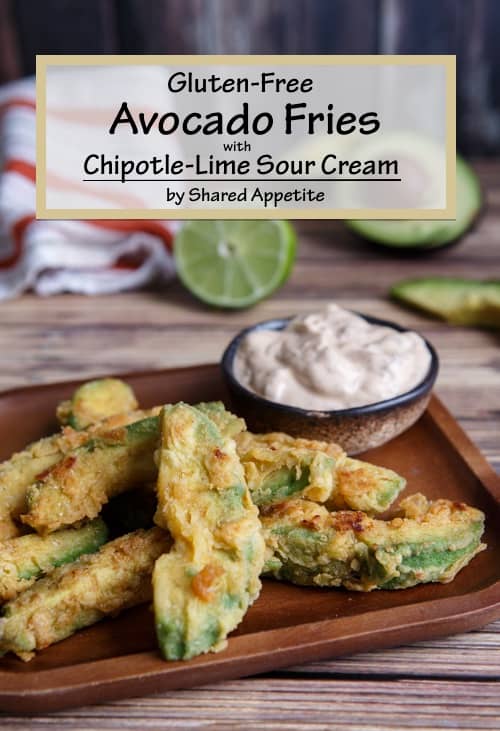 Celebrate Cinco de Mayo (or any day, really) with these healthy Gluten-Free Avocado Fries with Light Chipotle-Lime Sour Cream.
Certain things don't stand a chance in our home.
Asheley will find them. And destroy them.
Gummy bears. Popcorn. Granola. Swedish Fish. Napa Valley Pinot Noir. Animal Crackers. American Cheese. Specifically, Land O'Lakes White American Cheese. She'll accept no other. Trust me, I've made that mistake once.
And avocados.
Avocados designated for recipes need to be hidden from the wrath of Asheley. She eats them straight up. Sometimes 2 at a time.
Needless to say, she was all over these gluten-free avocado fries. As should you. They are actually kinda healthy. That's right. Gluten-free, semi-healthy fries. Woot.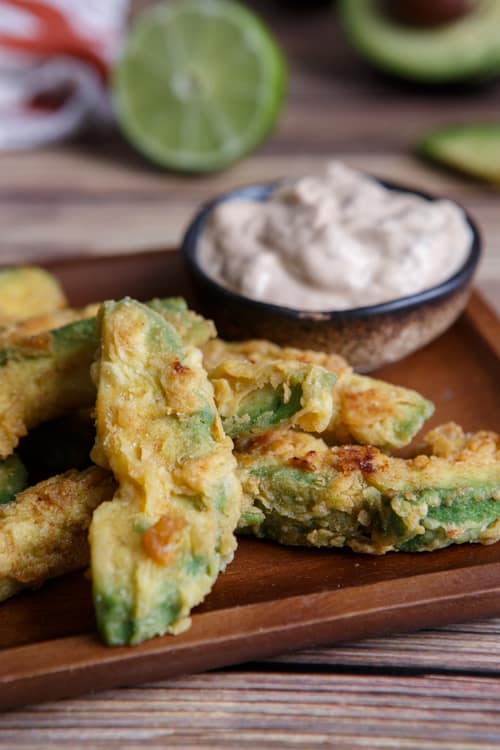 This was my first attempt at using chickpea flour. I felt pretty cool and trendy.
And since it's gluten-free, I felt no shame in downing a big handful of these fries. Operation Stop Being A Fatty is in full swing.
Print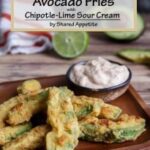 Gluten-Free Fried Avocado Fries with Chipotle-Lime Sour Cream
---
Total Time:

20 minutes

Yield:

Approximately

20

fries

1

x
Oil, for frying

2

avocados, halved, pits removed

1 ½ cups

chickpea flour

1

large egg, beaten
Kosher salt
for the Chipotle-Lime Sour Cream
¾ cup

light sour cream

1

chipotle pepper plus ½ teaspoon adobo sauce

½ teaspoon

garlic powder

½

lime, juiced
Pinch Kosher salt
---
Instructions
Heat just oil to cover ½ avocado over medium heat in a small frying pan.
Mix egg with a splash of water in a small bowl to create an egg wash. Place chickpea flour in another bowl.
Slice avocados lengthwise into "fries". Peel away rind, and working one at a time, dip avocado in chickpea flour, then coat in egg wash, and then coat completely in chickpea flour a second time.
Working in batches, add the avocado slices to the frying pan, 4-6 at a time, and fry until golden brown and crispy, about 1-2 minutes, flipping half way through. Transfer to a paper-towel lined plate and immediately sprinkle with Kosher salt.
Serve immediately with Chipotle-Lime Sour Cream
for the Chipotle-Lime Sour Cream
Place all ingredients in a food processor and blend until smooth. Alternatively, mash chipotle pepper with fork or spoon until broken up into small pieces, and stir in other ingredients.
Prep Time:

10 mins

Cook Time:

10 mins