This post for Healthy Mini Vegetarian Greek Sliders with Hummus, Israeli Salad, Pickled Cabbage, and Tahini Sauce is sponsored by Flatout Bread. As always, all opinions and recipe are my own. Thanks for supporting the brands that support Shared Appetite!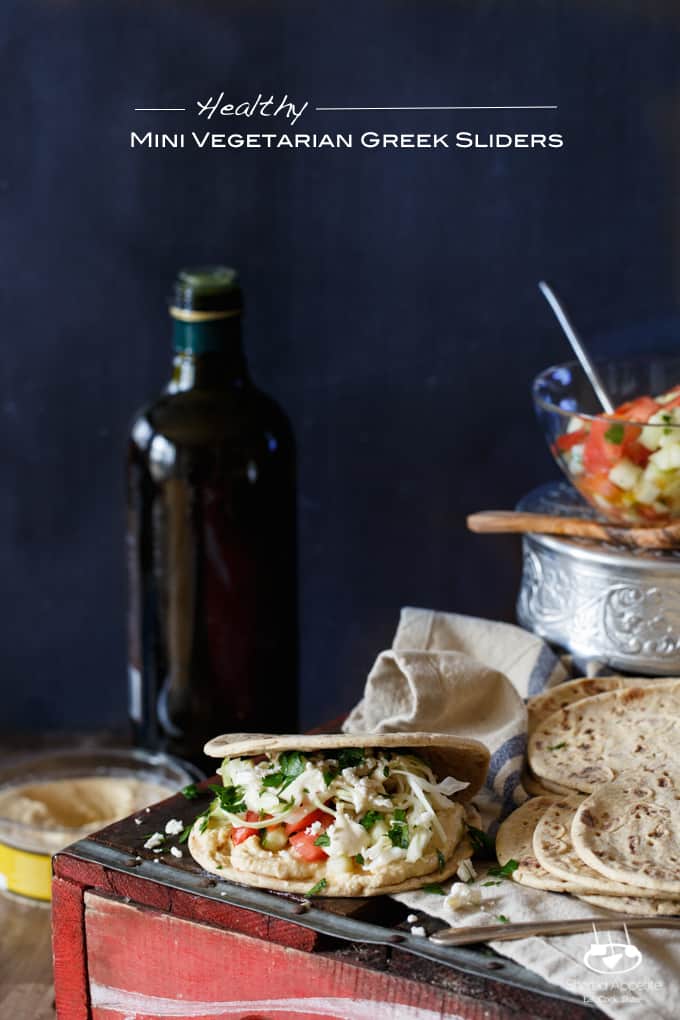 Give your snacking a major flavor upgrade with these Healthy Mini Vegetarian Greek Sliders with Hummus, Israeli Salad, Pickled Cabbage, and Tahini Sauce!
In years past, going to and from work was easy. Drive to work. Work. Then drive home. Done.
With a baby? Wake up an hour earlier than usual. Immediately feed baby. Burp baby. Change and dress baby. Baby spit up on outfit. Change baby again. Give baby to spouse so you can shower. Switch with spouse. Let baby play independently for a few minutes so you can get together diaper bag (swaddle cloths, burp cloths, 57 extra outfits, diapers, wipes, butt cream, binkies…) and bottles for the baby sitter (i.e. my mom). Baby is crying. Comfort baby. Try to pack yourself lunch with one arm because you are now holding the crying baby. Pack up the car. Start driving. Binky fell out!!! Get back in her mouth while still driving before baby starts freaking out and you've reached the point of no return. Phew, that was a close one. Yes! Baby fell asleep in car. Please stay asleep all the way. Crap, we hit traffic. Baby hates traffic and woke up screaming. Blast jammy jams and reach back with one arm to try to gently rock the carrier. You are out of shape, so the mere act of stretching back results in a pulled muscle. Baby falls asleep again. Arrive at babysitter. Bring everything in and get baby settled. Leave for work. I'm already exhausted.
And then the same on the way back of course…
But you know what? It's amazing. It is SO easy to get caught up in the everyday grind. But then I see my daughter smile. I see her look intently into my eyes, like she's trying so hard to understand every word. She coos and cahhhs at me. She even started to recently giggle here and there. And I remember what an utterly amazing miracle she is.
Now, back to the everyday grind. When Asheley gets home from work, she's normally hangry. No, I didn't mispell hungry. She's hangry. Like angry hungry. In the past, she would just feed herself and all would be well. But now? Baby first. And you better put on a happy face, because baby girl can sense when you're angry or frustrated. A calm parent makes a calm baby… or so I read in one of those books.
So, while Asheley is taking care of Olivia, I'll fix her (okay, and me) a little snack to tide us over until we can finally eat dinner. And since I'm trying to get rid of all this pregancy sympathy weight (Asheley already lost all of her pregnancy weight, of course), I've been trying hard to make better snacking choices. Choices like these Healthy Mini Vegetarian Greek Sliders.
And hey, I'm sure you and your kids are pretty darn hangry as well when school is over and dinner isn't quite ready yet. These Healthy Mini Vegetarian Greek Sliders will totally hold y'all over while homework gets done before dinner!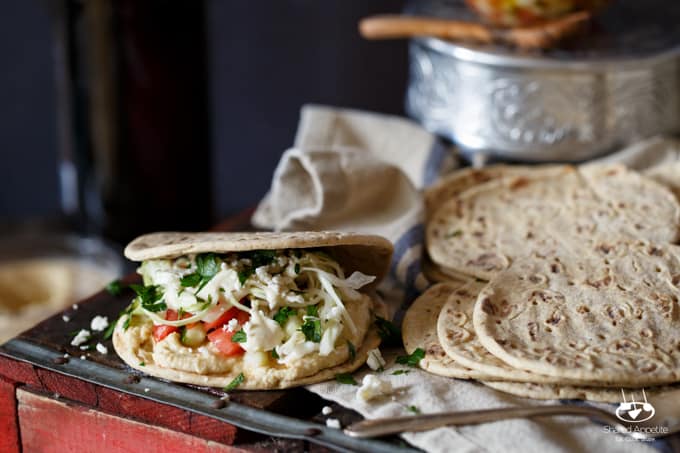 There's the place in NYC called Taïm that we absolutely love. It's an Israeli vegetarian take-out joint that serves up the best falafel sandwiches in the city. It's not just the falafel that makes the sandwich special. It's everything around it. Creamy hummus. Israeli salad. Pickled Cabbage. Tahini sauce. Ermagherd, so freaking good.
So I figured, hey… what if I just take all the stuff besides the falafel (since making homemade falafel isn't the quickest snack choice) and put it on a Flatout Bread Ancient Grains Foldit® Artisan Flatbread.
Guys. Phenomenal. Like, best after-work snack I've ever made.
My good buddy Tyler is obsessed… OBSESSED… with Taïm. We pretty much need to go there every time we are in the city together because he needs to get his fix. So, I had him try on of these Healthy Vegetarian Mini Greek Sliders and he started excitedly clapping. Yes, clapping. The flavors are so on point. And since they are pretty darn healthy, he went ahead and had two.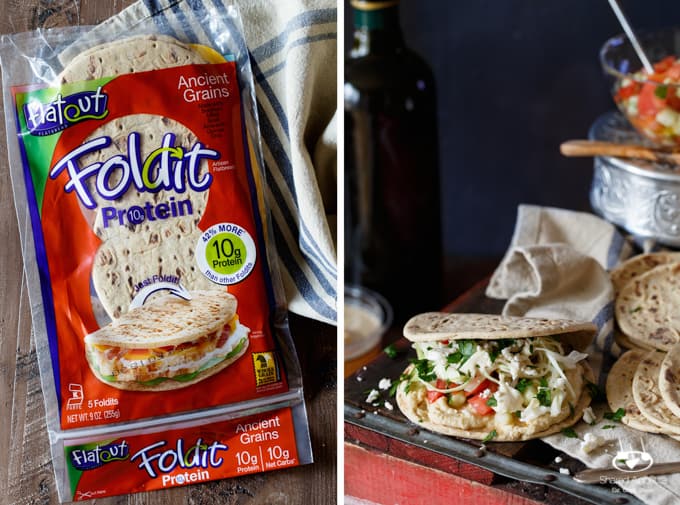 Let's break this down. The Flatout Bread Ancient Grains Foldit® Artisan Flatbread is absolutely delicious. It serves as a great blank canvas to build these epic flavors on. It's got just 10g net carbs, contains
10g of protein, and is only 130 calories.
Next comes some good store-bough hummus. Choose whatever flavor you'd like. I went with some roasted garlic hummus from my local market.
All these other components you can make ahead of time and just pile on when snacking calls… The Israeli Salad is a perfect combo of cucumbers and tomatoes with some olive oil and lemon juice. The pickled cabbage adds a perfect acidic crunch that's pretty darn addicting. And that tahini sauce? It's a perfect lemony-garlicky bite that rounds out this epic vegetarian snack.
Make sure to check out Flatout Bread in your local market. They come in all sorts of flavors and make the perfect tabula rasa (blank slate) for your kids to build some after-school masterpieces (or, if you're like Asheley and I… a little after work snack!). Find a store near you with this Flatout Bread and try a $.50 off coupon!
Print
Healthy Vegetarian Mini Greek Sliders
---
Total Time:

15 minutes

Yield:

6

to

8

Sliders

1

x
6

to

8

Ancient Grains Foldit® Artisan Flatbread or Mini Pita

8 ounces

good-quality store bought hummus
Israeli Salad (recipe below)
Pickled Cabbage (recipe below)
Tahini Sauce (recipe below)

1/2 cup

feta cheese, crumbled
Parsley, chopped, for garnish
for the Israeli Salad
1

cucumber, peeled and seeds removed, finely diced

2

plum tomatoes, peeled and seeds removed, finely diced

1 tablespoon

extra virgin olive oil

1 tablespoon

fresh lemon juice

2 tablespoon

chopped parsley
Kosher salt
Freshly ground black pepper
for the Pickled Cabbage
2 cups

shredded green cabbage

1/2 cup

red wine vinegar

1 cup

warm water

1 tablespoon

granulated sugar

1 teaspoon

Kosher salt
for the Tahini Sauce
1/4 cup

tahini

1

clove garlic

3 tablespoons

lemon juice

2 tablespoons

water

2 tablespoon

extra virgin olive oil
Kosher salt
---
Instructions
Top flatbread with a generous smear of hummus, a couple spoonfuls of Israeli salad and pickled cabbage, and drizzle with tahini sauce. Sprinkle with feta cheese and parsley. Devour immediately.
for the Israeli Salad
Combine all ingredients in a small mixing bowl and season with Kosher salt and freshly ground black pepper. Can be made ahead of time and refrigerated (although the cucumbers and tomatoes texture will change a bit), make sure to stir well before serving.
for the Pickled Cabbage
Combine red wine vinegar, water, sugar, and salt in a small mixing bowl. Whisk together until sugar and salt is fully dissolved.
Place cabbage in a medium bowl and pour in vinegar mixture. Try to get cabbage to be submerged in liquid. Let sit at room temperature for at least 1 hour if you're in a rush. Preferably, cover bowl and place in refrigerator for at least 1 day. Pickled cabbage will last for a week stored in the refrigerator.
for the Tahini Sauce
Combine all ingredients in a food processor. Season with Kosher salt. If a thinner consistency is desired, add a little more water. Refrigerate until ready to use, up to a week.