Does anyone else share my obsession with corn?  I just love everything about it.  I can still remember summer days walking up to the local farm-stand around the corner from my house with my mom, where we bought super fresh, juicy, sweet summer corn.  It was the  kind of corn that when you bit into it, juices would fly out and hit people smack on the forehead on the other side of the table.  Those were the days.  That farm-stand isn't there anymore... some plumbing company took over the property.  Lame, indeed.
I'm a sucker for cornbread.  Whenever we are out to eat and I spot it on a menu, uncontrollable excitement takes over and I'll order it.  But almost always, it's disappointing.  Why is cornbread so often a dry, crumbly, stale-tasting mess?  It's almost like an afterthought at a lot of restaurants.  Not anymore.  It deserves better than that.
You will totally love this cornbread recipe, because it's warm, moist, and has just a touch of sweetness from the honey and heat from the jalapeño.
I typically make cornbread as an accompaniment for two very important culinary occasions in our house: when I make Authentic Pulled Pork on a Gas Grill and for cornbread croutons to garnish Fire Roasted Chili with Beer Braised Short Ribs.
Print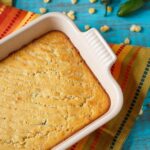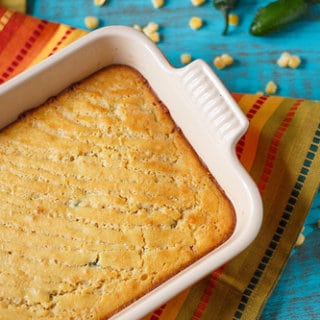 Honey – Jalapeño Cornbread
---
¾ cup

plus 2 tbl. yellow corn meal

¾ cup

plus 2 tbl. flour

1 ½ tsp

. baking powder

½ tsp

. baking soda

½ tsp

. kosher salt

1

tbl. sugar

5

tbl. unsalted butter, melted, plus extra for the baking dish

1

tbl. honey, plus more to drizzle over the top of the batter

1 cup

Buttermilk*

2

large eggs

½

-

¾

cup frozen corn, thawed

2

jalapeños, deseeded and deveined, finely minced
*no buttermilk? I've done this in a pinch: Add 1 tbl. of white vingar to a liquid measuring cup. Add enough milk to equal 1 cup. Let sit for 5 minutes.
---
Instructions
Butter the bottom and sides of a 8" square or 7"x10" rectangle baking pan. Preheat the oven to 425°F.
In a mixing bowl, combine the flour, cornmeal, baking soda, baking powder, sugar, and salt. In a larger mixing bowl, combine the buttermilk, eggs, honey, and melted butter. Add in the dry ingredients, corn, and jalapeño, and mix just until the batter comes together.
Pour batter into baking dish and drizzle honey over top. Bake in preheated 425°F oven for approximately 20-22 minutes, or until the top is golden brown and a toothpick inserted in the center comes out clean.
Let the cornbread cool for a bit, but serve warm.
Once completely cool, the cornbread can be covered with plastic wrap and left at room temperature for a couple days. You can also freeze the cornbread for future use, and reheat it wrapped in foil in oven until warmed through.