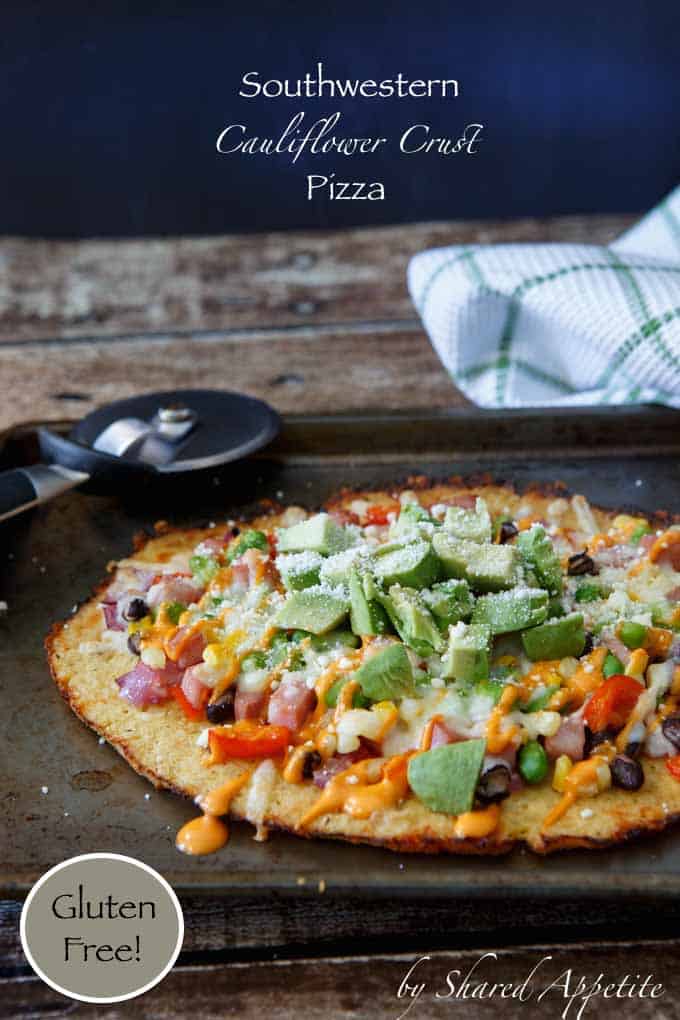 A creative and healthy gluten-free recipe for Southwestern Cauliflower Crust Pizza.
Asheley and I get on these binges where we will watch like 3 4 5 an all-day marathon a few episodes of Chopped. For those of you not familiar with the show, four contestants are presented with a basket of 4 ridiculously random ingredients and have a short window of time to come up with and execute a creative dish. Three judges then critique the dishes and send someone home after each round, until one victor remains with a $10K check.
Now, unfortunately there is no $10K check being awarded today, but YOU get to be the judge. That's right, YOU get to be Alex Guarnaschelli. Chris Santos. Aaron Sanchez. Scott Conant. or Geoffrey Zakarian. Actually sorry, Asheley just said she calls dibs on Geoffrey Zakarian. She has a pretty gigantic crush on the silver fox. Can't say that I blame her either.
Welcome to the Chopped Cooking Challenge: Food Blog Edition 🙂
So, let me present to you the contestants....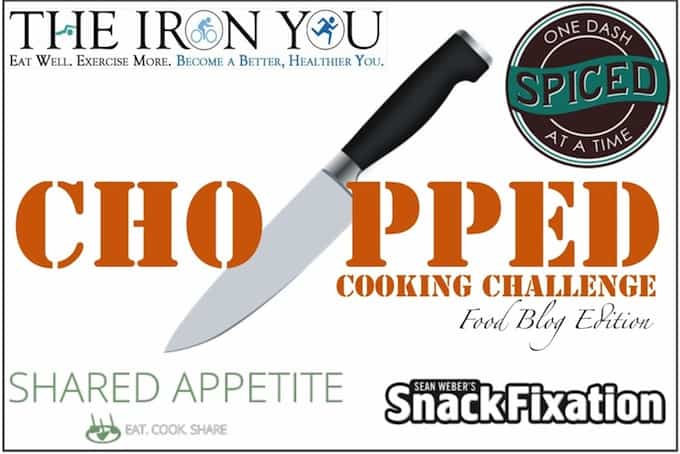 For the inaugural Chopped Cooking Challenge: Food Blog Edition, I wanted to invite my good buddies from the dude blogosphere. Welcome Mike, David, and Sean.
All 3 of these guys have amazing blogs and if you don't already follow them, you need to. A brief intro about them...
Mike from The Iron You lives in NYC. He's into all that triathlon, exercising, paleo-esque living sorta crap. You know, he's that healthy friend that gives you the judgemental look as your scarfing down a hot dog with a side of ice cream. But really, he has some super unique and healthy recipes on his blog that I'm always crazy impressed with.
David from Spiced Blog is our brotha from New York-tucky (i.e. upstate). The dude comes up with some pretty creative recipes, and is a wizard at grilling and homemade ice cream making. I keep asking him to ship me some ice cream, but he never does. Jerk.
Sean from Snack Fixation also lives in NYC and is your go-to guy for all things snacks. The dude reviews all sorts of delicious snacky-deliciousness and also posts some of his own recipes here and there. You need to check out his instagram to keep up with all the amazing stuff the man eats around the city.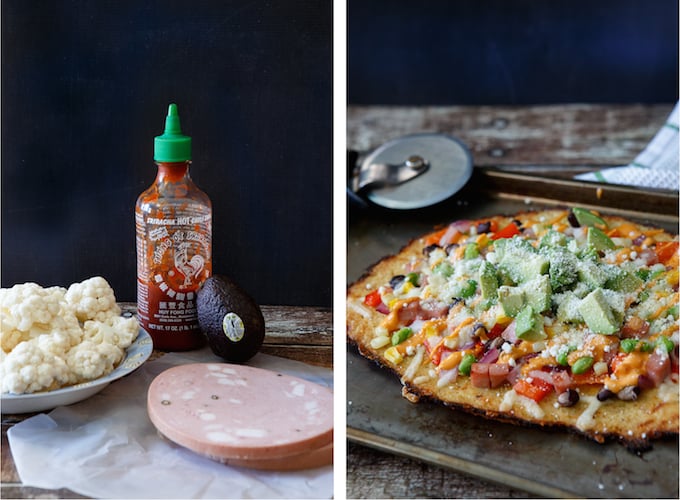 Okay, so today's basket....
Avocado. Sriracha. Mortadella. Cauliflower.
Yea, I know. Not a basket of ingredients you typically see together. But we dudes each came up with a recipe for you utilizing these 4 ingredients.
You obviously know mine. It's this Southwestern Cauliflower Crust Pizza.
Mike @ The Iron You made... Cauliflower Crust Mortadella and Cheese Panini
David @ Spiced Blog made... Fried Cauliflower with Spicy Avocado Cream
Sean @ Snack Fixation made... Spicy Mortadella Pasta Salad
So now it's time for you to decide. Who's the victor?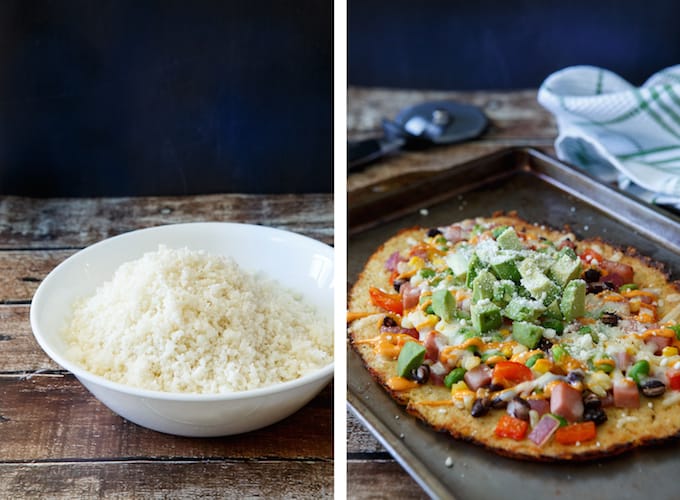 And just a note for my recipe here...
I used mortadella because, well, I had to. It was a basket ingredient. Feel free to substitue grilled chicken/steak, cooked ground beef, or just leave the meat out and make it vegetarian 🙂
Print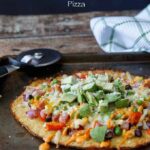 Southwestern Cauliflower Crust Pizza (Chopped Cooking Challenge)
---
Total Time:

1 hour

Yield:

1

Pizza (probably 2 people for dinner)

1

x
Cauliflower Pizza Crust (recipe below)

1 tablespoon

olive oil

½

red bell pepper, chopped

½

red onion, chopped
Kosher salt
Freshly ground pepper

¼ cup

frozen corn, thawed

¼ cup

frozen shelled edamame beans, thawed

¼ cup

canned black beans, drained and rinsed

1

thick slice mortadella, chopped

½ cup

shredded cheddar cheese

1

avocado, chopped

3 tablespoons

mayonnaise
Sriracha
Queso fresco or cotija cheese, crumbled, for garnish
Lime wedges, for garnish
for the Cauliflower Crust
1

head cauliflower, cut into small florets

1

egg, lightly beaten

½ cup

shredded white cheddar cheese
Kosher salt
Freshly ground pepper
---
Instructions
Heat the olive oil a medium skillet over medium heat. Once hot, add red bell pepper and red onion and cook until softened, stirring occasionally, about 5-7 minutes.
Top cooked cauliflower crust with sauteed peppers and onions, corn, edamame, black bleans, and mortadella. Sprinkle with shredded cheddar cheese. Cook in 450°F oven until cheese is melted, about 5 minutes.
While pizza is cooking, combine mayonnaise with ½ - 1 tablespoon of sriracha (depending upon how spicy you want it).
Remove pizza from oven, top with avocado, queso fresco/cotija cheese, sriracha mayo, and a squeeze of lime. Serve immediately.
for the Cauliflower Crust
Preheat oven to 450°F. Line a baking sheet with a silicone baking mat or parchment paper lightly grease with olive oil.
In a food processor, process the cauliflower florets until it resembles rice (evenly chopped but not totally pulverized). Transfer cauliflower rice to a microwave-safe dish and microwave on high for 7-8 minutes, or until cooked.
Let cauliflower cool for a bit, then place in a clean kitchen towel. Twist and squeeze out as much moisture as possible. Don't skip this step, as the cauliflower needs to be dry in order to set properly as a "pizza crust".
Pour the cauliflower rice to a mixing bowl, add egg, cheddar cheese, and season with Kosher salt and freshly ground pepper. Mix to combine.
Using your hands, press the mixture onto the baking sheet into a thin, even-layered disk.
Bake for 15 minutes, or until golden. Let cool slightly, then carefully flip and cook for 5-7 more minutes.
Prep Time:

25 mins

Cook Time:

35 mins