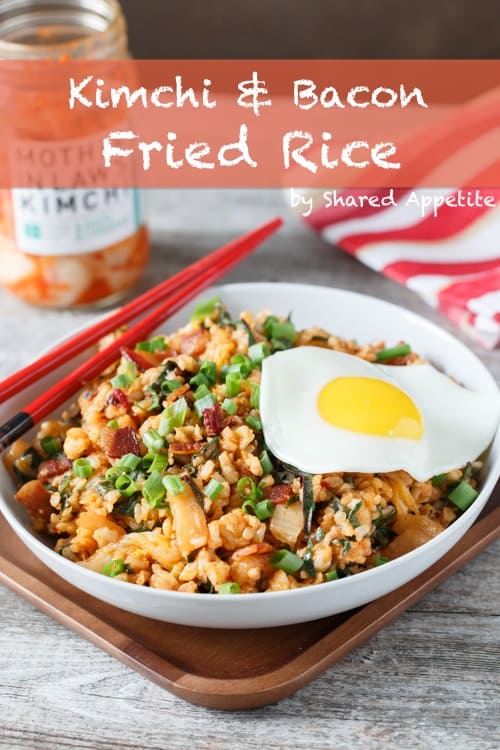 A quick, easy way to jazz up that boring old rice and get a whole lot more fun and flavorful with this Korean-inspired Kimchi and Bacon Fried Rice.

Do you remember your earliest memory of food? Mine was as a toddler, when I stole a bagel from the kitchen table and hid in a closet, hoping no one would find me until I was finished devouring my doughy contraband. That's right, I was a bit of a rebel. Once my bagel bandit days were over, new food traditions slowly came about. My mom's weekly batch of her killer chocolate chip muffins (ones that to this day, even with the recipe, don't taste like hers... I swear she left something out on the recipe card so that we have to rely on her for all eternity). Her chicken fajitas for life's most celebrated events. And yes, although I'm not proud to say it, Dunkin' Donuts for every birthday breakfast.
We all have some sort of traditions or early memories tied to food, don't we? It especially rings true when it comes to holiday dinners. Anyone else need to make those mashed potatoes precisely like Grandma used to or make darn well sure that Aunt Edna's famous sweet potato casserole makes an appearance every year for Thanksgiving ?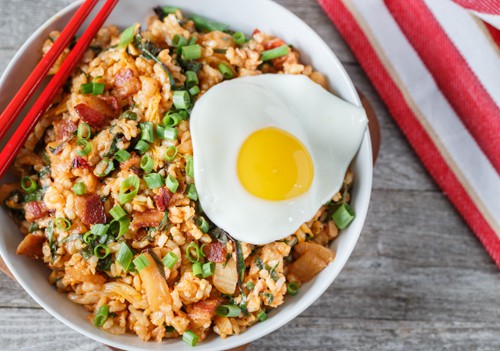 Well as we are all gearing up for Thanksgiving and obsessing about getting those mashed potatoes perfect this year, something totally different and awesome is happening on the other side of the globe. In Korea, November is all about kimchi.
It's the month when people all around Korea join together to prepare for winter by making and preserving their favorite staple side dish. Making kimchi is such a long valued cultural tradition (dating back a thousand years), that it even has it's own name. Kimjang.
Imagine this. You live in Korea. It's November. Kimchi is on your mind like Thanksgiving is on ours. Forget the Thanksgiving Day Parade. You grew up watching your closest relatives and neighbors preparing kimchi every year as far back as you can remember. And now that you're old enough, you can join up with the whole family (and many times the whole community) to help with the two to three day process of making the spicy fermented stuff. And as much as the actual kimchi is valued (it's pretty much finds its way into every meal), the process of making it is a deeply rooted cultural tradition.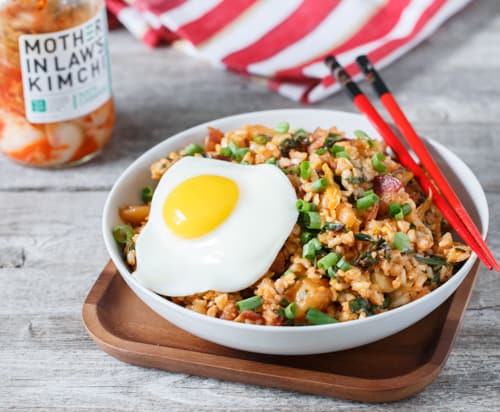 And good news. Besides kimchi packing a flavor punch like nothing else you've ever experienced, it's also ridiculously good for you. We're talking some serious vitamins and a crazy amount of that good bacteria stuff. Talking about being healthy, this Kimchi & Bacon Fried Rice is also loaded with a bunch of nutritious sauteed greens, which in my opinion, helps offset the nutritional impact of the whole bacon thing.
I'm totally in love with Mother in Law's Kimchi. It's local. It's made in small batches. And most importantly, it's so good. When I ordered a few jars a month or two ago, I knew I had to share this wholesome goodness with all of you. And the generous people at Mother In Law's Kimchi are hooking us up with a pretty sweet giveaway.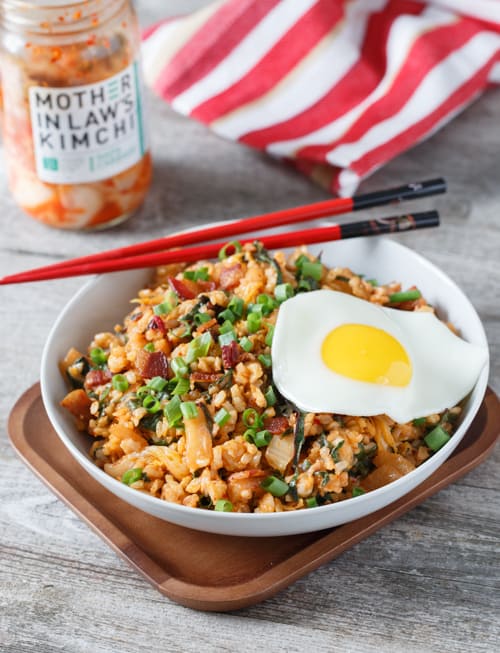 Giveaway Details
Winner can choose any two of the following:
Napa Cabbage Kimchi has long strips of whole leaf napa cabbage with great depth of flavor and a long spicy finish. The most popular flavor and the one I used in this recipe.
Muu Daikon Radish has the crunch and texture of turnips, but with great flavor and complexity. Comes in refreshing bite size snack cubes.
Vegan Napa Cabbage has all the punch of spice, flavor and zest of the Napa Cabbage Kimchi, but is made without any shellfish in an all vegan recipe.
No purchase necessary. Giveaway open to U.S. residents only and ends November 30. Winner will be selected on December 2 and be notified through email. This giveaway is sponsored by Mother In Law's Kimchi and kimchi will be shipped directly from their NY Office.
Here are four ways to enter the giveaway (one entry per method, with a total of 4 possible entries per person):
Print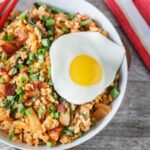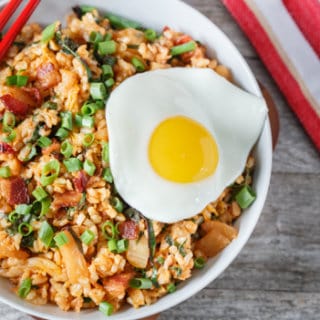 Kimchi & Bacon Fried Rice
---
For the Rice
6 ounces

thick-cut bacon, diced

¾ cup

kimchi, chopped

1 tablespoon

gochujang

2 cups

thinly sliced greens, such as bok choy or swiss chard

2 cups

cooked white or brown rice (preferably leftover from day before*)

1

bunch scallions, chopped

1 ½ teaspoons

soy sauce
For the Eggs
2 tablespoons

oil, butter, or bacon drippings

4

eggs
Kosher salt
Freshly ground pepper
*Apparently from what I've read it's best to use leftover cooked rice from the day before. Freshly cooked rice can be used but will be a bit mushier in the finished product.
---
Instructions
In a large skillet, cook the bacon over medium heat until golden brown and fat is rendered. Remove bacon and all but 2 tablespoons of the bacon drippings (keep rest of drippings to fry the eggs if desired). Add kimchi and gochujang, and cook for 1 minute, stirring frequently. Add greens and cook for 1 minute, stirring frequently. Raise heat to high and add rice and cook for 1-2 minutes, until hot, stirring frequently. Add scallions and soy sauce, and cook until greens are fully wilted, stirring frequently. Taste and add a little more soy sauce if needed.
Meanwhile, in a separate large nonstick fry pan or skillet, heat two tablespoons of oil, butter, or bacon drippings over medium-low heat. Crack open eggs and add them, one at a time, into the heated skillet. Season with salt and pepper and cover with a lid. This will help the tops of the whites to set before overcooking the bottom of the eggs. The eggs are done cooking once the whites are just set (the yolk will still be runny).
Divide the fried rice among four bowls and top each with a fried egg.
Note: some rice may stick to bottom of the pan while cooking and that's totally okay. Just keep going. To easily remove stuck on rice from the skillet when cleaning up, boil some water in the pan and scrape rice up with wooden spoon.