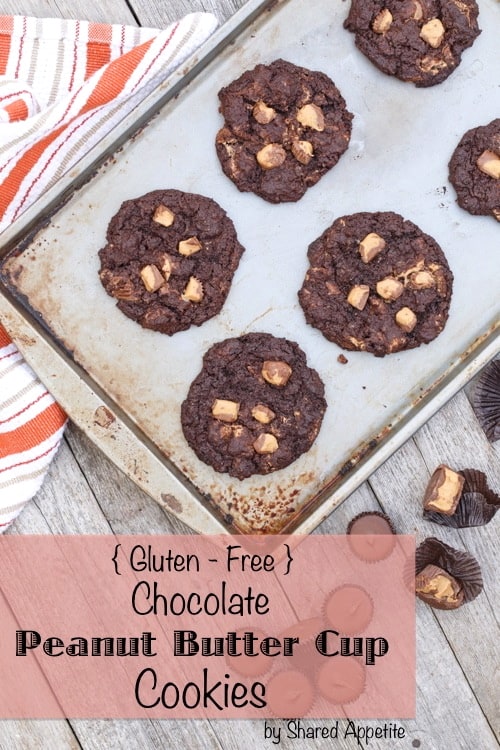 An indulgently delicious and perfectly moist Gluten-Free Chocolate Peanut Butter Cup Cookie recipe. Seriously, these creative gluten-free cookies are addictively good!
So I know at this point we are supposed to be 100% focused on all things Thanksgiving (and Christmas apparently*, as the massive bombardment of t.v. commercials are telling me), but Halloween is actually still on my mind. My good friend Kristie apparently enjoyed a healthy dose peanut butter cups at our little Halloween soiree a couple weeks back, as evidenced by the pile of orange wrappers conspicuously stacked where she sat most of the night.
I was a bit surprised by her impressive peanut butter cup consumption, but not for the reason you may suspect. She's intolerant to gluten and needs to follow a pretty strict diet. Could it be that peanut butter cups are gluten-free? Indeed they are, as Kristie confirmed for me (and I reconfirmed on their website).
*side rant: Advertisers, I get it. You want to get us thinking about Christmas as early as possible. But can't we enjoy and celebrate one holiday at a time? Don't even get me started on hearing Christmas songs on the radio. I'll boycott your station until the day after Thanksgiving, at which time I will happily surround myself with the sounds of the season. But until that time, let's enjoy the season we're in. Phew, thanks for that vent-fest. Back to these cookies.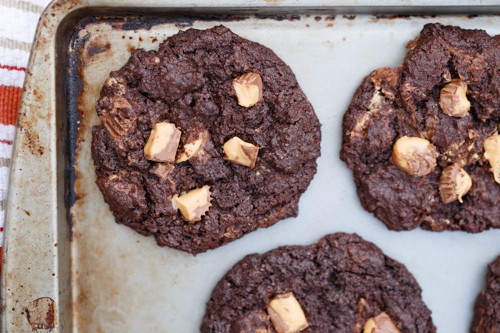 Since these chocolate peanut butter cup cookies are gluten-free, that means they are healthy right? Yea, let's go with that. Healthy, gluten-free cookies. Sounds good to me 🙂
Now I know that cookies sans gluten are normally characterized by a lovely texture that can be at best described as dry, gritty, and crumbly. That's why when I see a baked good labeled as gluten-free, I typically start walking backwards very slowly. But hey, I was pleasantly surprised when these cookies came out of the oven tasting super moist with that desirable elastic chew.
I even immediately had some friends taste them and when I mentioned they were gluten-free, there were looks of pure shock, awe, and amazement. Yup, that's right.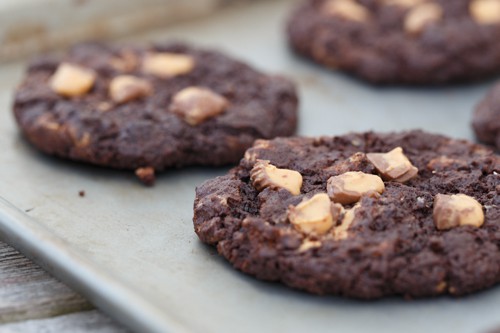 So why chocolate peanut butter cookies? Well, do you know about Levain Bakery in NYC? They are without a doubt home of my favorite cookie in Manhattan. My usual order is the Chocolate Chocolate Chip Cookie (how's that for alliteration?). But recently, I've been totally digging their Chocolate Peanut Butter Cookie. And that's weird because I was never into the whole chocolate – peanut butter combo. I know, don't judge me. I'm understanding it now… it just took me awhile.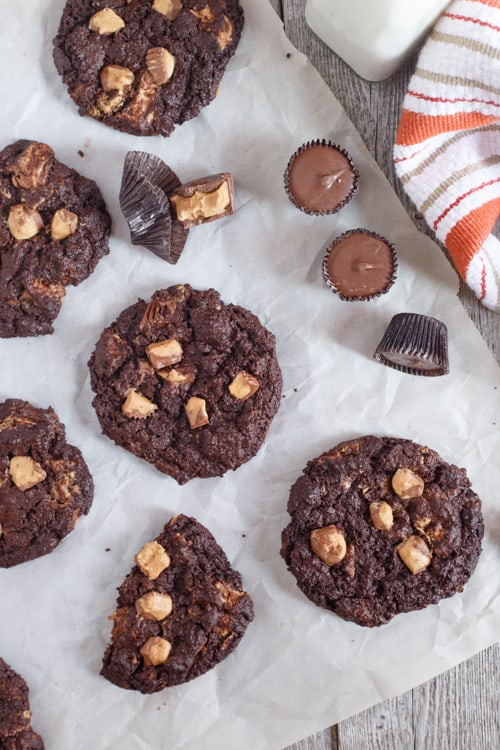 Gotta give credit where credit is due. This cookie recipe has been slightly adapted from Yammie's Gluten Freedom. Check out her site for a ton of amazing-looking gluten free recipes!
Print
Gluten-Free Chocolate Peanut Butter Cup Cookies
---
Total Time:

20 minutes

Yield:

Approximately

18

Cookies

1

x
1/2 cup

(

1

stick) unsalted butter, softened

2/3 cup

brown sugar

1/3 cup

white sugar

1

egg

1 teaspoon

vanilla extract

1/2 teaspoon

baking soda

1/2 teaspoon

Kosher salt

1 cup

cocoa powder

1 cup

peanut butter cups, chopped*
*chop peanut butter cups to the approximate size of chocolate chips
---
Instructions
Combine butter with brown sugar and white sugar until well incorporated. Stir in egg and vanilla extract. In a separate bowl, combine baking soda, Kosher salt, and cocoa powder. Add to wet ingredients and stir until just combined. Gently fold in chopped peanut butter cups.
Using heaping tablespoons, drop cookies onto ungreased sheet pans and bake in a preheated 350°F oven for approximately 10-12 minues.
Prep Time:

10 minutes

Cook Time:

10 minutes