With just 5 ingredients and a few minutes of prep, you can make some ultimate game day grub with these Quick and Easy Buffalo Garlic Knots!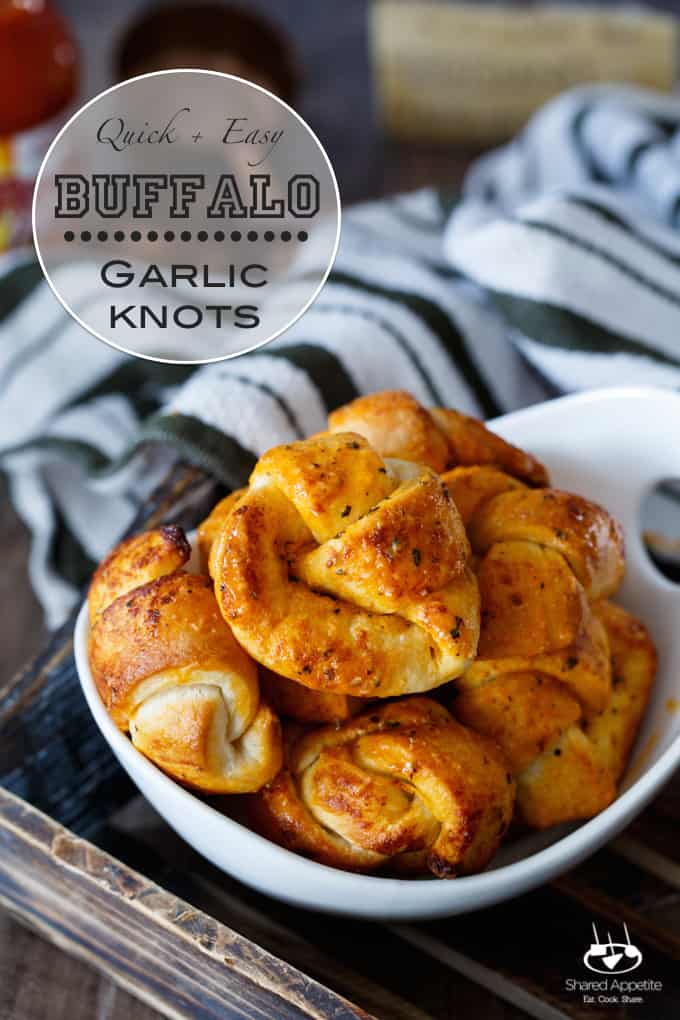 Guys, I am SO pumped. Today's an exciting day. One of my fellow dude food blog wolfpack buddies is very soon expecting his first baby! I couldn't be happier for you, David (and Laura)!
I'm totally confident that, being your son and all, little man Spiced Blog is going to be well acquainted with grilling, Southern hospitality, and will quickly become one of the Olympic curling team hopefuls.
And listen David, you're going to be an amazing dad. I mean, with all the homemade ice cream you make, anyone would love to be your kid. But hey, I figured I would share with you some of the vast knowledge and deep wisdom I've learned in my last whole 3 and ½ months of being a dad myself...
Burp cloths. Buy stock in them. You can never have enough of them, and they are never close enough when you need them.
Just when you sit down to give the little guy a bottle (and give Laura a well-deserved break, of course), you'll realize that your phone and remote control are JUST out of arm's reach. The worst.
Spontaneity is over. Everything is now scrupulously planned, including when you can fit in showering and going to the bathroom. The struggle is real.
Feeding yourself is no longer a right. It's a luxury. Especially a hot meal. Your baby will have the uncanny ability to be perfectly quiet during the whole meal-making process. As soon as you sit down to eat, their brain is activated to start crying.
Lastly, and most important... everyone told me that having kids was the best thing they've ever done. It's 100% unequivocally true. You'll love like you've never loved before. It's truly amazing.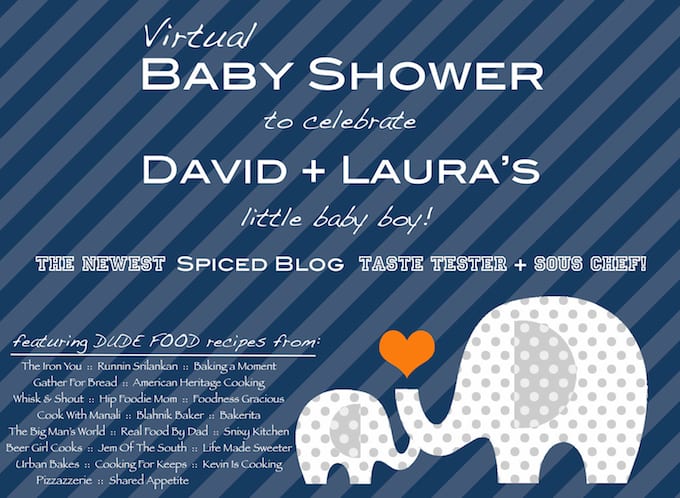 I know David is going to be up all hours of the day (and possibly night) chilling with his little man. He's gonna want to soak in every moment as a new little family, but I also know David is all about big flavors. So he's gonna be needing grub like these creative garlic knots that only takes a couple minutes of prep and can be done in under 20 minutes... and fills him up big time (because who knows when you'll remember or actually have the chance to eat again).
And since David's going to be up a whole lot with his dude, I know he'll be teaching his son all about the finer things in life, including all his favorite sport teams (even if David rooted for Belgium instead of USA in the World Cup a few years back). I can just see David now, chilling on the couch watching some college basketball, with his son in one arm and the other reaching into the bowl of these Quick and Easy Buffalo Garlic Knots. Because dudes' gotta eat some great game day grub when watching sports. It's a rule.
Congratulations David + Laura! You are going to be amazing parents!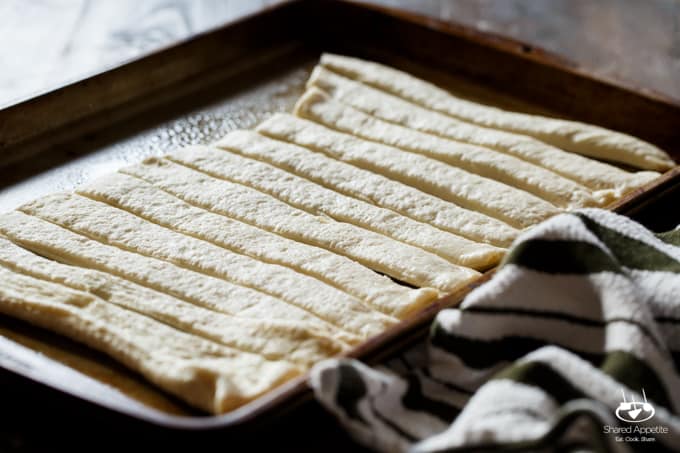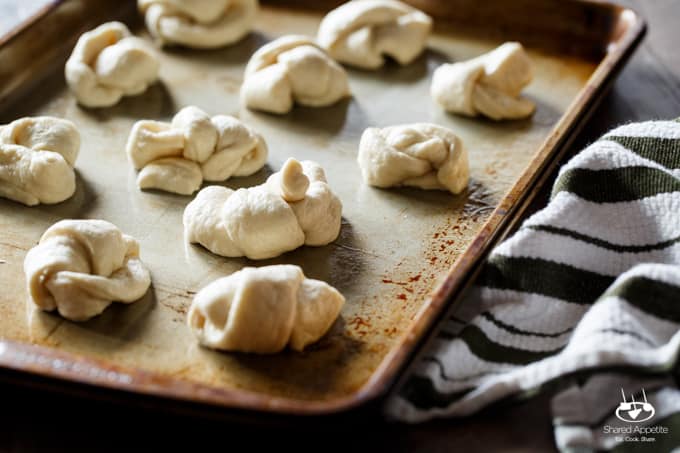 Print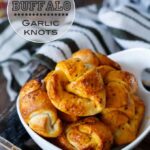 Buffalo Garlic Knots
---
Total Time:

20 minutes

Yield:

12

+ Knots

1

x
Description
With just 5 ingredients and a few minutes of prep, you can make some ultimate game day grub with these Quick and Easy Buffalo Garlic Knots!
---
1

pizza dough*

4 tablespoons

unsalted butter, melted

2 tablespoons

Frank's Red Hot Buffalo Wing Sauce

¾ teaspoon

garlic powder

½ teaspoon

dried parsley

½ teaspoon

Kosher salt
---
Instructions
Preheat oven to 400°F. Combine butter, wing sauce, garlic powder, dried parsley, and Kosher salt in a small bowl.
Pat your dough into a rough rectangle about ½" thick. Using a pizza wheel, cut your dough into strips about 1" wide. You should have at least 12 strips of dough. Tie each strip of dough into a knot, tucking the ends underneath (you can dust dough with a little bit of flour first so it doesn't stick to itself when tying the knots if you would like).
Place the knots on a baking sheet sprayed with nonstick cooking spray. Brush each knot with some of the buffalo mixture. Place in oven and bake until golden brown, about 8-10 minutes.
Remove from oven and smother in remaining buffalo sauce mixture. You could brush or drizzle it, but my favorite way to evenly disperse the sauce on knots is to play knots in a mixing bowl, pour sauce in, place another bowl inverted on top, and shake like crazy for a few seconds. Devour immediately.
Notes
*Feel free to make your own pizza dough, buy one from your local pizzeria, or even grab on of those pizza crusts-in-a-tube in your local grocery store.
Prep Time:

10 mins

Cook Time:

10 mins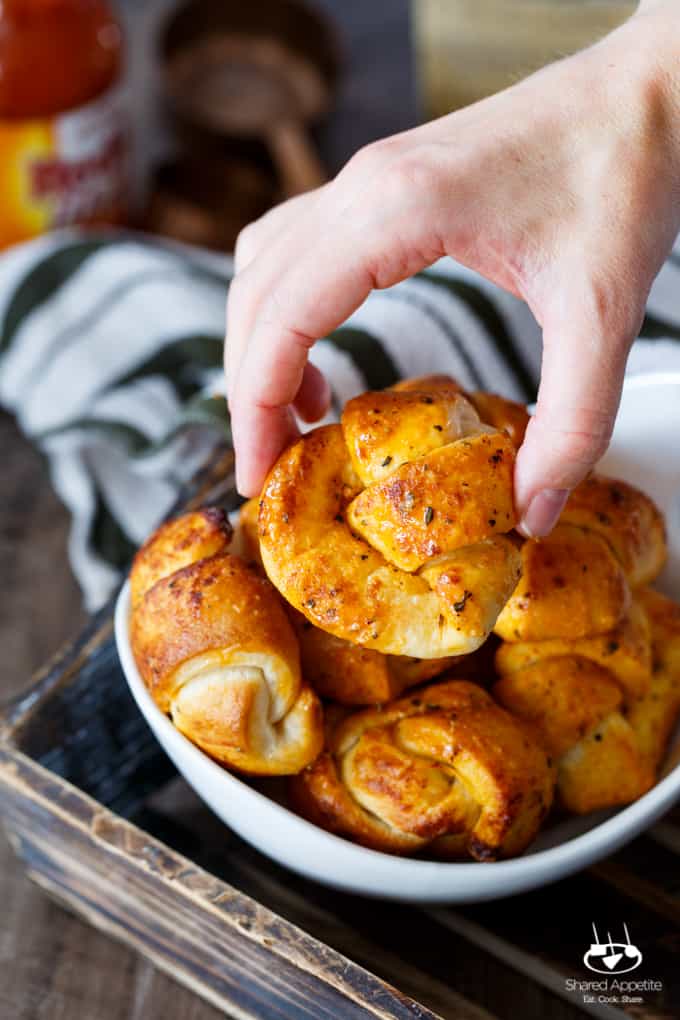 Thank you SO much to all my super talented food blogger friends who are joining in on the virtual baby shower fun! Make sure to check out all of their DUDE FOOD recipes below:
Buffalo Chicken Blue Cheese Hand Pies by American Heritage Cooking
Chocolate Bacon Toffee by Bakerita
Pumpkin Beer Soft Pretzels by Baking A Moment
No Bake Salted Caramel Apple Slice by The Big Man's World
Philadelphia Cheesesteak - Southern Style by Beer Girl Cooks
Shredded BBQ Chicken Nachos by Blahnik Baker
Cinnamon Churros by Cook With Manali
Grilled Brown Butter Burgers with Swiss + Boubon Mushrooms by Cooking for Keeps
Cider Braised Brisket by Foodness Gracious
Ham Potato and Corn Chowder by Gather For Bread
Mini Croques Monsieur Sandwiches by Hip Foodie Mom
Wolfpack-Style Meatballs by The Iron You
Pecan Praline Popcorn by Jem Of The South
No Bake Pumpkin Cheesecake Pecan Tarts by Kevin Is Cooking
Maple Sriracha Pulled Pork Mini Pies by Life Made Sweeter
Vanilla Almond Snowball Cake by Pizzazzerie
Something Amazing by Real Food By Dad
Cinnamon Bacon Donuts by Runnin Srilankan
Buffalo Garlic Knots by Shared Appetite
Spicy Butternut Bacon Deviled Eggs by Snixy Kitchen
Maple Bourbon Bacon Chocolate Donuts by URBAN BAKES
Vegan White Pizza with Spinach & Basil by Whisk & Shout