I hope you like Mexican food...  because I'm bringing it non-stop for the next few weeks.  One of my absolute favorite holidays is coming, and I want to make sure you (and I) are ready.
Cinco de Mayo.  Three beautiful words that bring tears of joyful anticipation streaming down my face.  Okay, well not really, but you get the idea.  It honestly is one of the holidays I most look forward to.
By the end of the month, you will have enough recipes to throw one ridiculous, slightly out-of-control Cinco de Mayo party.  People will be talking about it for weeks.  You'll be a legend within your circle of friends.  And it starts right here, right now.
I'm such a sucker for chips and dip.  Few things in life make me happier than a big bowl of tortilla chips surrounded by a bunch of different salsas and guacamole.  A margarita surely doesn't hurt either 🙂
Have you ever heard of salsa verde?  You know, that green salsa made with tomatillos.  That's what this is.  But it's kicked up a notch with the help of roasting the vegetables first (okay, you caught me, tomatillos are actually a fruit), giving the salsa a nice depth of flavor.
And really, how much fun is it to say tomatillo?  Try saying it without smiling.
...well now you're just not smiling to prove a point.  Grumpy-head.
Not every grocery store carries fresh tomatillos, but good ones do.  Mexican markets definitely should.  And just so you know, tomatillos are a lot firmer than their tomato counterparts.  They don't taste alike either.  Tomatillos have a tart, acidic flavor.
Sometimes the papery skins on tomatillos are a bit stubborn when trying to remove them.  Give them a quick rinse under water and they become a lot more cooperative.  Once removed, give the tomatillos a stern scrubbing, since they naturally have a sticky residue.
This Roasted Tomatillo Salsa is great all on its own, with just some good, salty tortilla chips.  It's fresh.  It's bright.  It's tangy.  And it's got that big herbaceous punch from the cilantro.
But really, I think it shines best in tacos, nachos, burritos, and the like.  It's a great supporting character.
Print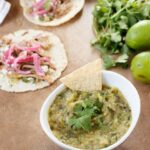 Roasted Tomatillo Salsa
---
6

tomatillos, halved

4

cloves garlic (still in its skin)

1

medium yellow or white onion, cut into thick slices

1

jalapeño

1

-

2

tablespoons olive oil
Kosher salt

1

lime, juiced

⅓ cup

loosely packed cilantro
Freshly ground black pepper
---
Instructions
Preheat oven to 450°F. Place halved tomatillos, garlic cloves, onion slices, and jalapeño on a baking sheet lined with aluminum foil. Drizzle with olive oil, sprinkle with Kosher salt, and toss to coat.
Roast in oven for 15-20 minutes, then broil on high for 3 to 4 minutes, watching carefully to avoid burning. You want the tomatillos and vegetables to get a nice little char on them, but not burn.
Remove from oven and let cool for a bit. Squeeze roasted garlic out from their skins and remove the seeds from jalapeño (unless you want a spicier salsa). Scrape tomatillos, garlic, onion, and the jalapeño into a blender or food processor. Add cilantro and lime juice. Season with Kosher salt and freshly ground black pepper to taste. Puree to desired consistency.
Once cooled, taste and see if the salsa needs any more lime. Mine didn't, but it was a pretty juicy lime.
Tomatillo salsa can be made several days ahead and refrigerated. Serve with tortilla chips or as a perfect accompaniment to burritos, tacos, fajitas, and more.