Compensation for this sponsored post was provided by KitchenAid® and BlogHer. As always, all views and opinions, as well as the recipes herein, are my own.
I've always been down for a good challenge. Unless it was in P.E. class when they did that whole presidential fitness award thing. Mile run? Uhm yea, no way. I hate running. Pull-ups? Haha, I didn't stand a chance.
But a challenge in the kitchen? That I can do. I'm all over it. I was super excited when the cool people over at KitchenAid® challenged me to SAY YUM WITH SUGAR PLUMS. Absolutely. Let's do this! Just wait, uhm, what exactly is a sugar plum?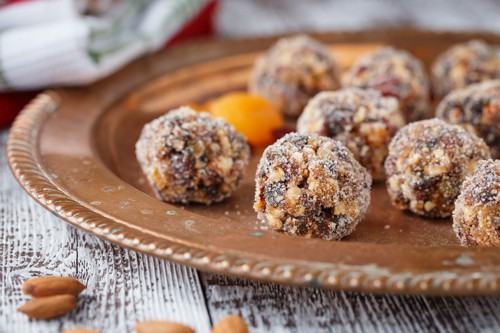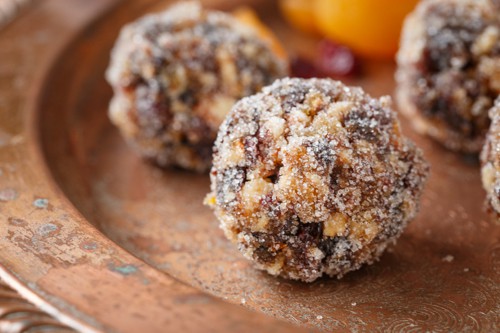 And that's exactly what this challenge is all about. We have all heard of sugar plums. It's kind of a big deal around Christmas time, as the Sugar Plum Fairy in The Nutcracker or the famous line in "Twas the Night Before Christmas" will tell you. But has anyone actually seen, or more importantly, tasted a sugar plum?! Ah, the elusive little bugger. Let's crack this challenge.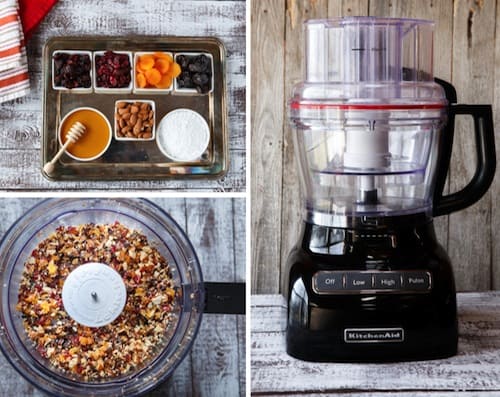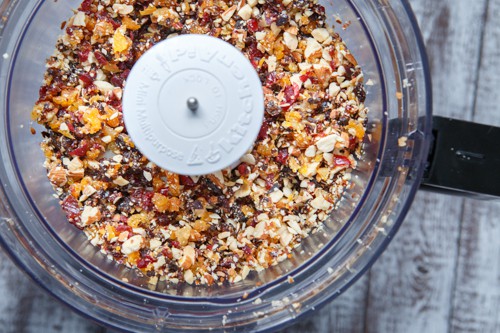 A little short and sweet history lesson... It appears sugar plums are no plums at all. And if we lived in England in like the 1600-1800s, we wouldn't even be having this conversation. We would already know it's just another name for a dragee or comfit.
Don't know what dragees or comfits are? Yea, neither did I. They're just a type of candy where a seed or other goodie of choice was enrobed in layer after layer of thin coats of melted sugar, which would then harden on top of one another to form a piece of candy. Think jawbreakers or Jordan almonds. You get the picture.
Back in the day, before the whole Industrial Revolution rise of the machines thing, this was an incredibly tedious process all done by hand. It was a big pain in the rear end, which made these little confections pretty luxurious and expensive.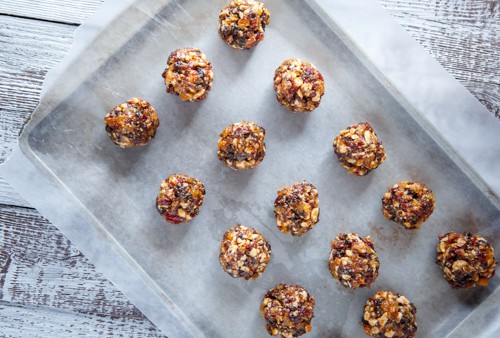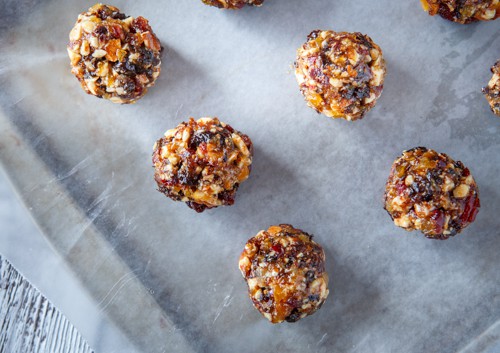 So why the term sugar plum? Initially, the candies might have resembled the actual plum in size and shape. But after a while, sugar plum started being used in everyday vernacular, like when I affectionately call my wife honey or someone goes insulting another by calling them a chicken.
Apparently, if your "mouth was full of sugar plums", you spoke sweet words of unsure truth. If you "stuffed another's mouth with sugar plums", you were bribing them. If you were called a sugar plum, you were wealthy.
See, wasn't all that interesting? Sugar plum isn't just some cutesy Christmas lingo. If you're interested in more sugar plum history, head over here to this article. That's where I got most of my intel.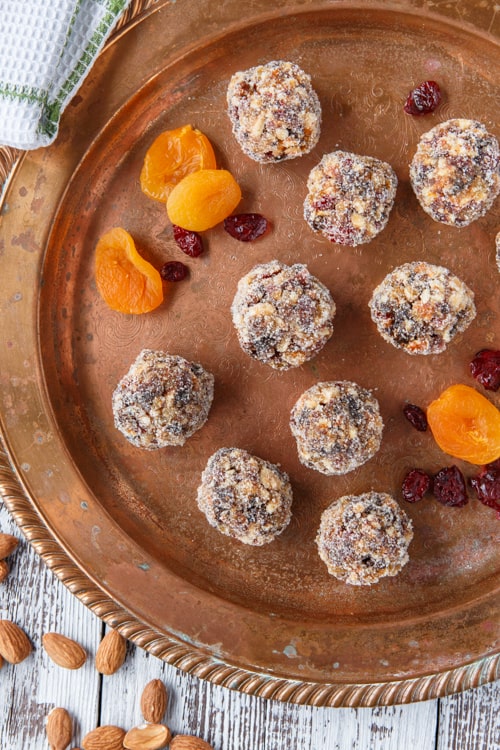 But really, what I really wanted to know was... what's in these things?! From a look across the interwebs, all the recipes have a couple things in common. There's some dried fruit, some sort of nuts, a bit of honey, and a dash of a few spices. Roll them up into balls, coat them in sugar or shredded coconut, and you have yourself some sugar plums.
Now I've never experienced an actual fruitcake, but I imagine sugar plums are pretty much like fruitcake rolled up into ball form (sans the whole gluten-laden cake part). Or maybe more accurately, one of those fruit and nut energy bars rolled up into a ball.
I'll give you my take on a sugar plum recipe below, but there's a whole lot of variation you could go with to make them all personal. Feel free to use whatever kinds of nuts or dried fruit you're into. You could also get all crazy with the spices and try cocoa powder, allspice, cardamom, or ground caraway or fennel seeds. Maybe even a dash of vanilla or almond extract. Choices, choices.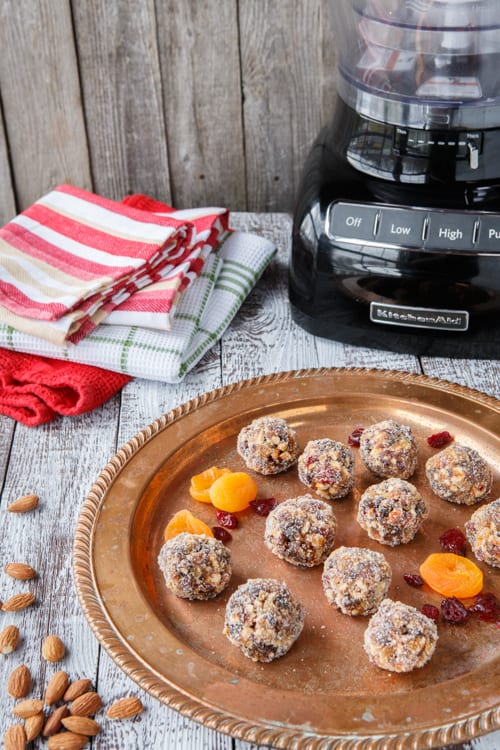 Making sugar plums could be a big pain to make if you had to chop everything by hand. It wouldn't be fun at all. But you know what makes super quick work of it all? Like literally takes every ounce of difficulty and prep work out of the process? My beautiful workhorse of the kitchen. My food processor. Specifically, my 13-cup KitchenAid® 13-Cup Food Processor. It's pretty amazing. And it looks great next to my KitchenAid® Stand Mixer 🙂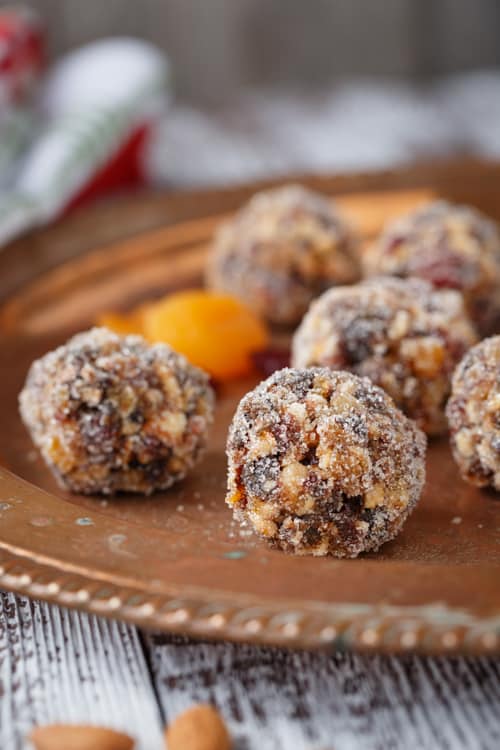 $200 Visa Gift Card Giveaway
You wouldn't be interested in a $200 Visa gift card, would you? Yea, I didn't think you wo.... oh, oh, you are interested? 🙂 To enter the giveaway, leave a comment below telling me how you SAY YUM WITH SUGAR PLUMS or how you recently conquered your own personal cooking challenge in the kitchen — or look below to find out other ways you can enter for a chance to win.
Sweepstakes Rules: No duplicate comments.
You may receive (2) total entries by selecting from the following entry methods:
Leave a comment in response to the sweepstakes prompt on this post
Tweet (public message) about this promotion; including exactly the following unique terms in your tweet message: "#moretomake" and "#SweepstakesEntry"; and leave the URL to that tweet in a comment on this post
Blog about this promotion, including a disclosure that you are receiving a sweepstakes entry in exchange for writing the blog post, and leave the URL to that post in a comment on this post
For those with no Twitter or blog, read the official rules to learn about an alternate form of entry.
This giveaway is open to US Residents age 18 or older. Winner will be selected via random draw, and will be notified by e-mail. You have 72 hours to get back to me, otherwise a new winner will be selected.
The Official Rules are available
here.
This sweepstakes runs from 12/18/13 - 12/31/13.
Be sure to visit the
KitchenAid® Brand Page
on BlogHer.com where you can read other bloggers' reviews and find more chances to win!
Print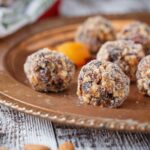 Say Yum To Sugar Plums
---
Yield:

approximately

14

-

16

Sugar Plums

1

x
¾ cup

almonds, toasted

½ cup

dried plums (prunes)

½ cup

dried apricots

¼ cup

dried cranberries

¼ cup

dried cherries

½ teaspoon

teaspoon orange zest

¼ cup

honey

¼ cup

powdered sugar

½ teaspoon

ground cinnamon

¼ teaspoon

ground nutmeg

¼ teaspoon

ground coriander
Kosher salt
Coarse sugar, for rolling
---
Instructions
Add almonds, dried plums, dried apricots, dried cranberries, dried cherries, and orange zest in a food processor. Pulse until mixture is finely chopped.
Meanwhile, in a medium bowl, combine the powdered sugar, cinnamon, nutmeg, coriander, and a pinch of Kosher salt.
Add honey and the fruit and nut mixture to the medium bowl. Wearing gloves (or spraying hands with nonstick cooking spray), fully combine all ingredients. Roll into small 1" balls and coat in coarse sugar.