I hope you'll indulge me for a little bit as I talk about our friends Tommy and Lea.  I promise there is a round about segue into peach margaritas somewhere in all of this.  Kind of.
So I've been getting more and more interested in photography over these last few months.  There is a ridiculous amount to learn, but I'm totally digging the process.  I've been obviously focusing on the food aspect of it all, but recently had the urge to get my feet wet with photographing people.  Over the next couple of months, I'm planning on hounding a bunch of my friends to let me do little photo shoots with them (friends, be forewarned).  My first victims/volunteers were Tommy and Lea.
They never had the opportunity to do an engagement shoot, so it was perfect timing actually that this was a week before they celebrated their first anniversary.  We'll call it a first anniversary shoot then... sound good?  It was a really fun day.  Asheley and I showed them a bunch of our favorite food spots and we stopped for some photos along the way.  Here's a couple of their favorites...
Okay, okay, I promised that all of this would some how relate back to peach margaritas, right?  Well, it does, sort of, in a pretty lame kind of way.  But I wanted to share the photos of Tommy and Lea with you.  Sorry.  And thanks.
So this past Cinco de Mayo I hosted a Cinco de Man-o party (all our wives were away on a church retreat, so it was just a bunch of dudes).  Tommy was there and he took a mighty liking to this margarita.  So there's the connection.  Yup, that's it.  I told you it was lame.
But let's talk about this quick and easy margarita.  Really, there are few pleasures in life more fulfilling than hanging out with friends with a big bowl of tortilla chips, a plethora of salsa and guacamole, and, of course, a bountiful supply of margaritas.
My first experience with a peach margarita was at Bobby Flay's Mesa Grill in NYC.  His featured a puree of fresh in-season white peaches and some ridiculously high end tequila I'm sure .  But you know what?  Peaches aren't in season right now by me.  And all I have is some Jose Quervo in the house.  And I want a peach margarita.  And I want it now.
This recipe couldn't be simpler.  It's perfect for entertaining when you don't want to spend the whole night behind the bar.  So easy, in fact, that you can just tell a friend how to make them quickly and then put them in charge.  Now that's an idea 🙂
Print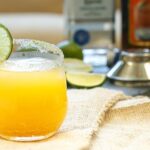 Simple Peach Margarita
---
2

parts silver tequila (I used Jose Quervo)

1

and ½ parts peach schnapps

1

lime, juiced

½ cup

peach nectar*
Ice
*Goya sells a brand that is readily available in supermarkets. Alternatively, you could thaw frozen peaches (about 1 peach worth) and puree with a tablespoon of superfine sugar.
Lime-Sugar for the Rim of your Glass
1 tablespoon

sugar

1 teaspoon

lime zest
---
Instructions
Combine the tequila, peach schnapps, peach nectar, and juice from one lime in a cocktail shaker filled with ice cubes. Shake for about 10-15 seconds and serve in a lime-sugar rimmed glass with ice cubes.
For the Lime-Sugar
Combine sugar and lime zest (I vigorously shake them together in a small ziploc bag). Pour out onto a small plate. Using the lime that you just used for the margarita, rub it around the outside edge of your glass to moisten the rim. Rotate your glass rim through the lime-sugar.