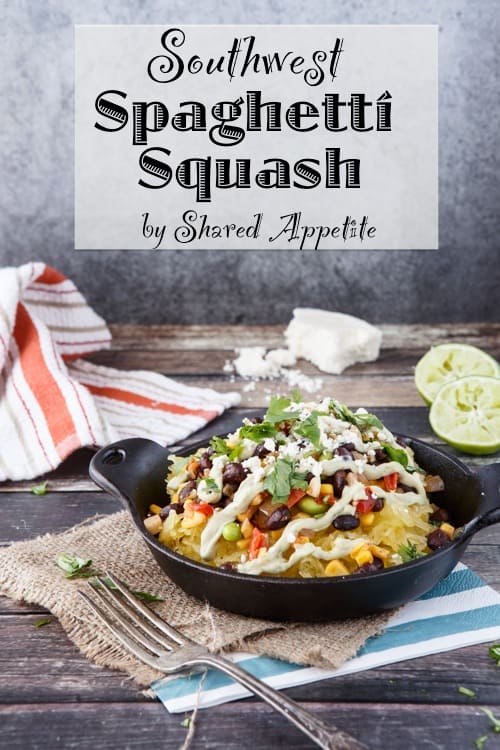 A healthy, creative southwest spaghetti squash bowl topped with southwest succotash and avocado crema. So good you'll forget it's good for you!
Remember back towards the beginning of January when I announced it was time for me to stop being a fatty? It's about time I give you an update with how that's all been going.
My buddy Steve and I have been going to the gym several times a week before work. It's hard rolling out of bed in the pitch black knowing full well it's stupid cold outside. But we're committed. He's getting married in July and we need to look good in tuxes.
Weeknight take-out dinners have been replaced with strategic healthy cooking. All junk food snacks have been hidden from sight. And I managed to only take a single bite of those homemade brownie sundae klondike bars I made. That was the toughest moment of my "diet" so far. I had to dig down deep for some willpower.
And, in three weeks, I'm down 14 pounds.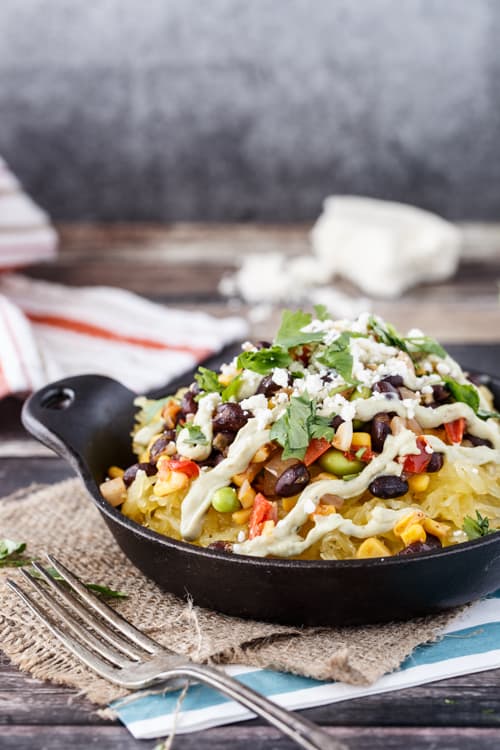 I still have about 20 pounds to lose, but to know that I'm on the right track is a great feeling. We can do this!
So I could tell you 2 things right now. I could try to make a case for how spaghetti squash tastes just like pasta and blah blah blah. But that would be a complete and utter lie. It doesn't taste like pasta. What it does taste like is spaghetti squash. And you know what? That's okay, because spaghetti squash is delicious and like a bajillion times healthier than pasta.
So although it's not pasta and doesn't taste like pasta, it does make for a great base to build on tons of different flavors.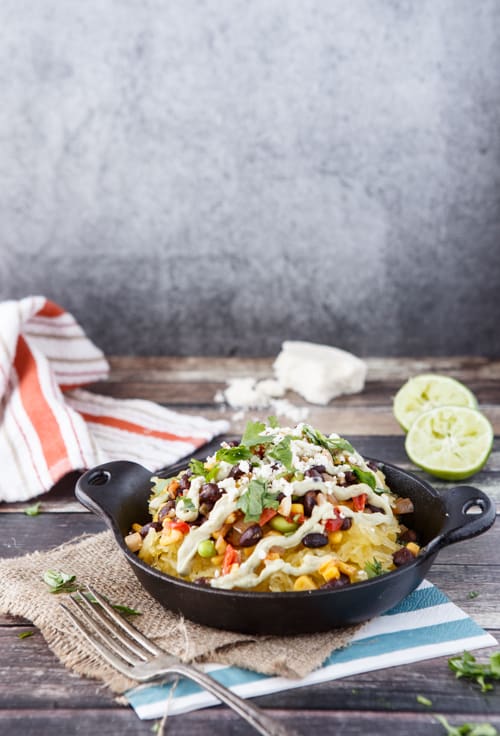 The southwest succotash has the normal suspects... onions, peppers, jalapeno, black beans, corn, lime, and some of those Mexican-y spices. But I threw in some cooked edamame as well simply because it was lying there in the freezer looking at me and it adds a nice pop of color. Feel free to omit that if you're not feeling it.
No matter what, don't skimp on the avocado crema. It's totally crucial to maximizing the full enjoyment of this Southwest Spaghetti Squash. And since it's made with Greek yogurt, you can go nuts with the stuff.
Print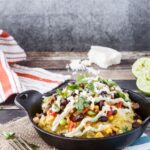 Southwest Spaghetti Squash
---
Total Time:

1 hour

Yield:

4

servings

1

x
1

spaghetti squash

3 tablespoons

olive oil

½

red onion, finely chopped

1

red bell pepper, seeds removed, finely chopped

1

jalapeno, seeds removed, minced

2

cloves garlic, minced

½ teaspoon

cumin

½ teaspoon

paprika

½ teaspoon

Mexican oregano

1

(15 ounce) can black beans, rinsed and drained

1 ½ cups

frozen corn kernels, thawed, or 1 (

15 ounce

) can corn, rinsed and drained

1 cup

cooked edamame beans

1

lime, juiced
Kosher salt
Freshly ground black pepper
Avocado Crema (recipe below)
Queso fresco, crumbled, for garnish
Cilantro, roughly chopped, for garnish
for the Avocado Crema
1

ripe avocado, roughly mashed

½ cup

plain Greek yogurt

1

lime, juiced

1

clove garlic

¼ cup

extra virgin olive oil
Kosher salt
Freshly ground black pepper
---
Instructions
Preheat oven to 400°F. Carefully cut your spaghetti squash in half with a large, sharp knife. Remove seeds and stringy guts, and brush the cut sides of the squash with 1 tablespoon of olive oil. Season with Kosher salt and freshly ground black pepper. Place spaghetti squash, cut side down, on an aluminum-lined baking sheet and roast until tender, about 45-60 minutes.
To test if your squash is done, scrap the flesh with a fork. If the strands come off easily, it's done. Let the cooked spaghetti squash cool for about 5 minutes, then scrape all the flesh into a beautiful pile of spaghetti strands. Taste and season with some more Kosher salt and pepper if needed.
Meanwhile, heat remaining 2 tablespoons of olive oil in a skillet over medium heat. Add onion, red bell pepper, and jalapeno. Season with Kosher salt and cook for about 4 minutes, stirring occasionally. Add garlic, cumin, paprika, and Mexican oregano, and cook for 1 more minute, stirring to avoid burning garlic. Add beans, corn, and edamame. Season with Kosher salt and freshly ground pepper, stir to combine, and cook until heated through. Squeeze in the juice of the lime and give it one last quick stir.
Divide spaghetti squash among four bowls. Top with southwest succotash, avocado crema, crumbled queso fresco, and cilantro.
for the Avocado Crema
Combine avocado, Greek yogurt, lime juice, garlic, and extra virgin olive oil in a food processor until smooth. Season with Kosher salt and freshly ground black pepper.