This post for Steak, Romesco, and Goat Cheese Wrap with Avocado and Crispy Shallots is sponsored by Flatout Bread. As always, all opinions and recipe are my own. Thanks for supporting the brands that support Shared Appetite!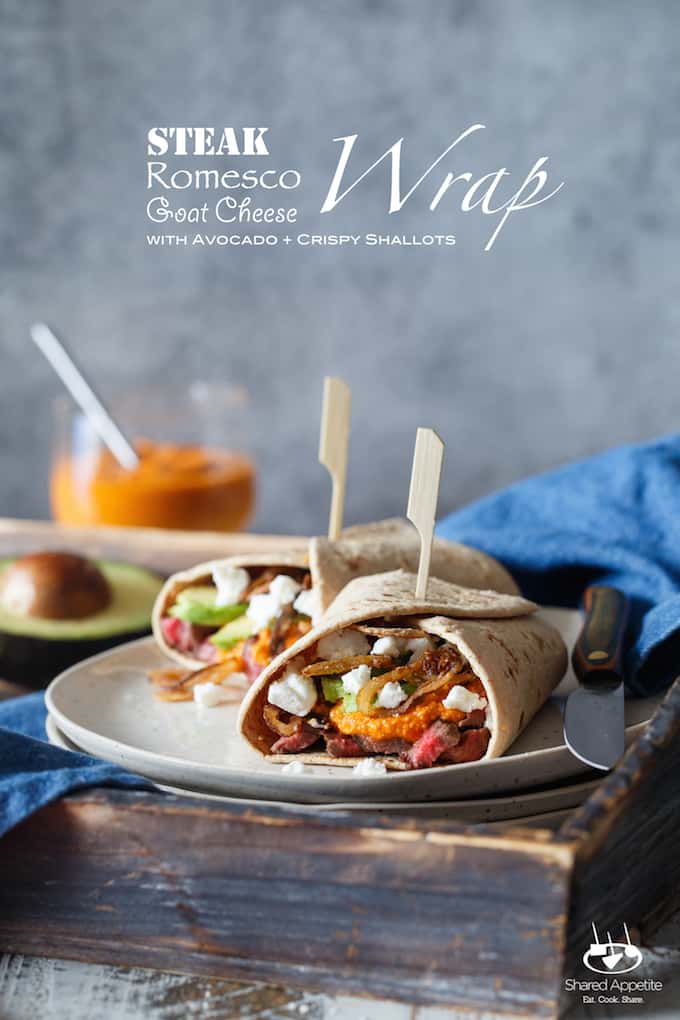 Phew, last week was a doozie. Single parents, I literally don't know how you guys do it. We were on school break last week (a huge perk of being a teacher), but Asheley still had to wake up and do the actual work thing. Holy crap, let me tell you... being at work is way more of a vacation than having off all week.
Don't get me wrong. There is nothing greater on this entire earth than being Olivia's daddy. It's the most rewarding and fulfilling job I could have been blessed with. It's just that... she's a ton of freaking work. She's got the crawling thing down now. It used to be cute. Oh look, she moved a few inches! Get the camera, get the camera! Now it's more like... holy crap will you just sit still for two seconds and not continuously lunge for random wires, electronics, remote controls, and other off-limit items.
And let's talk about Olivia's super human baby strength. Once she gets a good grip on a cord or wire (or my face), it's like the ultimate Vulcan death grip. You seriously have to pry her fingers off one by one.
By the time I'm done chasing her around all day and have accomplished the task of keeping her safe and alive for 13 straight hours, I can barely string together enough words to have a coherent conversation with Asheley.
But then, without fail, the following question always drops... hey hun, what's for dinner?!
Uhm, crap. Dinner.
And it's times like that I turn to whatever is in the fridge and pantry. You can usually turn just about anything into a taco, quesadilla, or... wrap! And thankfully because we usually maintain a good stockpile of food in the house, this epic Steak, Romesco, and Goat Cheese Wrap with Avocado and Crispy Shallots became a reality.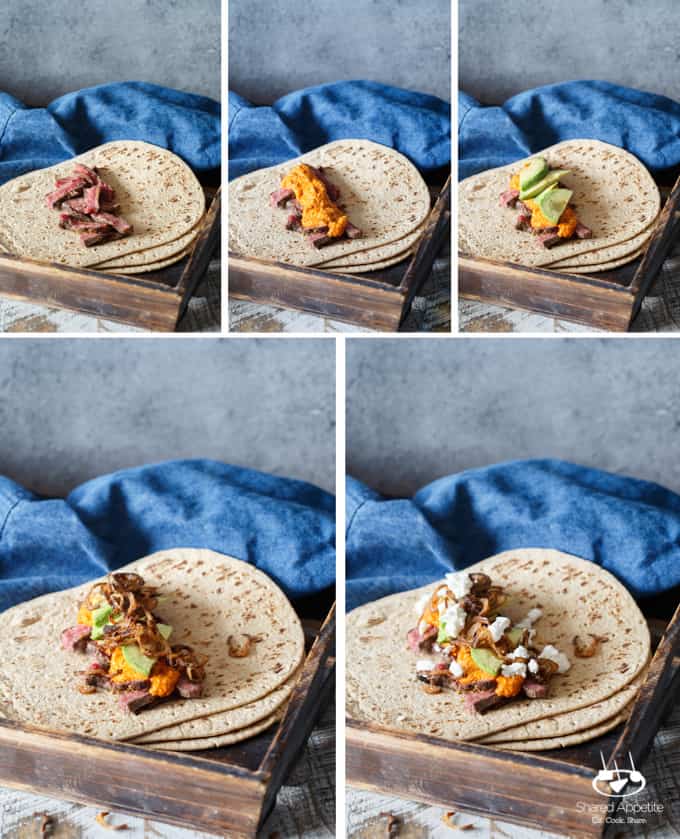 Let's talk romesco sauce. It's the real deal. Roasted red pepper and tomato. Almonds and a big acidic vinegar punch. It's Spanish in origin and packs a legit punch of bold flavor. I love pairing it with a juicy medium-rare steak.
Add in some tangy goat cheese, homemade fried shallots (don't worry, they are ridiculously easy to make), and avocado... well that's one heck of a creative dinner wrap.
And yes, I know that the romesco sauce does take a little bit of work. But here's what I do for really easy weeknight dinners... I make a big batch of romesco sauce on the weekend and freeze it in portions. That was you always have a huge flavor boost on hand!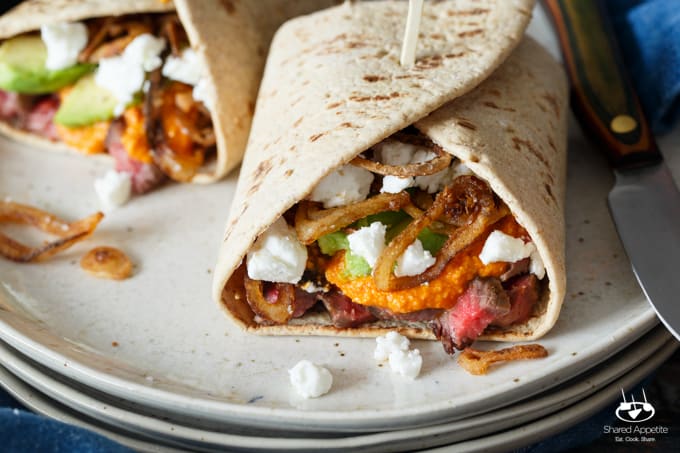 Side note. When there's not a whole lot of time to meal plan and my wife is
hangry
(that's angry hungry, for those unfamiliar), I love relying on Flatout wraps, Fold Its, and pizza crusts for quick and easy dinners. I'm 100% positive Flatout has saved weeknight dinner at least 3 times in the past two weeks.
Make sure to check the deli section of your local grocery store for the full-range of Flatout products. Here's a store locator to help out 🙂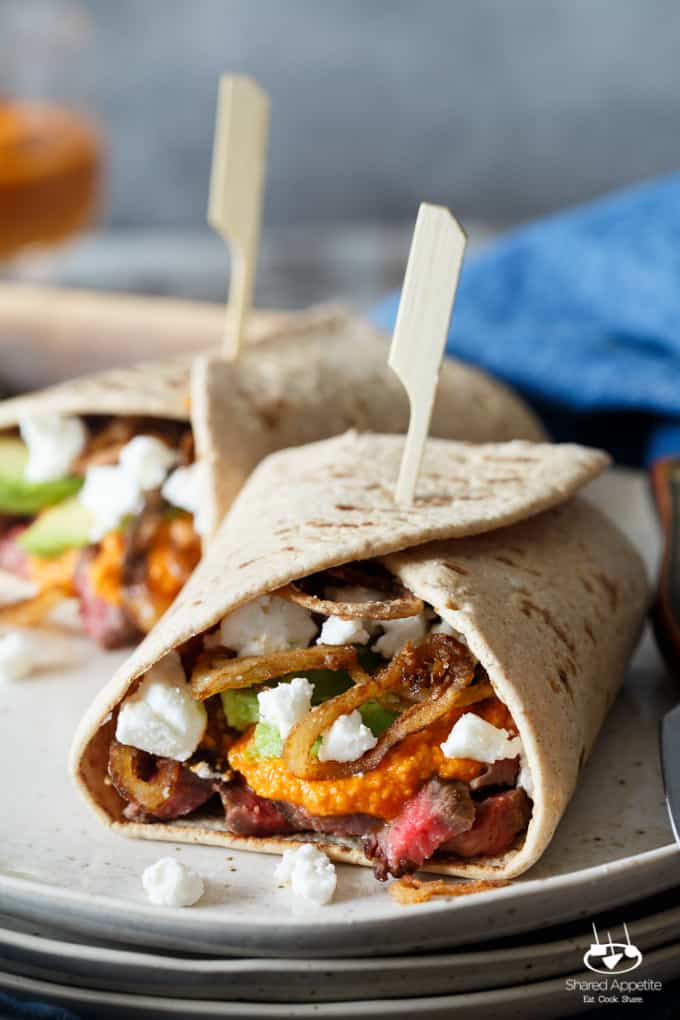 You can find the recipe for this Steak, Romesco, and Goat Cheese Wrap with Avocado and Crispy Shallots on Flatout Bread!