This Vegan Blueberry Meyer Lemon Mousse might be dairy free and gluten free, but you better believe it's big on taste! It's a bright, bold way to start the day!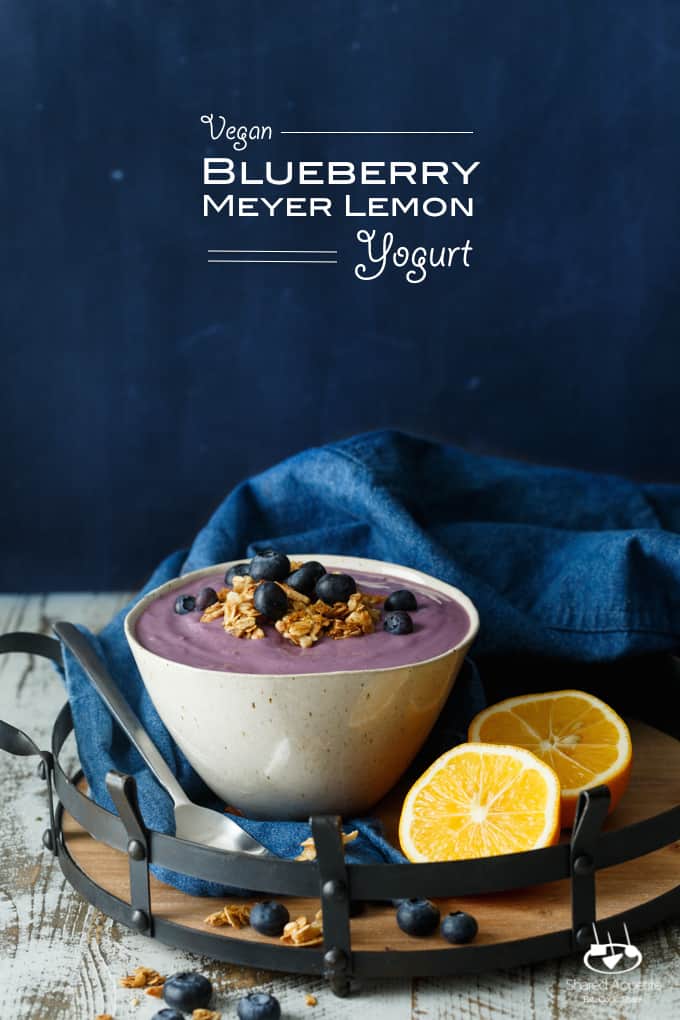 This originally was going to be a vegan dessert mousse. True story.
I've used silken tofu in the past to make this Vegan Dark Chocolate Peanut Butter Mousse and Vegan Chocolate Raspberry Mousse. Heck, it even made an appearance in this Vegan Chocolate Salted Caramel Pudding.
So I figured, hey... let's use the same process with brighter and more spring-like flavors like blueberry and meyer lemon. It'll be perfect.
Now, sometimes, the recipe idea in my head actually translates to a fantastic finished product. And then of course, there are those total and complete failures. Maybe more than I want to admit.
But in this case, it was neither of the above. It wasn't a mousse, but it wasn't bad. It... just required a bit of a name change. I can't even take credit. I was bummed that this didn't taste very mousse-like, but my buddy Tyler (i.e. the all things technical guru for Shared Appetite and resident dairy-free expert) said it actually tasted like a great dairy-free breakfast yogurt. Genius.
Vegan Blueberry Meyer Lemon Yogurt. Exactly what I meant to make the first time.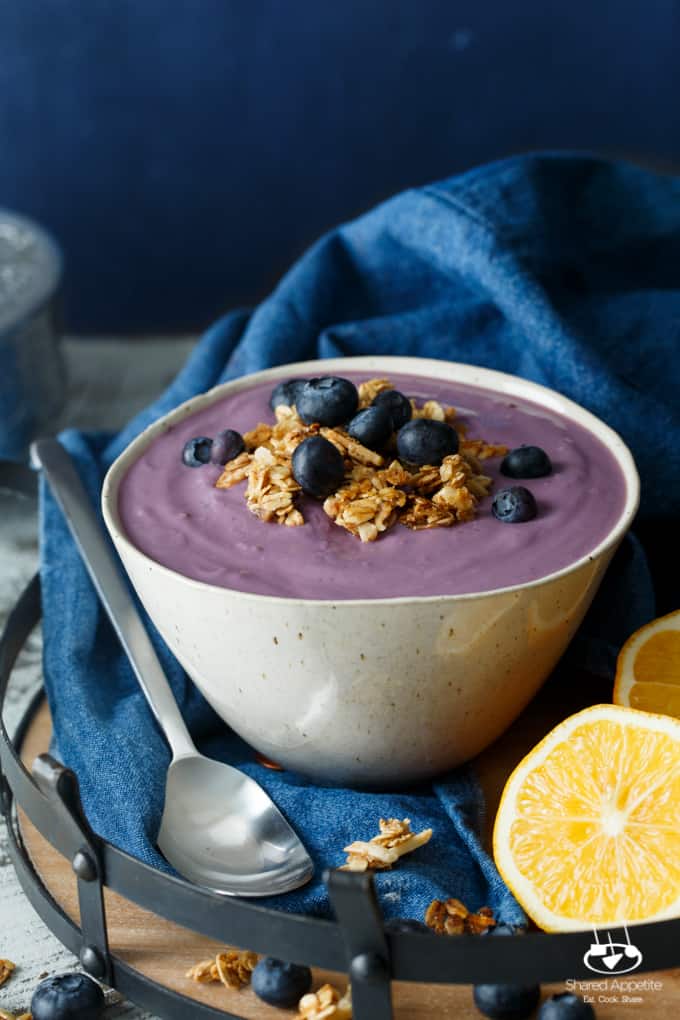 Once Tyler suggested the name change, my first step was to grab some of my favorite granola from the pantry. Yup. That sealed it. Vegan dessert became vegan breakfast.
I know for those people with a vegan and/or dairy-free diet, silken tofu is nothing new and not so secret. But for the rest of us, it totally is... and for all of those peeps, trust me. You can't taste tofu at all. It takes on whatever flavor you blend with it, and it provides the smoothest, creamiest non-dairy texture you could imagine.
A few tools you may need:
I have and love this Microzester
. I use it at least a few times a week. It's perfect for grating garlic and ginger into dishes you want them to dissolve in, zesting citrus, and creating a pile of Parmesan snow on top of pasta dishes.
This is the Food Processor I own. It's a great workhorse in the kitchen!
Print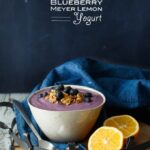 Vegan Blueberry Meyer Lemon Yogurt
---
1

(12 ounce) package organic silken tofu, drained

2 cups

frozen blueberries, thawed

1

Meyer lemon, zested and juiced

½ cup

coconut sugar

½ teaspoon

vanilla extract
Fresh blueberries, for garnish
Granola, for garnish
---
Instructions
Carefully remove tofu from package and let drain for 5 minutes on a few folded-up paper towels.
Puree thawed blueberries and pass through fine mesh sieve, discarding solids.
In a food processor, blend tofu, ⅓ cup blueberry puree, Meyer lemon zest and juice, coconut sugar, and vanilla extract until very smooth. Scrape into a bowl and refrigerate for at least 1 hour, up to several days.
Serve with fresh blueberries and your favorite granola.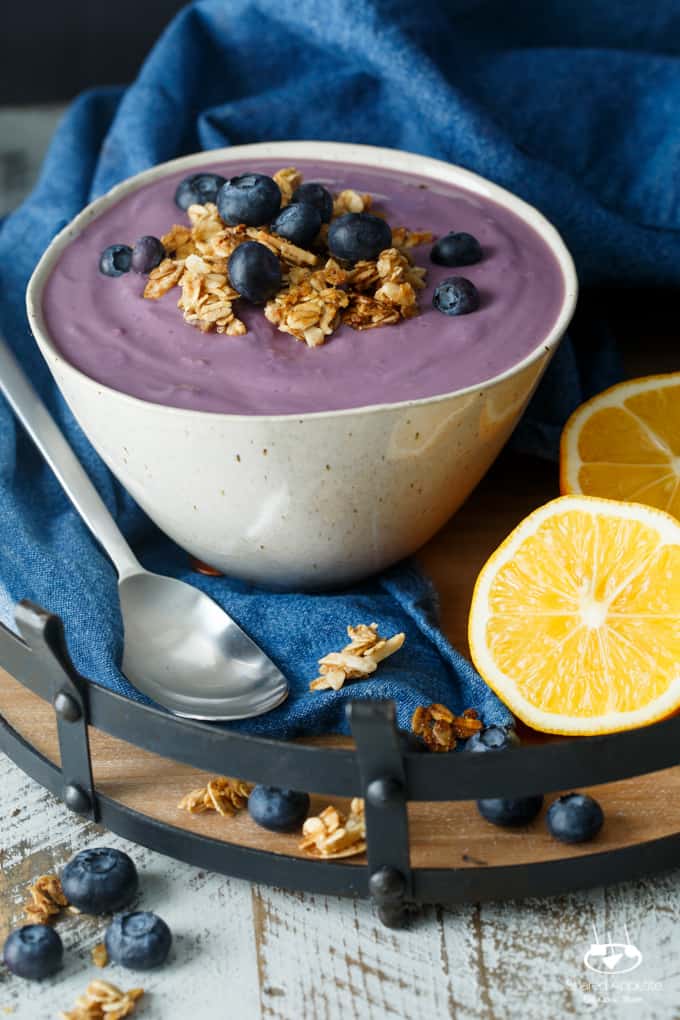 Vegan Blueberry Meyer Lemon Yogurt
More Vegan Recipes?
Vegan Chocolate Raspberry Mousse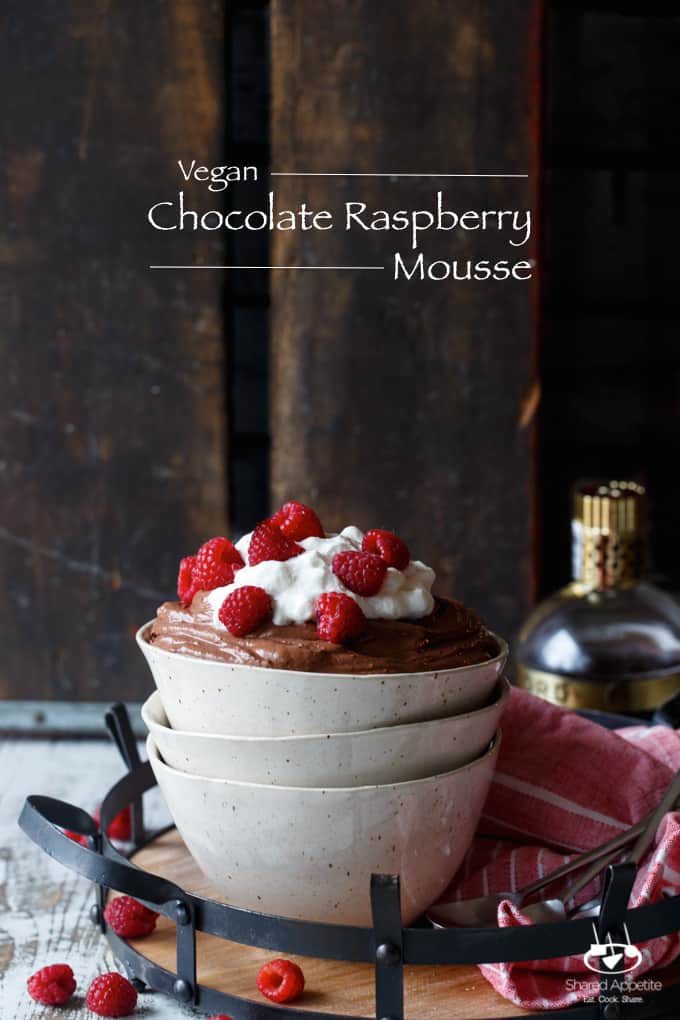 Vegan Chocolate Salted Caramel Pudding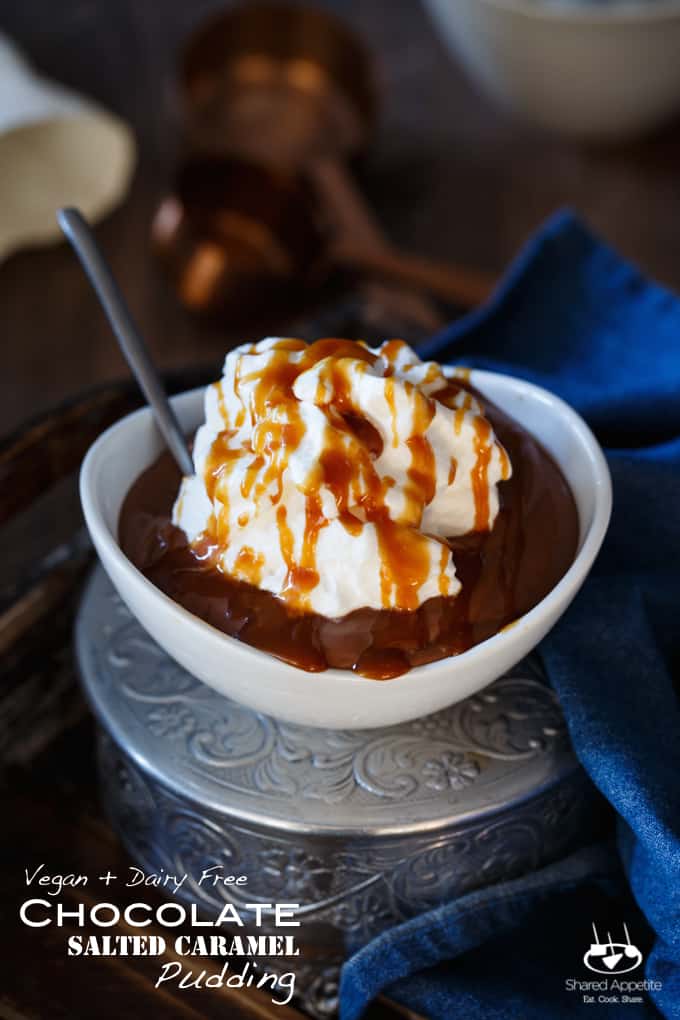 Vegan Easy Overnight Apple Cinnamon Steel Cut Oats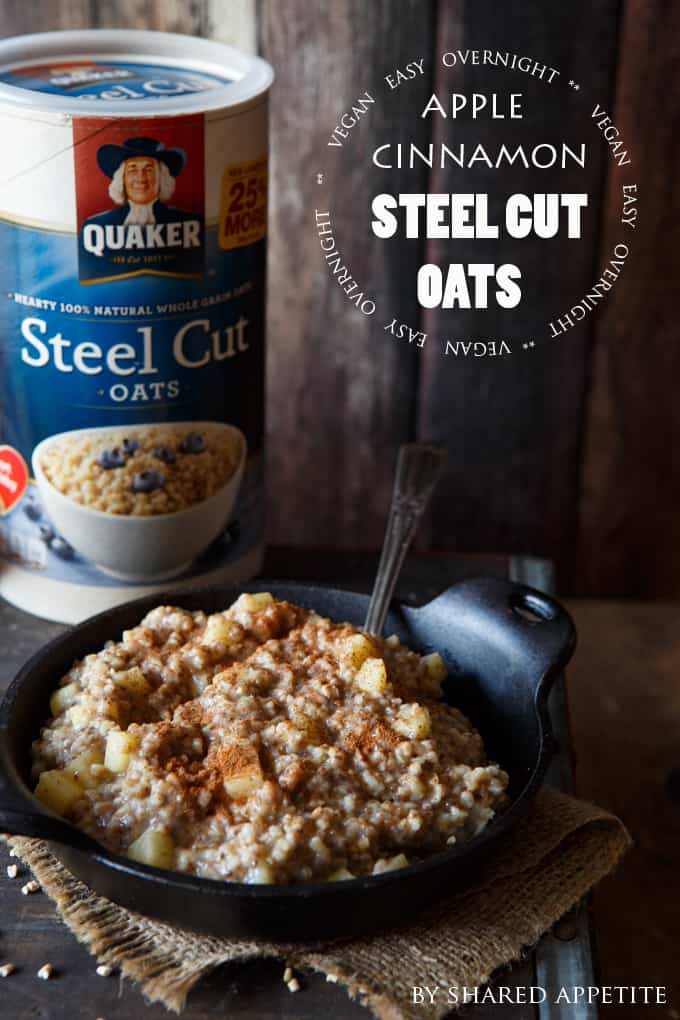 Vegan Dark Chocolate Peanut Butter Mousse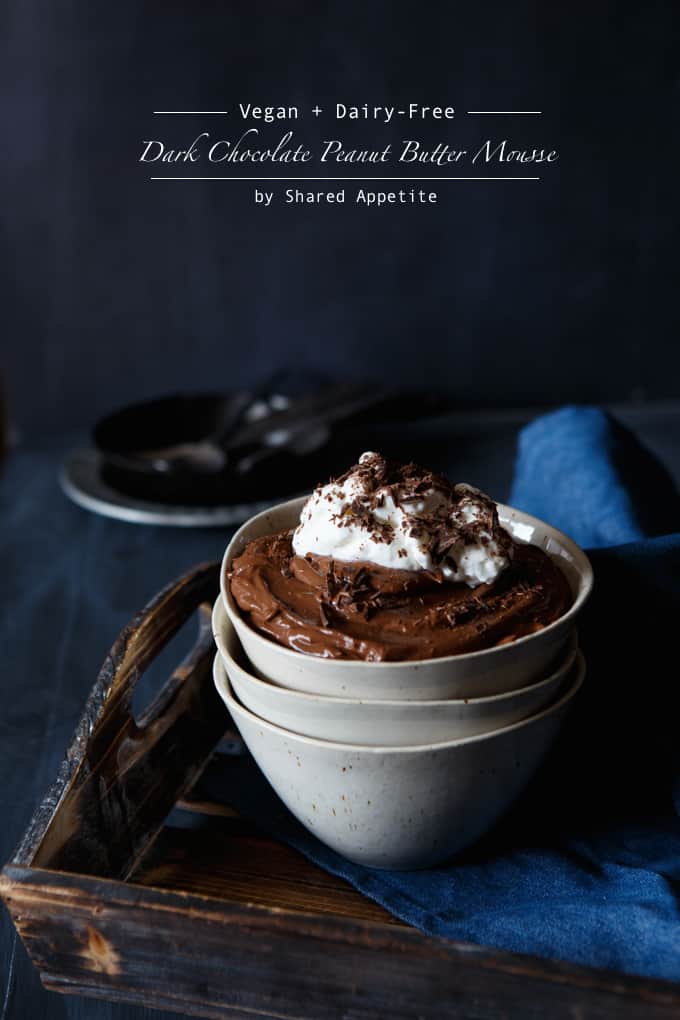 Vegan Thai Peanut Sweet Potato Skins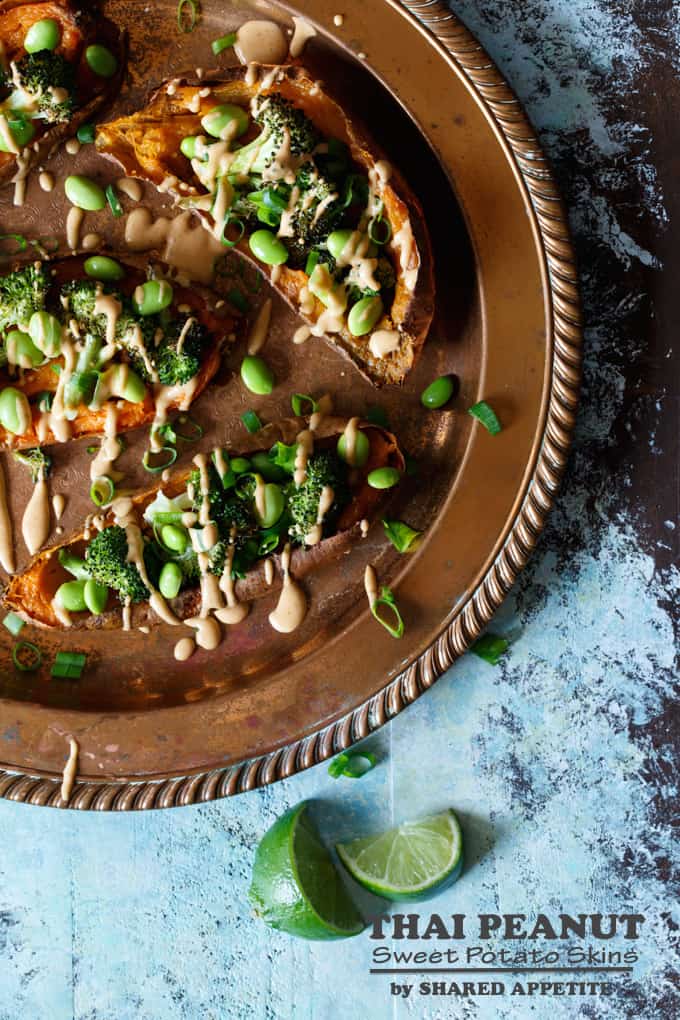 Vegan Butternut Squash, Apple, and Cranberry Rice Pilaf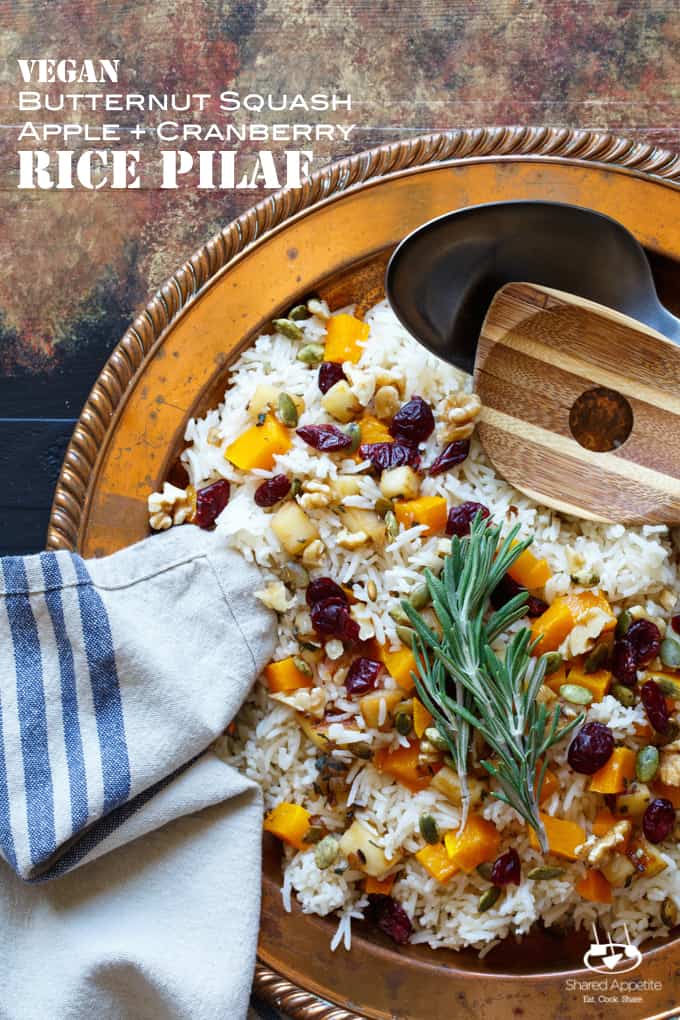 Vegan Southwest Sweet Potato Noodle Bowl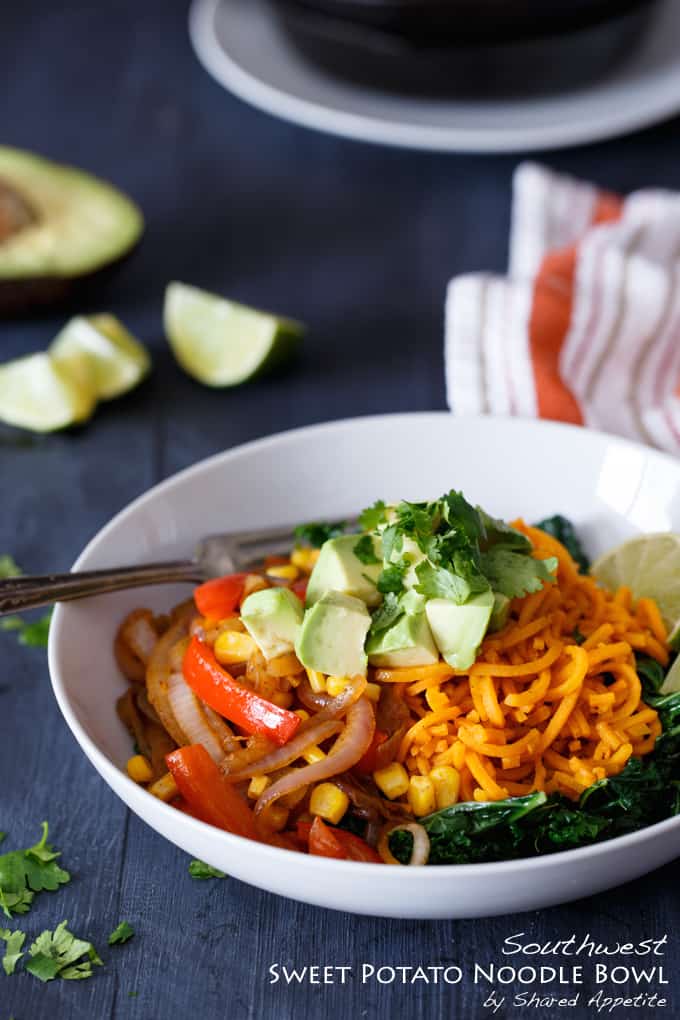 Vegan Thai Peanut Sweet Potatoes