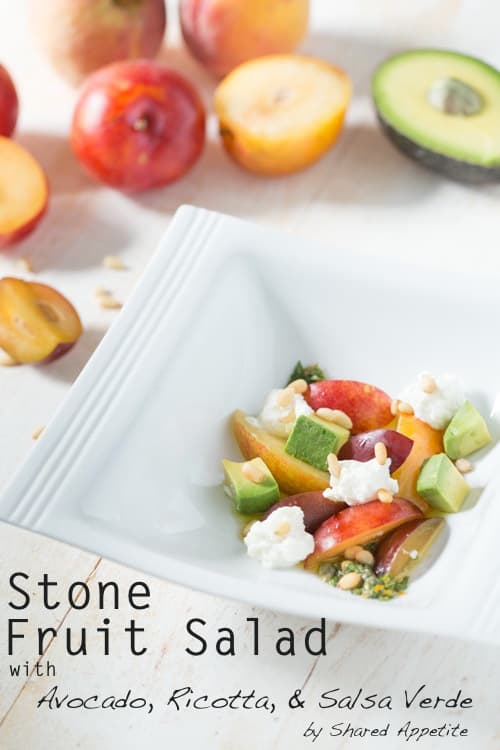 If you're thinking to yourself, This Chris guy has totally lost it... this sounds like a really weird combination of ingredients, you may be half right. I may be losing it. But this unusual pairing actually works, and it totally was not my idea. I can't even take a glimmer of credit.
Ever since dining (twice) at San Francisco's Flour + Water, I can't stop thinking about Chef Thomas McNaughton's insanely delicious stone fruit salad. It was phenomenal. Utterly mind-blowing. And like you, I was skeptical at first.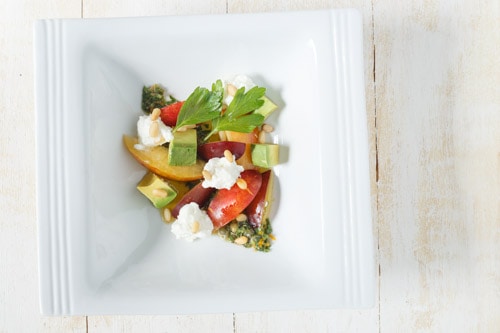 This is such a quick and simple salad to throw together at the last minute for an easy, unique appetizer or as light lunch.
And listen, and I can't really stress this enough, the secret to success for this salad is the quality of ingredients. The fruit has to be ripe. Like, the kind when you bite into them juice simultaneously squirts into your eyes, temporarily blinding you, and runs down your chin, neck, and onto your clothing. That kind of ripe.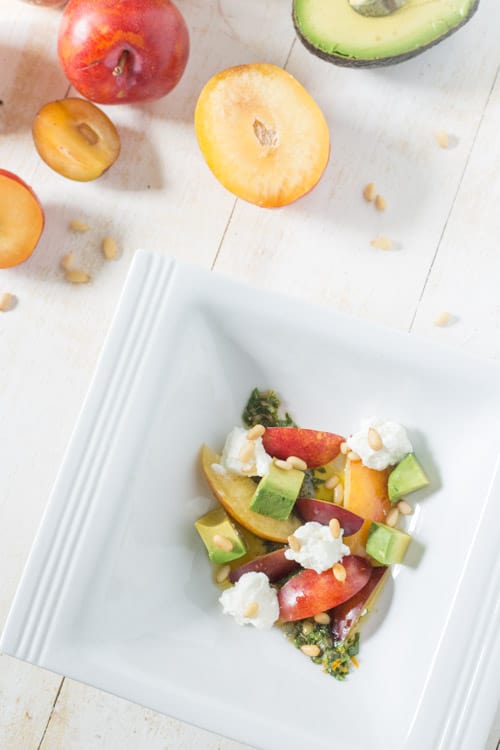 The ricotta is super important as well. I like to go to Whole Foods to splurge on a freshly-made ricotta you can find within their cheese department. The sad ones in vacuum-sealed containers at the supermarket just don't do the trick. Try a cheese shop, or if you're real adventurous, do a quick google search for a recipe to make your own.
Technically, the salad at Flour + Water had an avocado puree. And it was darn lovely. But to simplify and speed up the process a bit, roughly chopping a ripe avocado into cubes works just fine.
And make sure your pine nuts are toasted, which makes them extra fragrant and flavorful. Just be careful not to burn them, because they tend to do so frequently. I have burned plenty of pine nuts in my day. And those suckers are not cheap.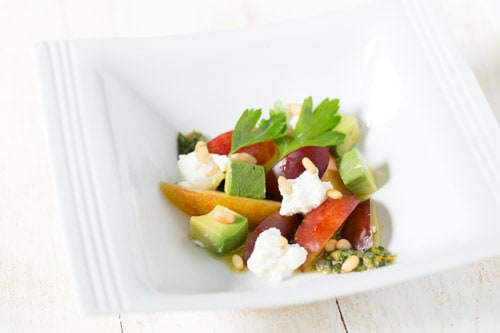 And lastly, the salsa verde recipe is straight from Flour + Water's Chef Thomas McNaughton himself. I found the tarragon and meyer lemon at Whole Foods, but most supermarkets around me don't carry those. Super annoying, right? You can easily just substitute a regular lemon if need be, and omit the tarragon and experiment with some different herbs instead.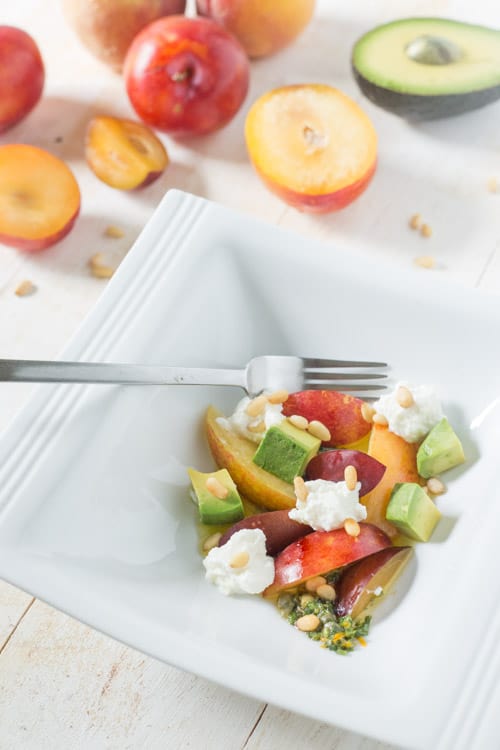 Print
Stone Fruit Salad with Avocado, Ricotta, and Salsa Verde
---
Yield:

Approximately

4

servings

1

x
3

-

4

mixed stone fruits, such as nectarine, plum, pluot, etc., sliced into thin wedges

1

ripe avocado, roughly chopped into small cubes
Good quality ricotta
Pine nuts
Salsa verde (recipe below)
Good quality extra virgin olive oil
For the Salsa Verde
1

bunch parsley

1

bunch tarragon

½

bunch spearmint

1 cup

olive oil

4

anchovy fillets

2

tbl. capers, salt packed and rinsed

½

clove garlic

1

tbl. zest of Meyer lemon (substitute regular lemon if needed)

½

Meyer lemon, juiced (substitute regular lemon if needed)
Kosher salt
Freshly ground pepper
---
Instructions
Toast the pine nuts by either: put the nuts in a dry skillet and cook over medium-low heat, stirring frequently, until golden in spots, about 3 minutes, or spread the pine nuts on a baking sheet and bake at 375°F, stirring occasionally, until golden-brown, 5 to 10 minutes. Or, you could just buy toasted pine nuts at Trader Joes, which is normally what ends up happening in our house.
In a bowl or on a plate, drizzle a little bit of the salsa verde. Layer on top some wedges of mixed stone fruit, a few cubes of avocado and small dollops of good quality ricotta, and a sprinkling of pine nuts. Drizzle with a little bit of good quality olive oil, and serve immediately.
For the Salsa Verde
Pick all the herbs from the stems and finely chop. Using a mortar and pestle, grind the herbs until a paste is formed. Transfer to a bowl and cover with the olive oil. Pound anchovies, capers, and garlic in the mortar and pestle to form a paste. Combine with the herb-oil mixture, and add the lemon zest and juice. Season with salt and pepper. Let stand for a little bit so flavors meld.
This will make way more salsa verde than what you need for the stone fruit salad. Feel free to pare down recipe or leftovers can be refrigerated and used as a topping for various grilled meats or as a condiment for whatever you can think up. The olive oil will most likely solidify in the refrigerator, so bring to room temperature before using again.