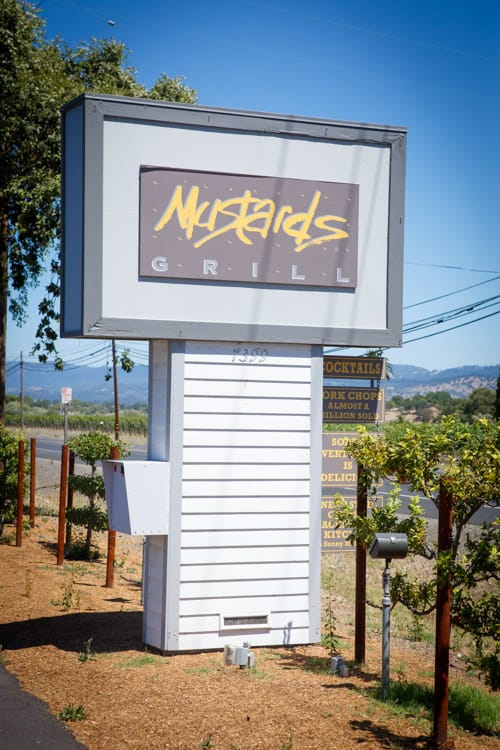 When I announced to the world (the couple friends I have on Facebook) that Asheley and I were going to San Francisco and Napa Valley this past summer, there were two restaurants that people were adamantly passionate about. The first was Mama's, the amazing breakfast joint in San Fran that serves up some ridiculous French Toast.
Our friends Tom and Julianna were really excited to tell us about Mustards Grill. It was here Tom said he had the best pork chop of his entire life. Now that's a bold statement… or maybe he just hasn't had a lot of pork chops in his life. But I trust Tom, and it peaked my interest enough to make a lunch reservation and get over there between our daily morning and afternoon wine tours. It's a tough life in Napa Valley…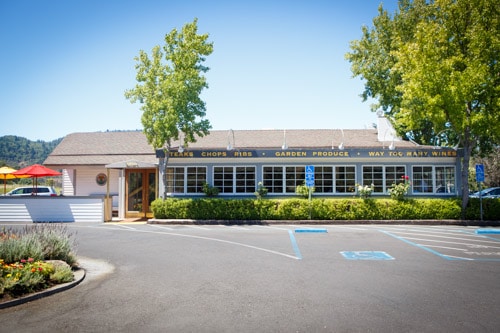 The place was pretty darn busy at lunch time, so that reservation definitely helped. Mustards Grill is right off of the main highway, which makes it really accessible from a lot of the wineries.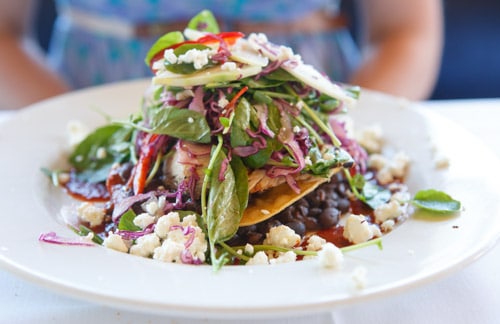 Asheley ordered The Ever-Popular Seafood Tostada (changes daily, $27.50). She really enjoyed it and ate pretty much that whole massive plate of black beans, fresh fish, fried tortilla, avocado, crumbled cheese (maybe queso fresco?) and other goodies. I was allowed a bite and it was quite good.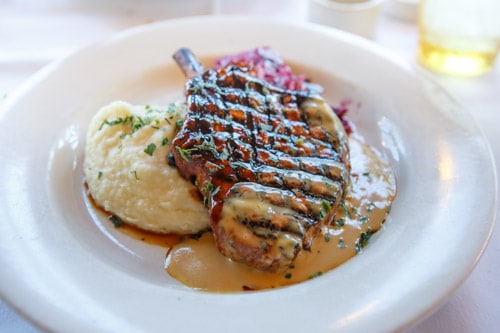 I couldn't come to Mustards Grill and not order the, according to Tom, "best pork chop I've ever had". That would just be plain wrong. So here it is, the Famous Mongolian Pork Chop ($26.50), served with sweet & sour red cabbage and house-made mustard. Was it really good? Yes. Was it the best pork chop I've ever had. Tough to say. I've had a few that were pretty on par with this one. Nonetheless, good choice Tom. Good choice.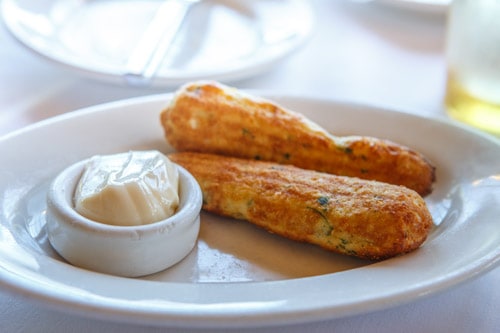 We also ordered up a side of Cheddar-Jalapeno Corn Stix with Marshall's Farm Honey-Butter ($4.25). Meh. Enjoyable, but not $4.25 enjoyable. It's two sticks of corn bread. Come on now.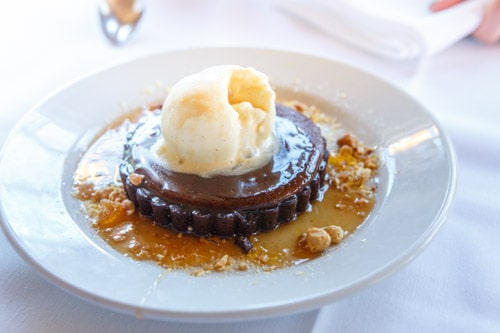 Since we were on vacation, getting dessert at lunch was (and still is) pretty darn mandatory in my book. We went with the Warm Chocolate Hazelnut Truffle Tart ($9), werved with caramel sauce, espresso ice cream, and praline. Since I'm totally not a coffee person (bleh…), our server was nice enough to offer a vanilla substitute. Coffee has just never, ever appealed to me. I don't like the smell. I don't like the taste. So there.
The tart was really enjoyable, especially since Asheley was pretty much full at this point and I got to eat the majority of it myself 🙂 🙂 🙂
I was just thinking some of you may be wondering (or maybe none of you are thinking this but I'll share anyway) what vineyards we visited while in Napa. Well, we trusted, consulted, and 100% relied on the recommendations of our resident friend wine connoisseurs, Joe and Lisa. They pretty much exclusively read wine magazines and journals (slight exaggeration), are members of a bunch of wine clubs, and always bring a ridiculously delicious bottle over to share at dinner parties. Here's the list and what we did at each:
Joseph Phelps – wine tasting
Cakebread – wine tasting, which includes a rich history and explanation of all the wines
Bella Winery – tour of the property and wine-making process, and tasting
Schramsberg – tour of the wine caves and tasting (sparkling wine)
Chappellet – wine tasting
Our favorite? Tough to say, since they are all so different. I can say our least favorite was probably Schramsberg, but that's only because we aren't big fans of sparkling wine. The wine caves, though, were beautiful, and explanation of how they make sparkling wine was really cool. Cakebread and Bella were both pretty awesome. Maybe those were favorites. But then again, Chappellet and Joseph Phelps both had great wine and stunning views, so… I don't know. Don't make me choose!
And just because she likes it when there's a picture of her in a post, here's a picture of Asheley at Joseph Phelps Vineyards, doing her wine tasting thing…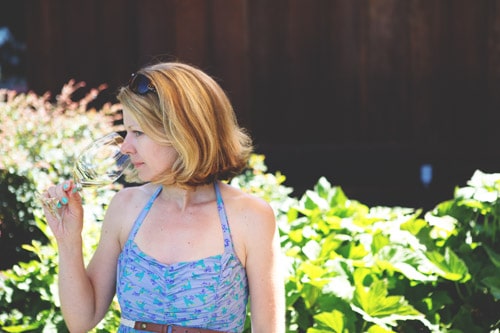 Mustards Grill 7399 St Helena Hwy
Yountville, CA 94558 707-944-2424
You May Also Want To Check Out:
Bottega by Chef Michael Chiarello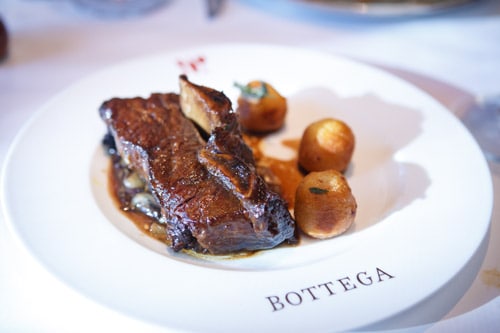 Ad Hoc by Chef Thomas Keller (i.e. you can't get into The French Laundry)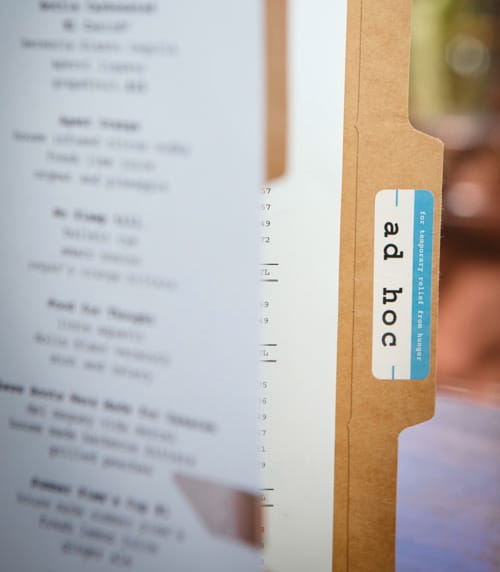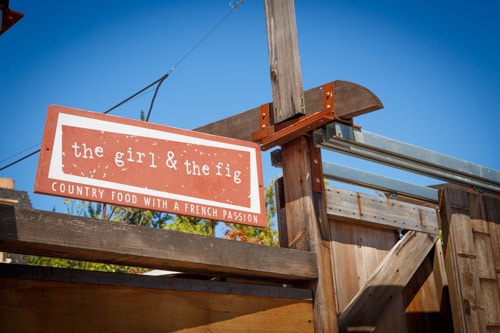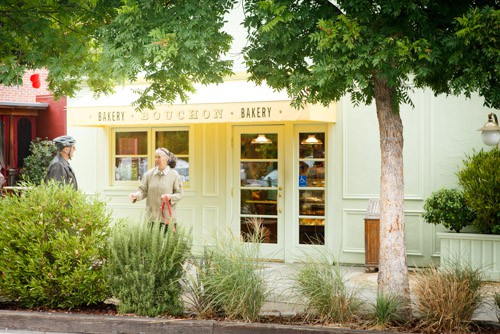 The Top 12 Foods You Have To Eat in San Francisco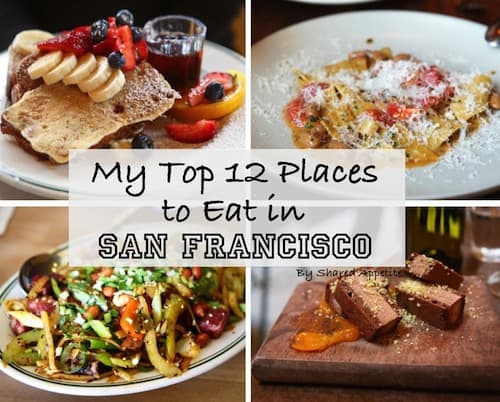 The Top 10 Foods You Have To Eat in NYC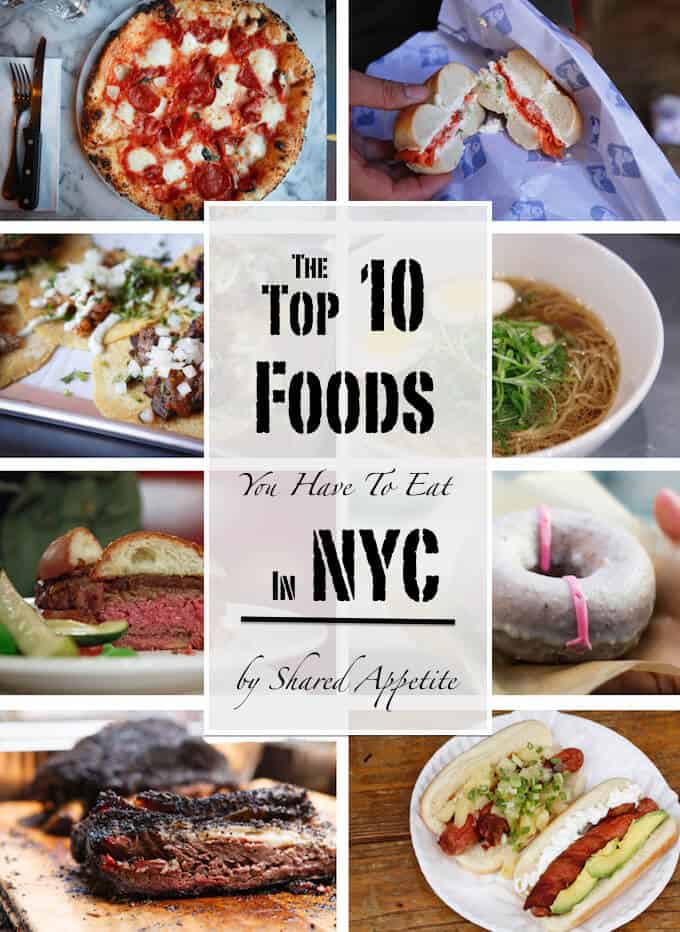 The Top 10 Food You Have To Eat in Paris