Enjoy every ounce of summer with this super easy and flavorful Summer Corn and Blueberry Grilled Pizza with Whipped Goat Cheese and Grilled Scallions!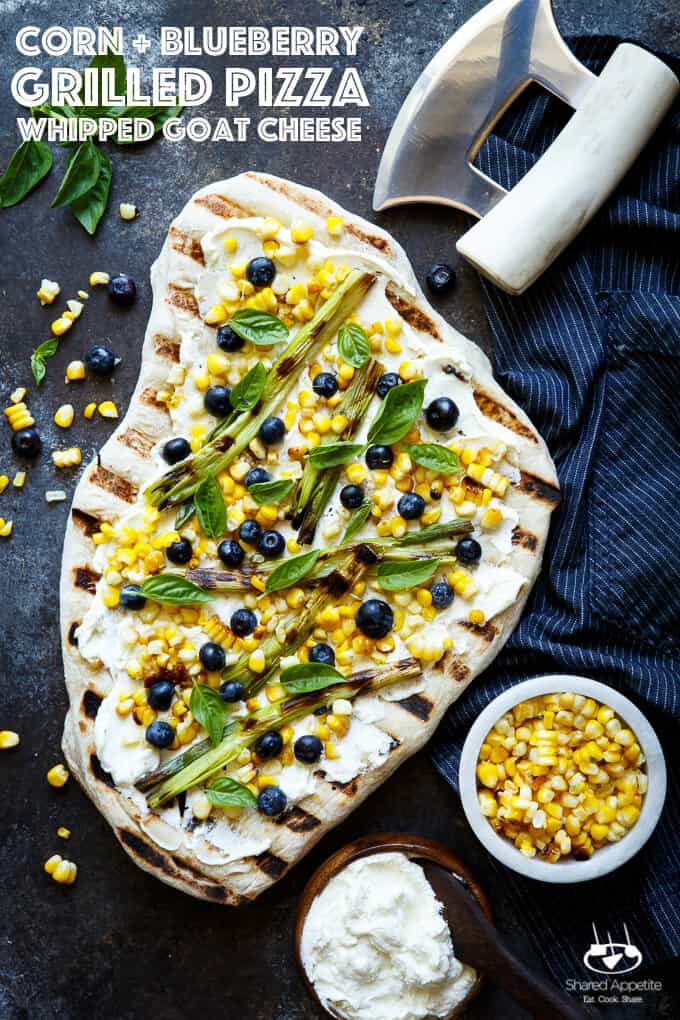 From the end of June through the end of July, every single day feels like Saturday for us teachers. But now it's mid-August. AND EVERY SINGLE DAY FEELS LIKE SUNDAY NIGHT. Some fellow teacher friends have already begun posting on Facebook about their way-too-vivid back to school nightmares. I personally don't get those, but that's probably because I have the greatest teaching job of all time. Physical education Elementary school band.
I literally play instruments all day long. And sure, I have to deal with trumpets and saxophones blasting at my face all day long, but let's be real. It's a sweet gig.
A gig I'm not quite ready to go back to yet. Summer is just so freaking fantastic. And you better believe I'm soaking up every free moment with my little baby girl. How is she almost 14 months already? Time… slow the heck down.
One way I love holding on to summer (for dear freaking life)? Grilling. Anything. Everything.
There's nothing more summery than a spatula in one hand, a beverage in the other (I'm looking at your Peach Basil Arnold Palmer Cocktail), and grilling up some LEGIT grub on the grill. This is my latest obsession… grilled pizza. And when it's topped with in-season produce like this Summer Corn and Blueberry Grilled Pizza with Whipped Goat Cheese, I'm ? ? ? ? .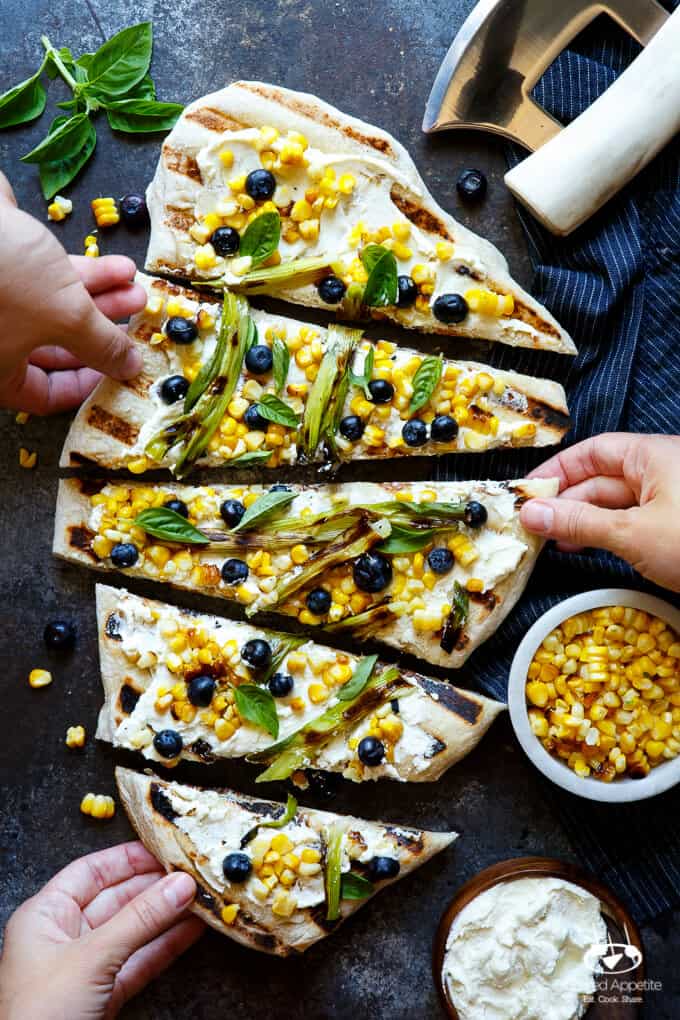 So a few things.
First, this Summer Corn and Blueberry Grilled Pizza with Whipped Goat Cheese might be more aptly called a flatbread, since the toppings are placed on the dough after it's already cooked. Put it's still pizza like, so we're going with calling it a pizza. Whatever.
Second, if you've never grilled pizza, you need to. It's so much fun. No, the dough doesn't stick to the grates. Well, it does at first. But once it's cooked, the dough will release from the grates completely. It's foolproof.
And third, if you think for one second that putting corn and blueberries on a pizza together is weird or ewwwww, I feel bad for you. Because you are missing out on some serious flavor.
Move over peanut butter and jelly… corn and blueberries are the next flavor power pair.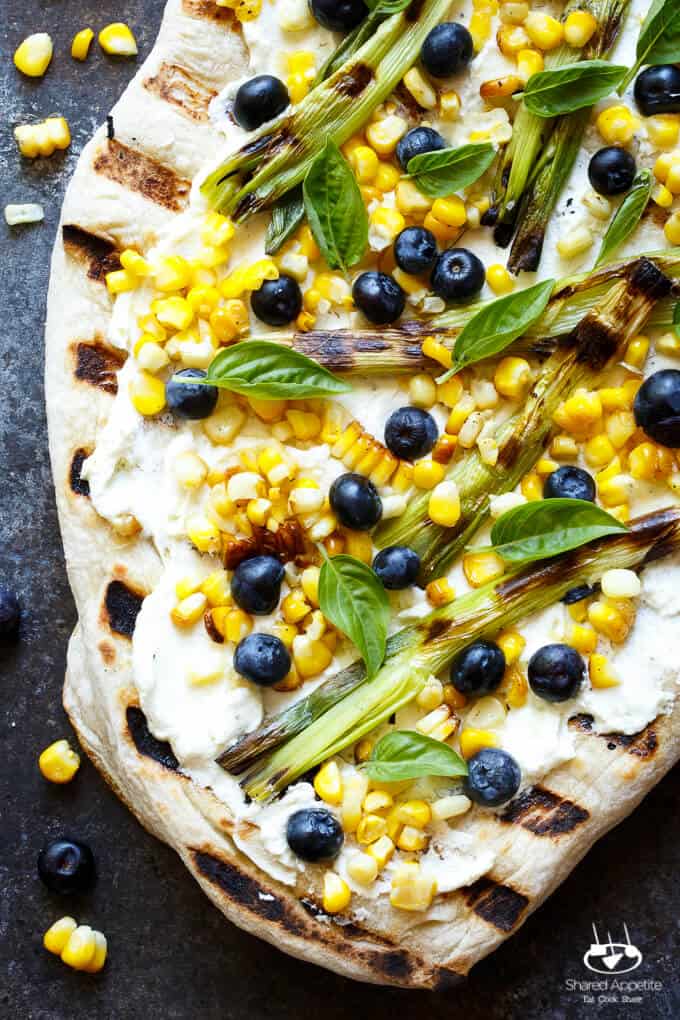 I honestly had no idea about how well corn and blueberries go together until I had them in a pasta dish at Flour + Water restaurant in San Francisco a few years back. I had a Neo moment… my eyes were now open (Matrix reference…).
Combine that with some grilled scallions (you can totally substitute in some sauteed onions if needed), fresh basil, and whipped goat cheese (ermagherddddddd), and we have one heck of a grilled pizza.
BTW… I'm not a huge goat cheese fan, but this whipped goat cheese is pretty magical. And it's as easy as beating together some goat cheese, cream cheese, and olive oil. Yessssssssssss.
This Summer Corn and Blueberry Grilled Pizza with Whipped Goat Cheese. It's summer on a crust right here.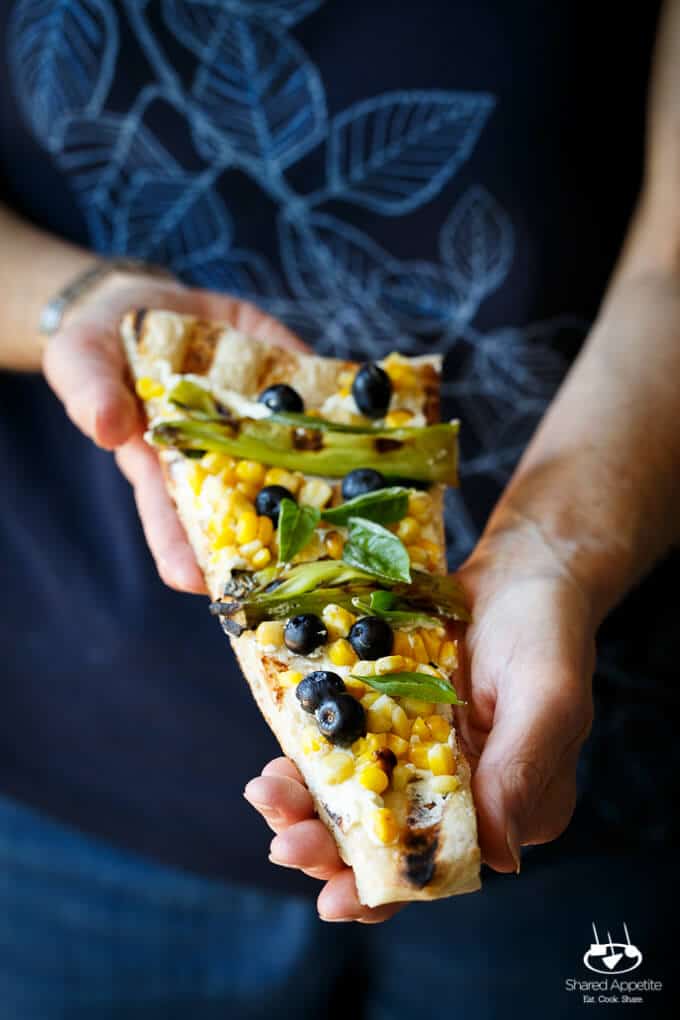 Print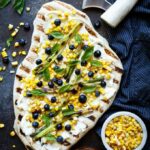 Summer Corn and Blueberry Grilled Pizza with Whipped Goat Cheese
---
2

pizza doughs*

3

ears corn, grilled and kernels removed

1

bunch scallions, grilled and roughly chopped

1 pint

blueberries

8 ounces

goat cheese, room temperature

2 ounces

cream cheese, room temperature

3 tablespoons

extra virgin olive oil
Kosher salt
Freshly ground black pepper

1

bunch fresh basil
---
Instructions
Preheat grill to medium-high heat. Lightly sprinkle doughs with flour if needed and stretch doughs out into a thin oval-ish shape. No need to be perfect… it's rustic! Make sure dough is equal thickness throughout so it cooks evenly.
Oil grill grates (I do this by pouring a bit of oil onto a wad of paper towels and very quickly brushing it over the grates) and lay each dough on grill. Let cook about 2 to 4 minutes, until grill marks appear and the dough easily releases from the grill. Use tongs to flip dough over and cook on other side another 2-4 minutes, until dough is completely cooked through. Remove pizza from grill.
Meanwhile, whip together goat cheese, cream cheese, and extra virgin olive oil until it is light and fluffy. Season with Kosher salt and freshly ground black pepper.
Spread whipped goat cheese on grilled pizza dough, and top with grilled corn, scallions, and fresh blueberries. Scatter basil over pizza, slice, and devour.
Notes
*you can find pizza doughs at most supermarkets or just visit your local pizzeria… most will sell you pizza dough no problem!
Prep Time:

10 mins

Cook Time:

10 mins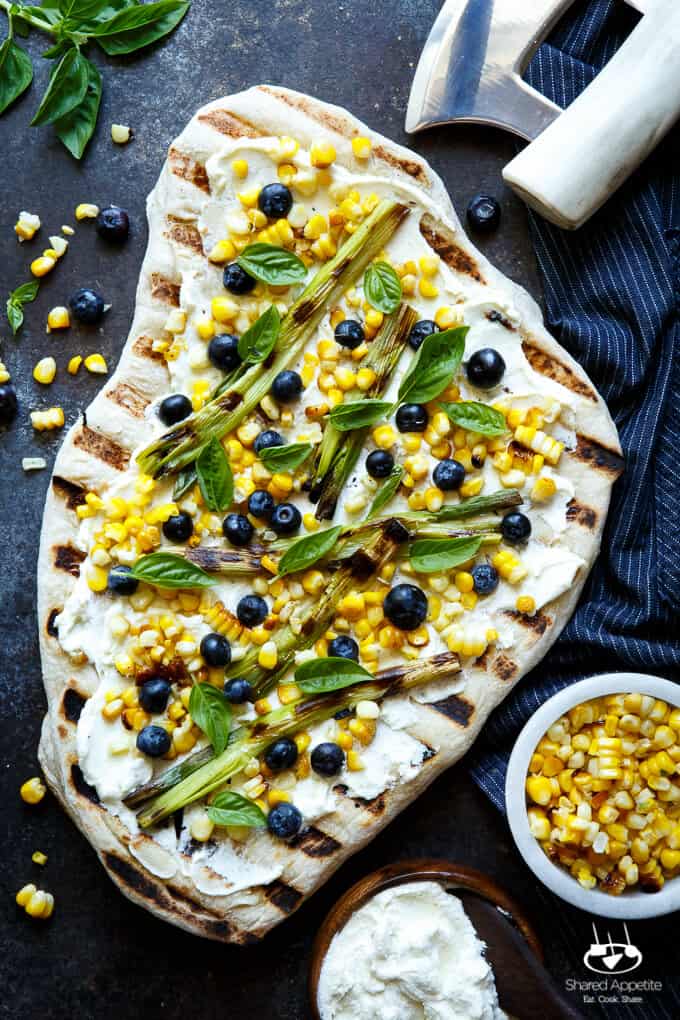 Have I convinced you yet to make some pizza tomorrow? I mean, who doesn't love pizza. And it's so versatile. There's a pizza for pretty much everything. Have some beautiful heirloom tomatoes? Feeling like surf (clams) and turf (chorizo)? Love bbq sauce as much as my wife? Yup, there's a pizza for that.
And for those that think fruit on pizza is kinda weird, I'm totally digging this Berry Pizza with Whipped Ricotta Mascarpone and Grilled Nectarine Prosciutto Pizza.
You can even rock pizza FOR DESSERT. Hello Strawberry Banana Bruleed Pizza (p.s. Strawberry Banana is my fave fruit combo).
Summer Corn and Blueberry Grilled Pizza with Whipped Goat Cheese
Need More Pizza In Your Life?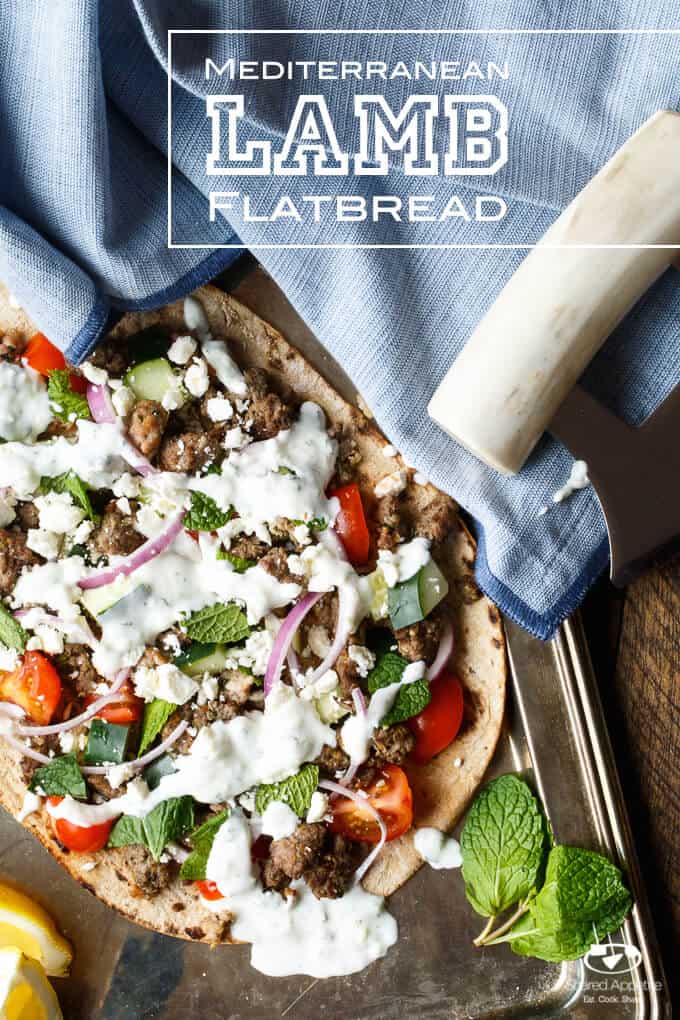 Grilled Spicy Pineapple Bacon and Avocado Flatbread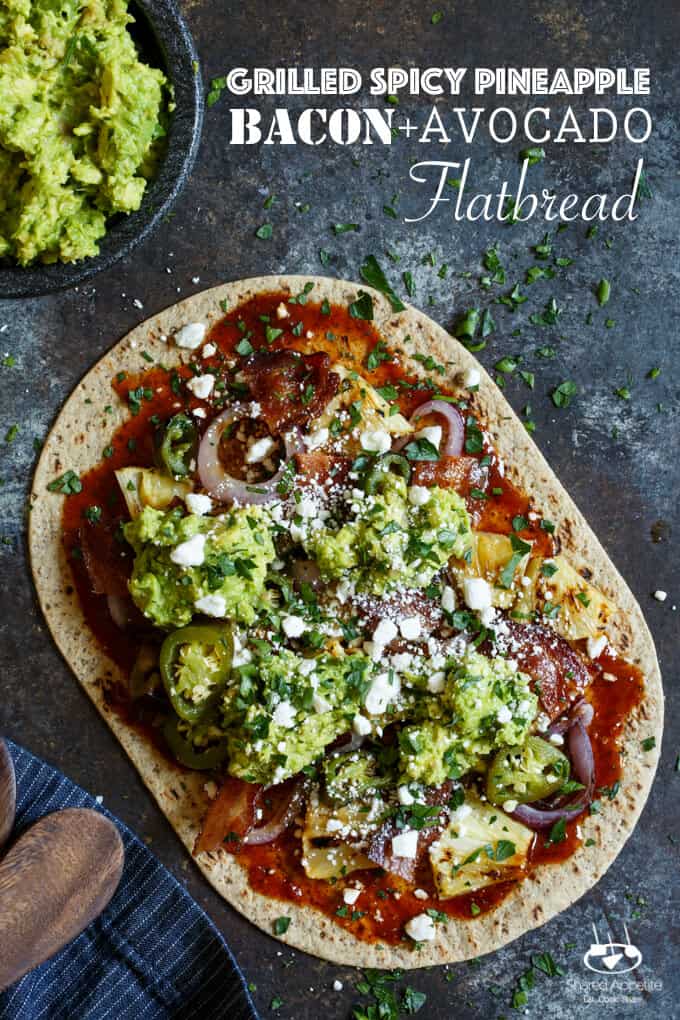 Grilled Peach, Corn, and Basil Flatbread with Balsamic Glaze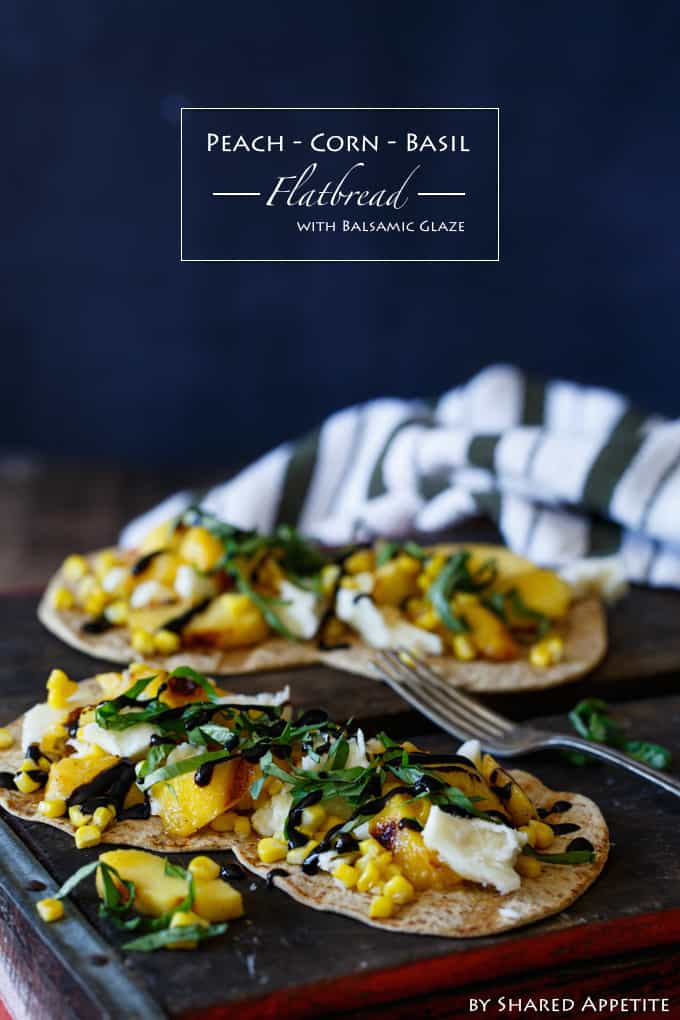 Apple, Bacon, and Leek Pizza Bites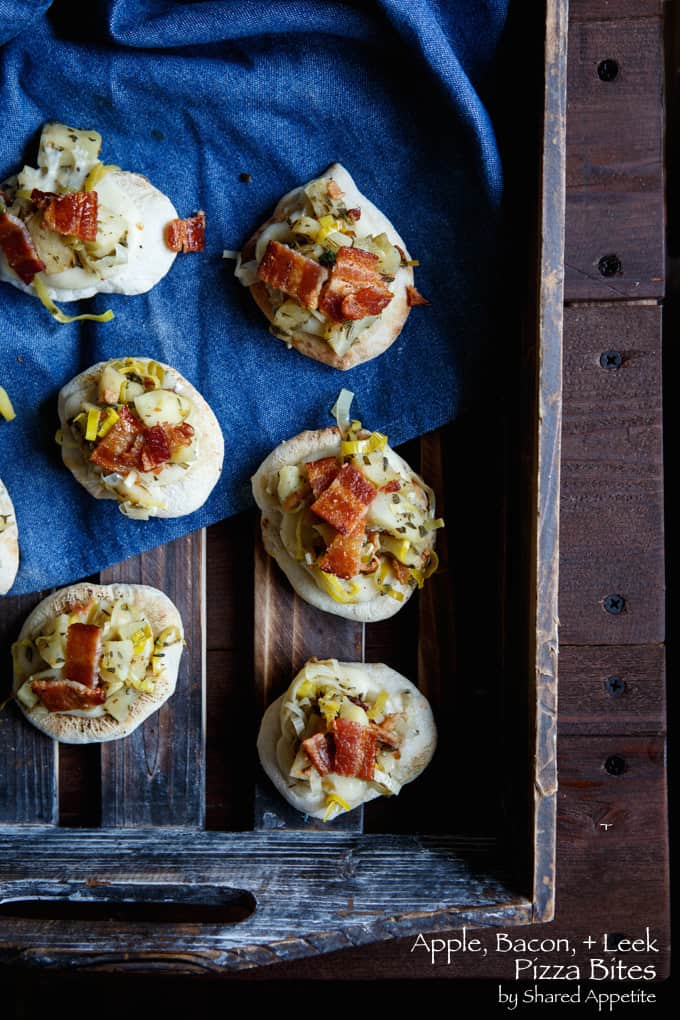 Gluten Free Skinny Buffalo Chicken Pizza on Spaghetti Squash Pizza Crust