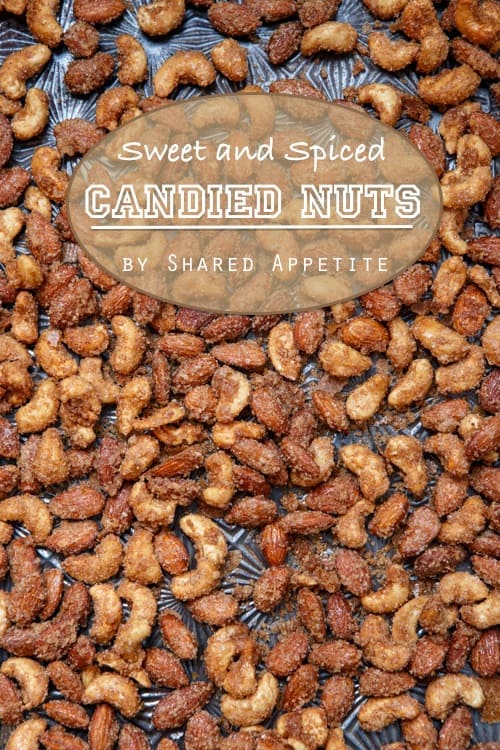 A super easy, highly impressive party snack recipe for sugary candied nuts spiked with cinnamon, paprika, and just a hint of cayenne pepper. And best of all, you can make these Sweet and Spiced Candied Nuts ahead of time for easy entertaining!
We are going to be mature. As mature as we can be. Needless to say my family enjoyed lots of awkward laughter with the inevitable, obvious jokes built upon me serving them my candied nuts during one of our Christmas get-togethers last week.
These sweet and spiced candied nuts are pretty addictive. And I know I've been saying that a lot lately... but it's true. This recipe makes a pretty decent amount of candied nuts, and my family almost downed the entire batch. Impressive.
Sweet. Salty. And a bit of spice from cinnamon and a pinch of paprika and cayenne. They're so simple, but your guests probably won't even believe they are homemade. My family was like you made these? I didn't know if I should that that as a compliment or be upset that they were shocked I could make something so tasty. Eh, let's go with compliment.
And one of the best parts about serving these nuts at your next party? You can make them the day before, and the prep time is all of like 5 minutes. Just before your epic get-together, throw 'em in a bowl. Preferably next to a good cheese and charcuterie plate. Entertaining made easy. Boom.
And before you know it, you'll be enjoying awkward nut jokes with your family and friends. You're welcome.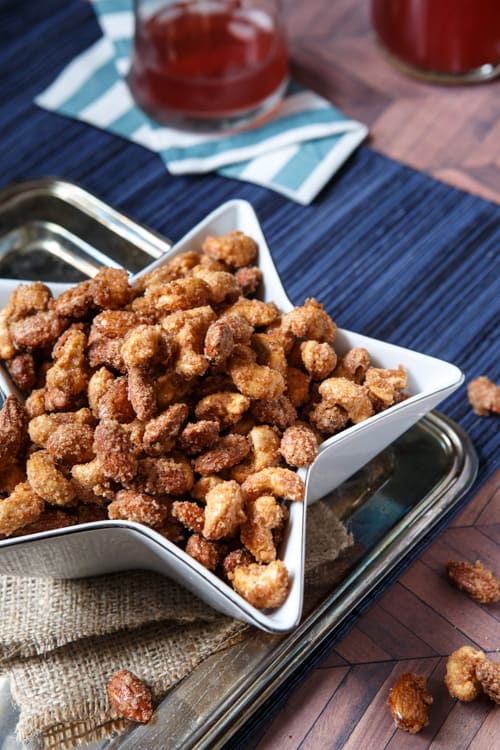 slightly adapted from Smitten Kitchen
Print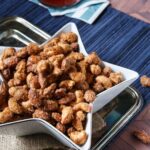 Sweet and Spiced Candied Nuts
---
Total Time:

35 minutes

Yield:

approximately

3 ½ cups

of candied nuts

1

x
⅓ cup

brown sugar, lightly packed

⅔ cup

white granulated sugar

½ tablespoon

Kosher salt

1 teaspoon

ground cinnamon

¼ teaspoon

paprika

¼ teaspoon

cayenne pepper

1 ½ cups

raw cashews

1 ½ cups

raw almonds

1

egg white

1 tablespoon

water
---
Instructions
Preheat oven to 300°F. Mix together brown sugar, granulated sugar, salt, cinnamon, cayenne pepper, and paprika in a small mixing bowl until fully combined and mixture is free of lumps.
In a separate small bowl, beat together the egg white and water with a whisk until frothy but not stiff.
Place almonds and cashews in a medium mixing bowl. Pour egg white mixture over nuts and stir to coat. Sprinkle nuts with the sugar mixture and toss until everything is evenly coated. Spread nuts in a single layer on a baking sheet fitted with a sil-pat or parchment paper. Bake for 30 minutes, stirring a few times throughout the process. Remove from oven. Nuts will harden as they cool. Once completely cool, break apart any pieces stuck together and store in a airtight container at room temperature.
Can be made a couple days ahead of time.
Prep Time:

5 minutes

Cook Time:

30 minutes