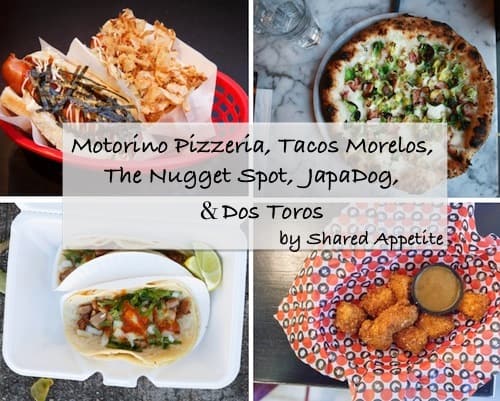 A photo review of five popular East Village restaurants in New York City, including authentic wood-fired pizza at Motorino Pizzeria, tacos at Dos Toros and Tacos Morelos, a plethera of nuggets at The Nugget Spot, and eccentric Japanese-inspired hot dogs at Japadog.
Having a week and a half off from work is a beautiful thing. It's one of the many perks of being a teacher. I always have grand plans for my time off. I'll get together with friends and family. I'll cook and photograph like crazy. I'll catch up on all those posts I've been wanting to write. I'll go into the city and try new places. I'll do this. I'll do that. It'll be great!
As we all know too well, time off seems to fly by. You blink and it's gone. All those things you wanted to do… not done. But hey, those movies in your Netflix queue got watched and that batch of cookies were polished off. Oops. Priorities 🙂
But I actually did get to go into the city a few times so far this Christmas break to try a few new places. And there are always new restaurants to try!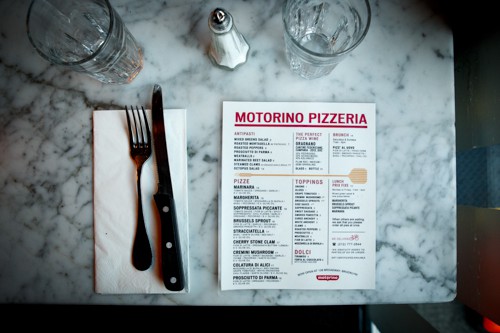 You all know about Tyler's recent infatuation with pizza. He's so fixated on acquiring pizza perfection at home that he installed his very own wood-fired oven in his backyard. How cool is that?
So when Tyler and I (and our wives, of course) went to the East Village's Motorino Pizzeria, you could really call that "research", can't you?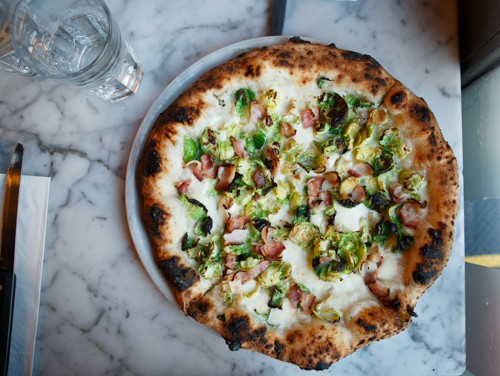 How beautiful is this Brussels Sprout and Pancetta Pizza?! The light through the front window was absolutely perfect. And good light makes me happy. As does good pizza. Good light + good pizza = a very happy Chris.
I was a very happy Chris.
Brussels Sprouts Pizza ($16) – Fior Di Latte, Garlic, Pecorino, Smoked Pancetta, E.V. Olive Oil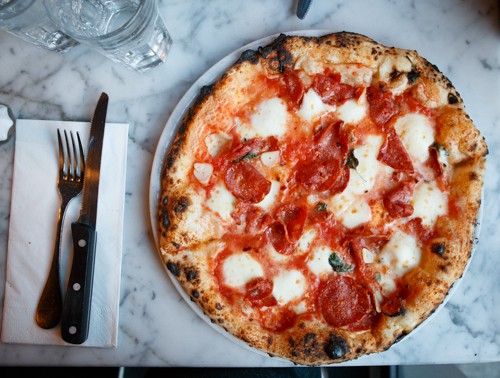 The Soppressata Piccante Pizza was equally delicious.
I'm not sure which one I like more. They are both so different… which is why I would recommend going with a couple of friends and splitting a few pies. And about sharing: 2 pies was more than plenty for the 4 of us, but we did eat a bit beforehand. Maybe add in a salad and you'll be good to go.
Soppressata Piccante ($16) – Tomato Sauce, Fior di Latte, Spicy Soppressata, Chili Flakes, Garlic, Oregano, Pecorino, E.V. Olive Oil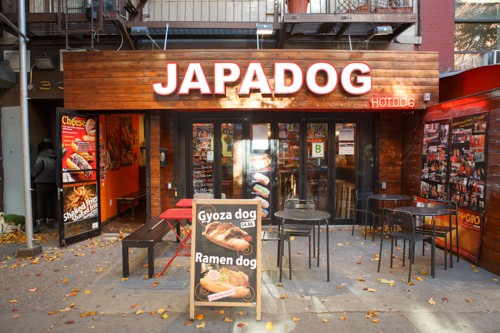 Hailing from Canada,where they have several hot dog stand outfits with a loyal following of locals and a growing list of celebrities, this is Japadog's first and only location in the United States.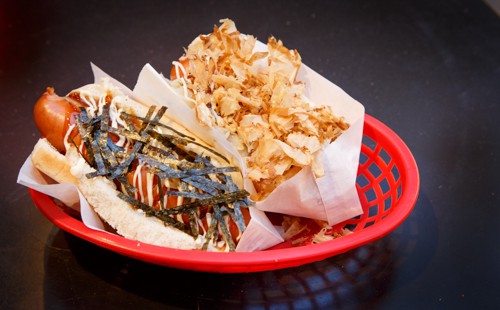 Their signature hot dog, the Terimayo ($4.14), is an all-beef dog with teriyaki sauce, Japanese mayo, dried seaweed (nori) strips, and fried onions.
The Okonomi ($4.39) features a pork sausage topped with some Japanese mayo, special Japanese sauce (whatever that is), fried cabbage, and a mountain of bonito flakes.
The dogs were good. Enjoyable. A fun combination of wacky, inventive flavors. But in all honesty, just about a block down is Crif Dogs… and I'd rather be there.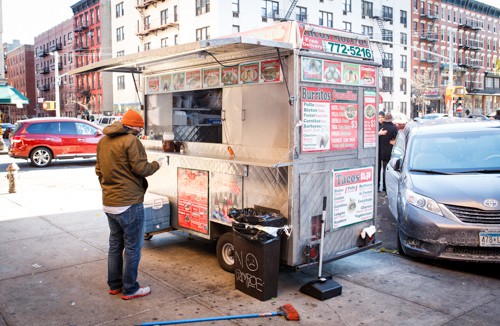 Street Meat. Yes. I've heard good thing about Taco Morelos, which serves up $2.50 tacos at a couple carts throughout the city. And since they are open late ('till 4 am), I can see it being a pretty great spot for that occasional yet necessary 4th meal.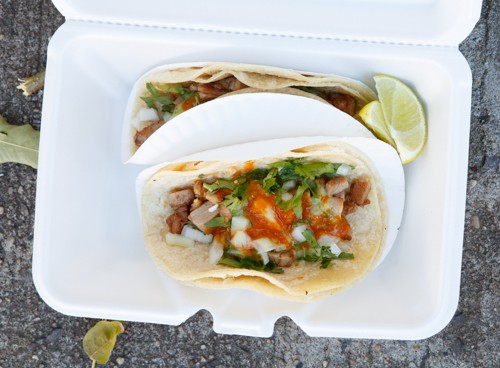 Tyler and I asked for two Suadero Tacos, which I've heard are amazing here. Rich, fatty, tender beef brisket. But either the guy manning the cart didn't understand us or just didn't care what we ordered… and we got this instead. Honestly, I'm not entirely sure what type of meat this was. I mean, it doesn't look like brisket, right?
But in any case, we ate it. And it was amazing. Needless to say we'll be going back here frequently.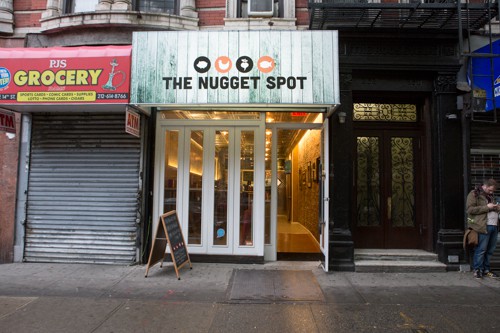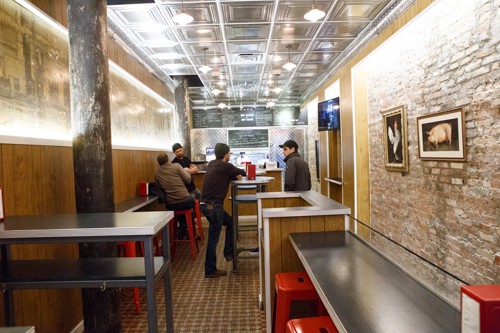 Who doesn't like nuggets? They are pretty much an iconic childhood mealtime favorite. And now, with the newly opened The Nugget Spot, we've got options.
When we went, you could pick your hormone-free protein (chicken, pork, or fish), your coating (southern fried, cheez it, pretzel, or cap'n crunch), and then one of the several housemade sauces. A look at their website now seems like they now offer premade flavor combinations, which I'm a fan of. Too many choices and I get overwhelmed.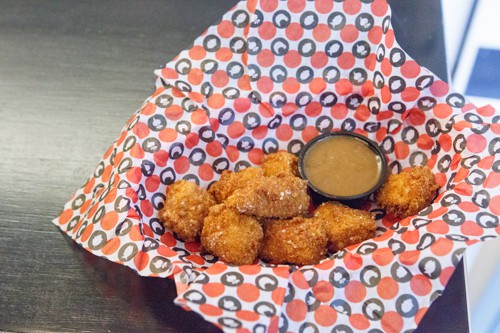 We got the pork nuggets coated with Cap'n Crunch and a side of Crunk sauce, a spicy butterscotch flavor that was overly sweet. The nuggets themselves were okay… some of the pork pieces were a bit tough.
At $7 to $8 an order, the nuggets are a wee bit on the expensive side. That's like $1 a nugget. And I get it. Hormone-free protein, quality ingredients, yada yada. But still.
I'm torn on this place. Love the concept. Unsure of the product. I think it warrants another visit for further investigative studies.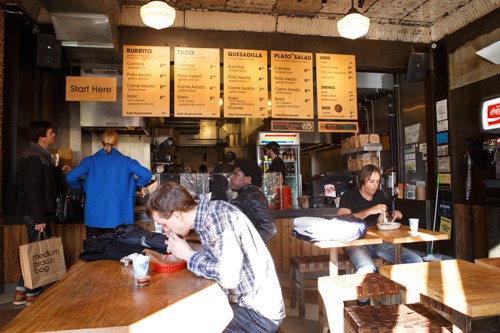 Dos Toros is not a new place for us. But we love tacos. With a Chipotle-esque serving model, you check the big wooden board menus, walk on up to the counter, and make your way down the service line.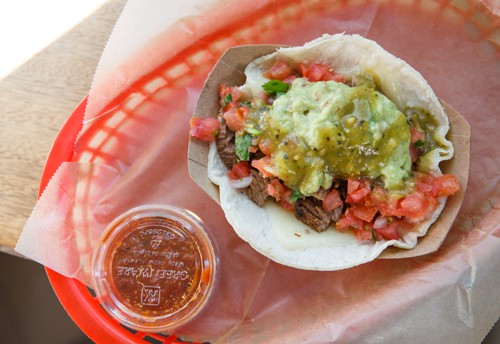 The Carne Asada Taco, which I always order with a glop of guacamole added ($5 total), is pretty special. Let me walk you through it. First off, they take a slice of jack cheese and melt it into the tortilla. Pure genius. The marinated and grilled flap steak (similar cut to hanger or skirt), is full of beefy flavor. The hot sauce is as flavorful as it is hot. Go for the green one. The red one will burn your face off.
Sure, $5 is a bit on the expensive side. I'm with you on that, especially considering I can get 2 tacos at Tacos Morelos for that hefty price. But hey, it's good. And I'll pay for good.
Motorino Pizzeria 349 E 12th St
New York, NY 10003
(East Village) 212-777-2644 Japadog 30 St Marks Pl
New York, NY 10003
(East Village) 646-476-2324 Tacos Morelos 25 Ave A (on the corner of 2nd Ave.)
New York, NY 10009
(East Village) 347-772-5216 The Nugget Spot 230 E 14th St
New York, NY 10003
(East Village) 646-422-7426 Dos Toros Taqueria 137 4th Ave
New York, NY 10003
(East Village) 212-677-7300
You may want to also check out…
The Top 10 Foods You Have To Eat In NYC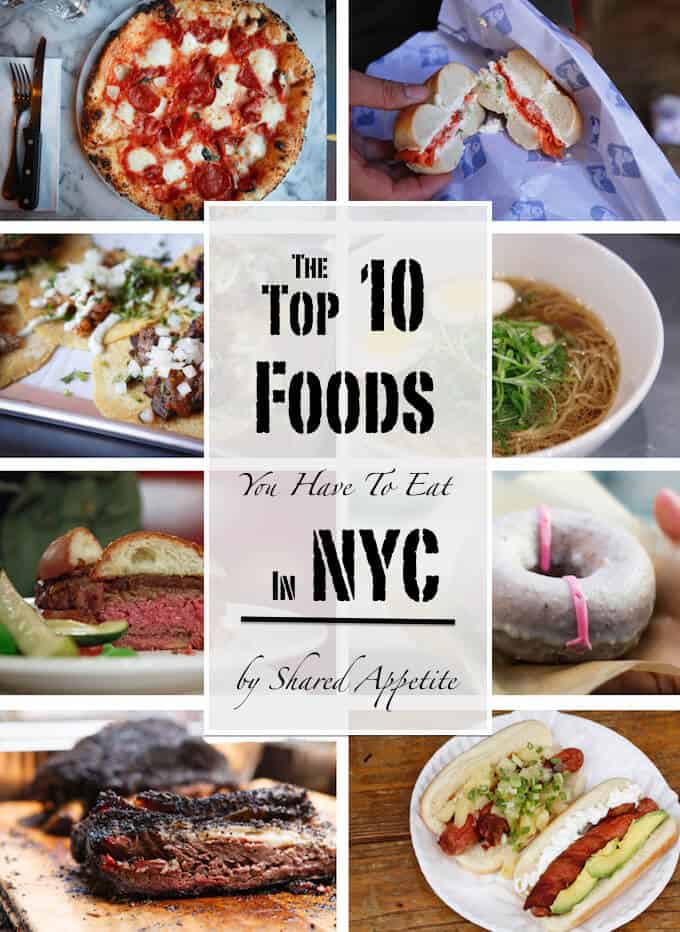 The 10 Best Ice Cream and Frozen Treats in NYC