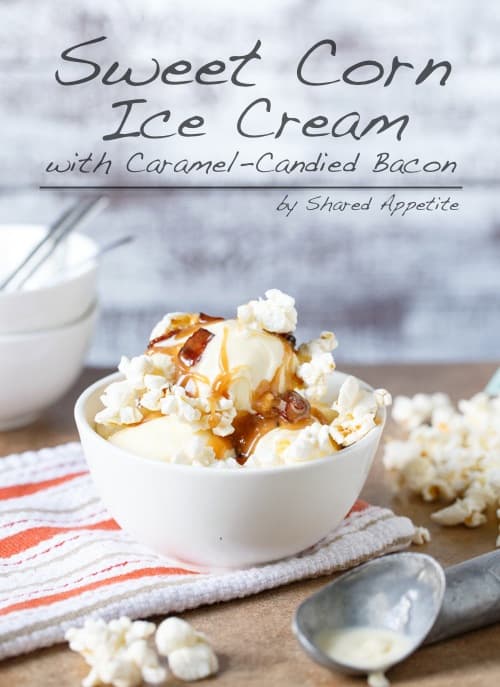 I know what some of you are thinking and no, I don't need an intervention. This is the last corn recipe, I promise... for this year at least.
The first time I encountered sweet corn ice cream (well technically, it was gelato) was at Chef Mario Batali's casual pizza and pasta joint, Otto in NYC. Most people see corn and ice cream in the same sentence and probably think mildly unpleasant thoughts. But I know you're not most people. You're better than that. You recognize the possibility of dessert magnificence.
If you're still not convinced with the whole corn ice cream thing, maybe the caramel-candied bacon will help? Bacon always helps, in my opinion.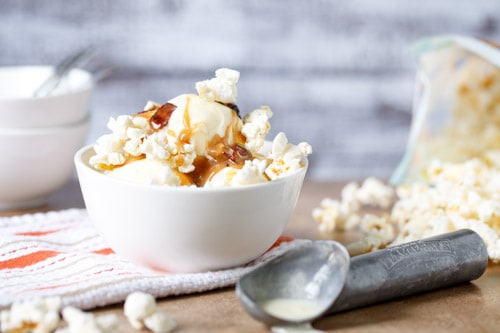 The great thing about this ice cream, and any ice cream really, is you can make the custard base when you have an hour free one day, then quickly churn it in your ice cream maker 1 to 3 days later, and then freeze until you're ready to eat.
Homemade ice cream is one of life's greatest pleasures. It's rich, intensely flavorful, super creamy. It's so much better than almost all the ice creams in the freezer aisle. I say almost all the ice creams because I'm still a sucker for Ben and Jerry's Phish Food. It's so good. And Friendly's Mint Chocolate Chip. That one reminds me of my childhood.
By the way, many people think I'm weird for liking caramel with my mint chocolate chip ice cream. And lots of rainbow sprinkles, of course. You don't think that, do you?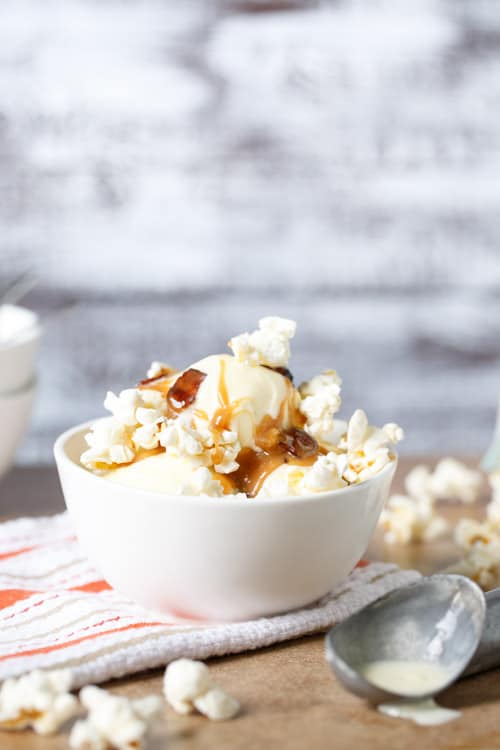 recipe adapted from Iron Chef Michael Symon.
Print
Sweet Corn Ice Cream with Caramel-Candied Bacon
---
Yield:

About

1 Quart

of Ice Cream

1

x
2 cups

heavy cream

1 ½ cup

whole milk

4

ears corn, kernels removed and cobs reserved

1

vanilla bean, split in ½
Pinch kosher salt

6

egg yolks

1 cup

granulated sugar
for the Caramel-Candied Bacon
1 cup

diced bacon

2 tablespoons

brown sugar

¼

lemon, juiced

2 tablespoons

heavy cream
Popcorn, for garnish (optional)
---
Instructions
Heat a large saucepan over medium heat. Add 1 cup of the heavy cream, milk, corn cobs and kernels, and a pinch of salt. Scrape the seeds from the vanilla beans into the milk mixture and add the bean as well. Bring mixture to a scald (just under when it starts to bubble), being careful to not curdle the cream. Remove pan from heat, cover, and let mixture steep for about 30 minutes.
Towards the end of that 30 minutes, in a separate medium bowl, whisk together the egg yolks with the sugar, until it reaches a creamy, golden consistency.
Strain the corn mixture and discard the kernels, cobs, and vanilla bean. Return corn milk mixture to saucepan and warm slightly over medium/medium low heat. Whisking constantly to avoid eggs from scrambling, slowly add half of the mixture to the egg yolks, until fully incorporated. Return egg yolk mixture to the saucepan.
Cook custard over medium/medium low heat, stirring constantly, until it thickens to a consistency that coats the back of a spoon. When you run your finger across the spoon, it should leave a definite trail. If using a thermometer (which I always do), aim for 170°F-175°F.
Add remaining 1 cup of heavy cream to a large bowl with a mesh strainer set on top. Strain the ice cream mixture into the bowl and stir to incorporate heavy cream. Immediately place bowl over an ice bath, stirring constantly to cool the mixture quickly.
Refrigerate mixture until very cold, preferably at least 1 day and up to 3 days. Pour custard into an ice cream maker and churn according to the manufacturer's directions. Remove ice cream to a container and put it in the freezer until ready to serve.
Place a couple scoops of ice cream in a bowl, drizzle with some caramel-candied bacon, and a bit of popped popcorn.
for the Caramel-Candied Bacon
To a medium sauté pan over medium heat, add bacon. Cook the bacon until crunchy, stirring occasionally. Remove bacon to a paper-towel lined plate to drain.
Add 1 tablespoon of the cooked bacon fat to a new small saucepan over medium heat. Add the brown sugar to the pan and stir until dissolved and slightly caramelized. Stir in the lemon juice and heavy cream, and stir well to combine. Adjust consistency with more cream if needed. Stir in bacon. Let cool slightly before serving.