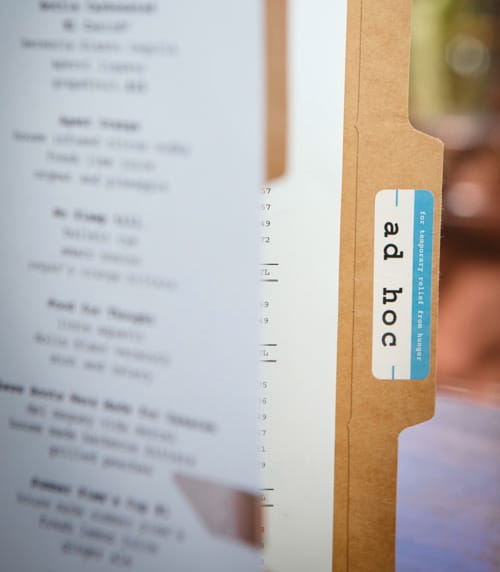 I have good news and bad news. Let's get the bad out of the way. We really wanted to go to Chef Thomas Keller's world-renowned The French Laundry while we were in Napa Valley this past July. It's a once in a lifetime meal. Once in a lifetime experience, really (although we have dined at a couple other 3-Star Michelin restaurants as well, but still, it's THE French Laundry). I called up two months prior like I was supposed to, at the required time posted on their website (actually 10 minutes earlier than that), and the phone lines were already busy! They started taking reservations early! The nerve. The horror. Well, fast forward 45 minutes when I finally got through, and yea, of course they were solidly booked for that day. No problem, I'll just call back tomorrow and try for another day. Then the hammer fell. Nope, they would be closed for vacation during all the remaining days we planned to be in Napa!
I tried pulling the card you don't understand, I have a food blog. No, not really. Because that never works. Anyway, I dried my tears, picked up the phone, and did the next best thing a guy could do. Reservations at Chef Thomas Keller's Ad Hoc, it is.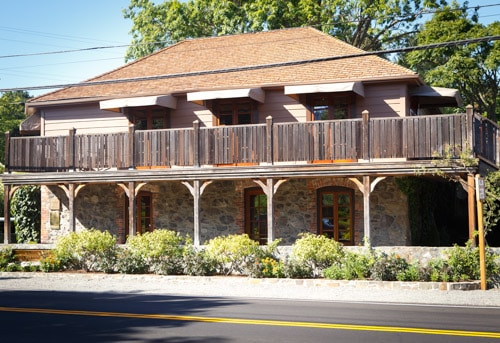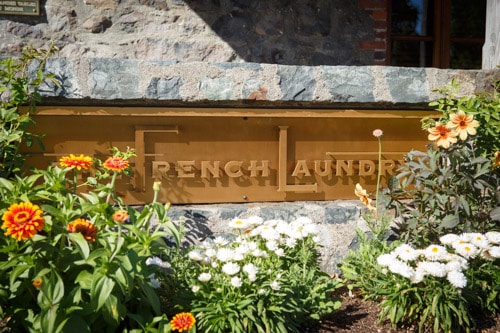 We may not have been able to get inside The French Laundry, but they couldn't stop us rebels from looking at it from the outside! Ha, take that! I witnessed a few happy couples strolling in for dinner while I fawned over the exterior of this culinary temple, and I may or may not have felt resentment and anger towards the people that stole my reservation. Who do they think they are?!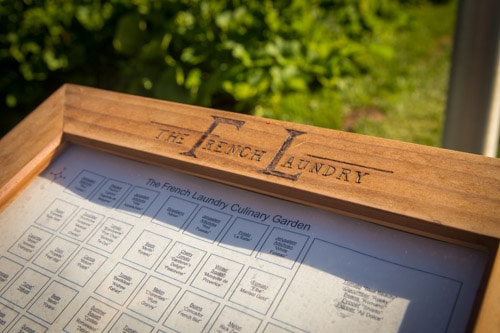 Across the street is this garden oasis. The French Laundry culinary garden. And no, I didn't trespass, you're allowed to stroll through the gardens. At least I think we are? But there is a garden map posted and everything. I don't think the employees would need that, so it must be for the public, right? Maybe?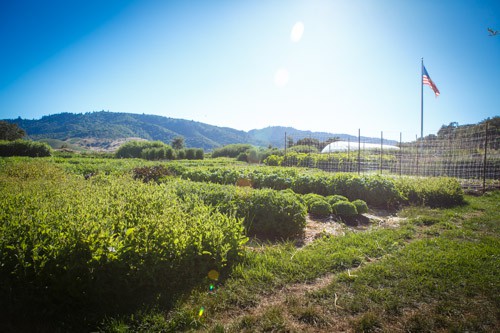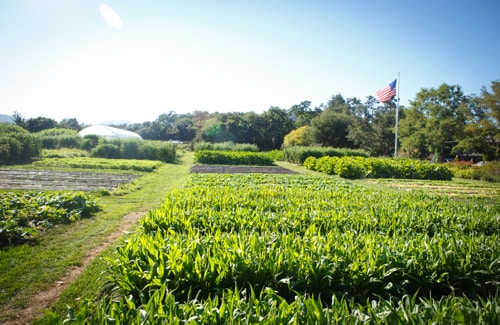 And holy crap what a garden this is. Pretty much everything you could imagine needing, growing right in front of you.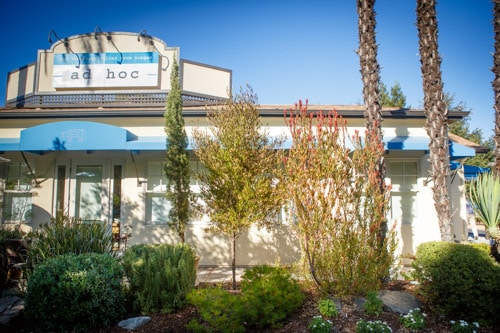 Right down the road is his more casual, laid back joint, Ad Hoc.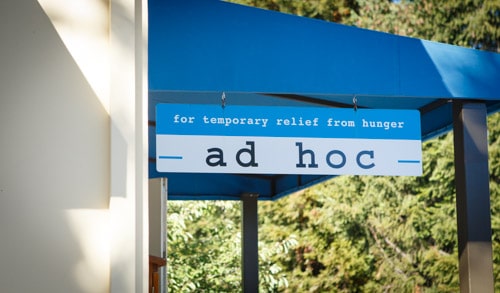 Ad Hoc wasn't initially meant to be a permanent restaurant. It started as a temporary experiment, serving up 4-course family style dinners that changed daily. It was supposed to be a place that the community could just kind of come for dinner without having to unload their bank account, like they would at The French Laundry.
It was such a success, however, that it stayed. For good. 5 days a week for dinner, and Sunday brunch.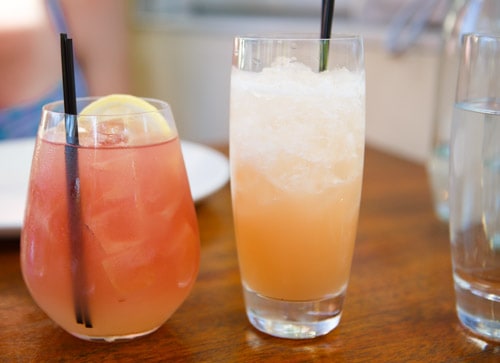 We ended up sitting outside in the patio area since it was such a beautiful day out. Outside patio seating automatically means brightly colored drinks, right? We both really loved our own drinks, but oddly enough I didn't like Asheley's and she didn't like mine. Here's what we got.
I got the Agent Orange, with House Infused Citrus Vodka, Fresh Lime Juice, Orgeat, and Pineapple. Asheley ordered the Ad Hoc Lemonade, with House Made Spiced Lemonade with Vodka.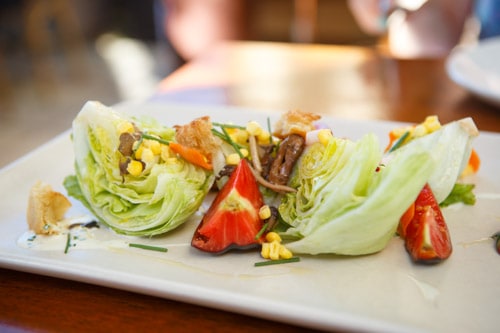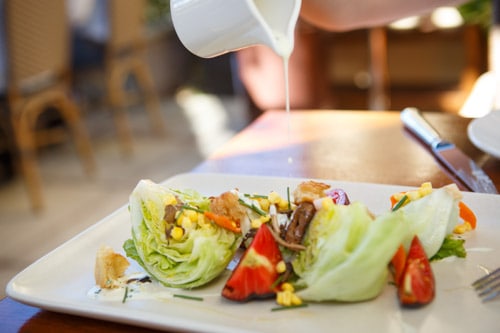 So we went on a Monday night, and Mondays at Ad Hoc are well-known for their alternating menu of either the famous Fried Chicken dinner or the BBQ dinner. I was of course secretly hoping it would be a Fried Chicken week, but strike out, it wasn't.
When I saw that our first course was an Iceberg Wedge Salad, I didn't have high expectations. Like really, thanks a lot Ad Hoc, but I'm pretty sure I can make that at home.
I can't even begin to tell you how perfectly amazing this salad was. An iceberg wedge salad shouldn't have been that good, and I'll most likely never have one that good again.
But when you consider that all the produce was probably grown in his garden down the street, picked like an hour before we ate it at peak ripeness, and that everything on the plate was the epitome of that ingredient, it made for a spectacularly jaw-dropping salad. It had tomatoes, red radishes, brentwood yellow corn, marinated mushrooms, carrot lamels, torn garlic croutons, and an unbelievable buttermilk dressing.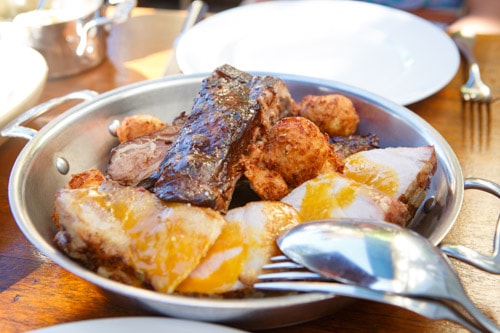 Here's the BBQ platter. You've got two giant Applewood Smoked BBQ Beef Ribs and a really generous portion of Carolina Gold BBQ Pork, along with a few scattered Bacon-Cheddar Hush Puppies.
Everything was really great, although I do have to mention that a bit of the pork was severely under-cooked. No, I'm not talking about a little bit of pink. I'm down with that. The middle was pretty much raw. So we ate around that. But still, come on Ad Hoc. You're better than that.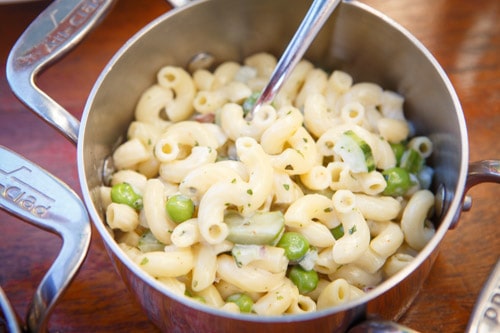 I'm not a cucumber fan at all, but I was pleasantly surprised with the Garden Serpent Cucumbers in this Pasta Salad with pickled red onions, celery, and english peas.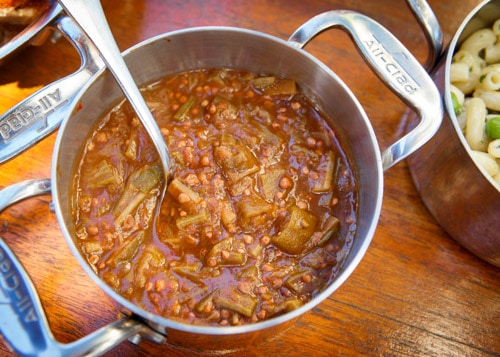 The Stewed Red Okra was also pretty good. By the way, have you noticed that everything is served in All-Clad pots? This Thomas Keller guy must be rolling deep. That stuff ain't cheap!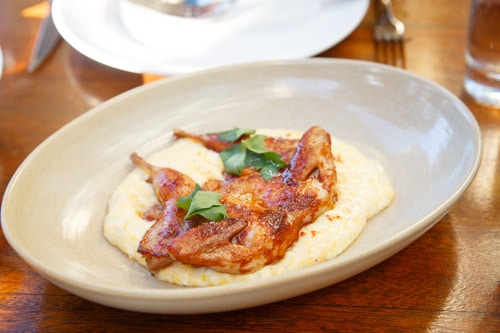 For an additional $16, we added on the extra course of Sticky Quail with Creamy Anson Mills Grits. We were fans. Great grits, great quail. No complaints, although I wish quails would have more meat on them. It's not Ad Hoc's fault though. I blame the entire quail species really.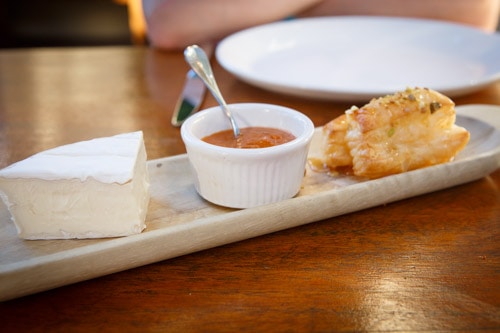 If you love cheese courses, you'll probably love this. I'm not a huge cheese course fan (give me a hunk of chocolate instead and let's call it a day). They gave a pretty generous wedge of Nancy's Camembert, along with apricot jam and a puffed pastry baklava type thing that was delicious.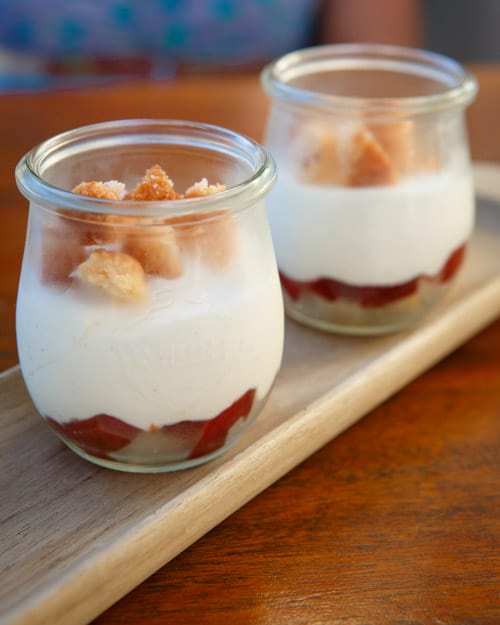 Rounding out the meal was this K & J Orchards Satsuma Plum Trifle. I think this was one of Asheley's favorite desserts the entire trip. It was pretty fantastic. It had vanilla poundcake, coconut rocher pieces, lemon cream, and of course plums bursting with its sugary juices.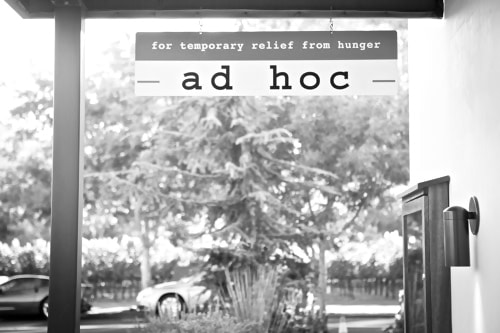 For the experience of eating at a Chef Thomas Keller restaurant, $52 for a four course meal is a steal. Add on that extra course, and it ended up being $60 a person. Still a great deal. The alternative? Dropping $270 a person down the street. Don't get me wrong, I would of happily done that as well, but my stomach was just as happy and full, and my wallet was a lot fatter.
Moral of the story: Shoot for the moon and try to get a reservation at The French Laundry. Even if you miss, you'll end up with the stars and dine at Ad Hoc.
Ad Hoc 6476 Washington St
Yountville, CA 94599 707-944-2487
You May Also Want To Check Out:
Bottega by Chef Michael Chiarello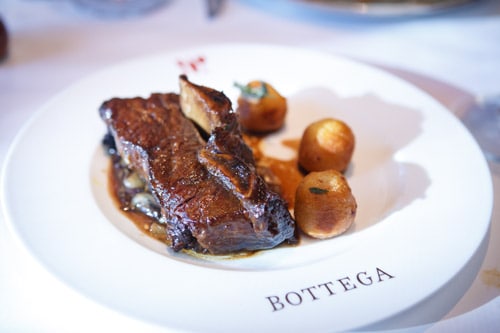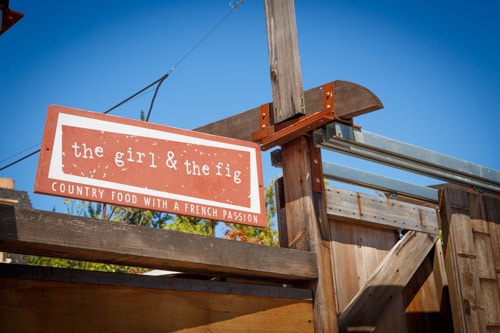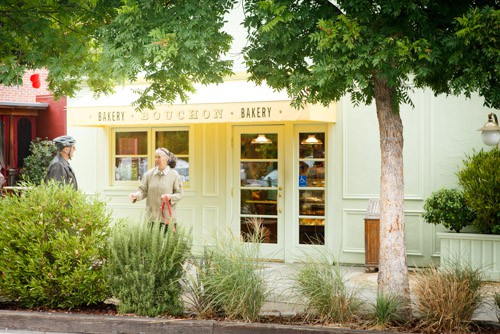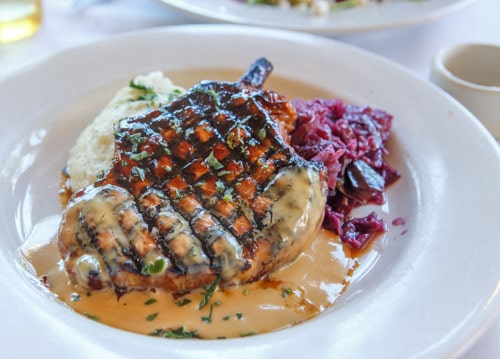 The Top 12 Foods You Have To Eat in San Francisco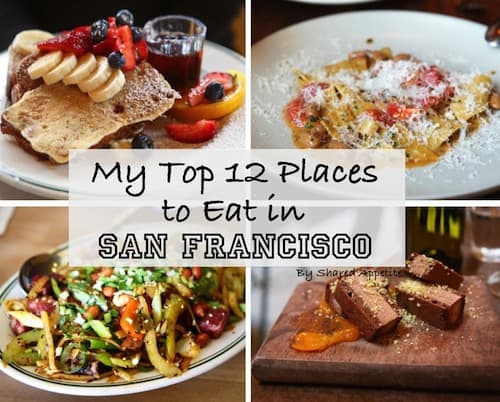 The Top 10 Foods You Have To Eat in NYC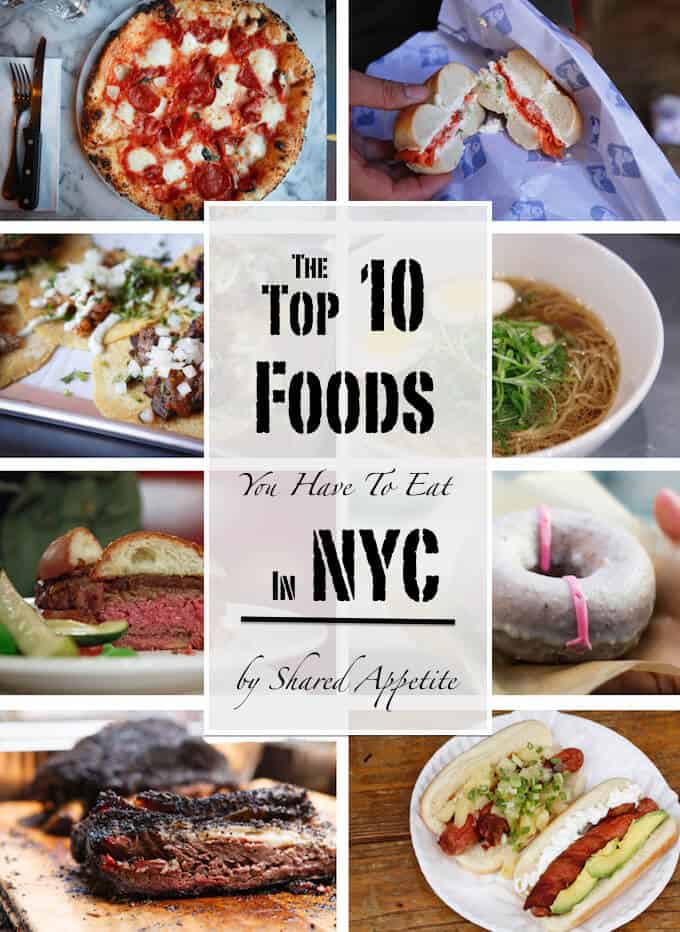 The Top 10 Food You Have To Eat in Paris