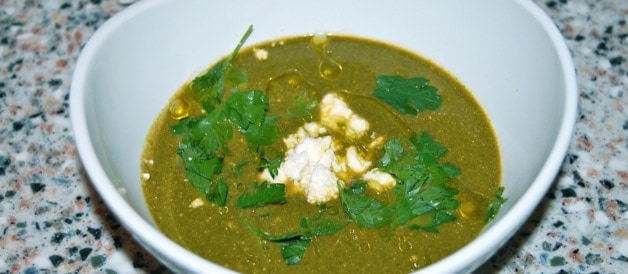 I am not one to make many soups, and honestly am not sure why.  I enjoy a good soup, and when I saw this recipe in the January 2012 issue of Bon Appetit, I was intrigued.  Not many ingredients, lots of healthy greens from the Swiss Chard and herbs, and an ingredient I've honestly never really worked with... feta cheese.  The recipe, originally penned  by Yotam Ottolenghi, is known for his popular take-out food shops in London where he focuses on uncomplicated and unadulterated food made with local ingredients.  This soup is healthy, and it tastes so fresh and light with a hint of richness from the yogurt.  Here is my adapted version of his soup:
Swiss Chard & Herb Soup With Feta
[list style="red"]
2 tbl. Olive Oil (plus extra for garnish)
1 Large Onion, chopped
2 Garlic Cloves, crushed
1 lb. Swiss Chard (stems removed), coarsely chopped
3 ½ c. Vegetable Broth
½ c. Parsley, roughly chopped (plus extra for garnish)
½ c.  Cilantro, roughly chopped (plus extra for garnish)
1 tbl. dried mint
½ tsp. nutmeg
1 tbl. fresh Lemon Juice
Kosher Salt and Freshly Ground Black Pepper
½ c. Plain Greek Yogurt (I used a Chobani 6 0z. container)
4 oz. crumbled Feta cheese
[/list]
1) In a large saucepan, heat the olive oil over medium/medium-low heat.   When hot, add the onion and cook, stirring occasionally until it begins to soften, about 5-6 minutes.  Add the garlic and cook, stirring occasionally and making sure the garlic does not burn, about 2 minutes.
2)  Add in Swiss chard, parsley, cilantro, dried mint, and nutmeg.  Stir and let cook briefly, about 1 minute, until the chard starts to wilt.  Add in vegetable broth, stir, raise heat and bring to a boil.  Once the mixture is boiling, reduce heat to a simmer and cook for approximately 10 minutes, stirring occasionally.
3) Stir in lemon juice and season to taste with Kosher salt and freshly ground black pepper.  Cook for approximately 3-5 more minutes.
4)  Working in batches (since there will be more soup than there is room in the blender), puree the soup in a blender until smooth.  A brief caution: since the mixture is hot and in a closed container, the steam can make the lid of the blender come shooting off, spraying hot soup all over your kitchen and on you.  In order to avoid this, don't fill up the blender all the way and make sure you are holding onto the lid firmly as you begin blending.  Also, begin on a low speed and work your way up to the puree speed.
5) Once all soup is pureed, return it to the saucepan.  In a medium bowl, place about a ⅓ of the total yogurt.  Add ½ cup of warm soup, and whisk until smooth.  Do this twice more with the remaining yogurt.  Whisk that mixture back into the large saucepan with the rest of the soup.  Add in ½ of the feta cheese to the saucepan and stir.  Season with additional salt, pepper, and lemon juice, as needed.
6) Ladle soup into bowls and garnish with more feta and a couple leaves of fresh parsley and/or cilantro.  Drizzle with olive oil and serve.