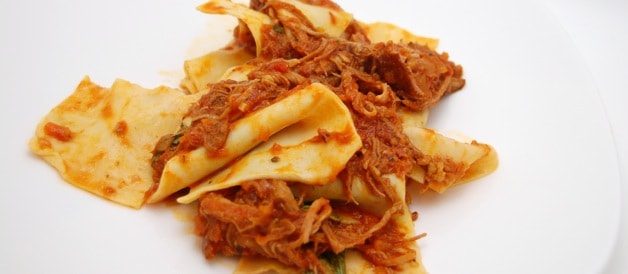 At Mario Batali's  Otto Enoteca and Pizzeria in NYC, there is a dynamite pasta dish called Taccozzette con Stracotto.  Featuring braised pork shoulder tossed in a tomato sauce with fresh basil and served among pasta that resembles a shrunk down version of lasagna noodles, it is hands down one of the best pasta dishes I've ever had.  Needless to say, I've been wanting to attempt recreating a version of this mouthwatering pasta dish at home (imitation is one of the greatest forms of flattery, isn't it?).
The other night Asheley and I invited another couple over for a  little dinner get-together, and I felt it the perfect time to try my hand at recreating the Taccozzette con Stracotto!  Lisa is an amazing cook in her own right (check out her super delicious Sausage, Bean, and Spinach Soup Recipe that she wrote up for Shared Appetite), and her husband Joe is a wine connoisseur.  They know good food, so I had to bring my "A" game.  I decided for an added challenge, I wasn't just going to try to recreate Batali's braised pork shoulder ragu, but I would also attempt to make homemade fresh pasta for the very first time.  I know it was incredibly risky, but I was feeling "go big or go home".  To complete the meal, I made a delicious Winter Caprese Salad to start and finished with a super easy Chocolate Souffle with Grand Marnier Creme Anglaise (recipes coming soon).
This braised pork shoulder ragu recipe is a one-pot wonder.  It is a warming, hearty dish that is perfect for a winter night dinner and makes entertaining super easy.  All the prep work is done way ahead of time.  When you are ready to eat, just boil up some pasta and serve!  Feel free to make your pasta fresh like I did, but that is totally not necessary.
Print
Taccozzette Con Stracotto (Pasta with Braised Pork Ragu)
---
Total Time:

5 hours 30 minutes

Yield:

8

servings

1

x
Description
A perfect winter pasta dinner and entertaining made easy, this Pasta with Braised Pork Shoulder Ragu is a one-pot wonder. It is super hearty and very delicious, and will wow everyone at the dinner table.
---
2

tbl. olive oil

2

lbs. boneless pork shoulder

2

large onions, finely chopped

2

carrots, grated

6

cloves garlic, minced

1 tsp

. dried thyme

1 tsp

. dried oregano

1 tsp

. dried basil

2

bay leaves
Pinch of dried chili flake, optional

1

c. red wine

1

-

28

oz. can whole Italian tomatoes with juice

1

-

6

oz. can tomato paste

½

-

28

oz. can crushed tomatoes

1

c. water
Kosher Salt and Freshly Ground Pepper
Pappardelle or another wide pasta

1

c. fresh basil, roughly torn
---
Instructions
Trim and remove any visible fat from the pork shoulder. Using a paper towel, pat the surface of the pork shoulder so that it is dry. Season on all sides with Kosher Salt and Freshly Ground Pepper.
Heat oil in a dutch oven over medium heat. If you do not have a dutch oven, use something that is stove-top safe, will easily hold the pork shoulder, and has a lid. Once the oil is good and hot (dutch ovens take longer than normal pans to heat up, so be patient), sear the pork on all sides, approximately 3 minutes a side, until there is a nice golden brown crust. Once the pork shoulder is seared on all sides, remove from the pan and place on a plate to the side.
Add onions and carrots to the pan and cook, stirring occasionally, until the vegetables begin to soften, about 4-5 minutes. Season with kosher salt. Add garlic, thyme, basil, oregano, chili flake (if using), and bay leaves, and cook, stirring occasionally, for another 1-2 minutes.
Add red wine and stir. Let cook for approximately 4-5 minutes, until the wine has slightly reduced. Add the whole tomatoes and their juice, tomato paste, crushed tomatoes, and water. Stir to combine. Add the pork back into the pan. The liquid should be at least ⅓ up the meat, but more is great. You will be turning the meat throughout the process to ensure all parts of the pork come in contact with the sauce.
Bring to a boil, then reduce heat to a simmer and cover, but leave a slight opening to allow the sauce to reduce slightly as it cooks. Check on the pork now and again, turning as necessary, making sure it is at a simmer, and stirring only occasionally. Cook the pork for about 4 hours, until the meat is fall-apart tender and is easily shredded by a fork.
When pork is ready, remove from the pan into a bowl. Using two forks, shred into desired bite-size pieces. Using a wooden spoon, smash apart any whole tomatoes in the pan that haven't already broken down. At this point, if the sauce doesn't taste tomato-y enough or if it reduced down too much, you can add the other half of the crushed tomatoes and then a little water, if necessary. Remove the bay leaves and discard.
Return shredded pork to the pan, stir, and let continue to cook for at least 30 minutes to allow the flavors to meld. You can let it continue to cook on low until you are ready to serve.
When ready to serve: Bring a large pot of water and a generous helping of salt (the water should taste like salt water) to a boil. Add in pasta and cook to package directions, making sure pasta is al dente. Do not overcook! Drain in a colander, then immediately add pasta into the pork ragu along with the fresh basil. Cook for another minute to allow the pasta to absorb the pork ragu flavor and the basil to slightly wilt, and serve!
Prep Time:

30 minutes

Cook Time:

5 hours