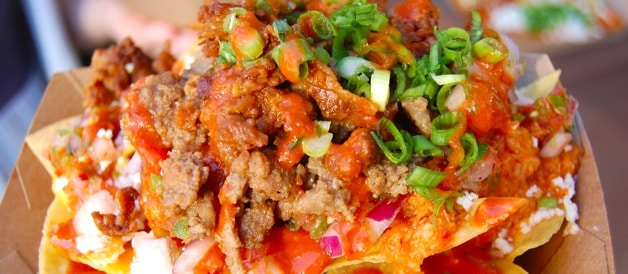 I didn't grow up eating a lot of Korean food (or any for that matter), but had I known what a delicious treasure it truly is, I would have started enjoying the flavors of Korea long, long ago.  A couple NYC food trucks are working hard to put the delicious cuisine of Korea on the culinary map of America.  One such truck is Kimchi Taco. Combining traditional Korean flavors with comfort foods we Americans love, the Kimchi Taco Truck has rapidly become one of my favorite food trucks in all of NYC.  The flavors are bold, the ingredients are fresh, the prices are great, the staff is friendly, and most of all, it's so delicious.
Philip Lee, owner and founder of Kimchi Taco, wants to revolutionize Korean cuisine and change America's perception of his native food… and in my mind, he's succeeding.  There are many great food trucks roaming the streets of NYC, and Kimchi Taco can hang with the best of them.  Here's why:
The first time I tried the Kimchi Taco Truck was at Tom Colicchio's brainchild, The Lot in NYC.  A vacant parking area, The Lot was the temporary summer home for a makeshift roller skating rink, bar, and food truck consortium.  It was so amazing.  Multiple food trucks (normally around 5, on a daily rotating basis) got together to serve up their amazing specialties.  Asheley and I ate a ton of great food here, including  some of the most delicious ice cream ever at the Van Leeuwen truck.  But I digress…
Not really a kimchi or Korean food connoisseur, I was excited to try the new flavors Kimchi Taco Truck offered within the comforts of familiar foods I've come to know and love: tacos, burrito bowls, philly cheesesteaks, rice balls, and even nachos!  The combination of ethnic Korean cuisine with these unlikely suspects is simply… deliciously… genius.  Check out the full menu for all of their delectable offerings.
So what exactly is kimchi? Basically, it is Korean's healthy superfood of various fermented vegetables.  There are hundreds of varieties of kimchi, but the most familiar forms typically contain fermented napa cabbage, radish or cucumber, and are seasoned with garlic, ginger, chopped radish, salt, and chili flakes.  Kimchi Taco Truck makes all of their kimchi in house, using  temperature controlled refrigerators to allow for slow and natural fermentation.  Although kimchi by itself has a very strong flavor, Kimchi Taco Truck uses it in creative and gentle ways, incorporating it delicately into their menu.
My absolute favorite menu item at Kimchi Taco Truck, the thing that I crave constantly and dream about nightly, is their  BBQ Nachos.  These puppies are only $4, but pack a million-dollar flavor punch.  Tortilla chips are topped are with Korean marinated bbq beef, spicy seared pork, kimchi, queso blanco, cheddar, pico de gallo, green onion, and miso crema.  The Korean marinated bbq beef is superb and quite special in it's flavor and texture.  The chips are super crisp and stay crispy throughout the eating process (which is a big deal to me, since with a lot of other nacho platters out there, the chips sadly get soggy pretty quick).  Oh, and I like to order mine "spicy"!  Don't miss out on these nachos.  They are amazing!!
I have to admit, the picture above should have been of three Kimchi Arancini ($3), but they looked and smelled so good that I accidentally ate one before snapping the photo.  Oh man, these are delicious.  Arancini are rice balls that are typically associated with Italian cuisine.  However, these divine beauties consist of kimchi fried rice mixed with queso Oaxaca and Parmesan, which are then fried to crispy perfection in a coating of panko and Italian breadcrumbs.  I forget what the name of the sauce was that tops these arancini, but I do remember it was spicy goodness!
Another $3 bargain… the Chips and Beans were fabulous.  Crispy wontons are smothered in kimchi infused refried beans and sprinkled with queso blanco.  The kimchi flavoring in the refried beans was very light and although I could definitely taste it, I wouldn't mind a heavier kimchi punch.  These must be good, considering Asheley managed to polish off the whole order!
Similiar to a burrito without the tortilla, the Kimchi Bowl ($8) consists of your choice of protein: Grilled Korean BBQ Short Rib, Spicy Seared Pork, Spicy Pulled Chicken, or Tofu Edamame Falafel, and is served on a bed of lettuce and rice and nestled next to homemade kimchi, pico de gallo, spicy pickle, and garnished with green onion.  I like to mix and combine all that yummy goodness together and the flavors are like an awesome party in my mouth.
I have to admit, the Spicy Rice Cake ($3) wasn't my favorite.  Drenched in Korean red pepper glaze and topped with queso blanco and green onion, this grilled rice cake had a weird chewiness texture to them.  However, the flavor of the Korean red pepper glaze was good.  I would pass on these and gladly get a double order of those BBQ Nachos instead!!!
Definitely don't miss out on the Kimchi Taco Truck.  The prices are quite reasonable and the food is quite amazing.  Through their sensational street food offerings, Kimchi Taco has made me a fan of Korean cuisine.  Further, they have a loyal customer for life.  It is the goal of Philip Lee for every American to welcome a jar of kimchi into their home refrigerators, and after trying Kimchi Taco, you might just make his dream come true.
You may want to also check out…
The Top 10 Foods You Have To Eat In NYC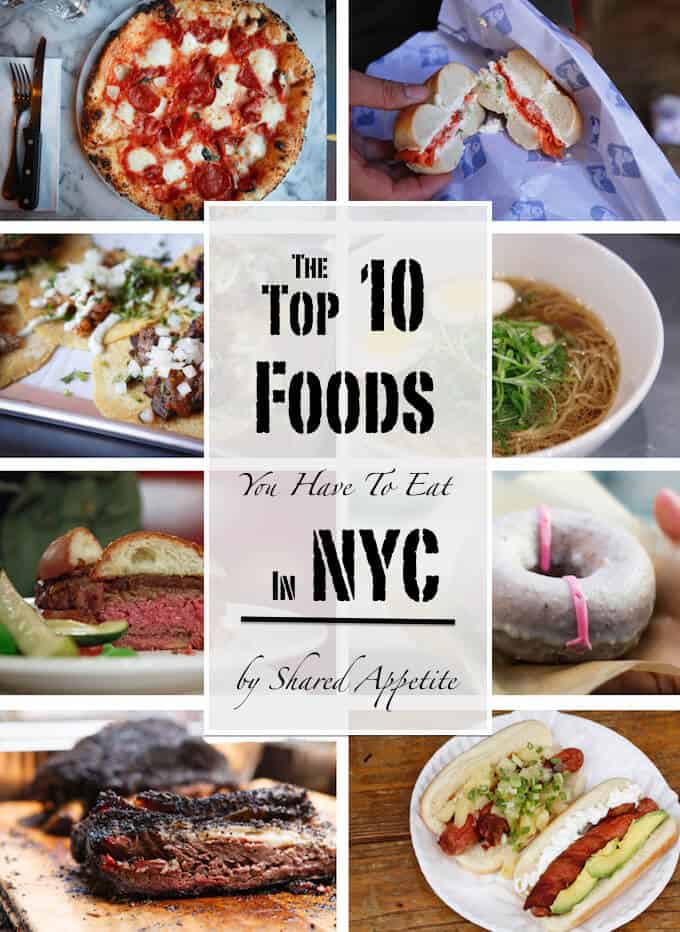 The 10 Best Ice Cream and Frozen Treats in NYC