Create Your Own Salad At Panera was created in partnership with Panera Bread. As always, all opinions, photos, and video are my own. Thanks for supporting the brands that support Shared Appetite!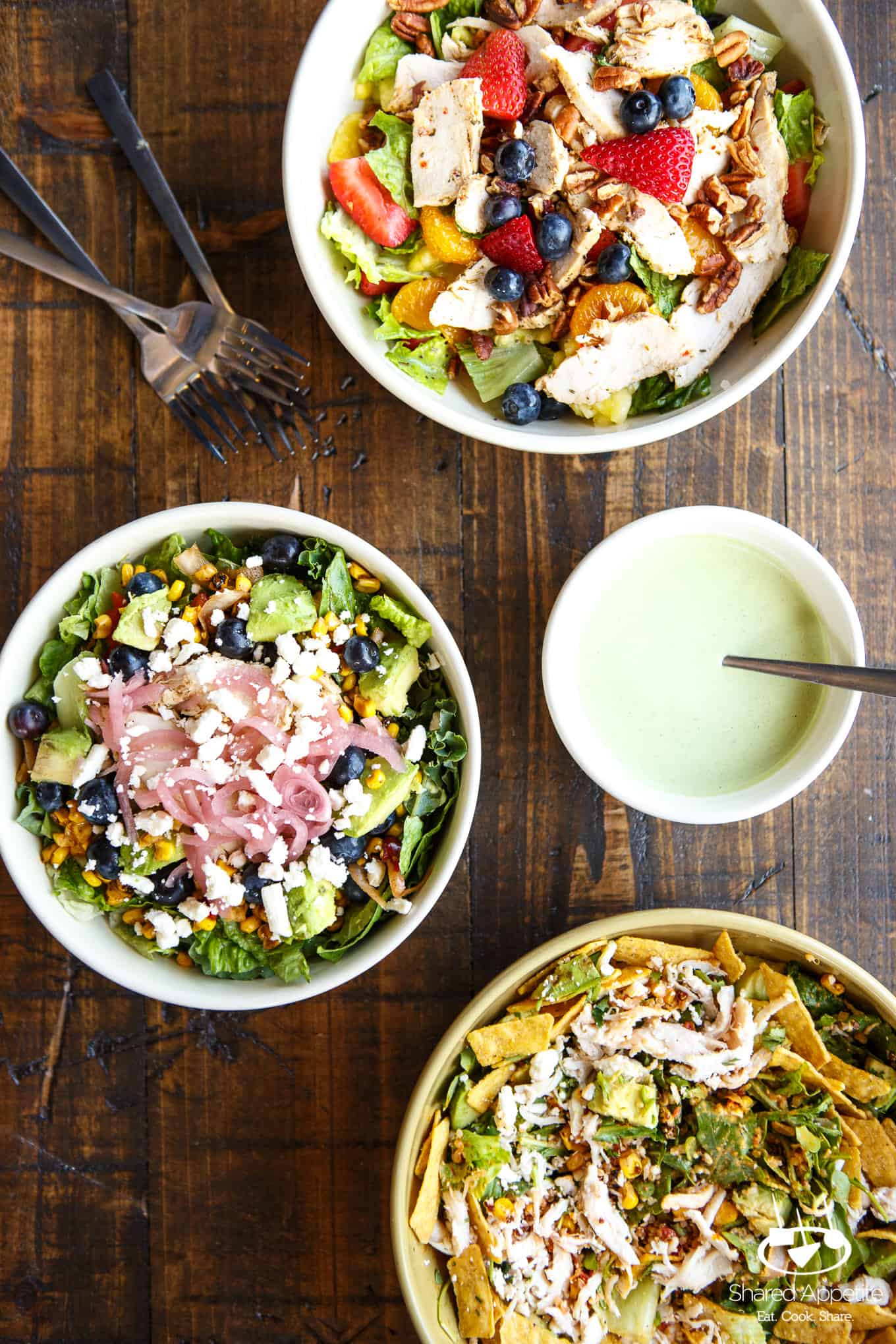 Let's just get this out in the open right away. Did you know that you can completely customize salads at Panera Bread? I know! You can create your own salad at Panera. If you already knew about this, why did you keep it to yourself? That's just plain selfish. My mind was BLOWN when I found out that you can personalize salads however you'd like when ordering.
I guess I just never thought of it, considering I was too busy enjoying the perfectly crafted salads already on the menu. But when Panera approached me and asked to specifically create my own salad, I was like wait... that's a thing!?
Can we just back up for a second? I love Panera. Completely and fully, I do. For the last two years, I can honestly say that Asheley and I eat Panera almost once every week. Usually it's takeout after a long day at work or when it was just one of those days that Olivia finally gets to bed and mommy and daddy had no energy left to cook. When fatigue like that sets in, so does bad eating choices. But that's the beauty of Panera. We can get a quick meal that's super convenient and easy, tastes amazing, AND fits into our lifestyle of trying to eat nutritious foods.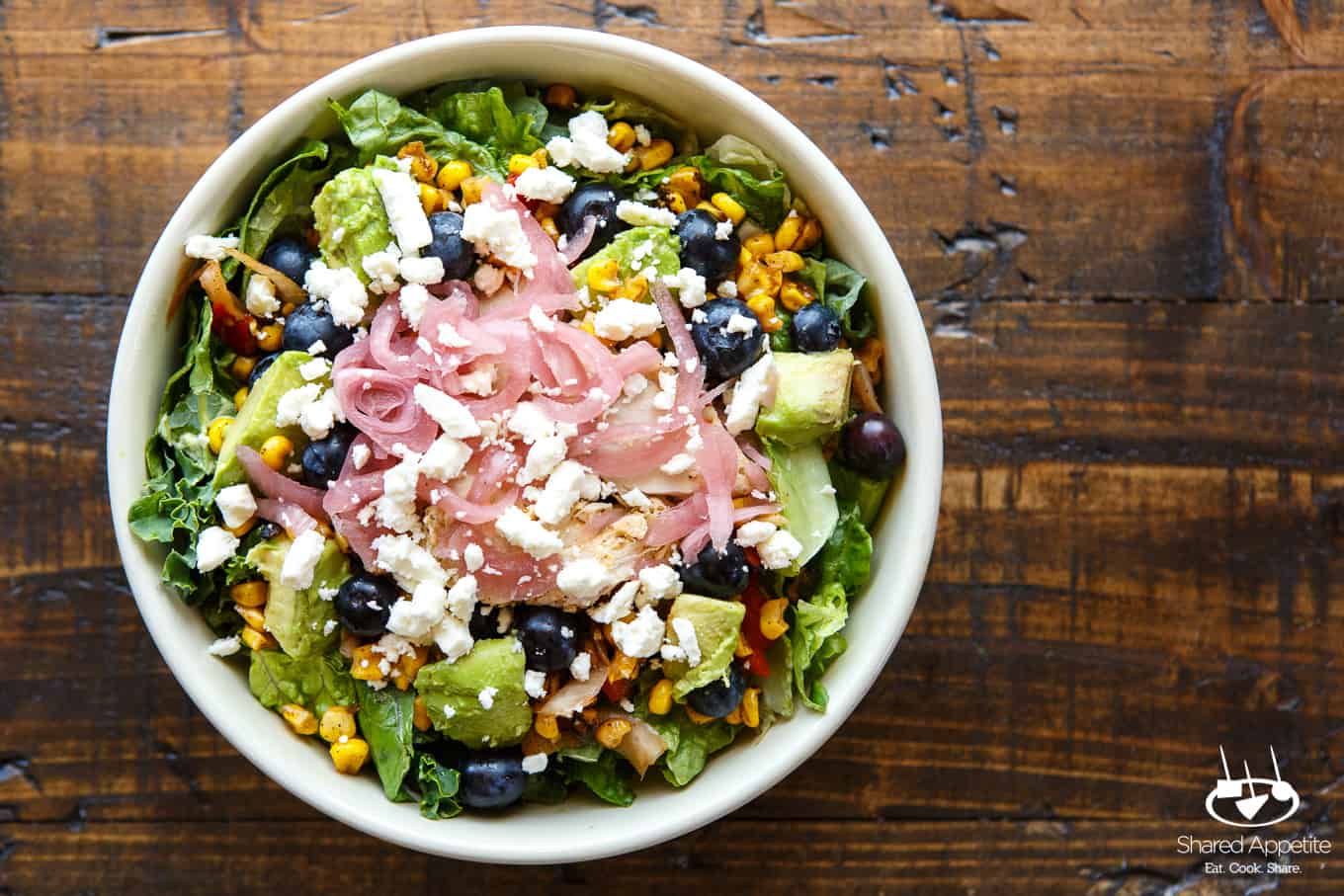 Panera Bread is 100% clean, meaning that's there none of that artificial garbage present in any of their food. No artificial preservatives, sweeteners, flavors, or colors are allowed. They are also committed to keeping all their US bakeries and cafes totally free from all "ingredients" (and I use that term loosely) on its No-No list. Take a look at that list... it reads more like a chemistry textbook than ingredient label. Thanks Panera for keeping our food FRESH and REAL.
Asheley and I love the salads at Panera (okay, we love the sandwiches and soups too). And the baguette... don't get me started on my love affair with their baguette. I was always a big fan of the BBQ Ranch Chicken Salad, but then recently had some Panera catering at a friends house and literally fell in love with the Green Goddess Cobb Salad. The actual salad is good and all, but the dressing... ERMAGHERD THE DRESSING.
Guys. The Green Goddess Dressing at Panera may just be one of my top five most favorite things I tasted this year. It's that good. And something really interesting I learned when I went to create this video at Panera... the Green Goddess Dressing is made IN HOUSE. That's right, it's not a pre-made and prepackaged dressing. How legit is that?!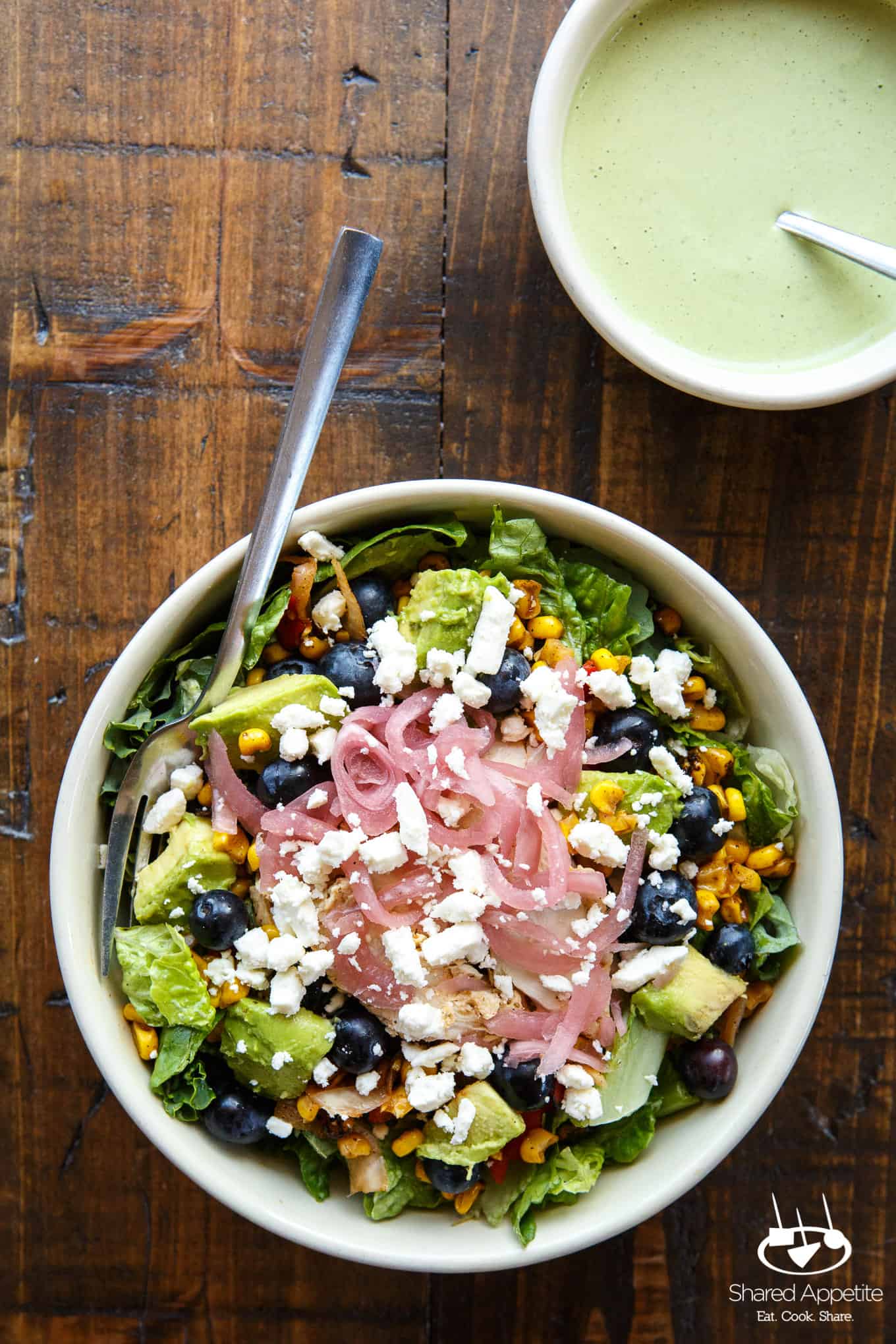 So let's get to the main event. My salad. I will be ordering this customized salad until the end of time at Panera Bread now, because it pretty much combines all of my favorite salad ingredients into one epically legit flavor experience.
I start with a mixture of romaine and kale. Romaine because I love it's crunch and texture, and kale for it's nutrition. Some of Panera's super moist antibiotic free chicken. Blueberries and corn. Pause. Blueberries and corn. I know, it's sounds weird. I first had this magical flavor combination at a restaurant in San Francisco in a pasta dish. I was highly skeptical, but my taste buds did back flips for weeks after. It was one of those what the heck just happened moments. I don't know how or why it works, but it does. Now I use blueberry and corn together as much as I can, including this ridiculously amazing Summer Corn and Blueberry Grilled Pizza with Whipped Goat Cheese.
So yes, blueberries and corn. Try it. You'll thank me for it after.
Avocado gets added, because well, avocado. Enough said. Feta is one of my favorite cheeses to use in salads because of it's smooth texture and salty flavor.
You have no idea how excited I am that Panera uses pickled onions on their menu. Pickled onions (and other pickled veggies) are one of those super secret ingredients that chefs add all the time to dishes to make them sing. I make easy pickled onions at home all the time to use in salads, sandwiches, nachos, and more. It adds a bright pop of acidic flavor that goes really well with rich foods. Pickled onions in this salad pair extremely well with the creamy Green Goddess Dressing.
And oh yes, that dressing. You better believe I'm sticking with my Green Goddess Dressing. Oh how I fantasize about this Panera dressing on a regular basis. It's so darn good.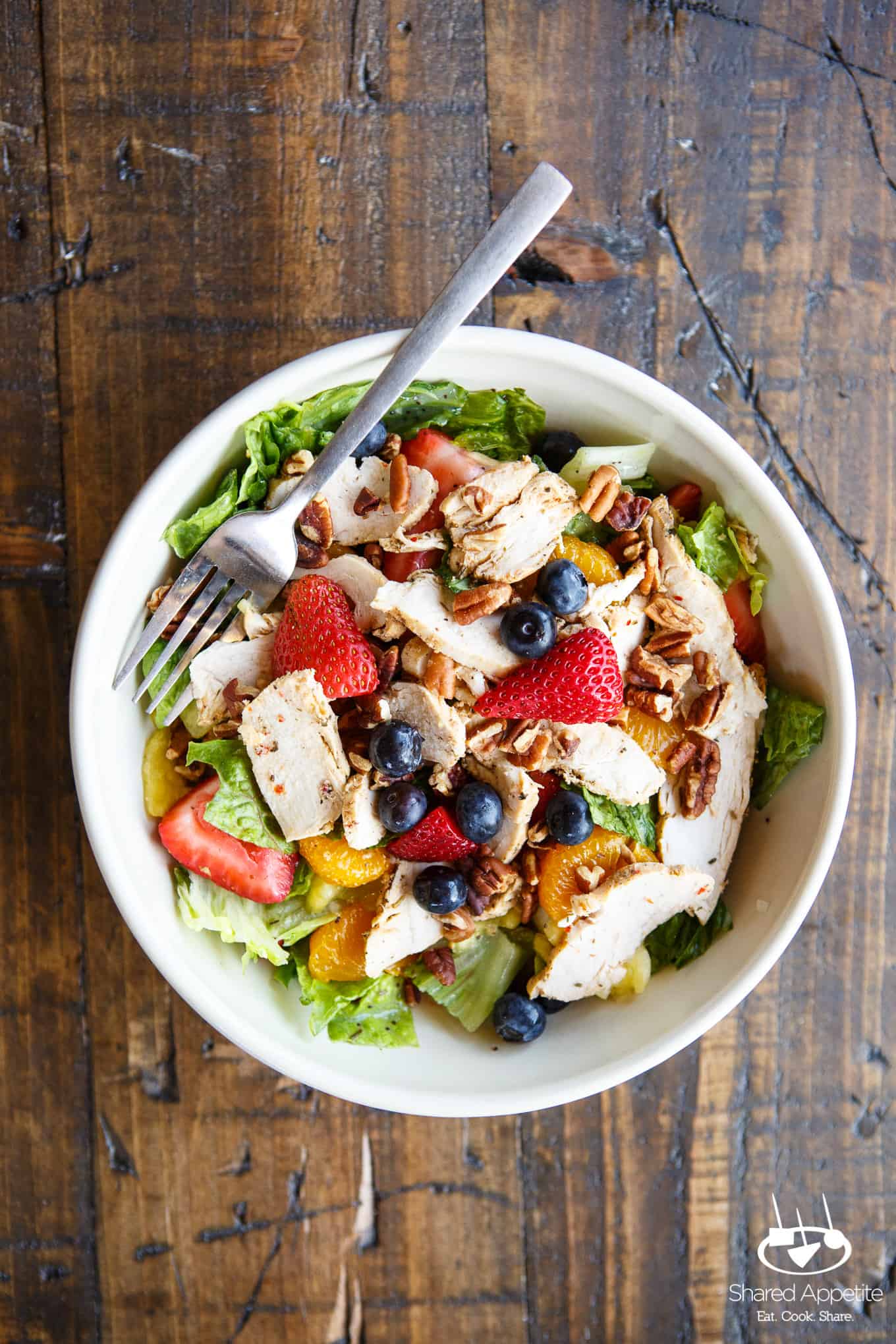 Summer time at Panera also marks the return of the Strawberry Poppyseed Salad, made with chicken raised without antibiotics, romaine, mandarin oranges, fresh strawberries, fresh blueberries, and pineapple, all tossed in fat-free poppyseed dressing and topped with toasted pecan pieces.
I was blown away by the flavor in this salad. It tastes just like summer. I'm now going to have to start cheating on my Green Goddess friend for this salad every now and again.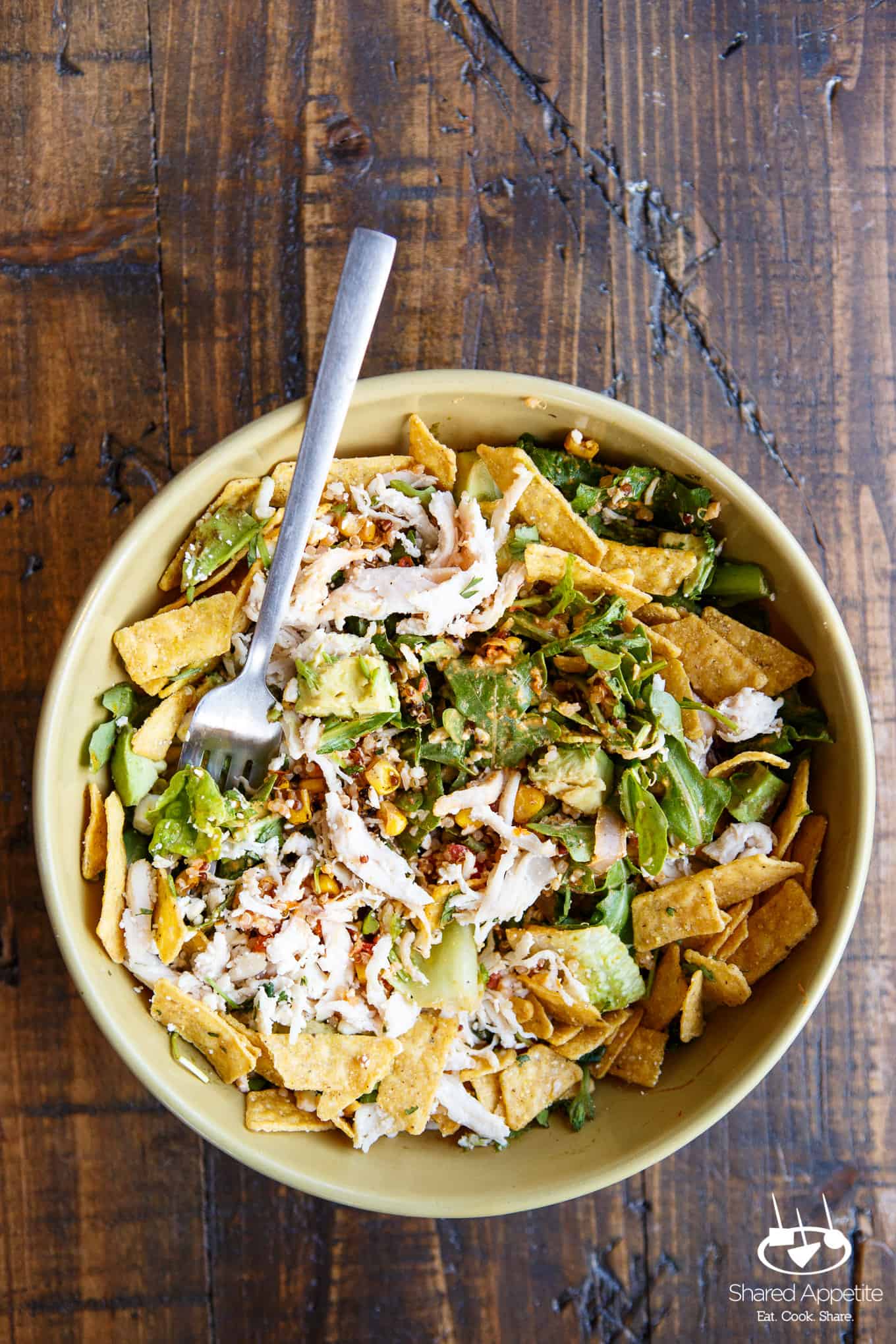 New for this summer, Panera introduced the Southwest Chile Lime Ranch Salad. It's made with smoked, pulled chicken, romaine, arugula, an adobo corn blend and quinoa tomato sofrito, and fresh cilantro. It all gets tossed in freshly made chile lime rojo ranch dressing and topped with feta and avocado.
Anyone that knows me knows that these flavors are right up my alley. Southwest flavors are hands down my favorite, and this salad did not disappoint!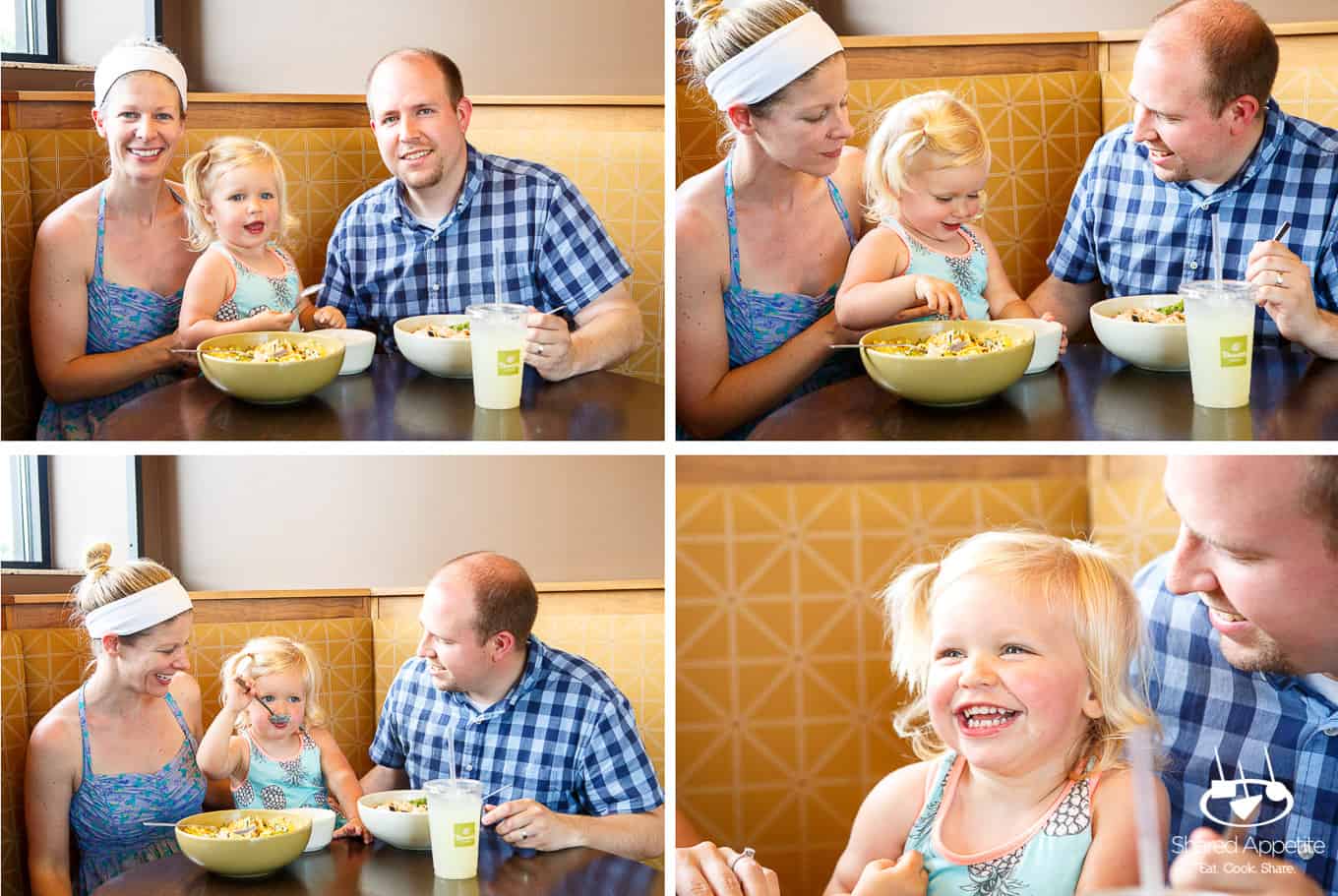 You know the best part about Panera, though? That we can eat there as a family. Casual and laid back, delicious and nutritious. It's always a meal I love eating and I feel good about serving up to my family. Olivia loves trying all the fresh ingredients in the salads and is a big fan of Panera's Mac & Cheese.
Just look at that face. She's one happy girl at Panera.
So make sure you make your way to your local Panera Bread this summer. It's too darn hot to be cooking, anyway. Get your hands on one of their new summer salads, or create your own salad at Panera. Or hey, recreate my customized salad. I promise you'll absolutely LOVE it!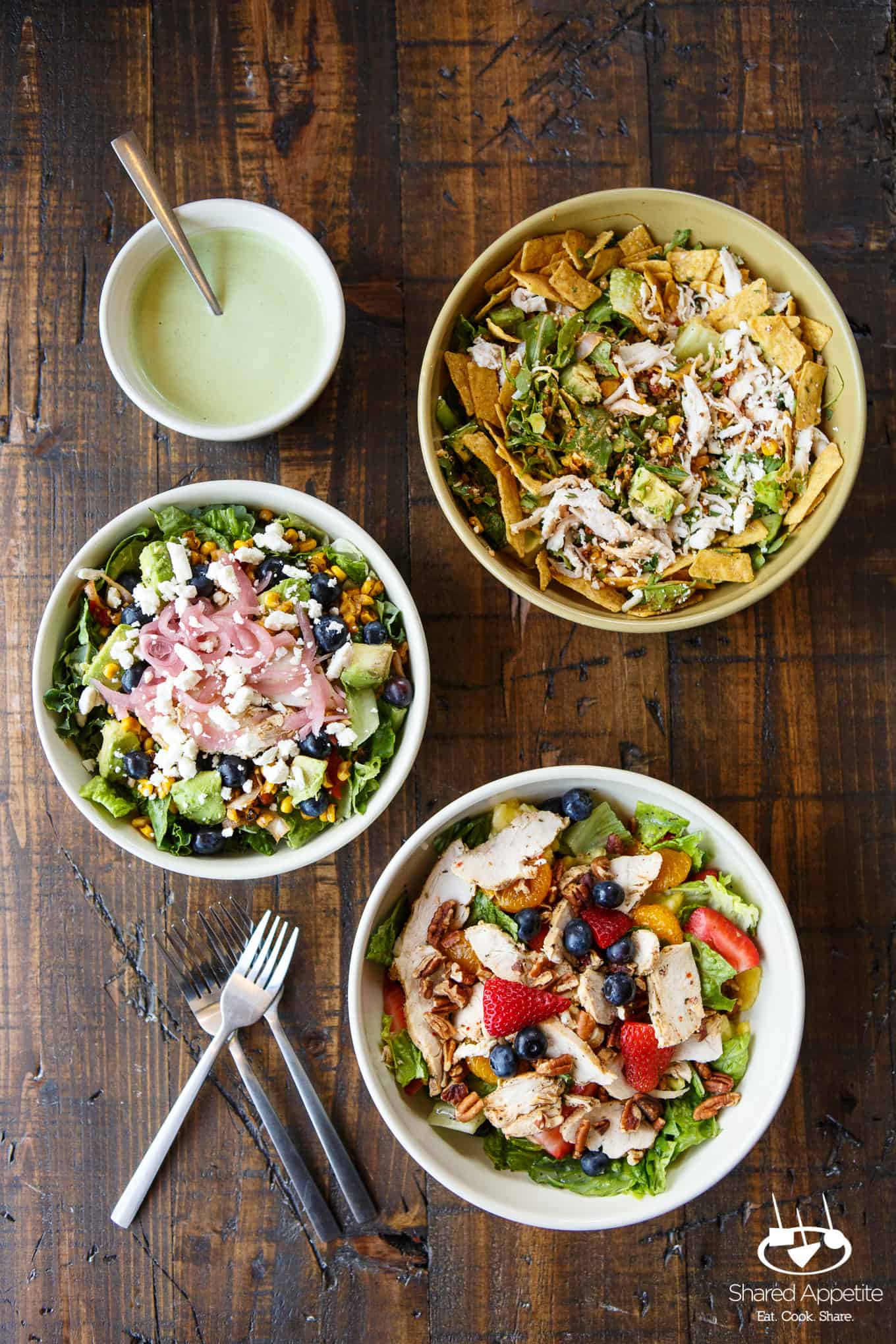 Create Your Own Salad at Panera