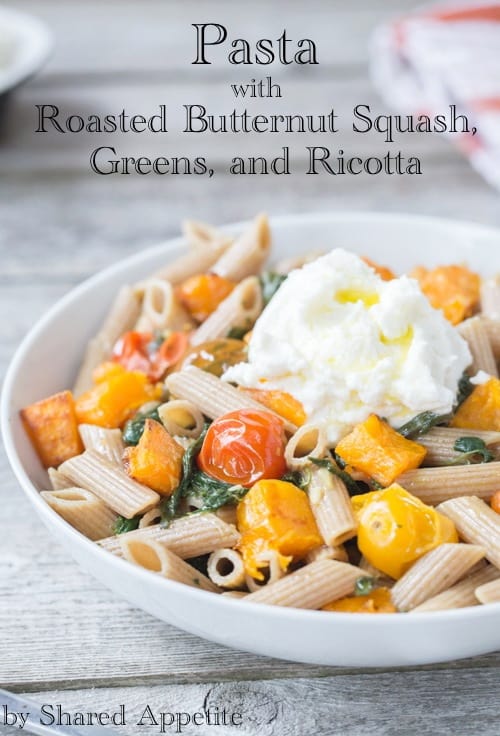 It's fall. The leaves are changing, pumpkins are popping up on almost every doorstep in the neighborhood, and shockingly enough, the weather has stayed on the pleasantly warm side. Asheley just came home with a measely six bags of Halloween candy. Six! We'll defintiely need more. There is a small army of children in our neighborhood, and I've been known to have a small addiction to fun-size candy this time of year.
She thankfully came through with my requested Kit Kats and Twix, although I'm not sure if they will last through next week. Her attempt to hide the candy from me was quite futile, as I quickly found it and devoured a couple (okay, four) pieces.
With all that candy in the house, a healthy fall pasta recipe is welcomed at dinnertime. This butternut squash that we obtained through our weekly CSA program has been staring at me for days on the kitchen counter, as was the bunch of spinach sitting in our fridge. Looking out our back window, I spotted some cherry tomatoes that braved the fall weather and were begging to be picked. Pasta with Roasted Butternut Squash, Greens, and Ricotta… dinner was born.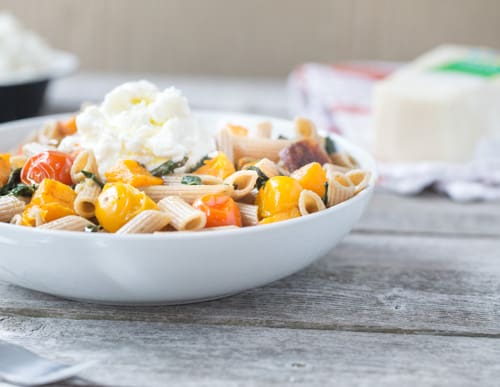 Feel free to use any green you want for this roasted butternut sqush pasta recipe. Swiss chard, kale, or spinach are all great choices. And do me a favor… when you're peeling the tough skin off the butternut squash, just be careful. Use a heavy-duty sturdy peeler (the thing snapped ours in half) or carefully use a paring knife for the job.
I can't emphasize the importance of using a good, high-quality parmesan and ricotta cheese enough. The ricotta has to be super rich and creamy. And don't you dare go down the pasta aisle and pick up a green cylinder of that white dust stuff. Find a hunk of Parmesan in the refrigerated cheese section and grate it fresh. If you're extra fancy, grab some parmigiano reggiano. That's some good stuff.
Trust me, good quality cheese makes a huge difference.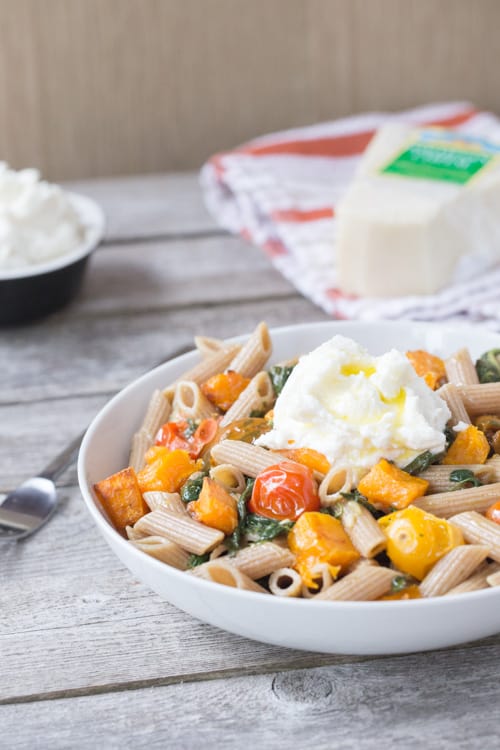 Best part about this meal? Besides it being healthy, quite delicious, and blah blah blah. You can feel good enough about yourself to sneak one more piece of Halloween candy. The only tough decision is which one it should be. Kit Kat? Twix? Oooo, I just found the Milky Ways…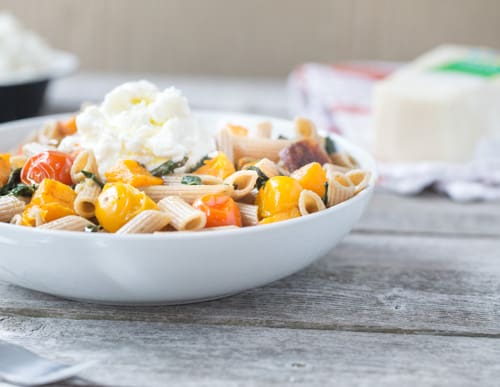 Print
Pasta with Roasted Butternut Squash, Greens, and Ricotta
---
Total Time:

1 hour

Yield:

4

-

6

Servings

1

x
1

butternut squash

3 tablespoons

olive oil, plus more for drizzling

1

medium onion, finely diced

2

cloves garlic, minced

1

bunch swiss chard, spinach, kale, or other greens, roughly chopped

1 pint

cherry tomatoes

1

–

1

lb. package of whole wheat penne or other pasta
Kosher salt
Freshly ground pepper
Good quality Parmesan cheese, grated
Ricotta
---
Instructions
Peel the skin and remove the seeds from the butternut squash, then chop into approximately 1/2″ pieces. Toss with about 1 tablespoon of olive oil to coat and season with Kosher salt. Spread squash in a single layer on a foil-lined baking sheet and roast in a 400°F oven for 25 minutes. Remove from oven, gently flip the squash pieces with a spatula, and cook for approximately 20 minutes more, until fork tender and beginning to turn golden brown.
Meanwhile, cook the pasta al dente according to package directions in salted water, then drain.
In a large skillet, heat approximately 2 tablespoons of olive oil over medium heat. Add onions and cook, stirring occasionally, until softened, approximately 5-7 minutes. Add garlic and cook for 1 minute, stirring frequently. Add greens and stir, until they wilt and there is enough room in the pan to add the cherry tomatoes. Season with salt and pepper and place the cherry tomatoes whole in the pan (large cherry tomatoes should be halved) and cook until tomatoes are softened and begin to burst, about 7-10 minutes.
Remove mixture from heat and add a healthy sprinkling of freshly grated parmesan cheese. Add roasted butternut squash and pasta (you may need to do this in the pot you boiled the pasta in if more room is needed) and gently toss to combine.
Place finished pasta in bowls, top with a generous dollop of ricotta and drizzle with extra virgin olive oil.
Prep Time:

15 minutes

Cook Time:

45 minutes