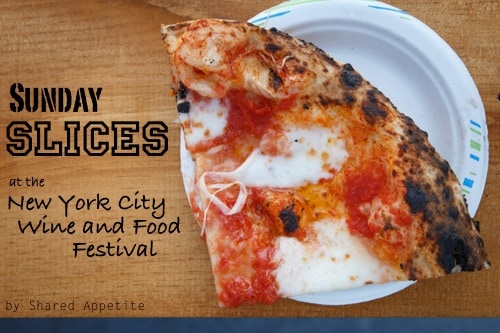 An arsenal of wood-fired pizza ovens took over Pier 92's gigantic rooftop overlooking Manhattan's picturesque West Side this past weekend for the NYC Wine and Food Festival's Sunday Slices, a walk-around tasting event hosted by Man vs. Food's Adam Richman and Celebrity Chef Anne Burrell.
And team Shared Appetite was there. And by team, I really mean just Tyler, myself, and our two beautiful wives. Tyler is a well-known pizza fanatic, so much so that he is literally building a wood-fired oven in his backyard as we speak. I'm not complaining, though. Those things can cook a pizza in 90 seconds. It's pretty awesome.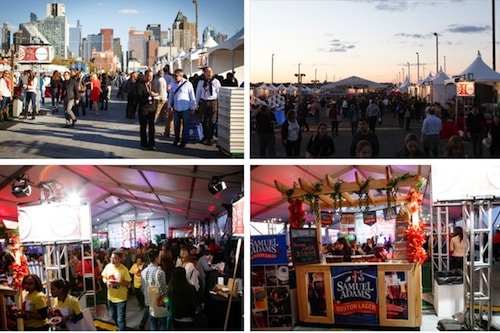 As we approached the massive pizza-tasting event, Tyler's eyes lit up. His stride quickened. It's rare to see him so visibily excited. And will so many tables and booths of food and drink awaiting our hungry stomachs, it was time to take a quick peek around and get a survey of the land.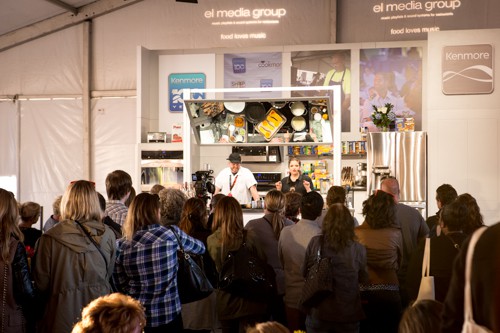 Iron Chef Alex Guarnaschelli was up on the stage, hosting a cooking demo involving some sort of butternut squash recipe. I think it was a soup, but didn't stick around long enough to find out.
Later on, we saw her again doing some sort of "food protection" promo for Glad.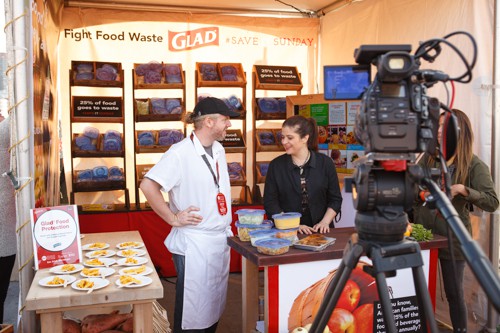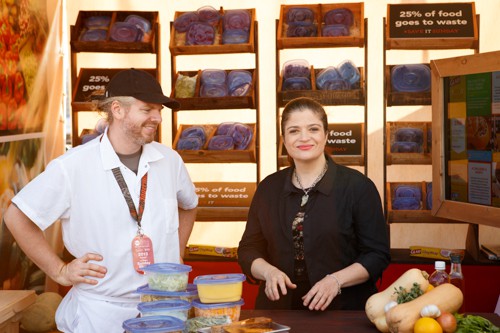 The Glad company was also giving out some nifty canvas bags. We totally got one. It required us having to give our name and email to that iPad lady, which probably means a lifetime commitment to receiving sponsor emails. I'm hoping my spam filter will take care of that.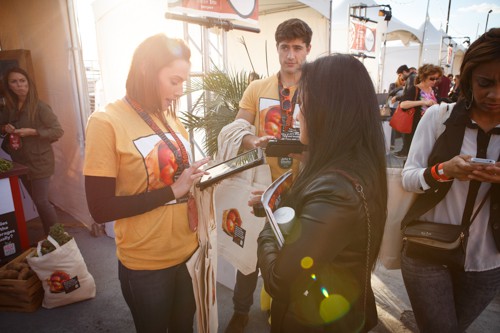 There was no shortage of beer and wine at Sunday Slices, with waitresses constantly circulating the event offering up smiles and beverages. There were tons of booths set up as well, such as these fine citizens pouring out a constant stream of Sam Adams…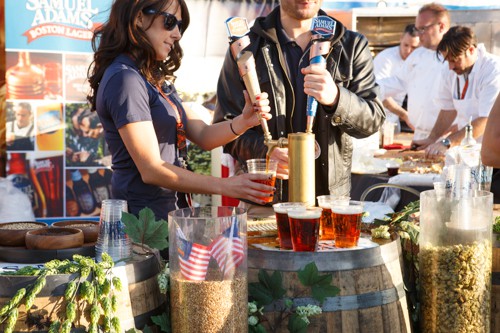 Onto the real reason we were here. Food. More specifically, pizza. And there was plenty of it. Along with the various vendors offering up antipasti, pasta, and other goodies, there were 16 pizzerias represented at Sunday Slices. And there is no sight more beautiful than of all those pizza ovens (most of them wood-fired) overlooking the Manhattan skyline. I think I even saw a tear in Tyler's eye.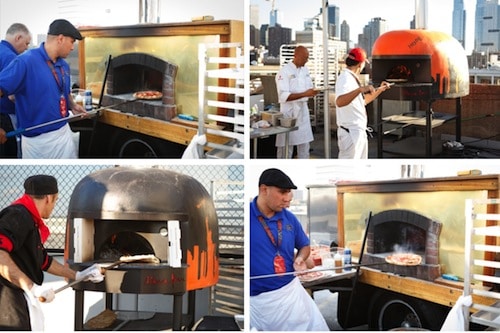 We didn't get to try every pizza there, but I'm 100% serious when I tell you we ate until we were literally on the verge of rupturing our internal organs. It was amazing, disgusting, glorious, and painful all at the same time. And I would do it again.
But here's a look at our favorite slices, and well, the ones that weren't as spectacular. Okay, heck, let's call a spade a spade. Some were downright awful.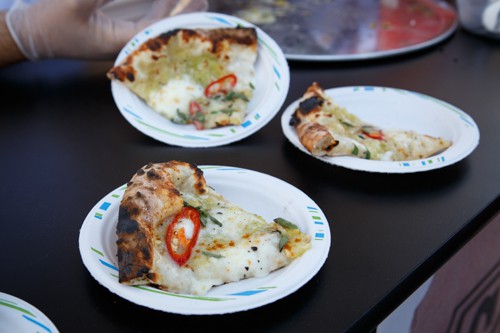 One of our absolute favorites of the day was Jim Lahey's Green Tomato Pie. The owner of Chelsea restaurant "Co" and genius creator of the n0-knead dough recipe, we actually just took a pizza-making class with Lahey the day prior as part of the NYC Wine and Food Festival.
And no, that didn't cloud our judgement in the least. We're way better than that people. Seriously now, we're professionals. 🙂
In all honesty, we weren't blown away with the pizza we had at Co during the pizza-making class and even during the one time we dined there for a meal. If anything, we were more critical of Co. And shockingly, they came through in a big way.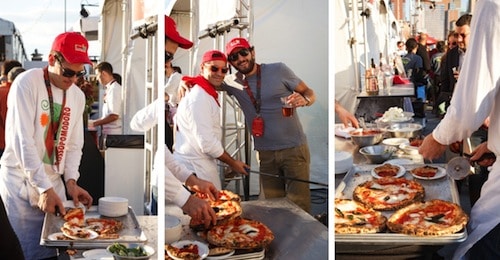 Getting the award for most friendly, absurdly wacky, and downright fun were these guys from Rossopomodoro. The two guys in the middle insisted I take a photo of them. Who am I to not oblige?
More important than their loud, boisterous personalities, though, was their amazingly delicious La Verace Pizza…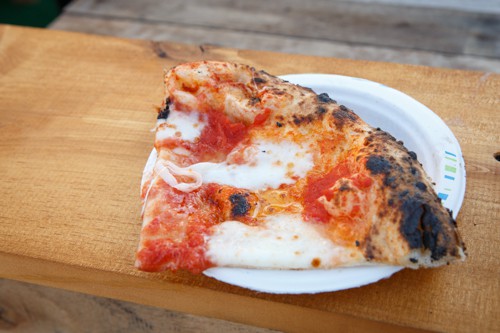 It looks simple and plain, I know. But to pull off simple, to be able to amaze one's taste buds with an ordinary looking margherita pie, is no easy feat. The house-made tomato sauce was the best at the festival, and the use of Mozzerella di Bufala Campana DOP and Olio Exra Vergine di Sorrento DOP (that's the fancy Italian way of saying high-quality, authentic Buffalo Mozzerella and Extra Virgin Olive Oil) was definitely noticeable and appreciated.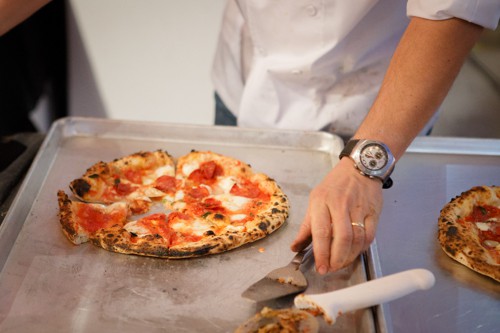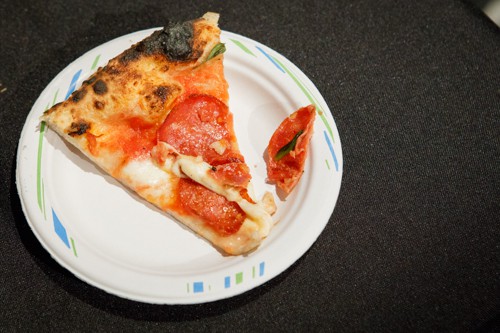 I've been wanting to go to highly-regarded Motorino for quite some time, but for some reason never got around to eating to the East Village pizzeria. I'm happy that I finally got to sample their goods, and even happier that it's as good as people say it is. Their Soppressata Picante Pizza, topped with tomato suace, fior di latte, spicy soppressata, chili flakes, garlic, fresh oregano, pecorino romano, and extra-virgin olive oil was quickly and happily consumed.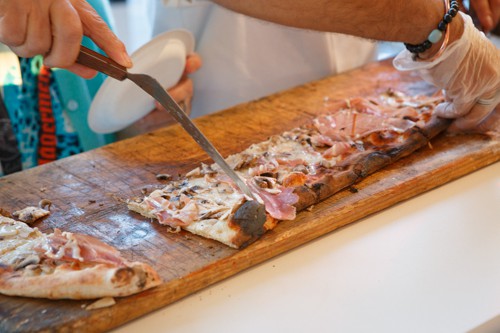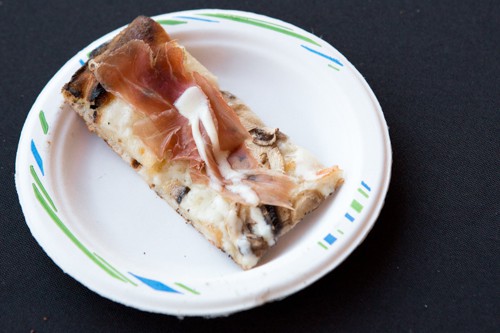 Numero 28, which our friends Steve and Val have told me is one of their favorite pizzas in the city, delivered a really good tasting slice with the unbelievably clever name, Pizza "Numero 28". I'm joking about the unbelievably clever name, in case you didn't catch that. But the speck, mushrooms, and homemade truffle cream covered slice was beautifully done and had a nice umami earthy richness to it.
Tyler missed out on this slice because he thinks mushrooms are icky. Weirdo.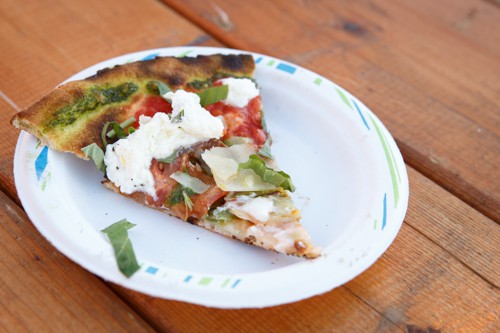 We were split about this pizza from Rubirosa Ristorante. The toppings were really excellent, but the crust itself was so razor thin that it was all crunch and no chew. And in our humble opinion, even thin crust pizzas have to provide a little chew. Even a hint of chew would be wildly accepted.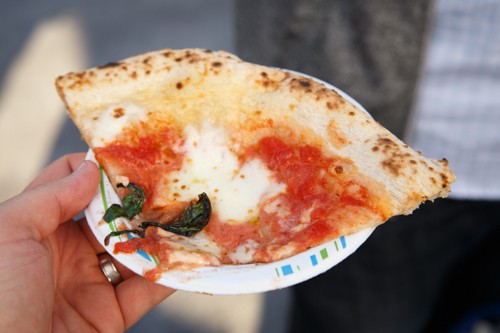 That's a look at Forcella's Fried Pizza Montanara. Yes, you read that right. They do this crazy thing where they par-fry the dough before finishing it in the wood-fired oven. It's a pretty cool gimmick, which luckily translated to a tasty crust that delivered on crunch and chew. The standard margherita toppings didn't overly impress us. Rossopomodoro definitely had them beat.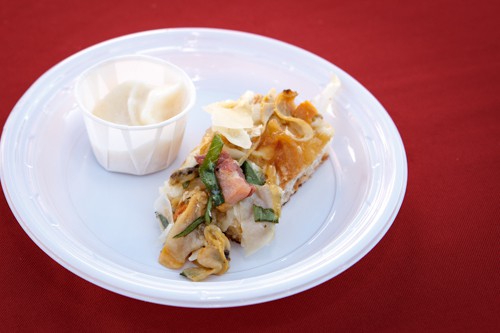 The award for the pizza (although maybe it was closer to a foccacia topped with a bunch of stuff?) with the most ingredients goes to ReNapoli Old Greenwich with their Sam's Wicked Chowder. It was topped with… get ready… piesteamed (anyone know what piesteamed means, I don't) little neck clams, pancetta, potato, chive, reduction of Sam's Boston Lager, natural clam juice and shallot cream sauce, 60 day agred mozzarella, and shaved parmigiano.
Phew, that was a mouthful. The pie was quite enjoyable though, as was the beer sorbet they served alongside it. And I don't even like beer. But pizza and beer sorbet, that's a win in my book.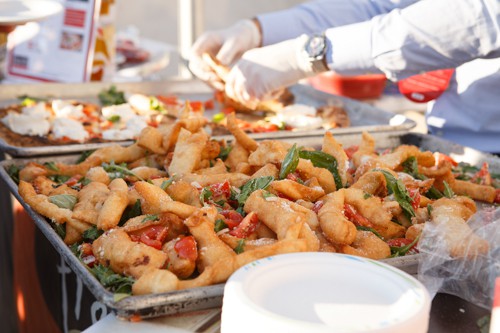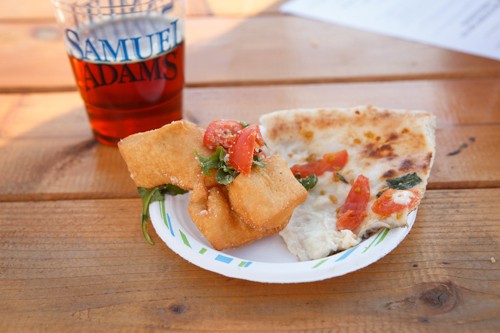 Fratelli La Buffala did a Pizza DOP which was, at best, plain and overly underwhelming. The Fried Dough with Tomato, Basil, and Parmigiano, however, was great. It was like a savory zeppole. I like zeppoles.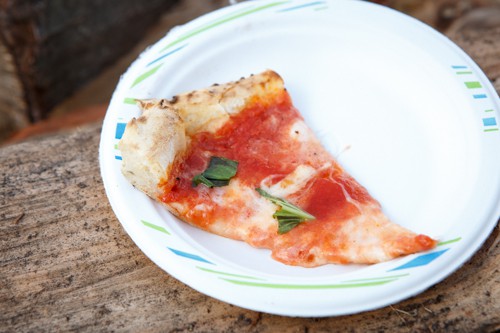 I don't really remember a whol lot about Pizza Luca's Filetti Pizza with fresh cherry tomatoes, mozzerella di bufala, fresh garlic, extra virgin olive oil, fresh basil, and Sicilian sea salt. That leads me to believe its flavor got lost in the whirlwind of the event. And if a pizza didn't stand out (in a good or bad way), I'm going to assume that it was right smack in the middle.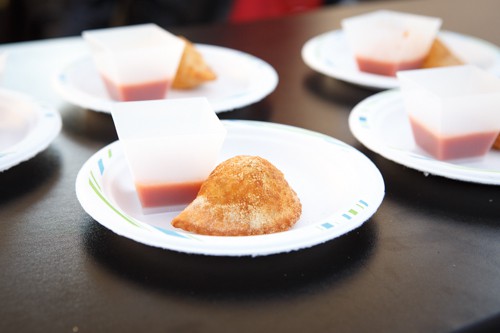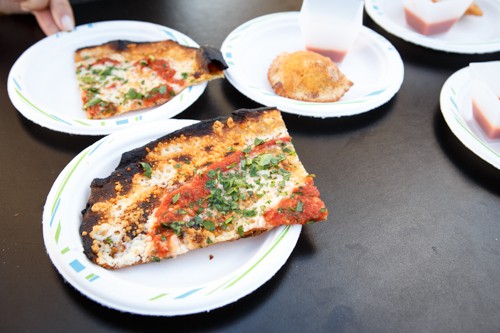 Fresco by Scotto Restaurant did these Spinach and Cheese Calzones and some sort of pizza slice. The slice was forgettable, but the calzones, stuffed with hspinach, mozzerella, ricotta, and parmesan cheese, were very good.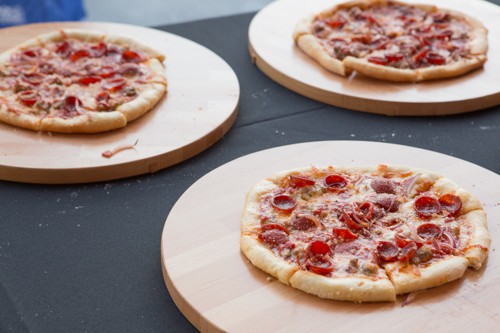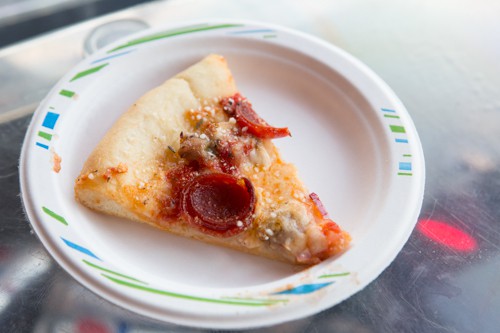 Celebrity Chef Michael White knows Italian. His restaurants Marea, Ai Fiori, and Osteria Morini are some of the best in the city. When his pizza restaurant Nicoletta opened last year, it was pretty surprising to hear so many negative reviews. And after trying his Calabrese Pizza studded with fennel sausage and pepperoni, I totally get it.
At best it's a good-quality frozen pizza, with a not-quite-deep-dish-cardboard-esque crust that impressively delivers no taste. I mean, it was awful. Tyler thought it was Red Baron frozen pizza. No joke.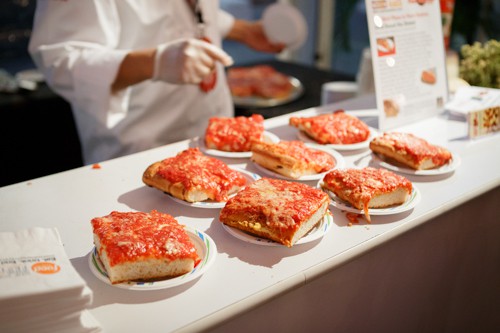 Just when we thought no pizza would be as terrible as the one dished out by Nicoletta, came this knight in shining armor: the Upside Down Pizza by New York Suprema. The way they describe their pizza is in no way the product that entered my mouth. The finest mozzarella covers a light and airy deep dish square crust. The mozzarella gets covered with a cooked onion based sauce, then finished with Pecorino Romano, extra virgin olive oil and oregano.
Unfortunately, the absurdly dense crust was covered in an overly sweet sauce that left a repulsive and artificial after-taste in our mouths. One bite of this pizza was way too much. I'm scarred for life.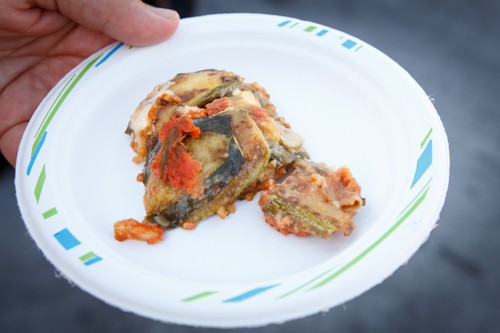 Since we're on a roll with the dregs of food served up this past Sunday, let's talk about this sad-looking and even worse-tasting take on Zucchini Parmigiana by Il Gattopardo. Do you know how when you heat up leftovers and the outside is warm but the inside is still all cold? Yea…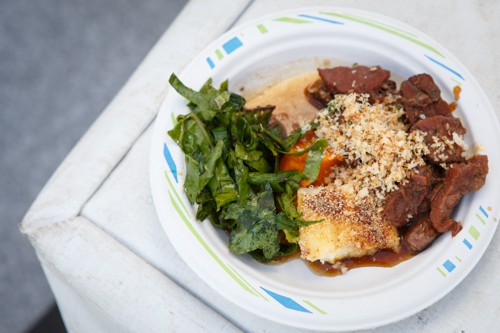 On paper, the Mangalitsa Slow Cooked Pork Cheek with Crispy Polenta, Roasted Pumpkin, and Braised Kale sounded like a real winner. Sadly, reading the paper was the best part of this lackluster dish.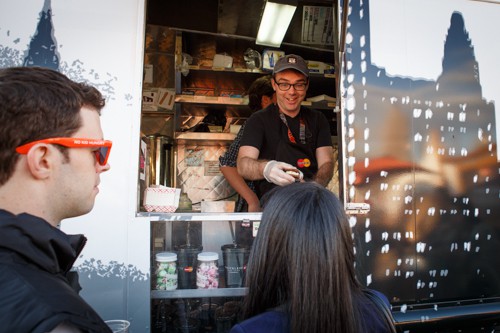 But thankfully, coming to the rescue and lifting us out of the food funk was a good old trusty standby. Coolhaus Ice Cream Sandwiches.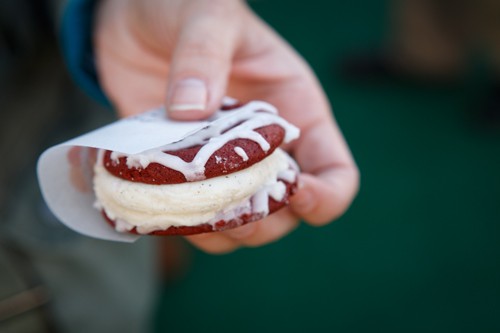 I thoroughly enjoyed my red velvet cookie with vanilla ice cream. There aren't many things in life that can't be fixed by a good ice cream sandwich.
So the whole event was hosted by food personality Adam Richman and Chef Anne Burrell. Here's the Man vs. Food star talking with some guests…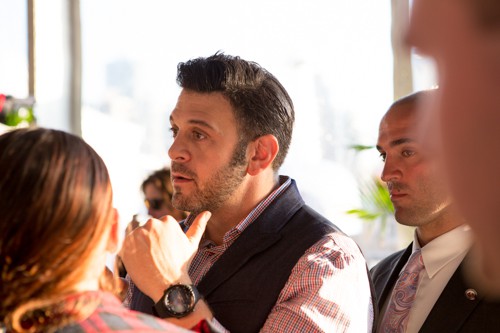 His personal security super secret agent looked pretty serious.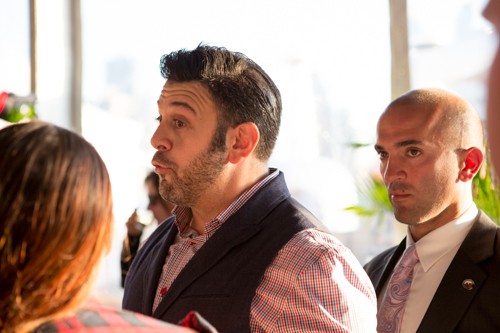 Just look at him. He's got some serious anger problems.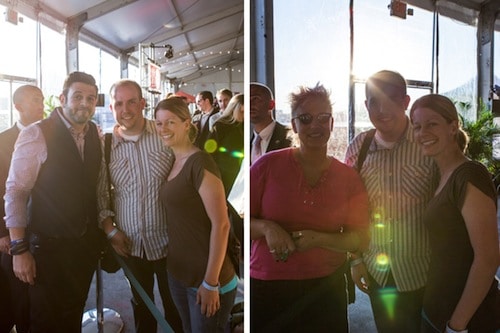 But Adam Richman and Anne Burrell were both super nice. Sorry about the lighting. They were standing in pretty much the worst possible spot with the sun shining super bright right behind them.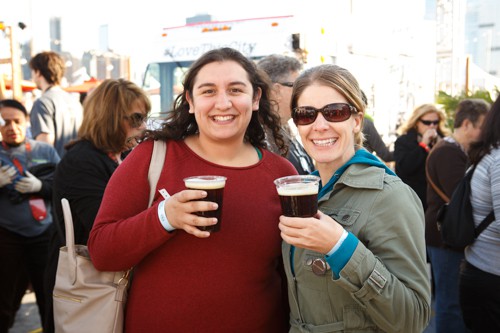 All in all, we had a ridiculously fun time. As proof of all the fun times we had, here are our wives smiling.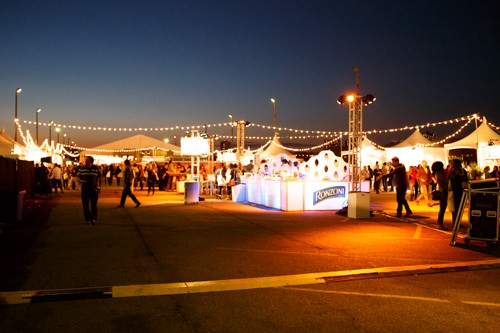 As the party began winding down and the sun set over the clouds of smoke billowing from the pizza ovens, we quietly departed to waddle back to our cars, moaning and groaning about how ridiculously full we all were.
DETAILS FOR THE ADAM RICHMAN AUTOGRAPHED 8×10 PHOTO GIVEAWAY
Thanks for sticking with me through that whole recap of the New York City Wine and Food Festival's Sunday Slices event. As a little fun giveaway, I'm offering up an 8×10 autographed photo of Travel Channel's Man vs. Food star, Adam Richman. He was nice enough to sign it for us right in front of my very eyes at the event.
Here are three ways to enter the giveaway (one entry per method, with a total of 3 possible entries per person):
-leave a comment below letting us know your favorite kind of pizza.
-share this post on Facebook (and let me know you did so in the comments below)
-share this post on Twitter with adding my handle (@75.99.4.108)
Giveaway ends on Thursday, October 31 at 11:59 p.m. EST. Winner will be announced on Friday, November 1st and I will ship out the photo to the winner shortly after that. Open to U.S. residents only.