Our good friends Steve and Valerie have been following a Paleo-esque lifestyle the past several months.  No pasta.  No bread.  No ice cream.  Basically, no fun.  I'm just kidding.  I give them a lot of credit.  I definitely couldn't do it.  I totally lack the willpower.  They have been doing really great with it, though, and look absolutely fantastic.
When they hosted a little get together a couple weeks ago, I wanted to make something that would be friendly to their new eating habits.
I've made these lettuce wraps a bunch of times over the past couple months.  They are perfect for entertaining.  No plate or fork required, and they are loaded with a flavorful balance of sweet, heat, and acidity.  My friends also feel pretty healthy eating them, since the steak is surrounded by lots of fresh vegetables.  And really, who doesn't love assembling their own little lettuce wrap?
Those aren't just carrots.  They are pickled carrots.  And they are great for more than just these lettuce wraps .  Try pickled carrots on your sandwiches, salads, and whatever else your extremely imaginative brain can think up.  I love the bright, tangy bite they add.
The pickled carrots can be made way ahead of time.  Actually, you should make them a day or two before you want to eat them.  That gives the brine time to do its thing.  And once made, they last for quite a while in the refrigerator.
I've found the best lettuce for any type of wrap duty is Boston lettuce.  Just make sure to rinse it thoroughly since dirt likes to get trapped up in the leaves.
Trying to cut raw meat into thin slices isn't the easiest task.  Here's the best solution I have found:  place the steak in the freezer for about 10-15 minutes, which will firm it up a bit and make slicing a breeze.
When you are ready to cook the steak in your wok (or a skillet if you are without said wok), make sure to not overcrowd the pan.  You don't want to end up steaming your steak, so try to keep the meat to a single layer and cook in batches if needed.
You can get pretty crazy with toppings.  In fact, crazy is encouraged.  Let's have some fun.
Raw radish matchsticks,  pickled carrots, and a drizzle of sriracha are always a trusty standby, but I love to add a bit of Kimchi to the party if I have it on hand.  You can find Kimchi at Asian markets and Trader Joe's has a version I believe.
Also, when I made these for Steve and Valerie's party, they broke out some Korean hot pepper paste, called gochujang.  It was quite excellent.
Pickled cucumbers are also a really nice touch, but can I tell you a secret without you thinking less of me?  I'm not a huge fan of cucumber.  There, I said it.
I do, however, have a really easy quick pickle cucumber recipe courtesy of Momofuku I'll share with you:  thinly slice a cucumber or two and combine it in a small bowl with 2 tablespoons plus 1 teaspoon of sugar and 1 tablespoon of Kosher salt.  Cover and refrigerate for an hour.  It's that easy.
Print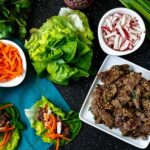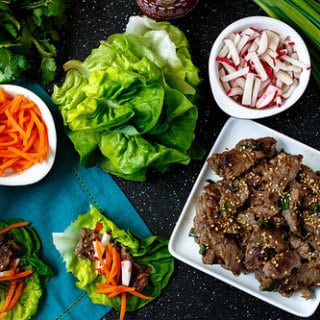 Asian Steak Lettuce Wraps
---
For the Steak
2

and 1/2 pounds sirloin steak

1

medium red onion

2

bosc pears

3

cloves garlic, finely minced

1

–

2

teaspoons fresh ginger, finely minced

4 tablespoons

soy sauce

2

and 1/2 tablespoons brown sugar

2 tablespoons

mirin

1 teaspoon

toasted sesame oil (optional)*

1 tablespoon

canola oil

2

bunches of scallions, chopped
Sesame seeds
*I say optional because I've made it without when I ran out and didn't realize, and it still tasted great. If you don't have sesame oil, don't sweat it.
For the Lettuce Wraps
2

heads Boston Lettuce, leaves washed and dried
Pickled Carrots (recipe below)

6

–

8

radishes, cut into matchsticks
Sriracha
Kimchi (optional, but recommended. Available at Asian markets)
Quick Pickled Cucumbers (optional)
For Pickled Carrots
1

(10 ounce) bag shredded/match-stick carrots

1

and 1/4 cups water

1 cup

apple cider vinegar

2

garlic cloves, smashed

1/4 cup

sugar

1

and 1/2 tablespoons Kosher salt

2

bay leaves
Pinch red pepper flakes (optional)
---
Instructions
Place steak in freezer for about 10-15 minutes, which will firm it up a bit, allowing you to cut thin slices. Trim excess fat from steak and thinly slice.
Using the finest side of a grater, grate the onion and pears. Combine grated onion and pear with garlic, ginger, soy sauce, brown sugar, mirin, and sesame oil (optional) in a medium mixing bowl. Add thinly sliced steak, cover with plastic wrap and place in refrigerator, allowing to marinate for at least 2 hours.
Remove steak from refrigerator approximately 20-30 minutes before ready to cook. Heat canola oil in wok or large skillet over medium-high heat. Once hot, add steak and scallions and cook, stirring occasionally, until cooked through, about 4-5 minutes. Plate and sprinkle generously with sesame seeds.
Serve with boston lettuce, pickled carrots, radish, kimchi, and quick pickled cucumbers (optional).
To make quick pickled cucumbers, simply combine a thinly sliced cucumber with 2 tablespoons plus 1 teaspoon of sugar and 1 tablespoon of Kosher salt. Refrigerate for 1 hour.
For Pickled Carrots
Bring a medium-sized pot of lightly-salted water to a boil. Once water is boiling, add carrots and cook for 1 minute. Immediately pour into a colander and rinse cold water over the carrots until they are no longer hot. Drain thoroughly, then place in a large mason jar or other non-reactive bowl with lid.
In a small saucepan over medium heat, add the water, vinegar, garlic, salt, sugar, bay leaves, and a pinch of red pepper flakes (if using). Bring to a boil, stirring occasionally, then reduce the heat and simmer for 2 minutes. Remove from heat and pour over the carrots. Cool until room temperature, then cover with lid and chill in refrigerator. It will last for a few weeks.