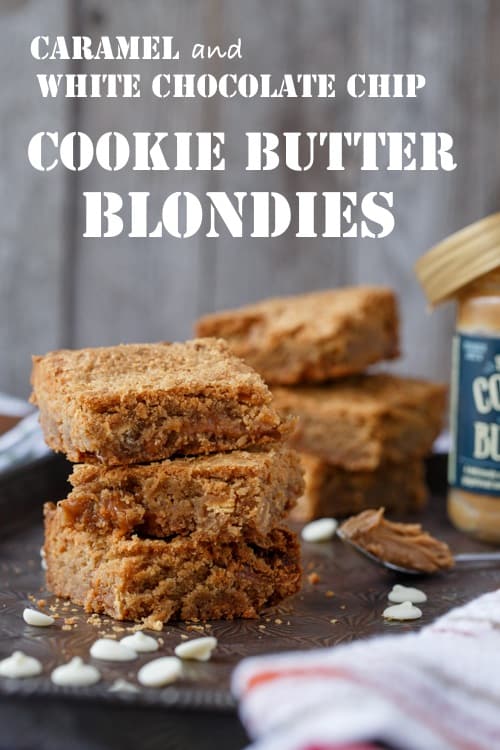 Blondies are great all on their own. Why add caramel, white chocolate chips, and cookie butter? Because we can. A creative cookie butter recipe worth every calorie.
I know. I have a problem with cookie butter recently. That's kind of not my fault though. Can you blame me? You open up the jar and you just can't stop! I blame Trader Joe's for offering such a habit-forming product.
Pretzel Coated Cookie Butter Truffles. Check.
Cookie Butter Puppy Chow. Check.
Although I technically made this Crack Pie with Speculoos (which is the same as Cookie Butter) last year, I'm counting it as part of my recent cookie butter obsession because I actually made it this past weekend for a Christmas Party Asheley and I went to at a friend's house. It was attacked and enthusiastically devoured through no merit of my own. It's the cookie butter.
And just as I finished up all the cookie butter in the house with these recent baking projects, something within me forced my fingers to frantically respond to Asheley's text the other day when she asked me if I wanted anything from Trader Joes ... "get four jars of cookie butter".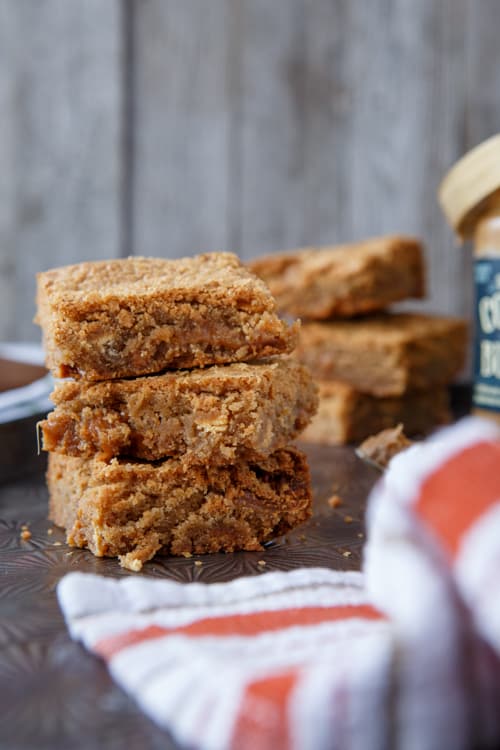 I'm typically not a fan of white chocolate. I rarely enjoy it, and it's even more rare for me to reach for it in baking. But for some reason, they were calling out to me from their home in the pantry.
And caramel, I love caramel in pretty much everything. Heck, my favorite ice cream combination is mint chocolate chip with caramel. And if you just made an ewww face, don't knock it 'till you try it. Trust me.
Just look for those chewy, soft caramels at your local grocery store. I think I got Werthers chewy caramels and used about 8 or 9 of them (each one cut up into 3's).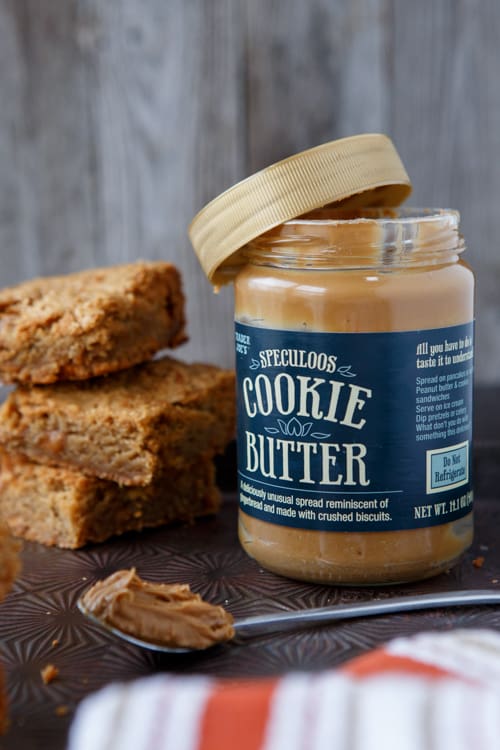 And that, my friends, is the hero of my kitchen lately. Cookie Butter. It's something you NEED (that's right... all caps. I don't often resort to such a brute tactic, but it's effective when necessary. And it's necessary) to try immediately.
You can get cookie butter exclusively at Trader Joe's, or marked up at three times the price on Amazon. You can also feel free to use authenic Belgian speculoos (the spread, not the cookie) or Biscoff Spread, which my friend told me she actually found at our local grocery store the other day. I was pleasantly shocked.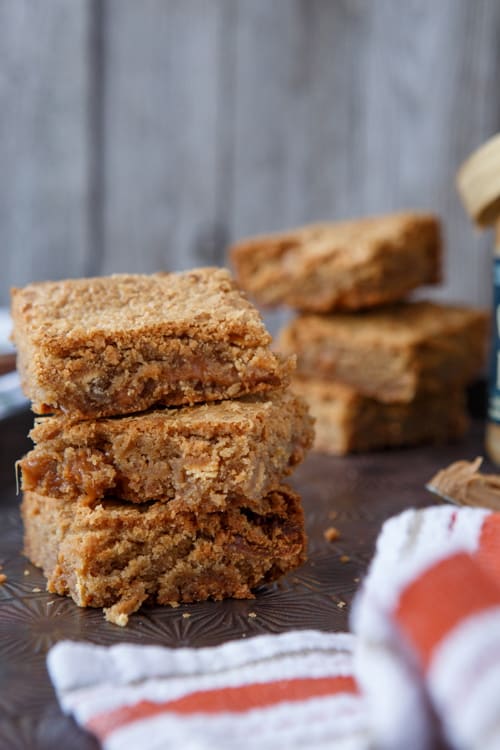 Okay, so I'm going to be completely honest. I made these blondies, which I adapted from Smitten Kitchen (who adapted from Mark Bittman), and I wrote all my changes to the recipe on a piece of paper in the kitchen. And now, magically, that piece of paper vanished. That's what I get for trying to clean up. I'm 99% sure I remembered the changes. But next time I make up these blondies, I'll double check for you 🙂
Print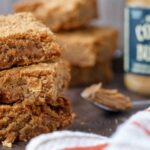 Caramel and White Chocolate Chip Cookie Butter Blondies
---
Total Time:

50 minutes

Yield:

12

-

16

Blondies

1

x
½ cup

(

1

stick) unsalted butter, melted, plus more for pan

1 cup

brown sugar

1

large egg

½ cup

cookie butter

1 teaspoon

vanilla extract
Pinch kosher salt

1 ¼ cup

all-purpose flour

⅓ cup

store-bought soft chewy caramels, chopped

⅓ cup

white chocolate chips
---
Instructions
Preheat oven to 350°F. Butter the bottom and sides of an 8×8 baking pan. In a stand mixer fitted with the paddle attachment or in a medium mixing bowl with an electic mixer, beat the melted butter and brown sugar until smooth. Beat in egg, cookie butter, and vanilla extract until fully incorporated. On low speed, stir in salt and flour, then the caramels and white chocolate chips.
Pour into buttered baking pan and bake for approximately 35-40 minutes, until golden brown on top and set in the middle.** Let cool in pan on a cooling rack, then cut and serve warm.
**Smitten Kitchen recommended only cooking these blondies about 25 minutes, but that didn't quite work for me. I suggest start checking on your blondies around the 25 minute mark and checking in every 5 or so minutes.
Prep Time:

10 minutes

Cook Time:

40 minutes