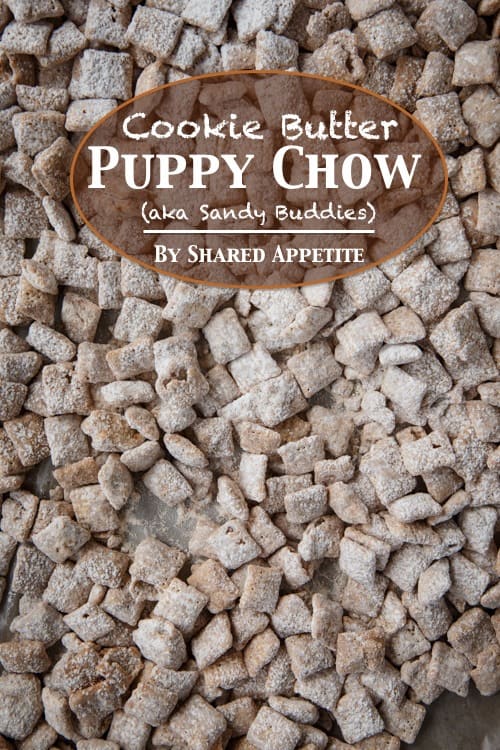 What to do with Trader Joe's cookie butter? How should I eat cookie butter? What can I make with cookie butter? Look no further. Here's an alarmingly addictive snack of cookie butter coated Chex cereal dusted with powdered sugar. Quick and easy to make, and even quicker and easier to eat the whole batch.
Nutella is so 2012. You want to be current? You want to be trendy? Cookie butter is where it's at. And I'm just kidding... nutella is still pretty darn good and I have a half-eaten jar of it in my cabinet right now. But cookie butter has been getting a whole lot more love in our household lately. It's made appearances in this Crack Pie with Speculoos. And then in these Pretzel Coated Cookie Butter Truffles. And if Asheley has the house to herself all day, it's not unusual for her to fix herself a glorious breakfast (and lunch) of animal crackers dipped in cookie butter. I'm a proud husband.
I have been seeing a lot of puppy chow and muddy buddies floating around the food blogosphere lately. Not being from the Midwest (where apparently the stuff is most readily consumed), I had absolutely no clue what they were talking about. But it looked sinfully good and something I needed to consume immediately. I'm just going to warn you know. It's habit-forming. You will have a growing dependency on this Cookie Butter Puppy Chow. Don't blame me. I'm just the messenger, bringing good tidings of great joy.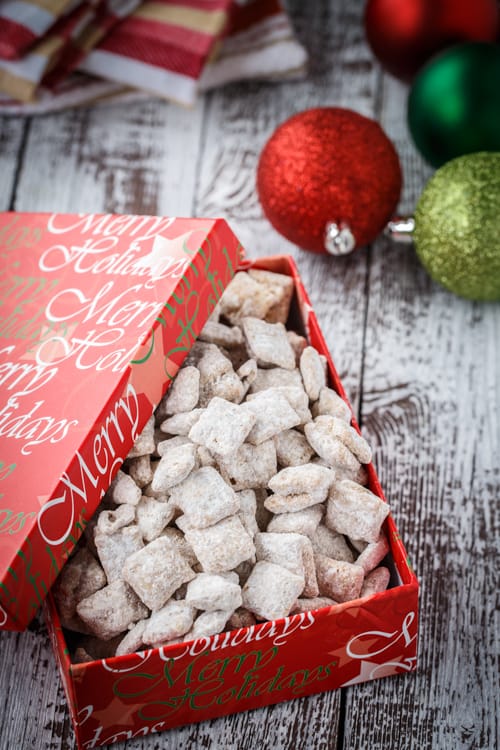 No, you can't feed this to your dog. I know, the name is deceiving. I just wanted to put that disclaimer front and center so I don't get any angry emails about how this Cookie Butter Puppy Chow made their dog sick. But do you know who you can feed it to? Your friends, family, coworkers, neighbors, strangers, that girl you're trying to impress, and... well, if you want to go down as a legend this Christmas season, start bringing it to holiday parties.
Little do people know it literally takes 10 minutes of minimal effort to make a batch. Sshhh, it's our little secret.
Puppy Chow is also sometimes called Muddy Buddies. And usually instead of cookie butter and cinnamon chips, they employ the classic peanut butter with chocolate chips flavor combination. So get it? Melted chocolate... muddy buddies. Cool. Since we are sans chocolate in this recipe (a variation acceptable according to Puppy Chow law), we need to use the alternative name, Sandy Buddies.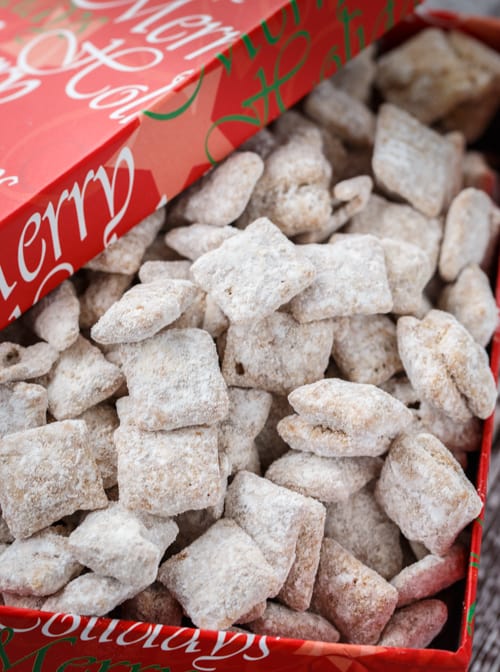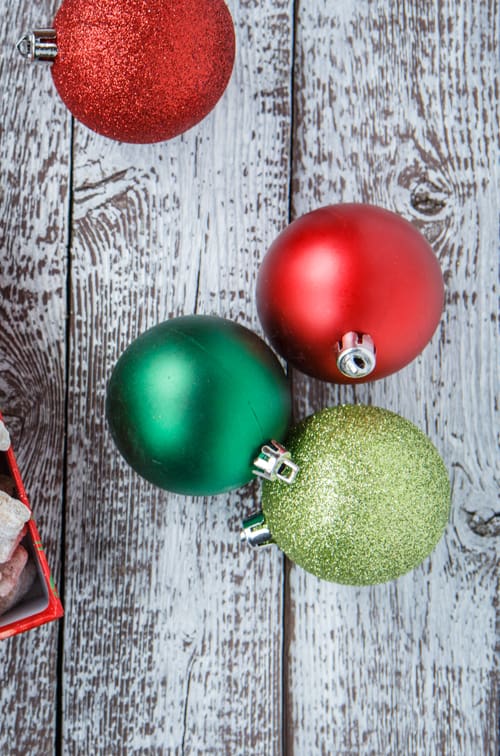 Why is this snack/dessert/treat so highly addictive? It's pretty much like Cinnamon Toast Crunch on steroids. You have the crunch of the Chex cereal, which is coated in this cookie butter flavor-explosion concoction, and then covered in a fog of powdered sugar.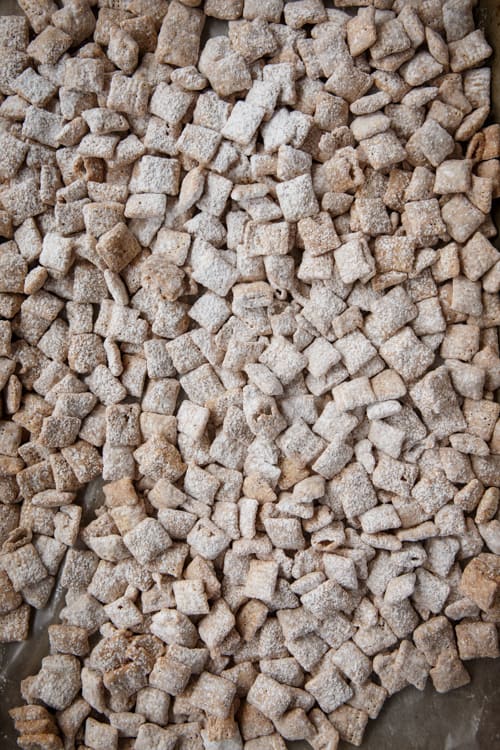 And for those of us that don't know what cookie butter is, don't feel bad. I, too, was once in the darkness. Cookie butter is Trader Joe's (the grocery store) version of Biscoff Spread or Speculoos. And sure, this recipe could be called Biscoff Spread Puppy Chow or Speculoos Puppy Chow, but Cookie Butter is probably more readily available to us general public folk here in the USA than the other two. But hey, if you have access to Biscoff Spread or Speculoos, feel free to use it.
Trying to fully capture the essence and flavor of cookie butter/speculoos/biscoff spread is near impossible. You know I'm a music teacher by day, right? Well there is this famous music quote by Victor Hugo that is hanging on my classroom wall and states, Music expresses that which cannot be put into words and that which cannot remain silent. Good quote, right? You know where I'm going with this. You can just go ahead and substitute the words cookie butter in there for music and we're good to go.
It's got a peanut butter consistency, but tastes reminiscient of gingerbreadish-shortbreadish cookies. I don't want to say straight up gingerbread because I honestly don't even like gingerbread cookies all that much. It's just really good. You just need to try it. Do it. Now.
And if you ever see Biscoff Spread or Speculoos (or if your Trader Joe's quickly sells out of Cookie Butter), it would be wise of you to hoard the crack-like substance to the point where you might need an intervention. When Asheley and I honeymooned in Paris a couple years back and took a day trip to Brussels, we literally cleared a supermarket of every single jar of Speculoos they had... so we still have a few jars lingering in our pantry I'm sure.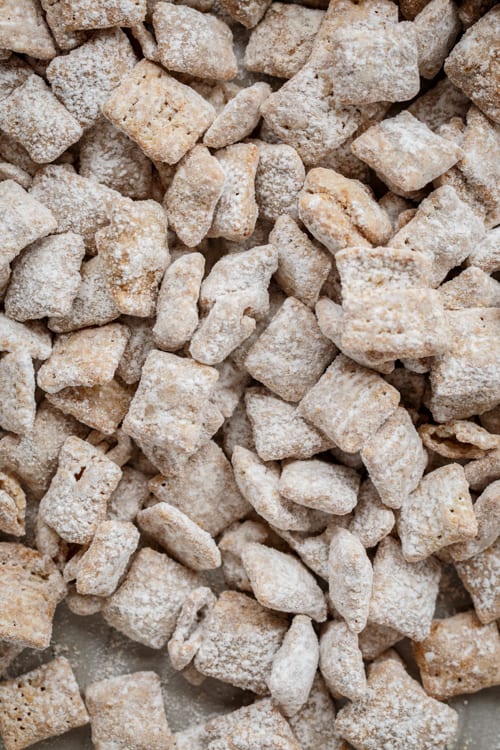 Print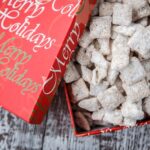 Cookie Butter Puppy Chow (aka Sandy Buddies)
---
Yield:

Approximatley

4 ½ cups

Puppy Chow

1

x
4 ½ cups

Chex cereal

½ cup

cookie butter (or biscoff/speculoos spread)

2 tablespoons

unsalted butter

½ teaspoon

vanilla extract

¼ cup

cinnamon chips

1

to

1 ½

cups powdered sugar
---
Instructions
Place Chex cereal in a large bowl. In a separate small bowl, microwave the cookie butter, butter, vanilla extract, and cinnamon chips on half power in 30 second intervals, stirring between each, until mixture is melted and smooth.
Scoop melted cookie butter mixture on top of Chex cereal and very gently mix to combine, being careful not to crush the cereal (I used my hand to accomplish this feat). Place cereal mixture and powdered sugar in a large plastic bag (a clean kitchen garbage bag will do), hold the top firmly closed, and shake like crazy. Feel free to do a little dance as well. That helps.
Spread your puppy chow on a wax paper lined baking tray to firm up and dry a bit. Can be stored in a sealed ziploc bag for a few days if need be, but it's doubtful they won't be eaten by then. These little buggers are addictive 😉