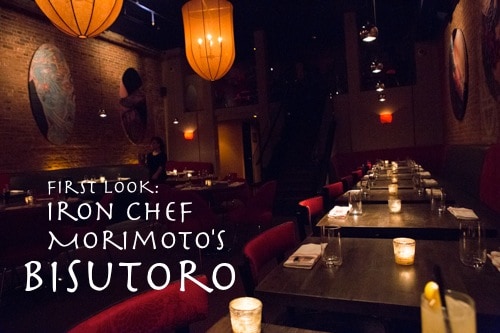 A first look at the food and atmosphere at Iron Chef Masaharu Morimoto's new TriBeCa restaurant, Bisutoro.
I miss my wife. We kind of work opposite schedules as of late. My week is full of after-school concerts and meetings, teaching private lessons during the evening, and spending a couple nights at the church for a photography community group I co-lead with Tyler and helping out with our middle school youth group. Weekends are typically wide open. Asheley pretty much has the exact opposite schedule.
We get to spend a few hours a week together, maybe even get to eat a meal together once or twice. Other than that, it's me kissing her goodbye as I leave early for work and she is trying to get some sleep after working a late shift at the hospital. Oh, and texting. That's how we communicate the vital info to each other since who knows if we'll remember to tell the other the next time we're actually face to face.
Sometimes the whole opposite schedule thing is nice. I get to develop recipes, photograph, and blog without feeling like I'm neglecting Asheley. But honestly, I miss my wife. So when she purposely asked for a weekend off a few weeks ago, we made it a point to just spend the entire time together. It was amazing.
Although New York City is just about an hour's drive away, we decided to book a hotel and make a mini "vacation" out of it. We took the opportunity to check out a bunch of new restaurants we've been wanting to get to. Marc Forgione's Khe-Yo for deliciously spicy Southeast Asian. Scott Conant's Scarpetta for an unbelievable tasting menu. And on our final night, Morimoto's new Bisutoro, which is the reinvention of his previous enormous flop of a restaurant, TriBeCa Canvas.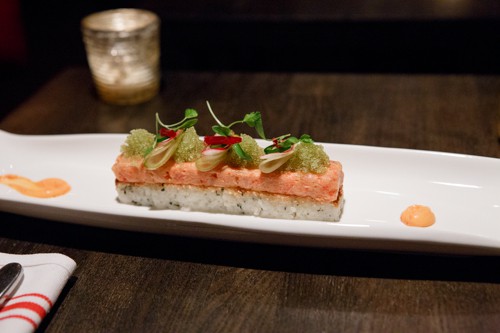 So get this. We get to Bisutoro at 5:30 on a Sunday. Kind of the early-bird special hour to dine, but hey, it's Sunday. We walk in, and seriously weren't even sure if the place was open. The dining room was completely empty (as you can see in the photo at the top of the post). We had our very own hostess, waitress, bartender, and chef... pretty much throughout the entire meal. Once dessert came, one more two-top came through the doors.
Needless to say, at this point we have pretty low expectations for the food. How could it be that literally not one other table was occupied in the restaurant? Did everyone else know something we didn't? I'm typically pretty on-point with researching restaurants ad nauseum before actually dropping the cash to dine there. Did I miss the memo?
But then this Spicy Tuna on Crispy Sushi Rice ($14) came to the table. And it was glorious. The crispy sushi rice was really enjoyable and gave a nice textural difference to the silky and creamy spicy tuna.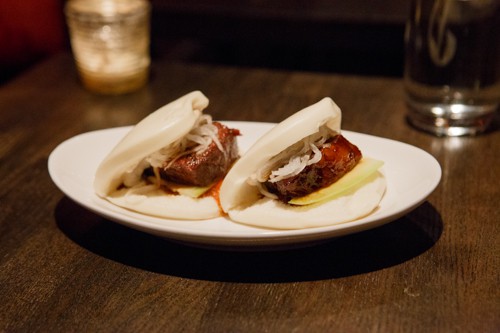 Have you ever had the pork belly steamed buns at Momofuku? They are nothing short of culinary perfection and pretty much the standard to which I hold all steamed buns. But these Short Rib Buns with Cucumber, Pickle Daikon, and Raita Sauce ($12) totally held their own. The short ribs were crazy tender and flavorful, and the steamed buns were light and pillowy... like biting into a cloud.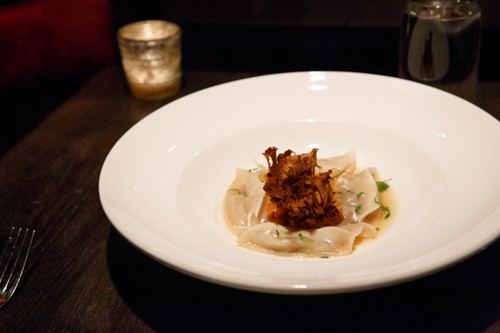 These Mushroom Onion Soup Dumplings with Kabocha Puree and Panko Fried Maitake ($13) were also really great. The dumplings were delicate and tender, which played nicely off of the super crispy, woodsy mushrooms. The mushrooms were definitely the star of this dish (and I'm not even a big mushroom fan).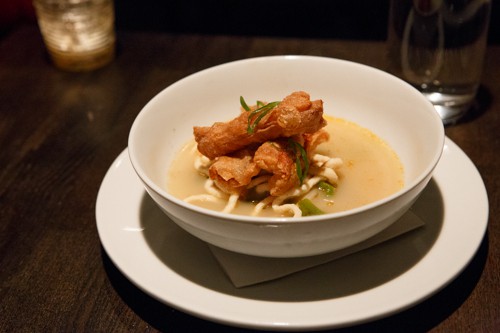 Not all the dishes were wins, however. This Crisp Chicken Noodles with Ramen Broth and Yuba ($15) was a complete and utter failure. Guess what happens when crispy chicken sits in a liquid broth? Ding ding ding! Gross soggy chicken. The broth was average at best (and a bit on the salty side), and the noodles were flavorless and had a mealy texture. The most expensive item we ordered, and the worst item we ordered.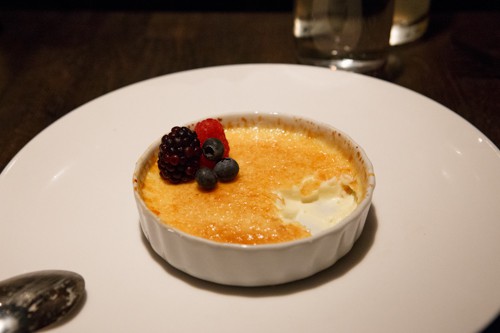 I think the desserts rotate and change, as there was no written menu for them. The server rattled off 2 or 3 options to us, and we settled on this Lemongrass Creme Brulee. First off, are those berries really necessary? It's not summer. They are definitely not even close to being in season at this time. And I know it adds a pop of color, but really... I think the Iron Chef can think of something more creative than that. And the creme brulee itself was just average, totally lackluster. I would have liked a more pronounced lemongrass flavor. It was really, really subtle.
Overall, the food was quite enjoyable. The service was great, which considering we were the only ones in the restaurant, isn't surprising. The price point is definitely fair. So, that's begs the question... where is everybody? (which reminds me of that airplane commericial from several years back. Remember? Anyone? Was it British Airways or something? Where is everybody? Ok, I'm done.)
On the way out, I asked our server and hostess... uhm, excuse me, I don't want to be rude, but I'm just wondering why this place empty? I mean the food is good, you guys are great, and the ambience is really cool. Is it always this slow? Well, apparently, Sundays are always dead, since the restaurant is located in an area of business and there really isn't any resedential foot traffic. However, they said that Monday through Saturday they are typically at full capacity for dinner service. Who knows if that's just a line they fed me or if it's the truth, but there it is. It still feels weird that no one would dine there on a Sunday.
But hey, if you want a table with no wait on a Sunday, you know where to go 😉
Bisutoro 313 Church St (TriBeCa)
New York, NY 10006
212-727-0644
You may want to also check out...
The Top 10 Foods You Have To Eat In NYC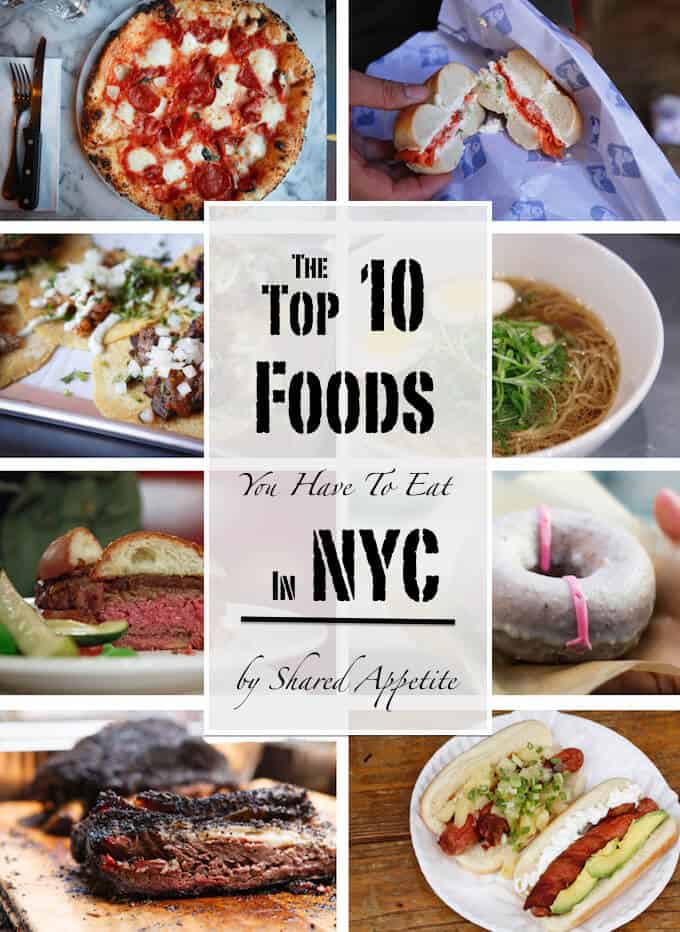 The 10 Best Ice Cream and Frozen Treats in NYC