These Frozen Banana Pops were created in partnership with SunButter. As always, all opinions and recipes are my own. Thanks for supporting the brands that support Shared Appetite!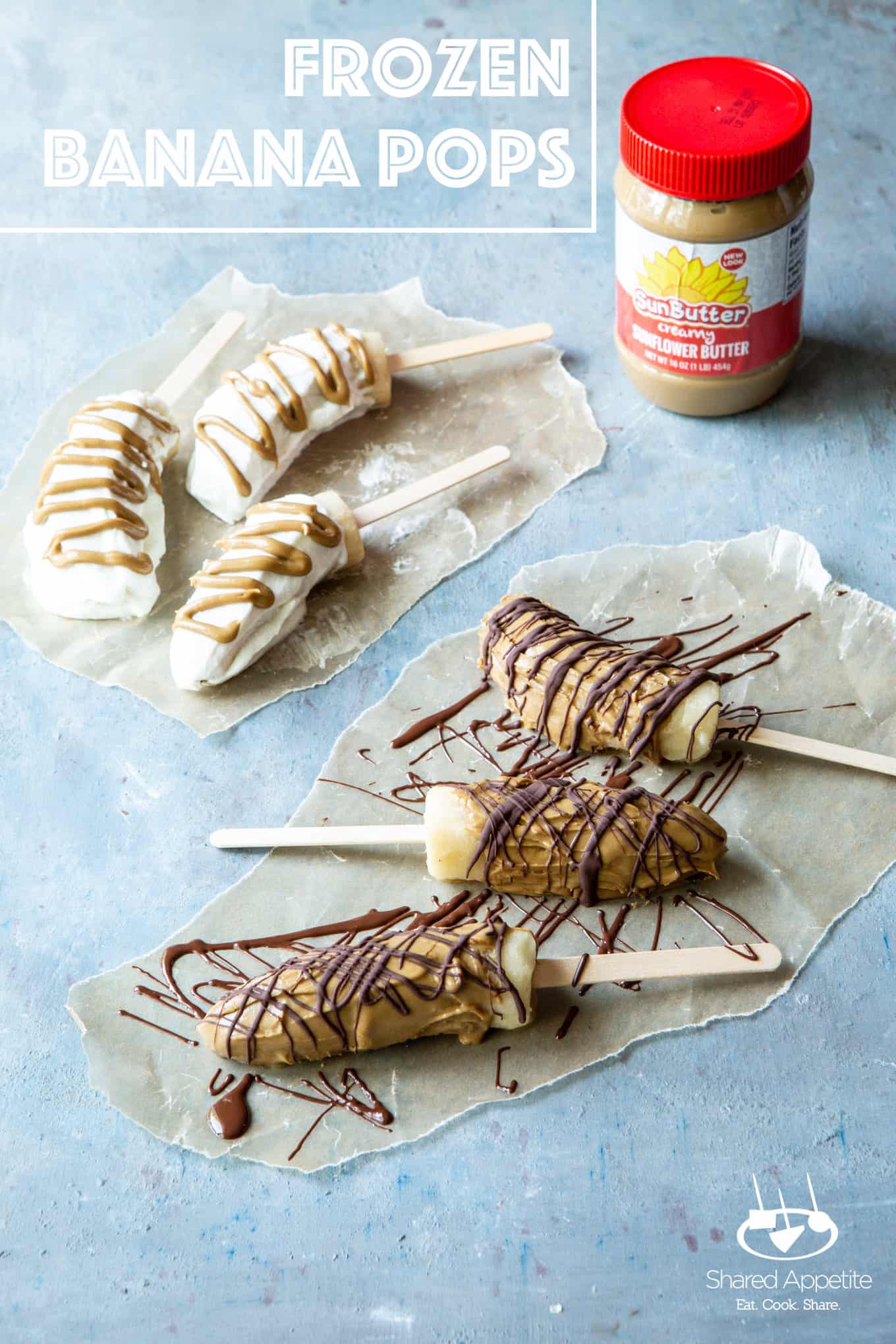 Goodbye summer vacation. Hello the start of school. UGH. No, it's okay. It's time to get back into the routine of the school year. I need it. Olivia needs it. School is good (if I keep saying that, it'll be true, right?!).
Since the babysitter that watches Olivia (and now baby Bennett!) lives right by the school at which I teach, they are on the same schedule as their teacher daddy. When we get home from the school day, everyone in the house is HANGRY. Not just hungry, angry hungry. It's way too easy to just open up a bag of some lackluster processed food for Olivia as a quick snack, so I'm trying to up my parent cred this year and have some great after school snack options for her when we get home this year!
These Frozen Banana Pops featuring SunButter® are the answer! She LOVES bananas and LOVES ice pops. Since it's still crazy hot here in New York, these also cool her down after a busy day of running around with her little friends at the sitter's house. Best of all, there are two different flavor options to choose from, which will keep her taste buds dancing!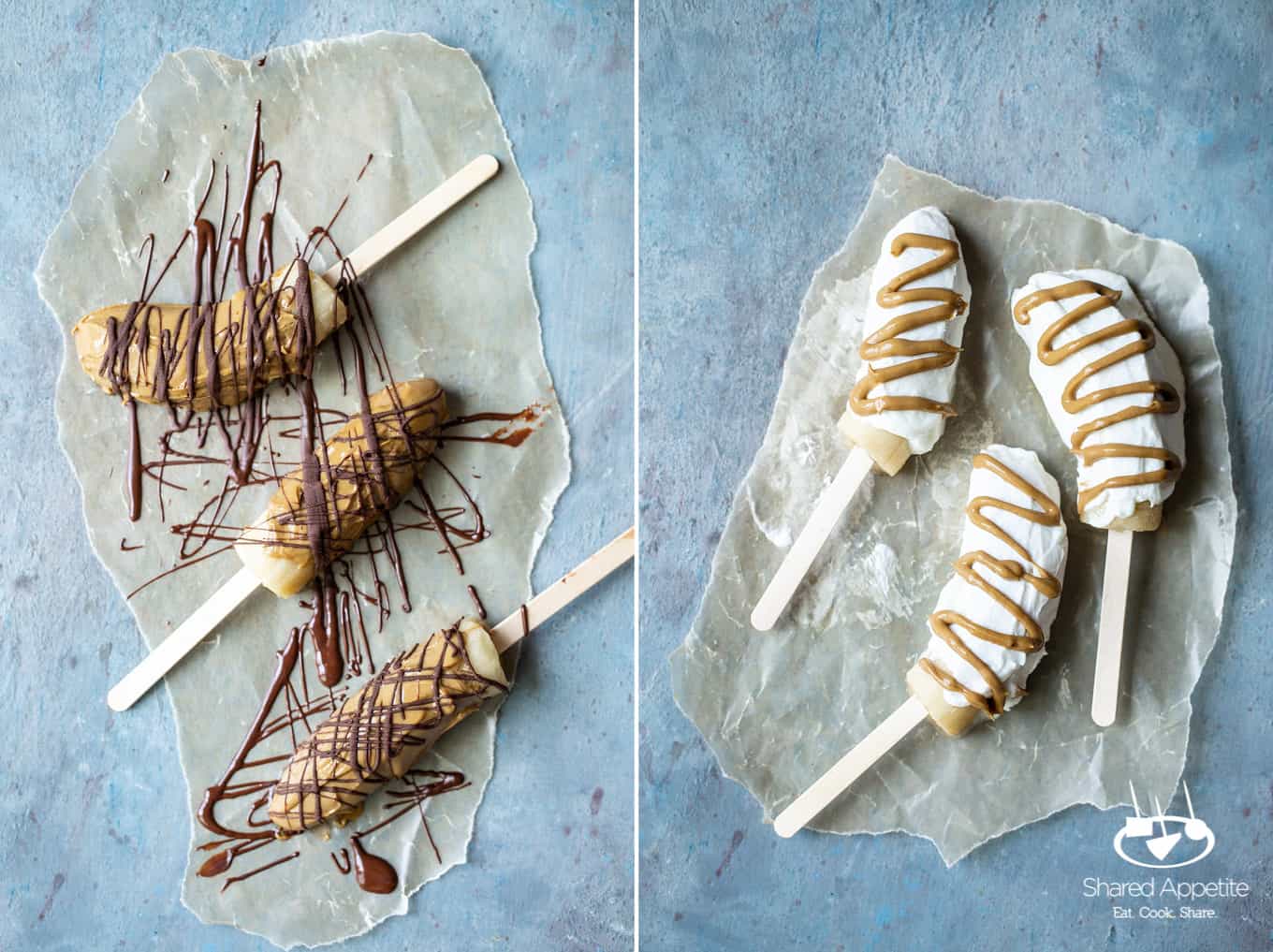 Parents. Do you remember the first time you had your child try peanut butter? I'll never forget it. I was in the middle of teaching when I get a frantic text that my wife just decided to have Olivia try peanut butter on a whim and she immediately got hives all over her body. And of course we didn't have any baby Benadryl in the house. Thankfully my wife is a Physician Assistant and handled the situation like a champ, but our lives quickly changed as we became a peanut-free home and had to constantly worry about cross-contamination in restaurants and making sure we carried her epi-pens at all times. Not going to lie, it was and still is stressful.
Now Olivia is technically only allergic to peanuts, so I could opt for almond butter for my sandwiches, but I just don't love the flavor of almond butter. It wasn't hitting the spot.
Then I had a food epiphany.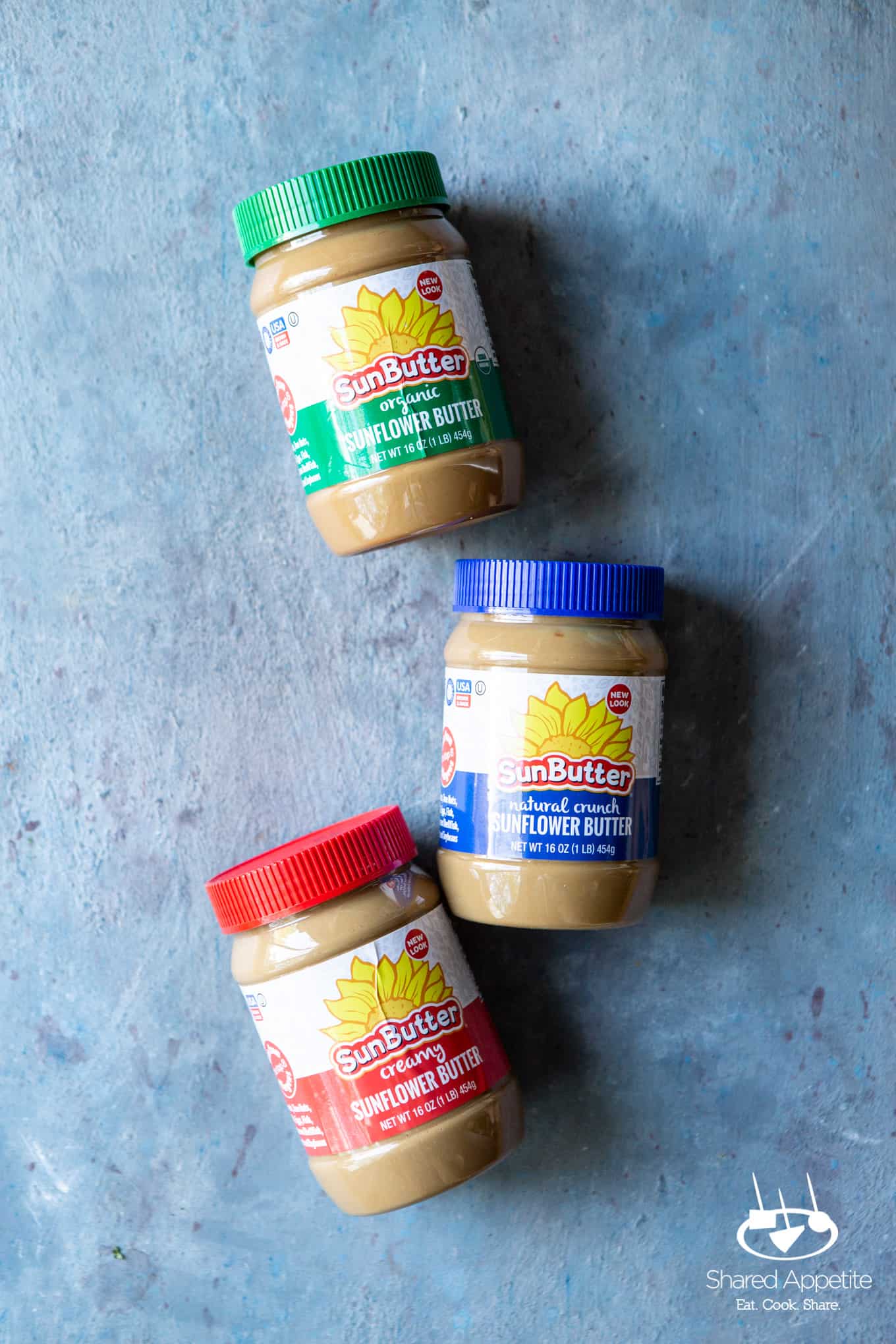 I grabbed a jar of SunButter, maker of premium sunflower butters that are completely nut-free, after a friend who has a son with several severe allergies recommended it to me. Guys. I'm HOOKED. SunButter is so. freaking. Good.
I don't miss peanut butter at all anymore, and it's 100% safe for my little princess (and SunButter is free from the top 8 food allergens: peanuts, tree nuts, soy, milk, eggs, wheat, fish, and crustacean shellfish). It's also U.S. grown and made! 'Merica!
Fellow parents of school-aged children (and fellow teachers): in a day where peanut butter is often not allowed in schools due to students with peanut allergies, SunButter is a GREAT school-friendly option which can be enjoyed as a standalone snack with fruits and veggies, spread onto a SB&J sandwich, or incorporated into your kid's favorite recipes. I keep a jar of it at school for lunch and snacking!
Bonus. SunButter packs as much protein and more micronutrients, like magnesium, Vitamin E, zinc and iron, than traditional nut butters like peanut butter and almond butter, and contains less saturated fat. BOOM.
You can find SunButter at major grocery chains, specialty food stores, and schools throughout the U.S.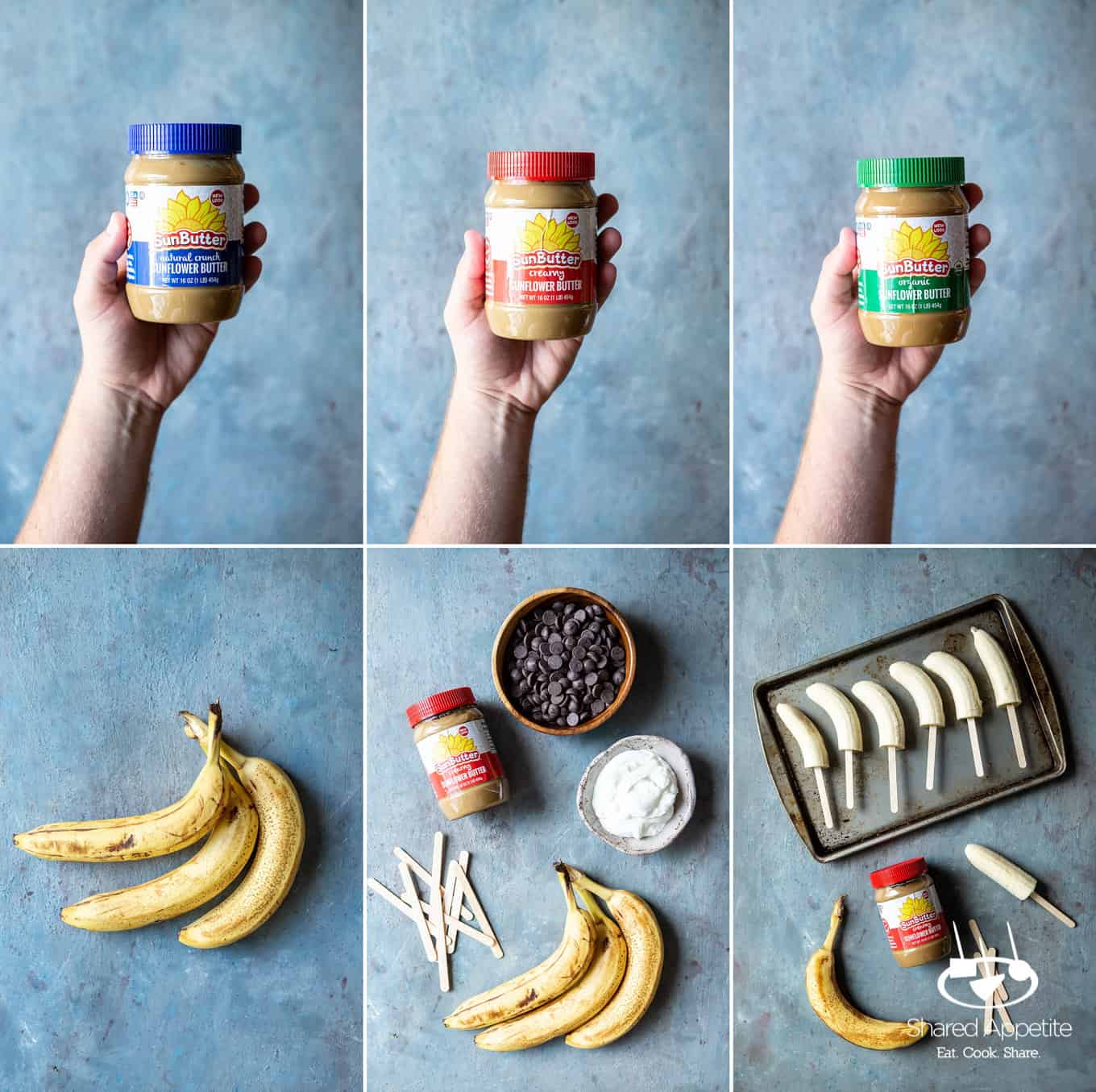 Why do I love these Frozen Banana Pops?
you can customize the flavors to whatever your children like!
they can be made way ahead of time and kept in the freezer for whenever a snack craving hits
they are super fun to make (your kids will LOVE helping... I know Olivia did)
homemade > store bought
it's a healthy and wholesome snack I feel good about serving to Olivia
To start off, peel your bananas, slice them in half, and press in a popsicle stick about halfway into each banana. Place on a baking sheet and freeze until partially frozen.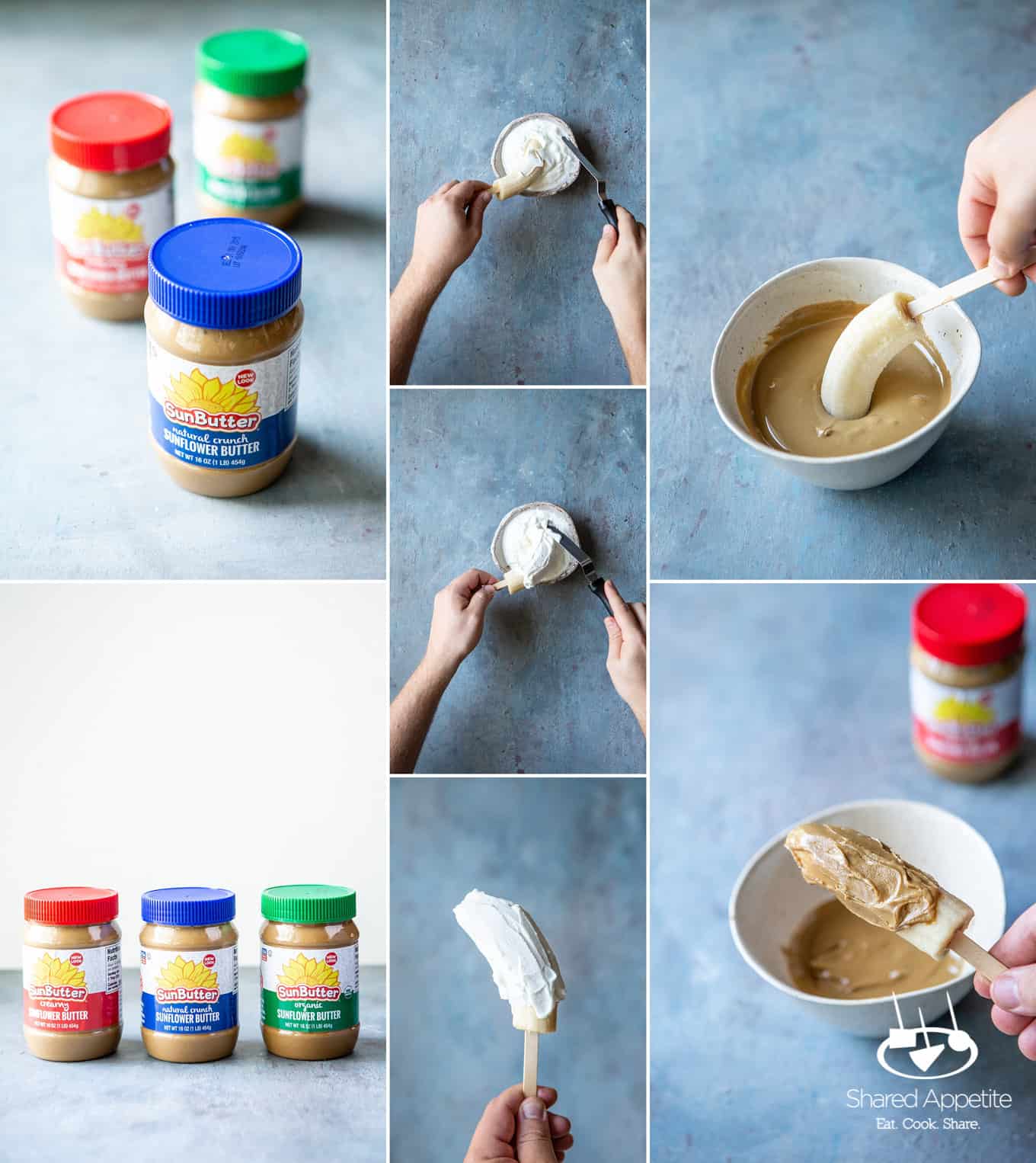 Next comes the semi-tricky part. You need to work fast (before the bananas thaw out) and also remember that if you add too much yogurt or SunButter to the frozen bananas, the weight of it could make the banana fall off the stick.
For the Greek yogurt Frozen Banana Pops, feel free to use plain or vanilla Greek yogurt, or any other flavor your kids are into! I used a small offset spatula (a butter knife would also work!) to spread a thin layer of yogurt around the popsicles.
Make sure your SunButter is at room temperature before trying to spread it onto the frozen bananas. Again, make sure it's a thin layer and work fast!
Return your Frozen Banana Popsicles to the freezer until mostly frozen and then continue onto the decorating step!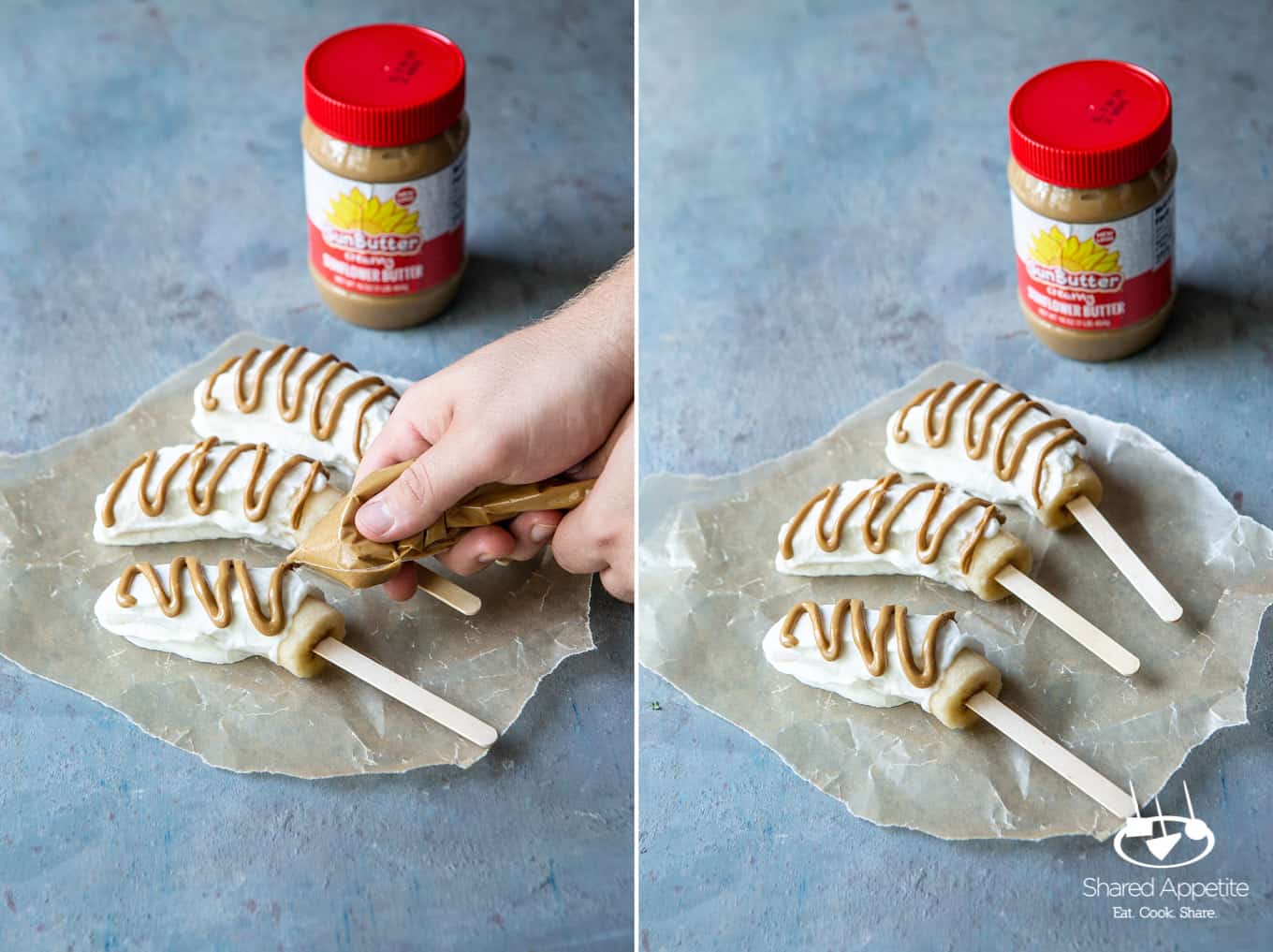 The Greek yogurt Frozen Banana Popsicles get a drizzle of SunButter. The easiest way to make this happen is to spoon in some SunButter into a small plastic bag and snip off a very tiny corner of the bag with a scissor, making a makeshift pastry bag. You can then pipe your SunButter design onto each popsicle. Feel free to let your kids do this part and they can get creative with zig zags or other patterns!
For the SunButter coated Frozen Banana Popsicles, I like drizzling them with melted chocolate. Dark, milk, or white chocolate would all work! It gives just the right amount of decadence!
You of course can add any other toppings you want to these Frozen Banana Popsicles. Sprinkles, coconut flakes, and even granola would be great options!
Just don't forget the SunButter. You have NO IDEA how thankful I am to have this in our home. It not only gives us peace of mind, but allows us and Olivia to have a peanut butter replacement for snacks and meals!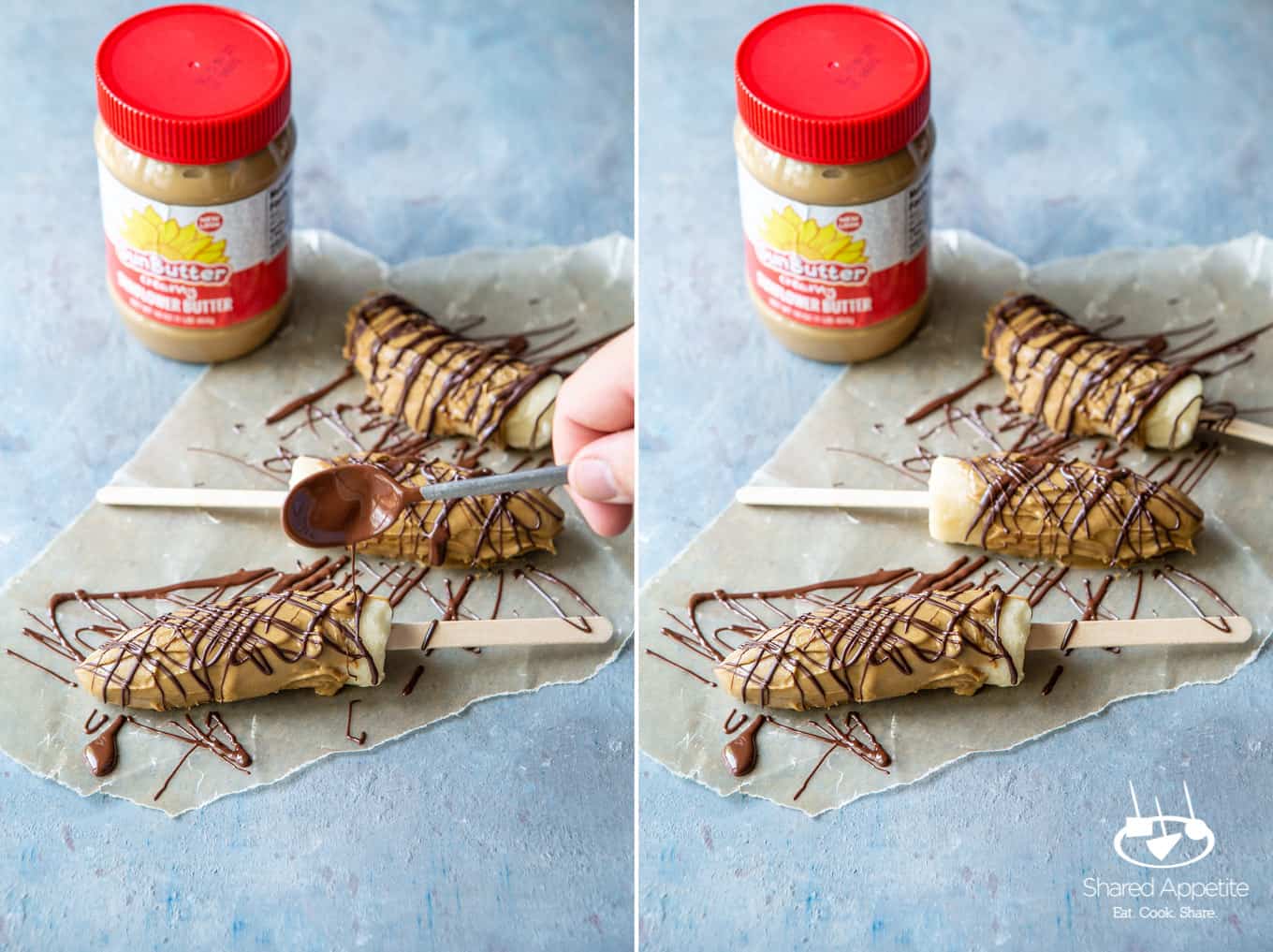 Print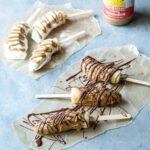 Frozen Banana Pops
---
4

bananas, peeled

1 cup

plain or vanilla Greek yogurt

1 cup

SunButter Creamy Sunflower Butter

4 ounces

good-quality chopped chocolate

8

popsicle sticks
---
Instructions
Slice bananas in half and insert popsicle stick about ½ way into the bottom of each banana.   Place bananas on a parchment paper lined baking sheet and freeze for 30-60 minutes.

Working quickly, spread a thin coating of yogurt on four of the banana popsicles.  Spread a thin coating of SunButter on the remaining four banana popsicles.  Return to baking sheet and freeze for another 30-60 minutes.

Spoon a bit of of SunButter in a small plastic bag and snip a tiny piece off the corner of the bag with a scissor (or use a pastry bag).  Drizzle SunButter on each of the yogurt banana popsicles and return to baking sheet and place in freezer until firm.
Melt chocolate in microwave on ½ power in 30 second increments until just melted through.  Drizzle chocolate over the SunButter dipped popsicles and return to baking sheet and place in freezer until firm.
Enjoy popsicles immediately once frozen or individually wrap each one (once frozen) in plastic wrap.
Prep Time:

2 Hours (including freezing time)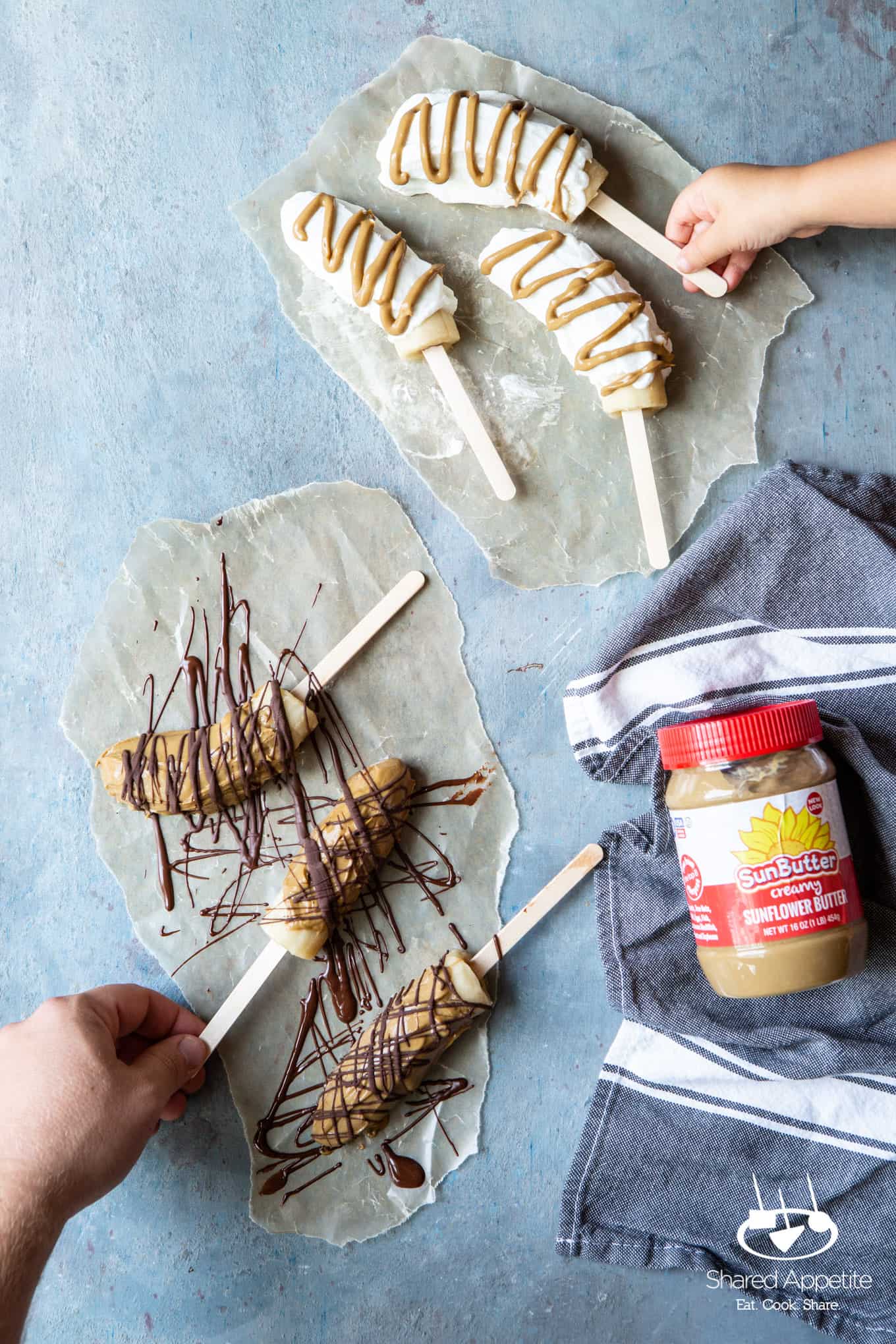 Frozen Banana Pops