These Korean Lamb Chops with Grilled Scallions were created in partnership with the American Lamb Board. As always, all opinions and recipes are my own. Thanks for supporting the brands that support Shared Appetite!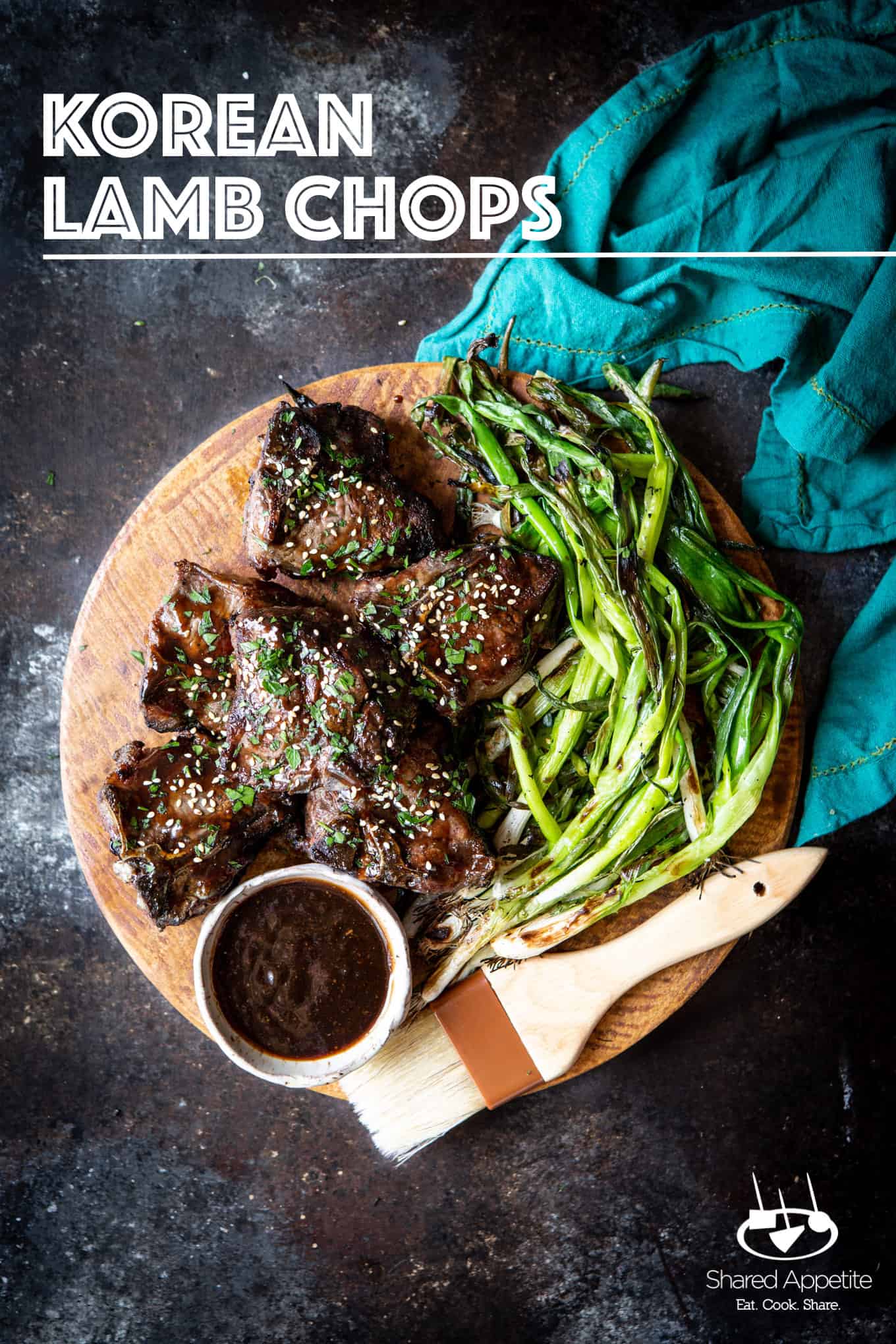 It has been quite the summer. So many memories have been made, so many fun times enjoyed. Our three year old Olivia is ridiculously fun to hang out with. It's such a great age and she loves going on adventures, hanging out in the pool, and going on scooter rides. We also welcomed our little boy Bennett into the world at the end of June, so it's been quite the change adjusting to a party of four around here (especially on limited sleep). Thankfully with Asheley on maternity leave and me on summer break from school (teacher life is pretty amazing), we've been doing a good job of tag teaming this whole parenting thing.
Of course with a newborn in the house and a three year old destroying the house (she loves taking out every single toy she owns and strategically placing it in high foot traffic areas), we don't get many chances for date night. Heck, we barely get a chance to talk to each other because we're busy playing man-to-man defense. Asheley feeds the baby. I keep Olivia entertained. At night once Olivia is in bed, we trade off who feeds Bennett and who gets to sleep for a few hours. The next day… repeat.
So I decided it was time to figure out a way to spend some quality time with Asheley, even if it had to be at home and only for a very short period of time. I devised a plan to have a picnic date in the backyard while the kids napped. By some miracle sent down from heaven, we actually got both kids to nap at the same time the other day. And then I got to work on whipping together this picnic lunch for the two of us, featuring these Korean Lamb Chops with Grilled Scallions!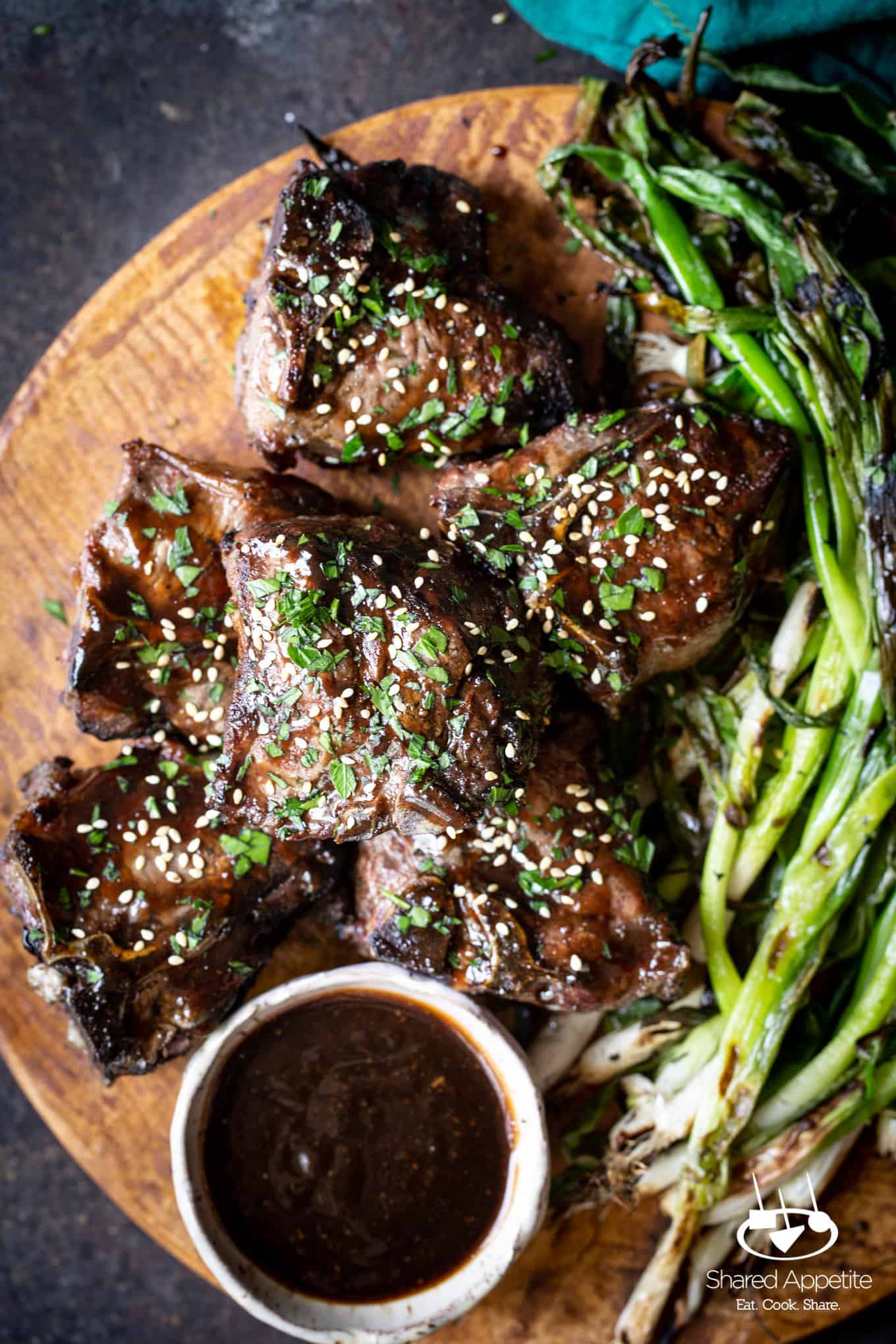 We'll get to the picnic in a second, but just look at these amazing lamb loin chops. Most times when people think of lamb chops, they have rib chops or lamb lollipops in mind (like these Grilled Lamb Chops with Mint Chimichurri. If you've never had lamb loin chops before, you are MISSING OUT!
Lamb loin chops are usually pretty readily available at grocery stores and butcher shops, and are lean, tender, and packed with flavor! They have a built in perfect 3-4 ounce serving size and look like mini "T-Bone" steaks. Adorbs, I know. You can certainly marinate them, but they also are beyond amazing with just a bit of salt and pepper and grilled to a perfect medium-rare!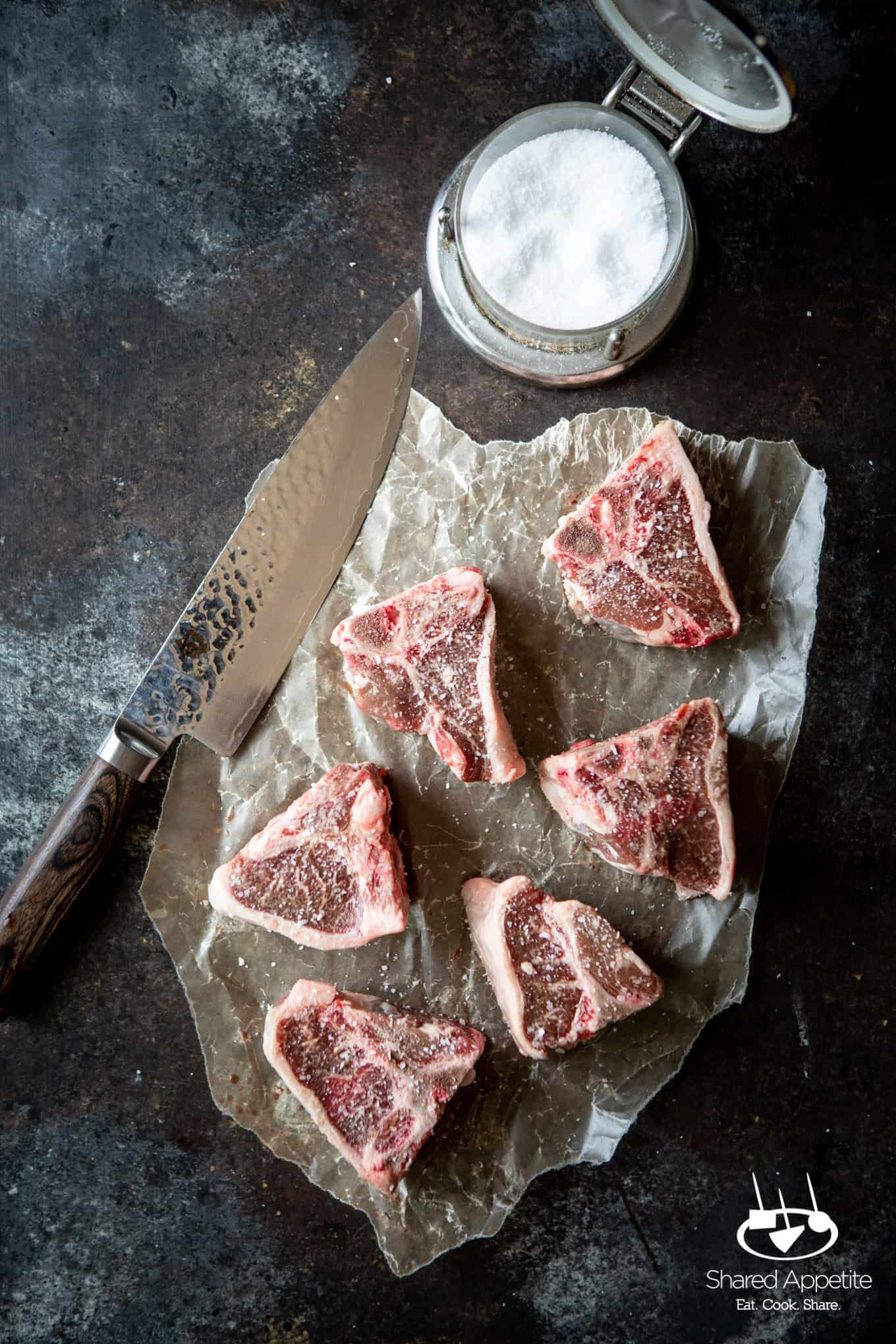 When I look for these lamb loin chops, or any lamb really, I always make sure to source AMERICAN Lamb.
The majority of lamb sold in the United States is actually from Australia and New Zealand. What the what?!
I know! We are literally buying meat from the opposite side of the world. American lamb is up to 10,000 miles fresher and is available daily in our supermarkets!
American Lamb. Not only is it a superior tasting product, it's incredibly local.
Lamb is produced in almost every single state here in the U.S. During my visits to American Lamb ranches in California and in Maine, I learned all about just how much these ranchers care about raising lamb. It's 100% a labor of love and passion. I see how hard these people work, and I see how humbly they live. They are ranchers because they love it. That's why I want to support these family-owned ranches by making sure the lamb I cook with is American Lamb!
We as Americans always love to support products that have the "Made in the United States" stamp on it. Why would we accept anything less from the food we eat?!
Next time you are at the butcher counter… make sure you let them know that you want to keep it local and support our neighbor ranchers with AMERICAN lamb. It tastes better, is fresher, and helps support families right here in the U.S.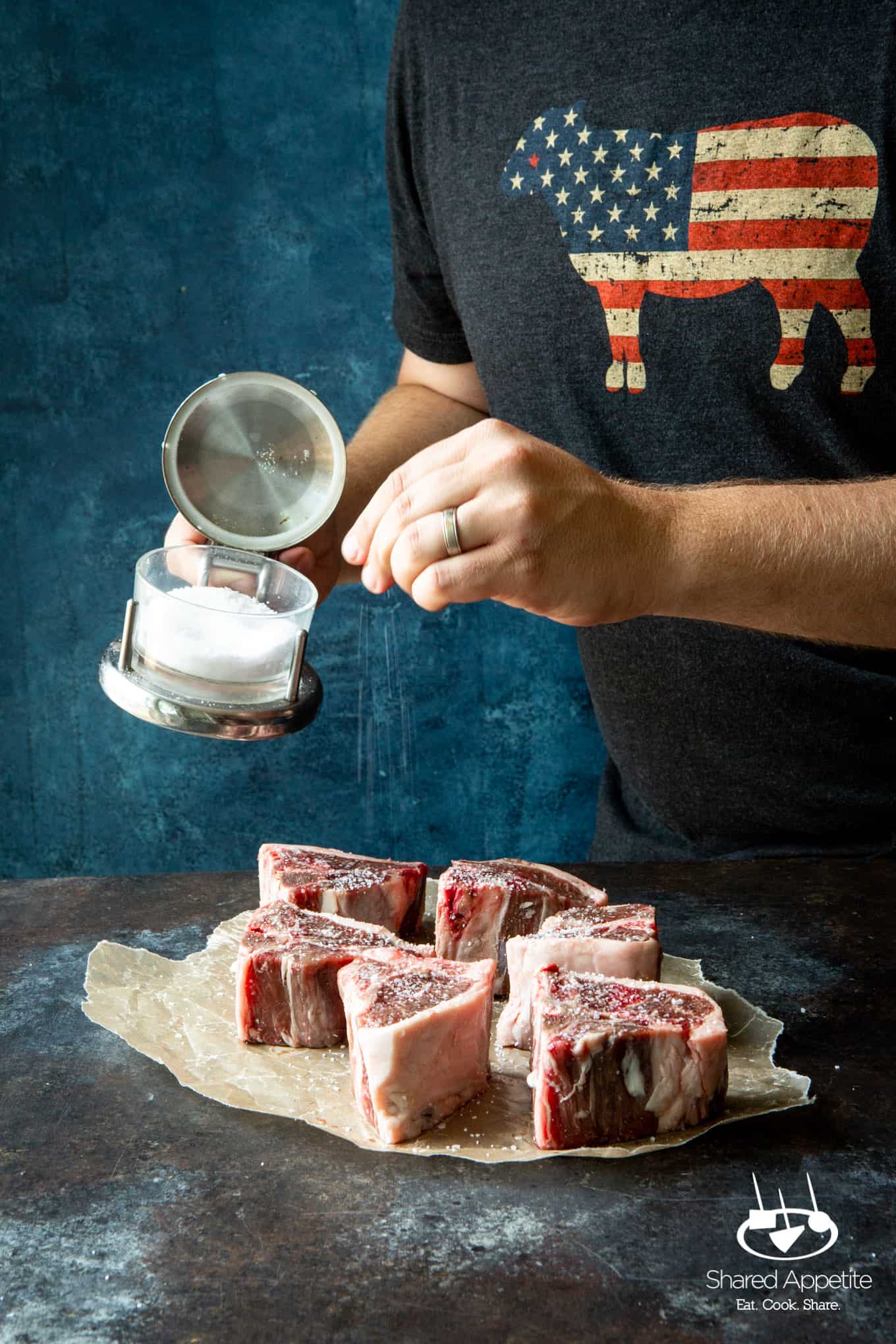 Korean Lamb Chops. They are so easy and are done from start to finish in 20 minutes! That was key to the success of our little date picnic because Olivia only naps for 2 hours and who the heck knows with our newborn Bennett!
While the lamb loin chops were being grilled, I prepared a quick Korean glaze with ingredients very similar to what you'd find in a Korean bulgogi marinade. It's sweet, salty, and has a TON of flavor. Baste that on the lamb during the last few seconds of grilling and BOOM. Instant success! These Korean Lamb Chops are killer!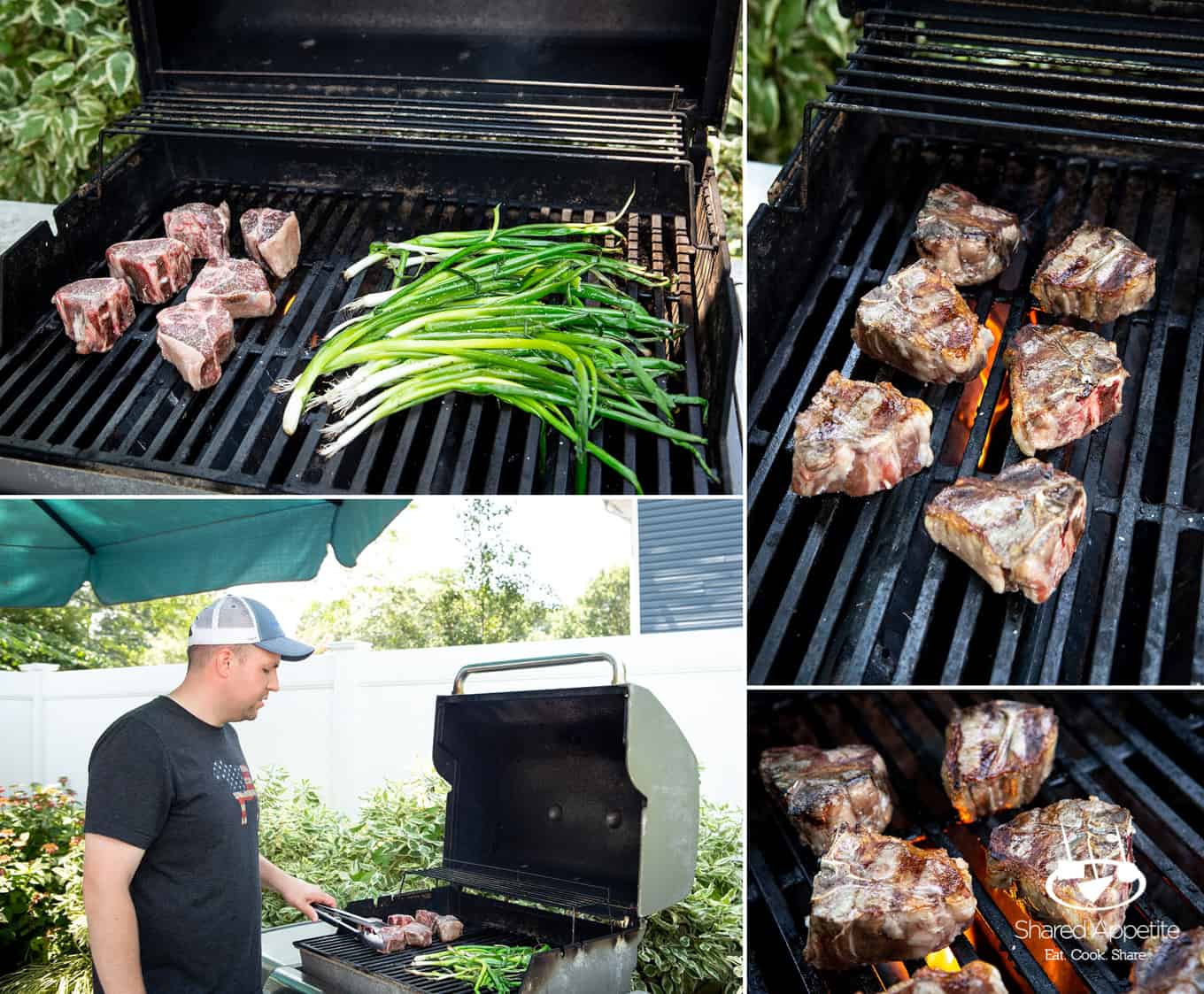 I know, I know. How the heck did I prepare all these sides in time for our picnic? The answer is… I didn't. Part of entertaining (even if it is just a backyard picnic with Asheley) is prepping things when you can so when it's show time, you can just serve and eat. My Sweet Potato Bacon Salad and Pineapple Habanero Salsa can be made way ahead of time (I made it the day before!). The sun gold tomato caprese salad was whipped together in about 3 minutes (thanks store bought pesto and tomatoes from our garden!). And the Spicy Southwest Corn was sautéed up with the Korean glaze while the lamb was on the grill.
It's all about the planning 🙂
Crack open a bottle of wine and picnic lunch is served! Not pictured… the baby monitor letting us keep an eye on the sleeping little ones!
Asheley and I so cherished our little bit of adult time together. It was desperately needed and ended up being ridiculously delicious! The lamb was a perfect medium rare and was so tender and flavorful. Ermagherd. Korean Lamb Chops with Grilled Scallions FOR THE WIN!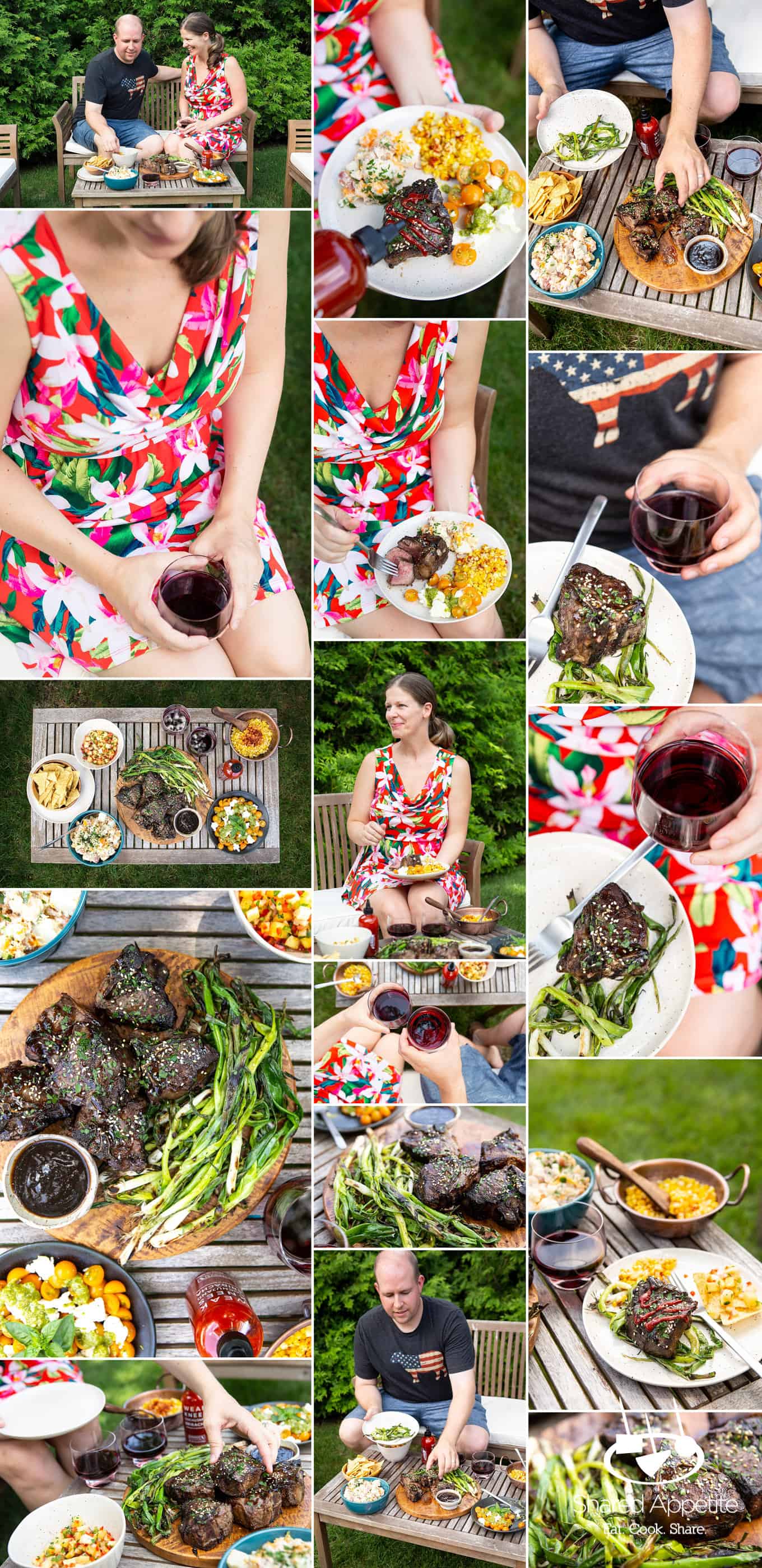 Print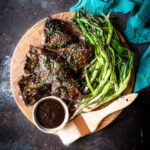 Korean Lamb Chops with Grilled Scallions
---
Author:

Chris Cockren

Total Time:

20 minutes

Yield:

8

servings

1

x
8

American Lamb Loin Chops

3 tablespoons

soy sauce

2 tablespoons

mirin

2 tablespoons

brown sugar

2 teaspoons

sesame oil

1 teaspoon

onion powder

1/2 teaspoon

garlic powder

1/2 teaspoon

ginger powder

3/4 cup

plus 1 tablespoon water

1 tablespoon

cornstarch

2

bunches scallions

1 tablespoon

canola oil
Kosher salt
Sesame seeds, for garnish
Chopped cilantro or parsley, for garnish
---
Instructions
Preheat grill to medium-high heat.  Meanwhile, make the Korean glaze.  Combine soy sauce, mirin, brown sugar, sesame oil, onion powder, garlic powder, ginger powder, and 3/4 cup of water in a small saucepan over high heat.  Bring to a boil, then reduce heat to a simmer for 3-4 minutes.  Combine remaining 1 tablespoon water with cornstarch in a small bowl.  Add half of the cornstarch slurry to sauce and let simmer one minute.  If not thick enough, add remaining slurry and cook another minute.
Sprinkle lamb loin chops on all sides generously with Kosher salt.  Grill until a rosy medium-rare.   During the last minute of cooking, slather on Korean glaze.  Meanwhile, brush scallions with canola oil and season with Kosher salt.  Grill, turning once, until slightly charred in spots.
Serve Korean Lamb Chops with grilled scallions and extra Korean glaze, and top with chopped cilantro/parsley and sesame seeds.  Devour.
Prep Time:

10 minutes

Cook Time:

10 minutes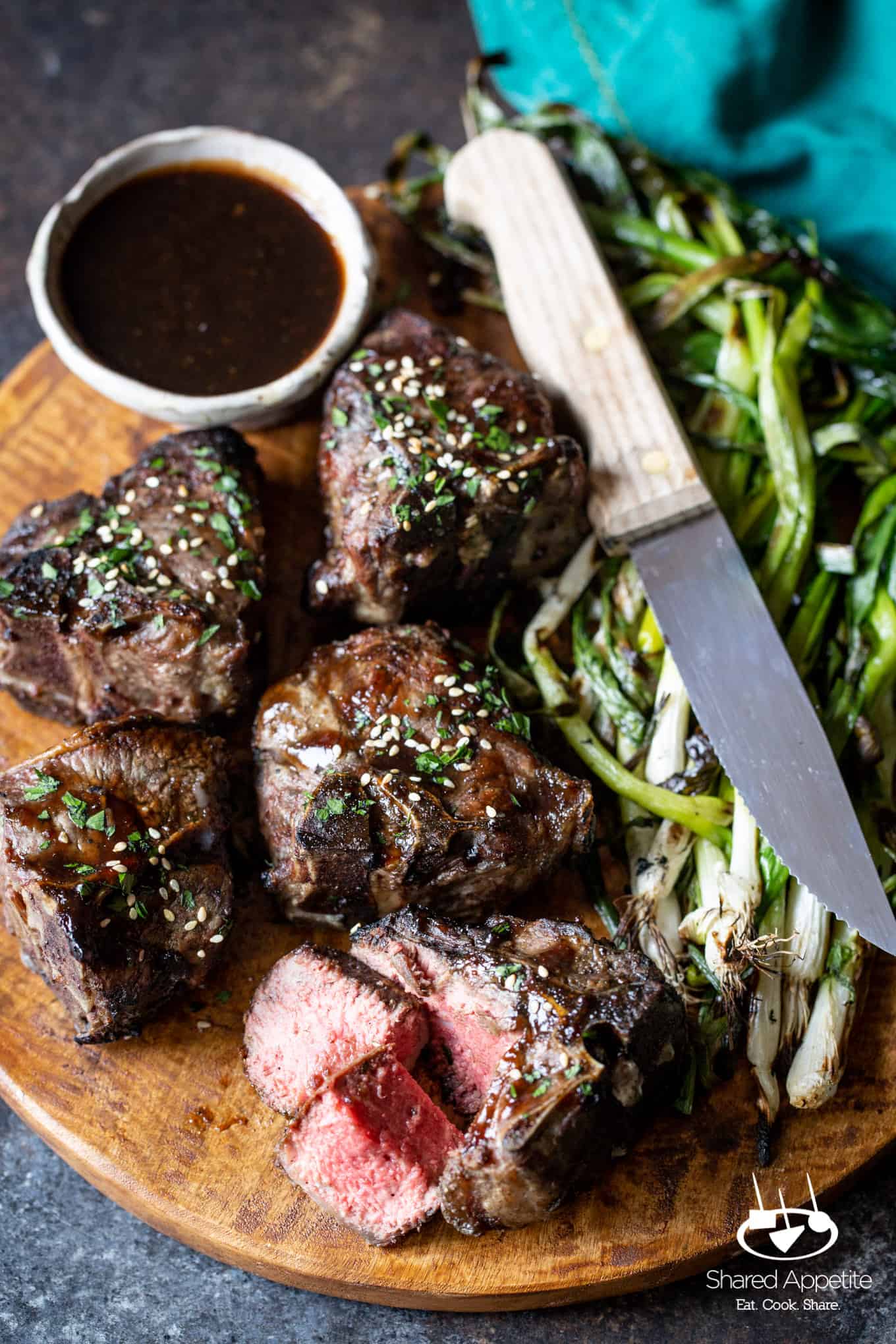 Korean Lamb Chops with Grilled Scallions