This post for How To Build A Summer Charcuterie Board was created in partnership with Sabra Hummus. As always, all opinions and recipes are my own. Thanks for supporting the brands that support Shared Appetite!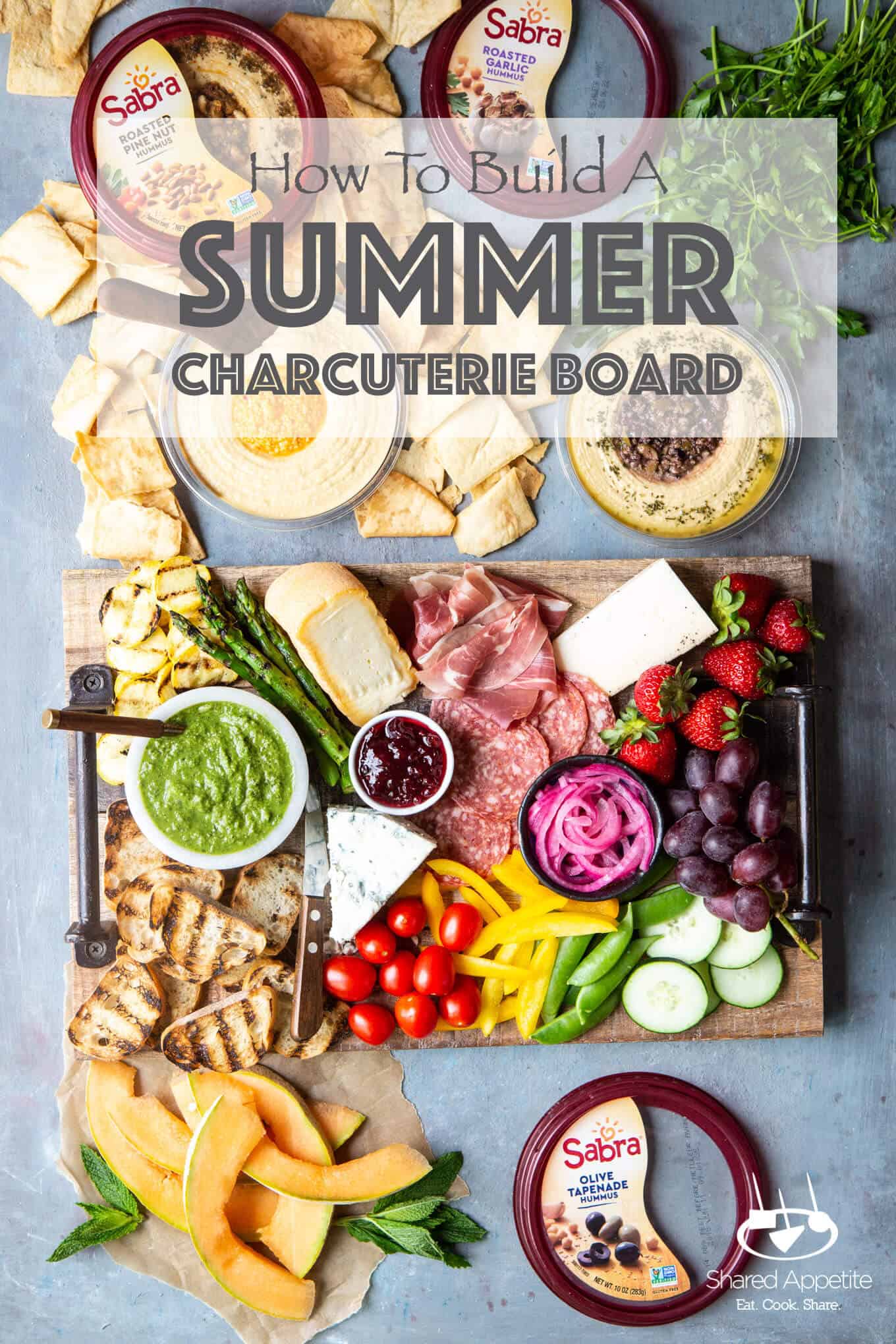 Life is good. It's finally warm enough for shorts. It stays sunny out until almost 8pm at this point. And the pool is open. I repeat, the pool is open. We opened it a bit earlier this year than in the past because we also now have a pool heater. That thing stays at a balmy 85°F at all times (yes, my poor electric bill). It's a necessity, though, because the first words out of Olivia's mouth when she wakes up every morning is when (not if) we can go into the pool. It doesn't matter if it's 60°F or 90°F out… the girl LOVES that pool.
With Olivia's water obsession and a new baby coming in just a few weeks, I foresee a lot of backyard entertaining going on at our house this year.
I couldn't be happier. THIS is what I look forward to all year long.
Now here's the thing. Having a pool is really new for me. I never had one growing up (besides that semi-skeezy community pool), so I've learned a few lessons over these last few years when it comes to easy entertaining poolside.
The secret? Food that can be prepped way ahead of time and encourages grazing for hours and hours. And there's nothing more perfect than an epic meat and cheese board (with plenty of beverages, of course). Let me show you How To Build A Summer Charcuterie Board with Sabra Hummus, Shared Appetite style.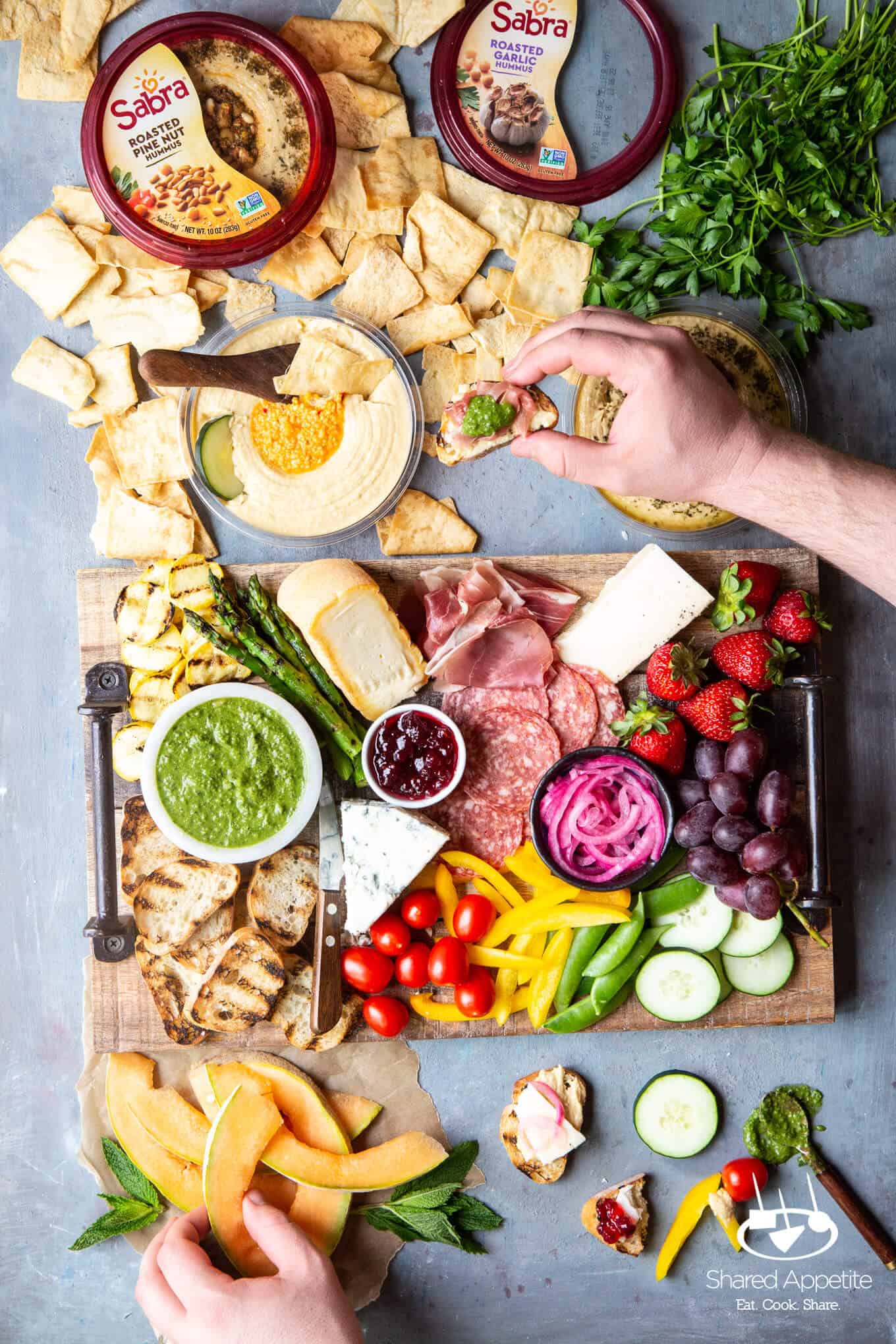 Pre-pool and pre-kids, my idea of summer entertaining was thinking up extravagant meals involving constant trips between the grill and kitchen. It was exhausting, and I never had the time to actually enjoy with my friends and family.
There's a better way, and that is a Summer Charcuterie Board!
It's my favorite way to eat during the summer. Tons of fresh summer veggies and fruit, some bold dips and spreads, and a variety of cheeses and meats. THAT'S IT. So easy, but so amazingly good.
And you know what? Guests go crazy for it. There's no gut-busting meal weighing you down as you try to enjoy a lazy afternoon in the pool and sun, the hosts are actually free to spend time with everyone, and there's no set time to eat. Eat when you want, as you want, what you want.
There's a method to creating an epic summer charcuterie board, of course. I'm sure you've all been to a party where there was some sad looking cheese and meat platter. It probably involved blocks of pre-diced cheeses, waxy-looking meats, and buttery crackers. Yeah, not at our house.
So…. How To Build A Summer Charcuterie Board??? Let's break this thing down: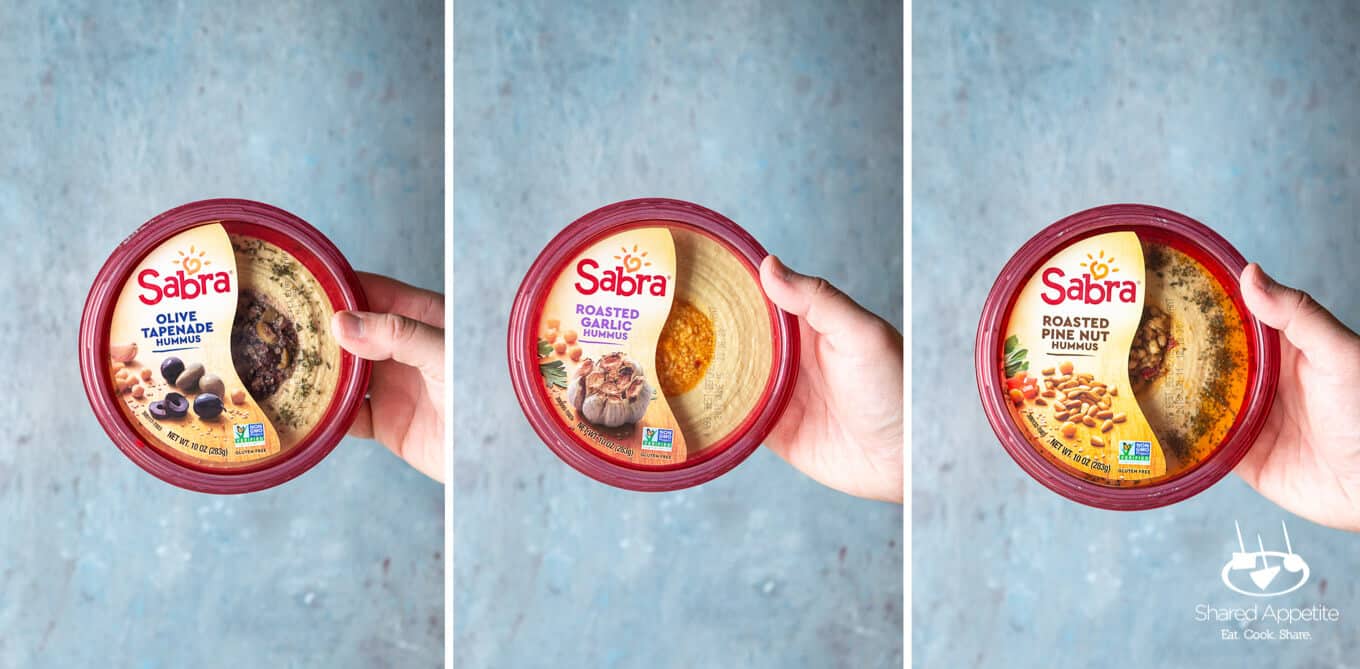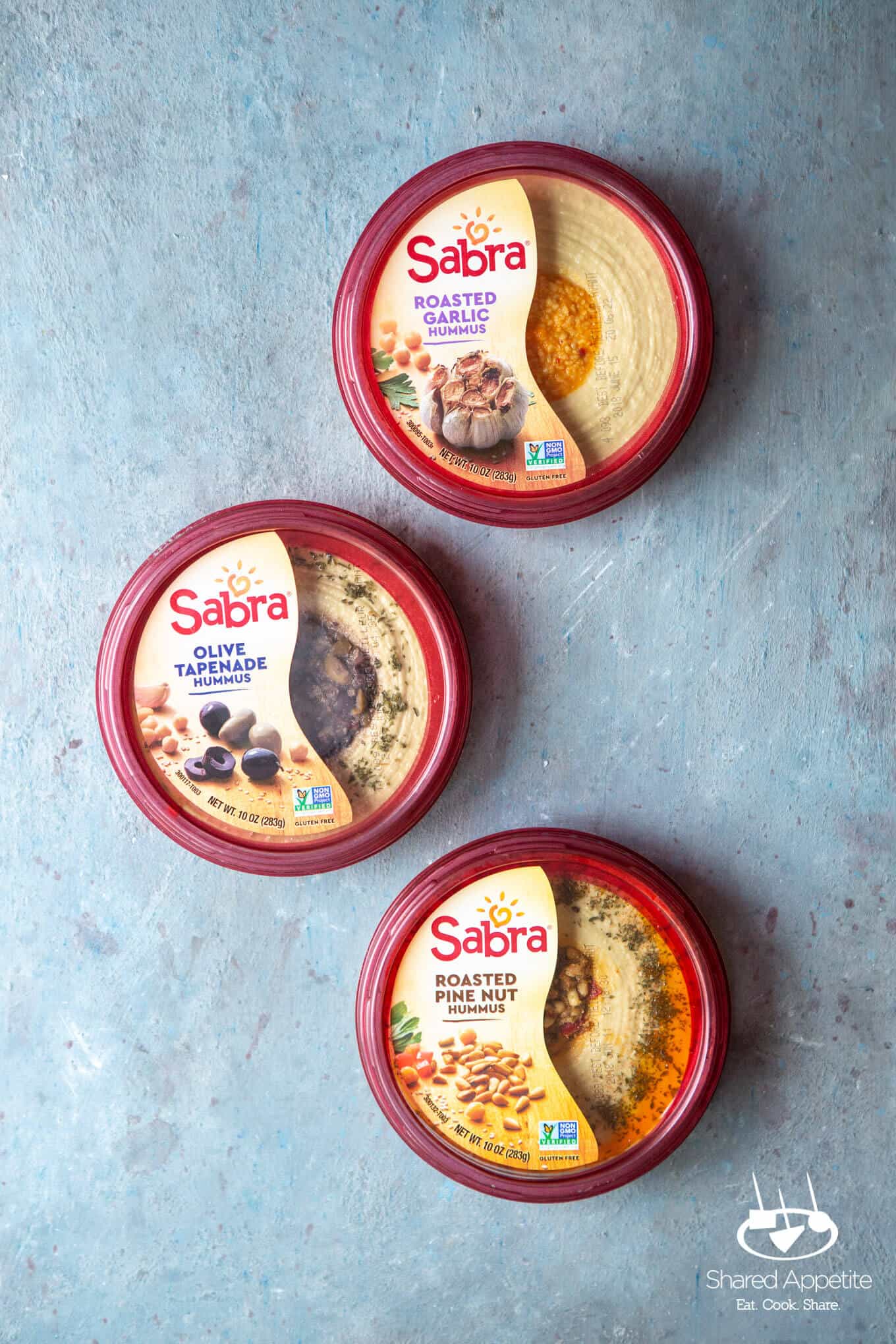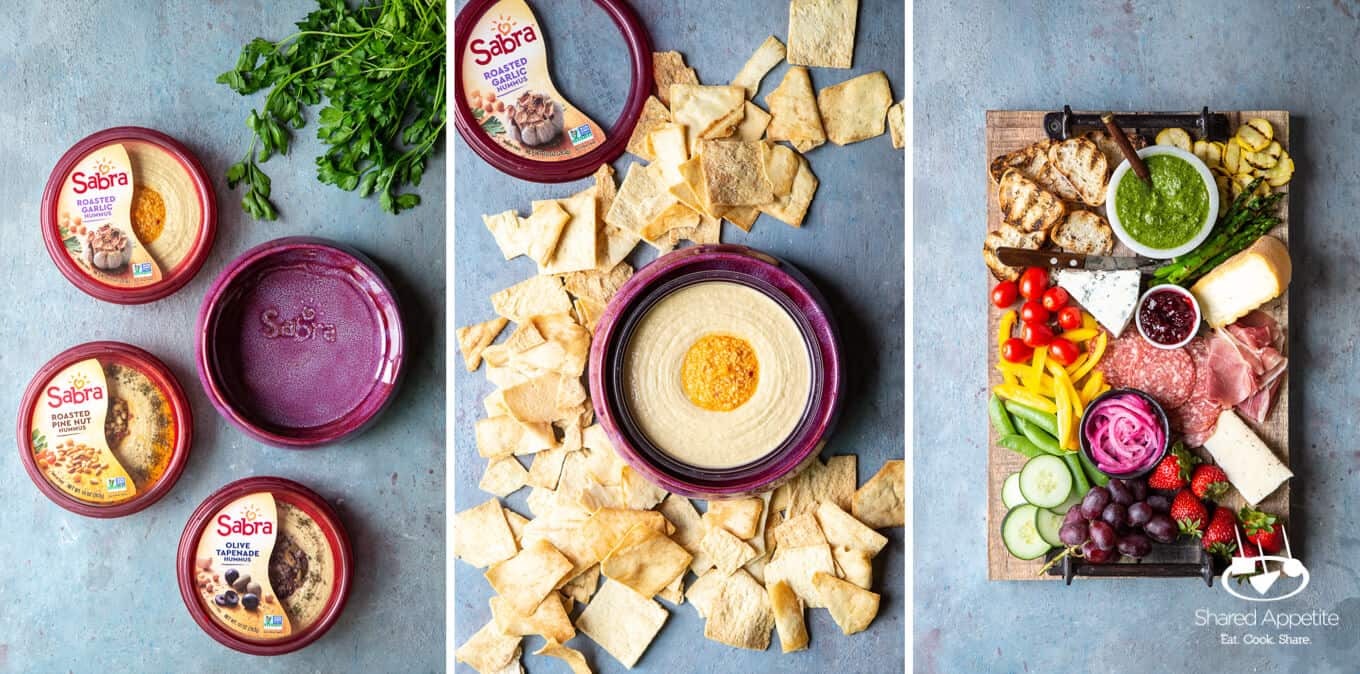 The cheese. The magic number is three. Less is cheap, more gives people anxiety over too many choices. There's no specific cheeses to look for, but I usually go for one softer cheese (like brie, goat, triple cream, or some other soft buttery cheese), one hard or aged (like this peppery sheep's milk pecorino toscano), and one a little more funky (like blue cheese). You're pretty much guaranteed to have at least one cheese on there for everyone's tastes, and having multiple types of cheeses will help encourage people to create different flavor combos as they navigate your LEGIT Summer Charcuterie Board.
The meats. Honestly, this varies for me. Sometimes it's just one. Sometimes it's two or three. Usually I land on two: a good-quality creamy prosciutto and a nice, spicy salami or soppresata.
The foundation. Two options are key. A baguette has to be one of them. The other can be some sort of artisanal crispy seedy cracker or a good trusty pita chip. For bonus points, slice up your baguette, brush with oil, salt + pepper 'em, and grill them until toasted. While you've got the grill going (and remember, you are doing all this ahead of time before guests arrive), grill up some asparagus and sliced summer squash or zucchini. They make for an amazing addition to your summer charcuterie board.
The fresh. This is going to depend on what looks good at your market. Go for three fruits and three vegetables. This isn't a hard and fast rule… just give a good variety of options. I think strawberries, red seedless grapes, and some sort of melon like cantaloupe always are a win, but cherries, pears, and stone fruit can also be pretty great. For the vegetables, I like just picking three different colors. Cherry tomatoes are a trusty pick for me, I loved the color in the yellow bell pepper, and the vibrant green sugar snap peas looked super fresh at the grocery store when I went. Oh, and apparently I also have cucumber on my board. That would be because my toddler daughter is obsessed.
The spreads + accompaniments. Three to five choices here are amazing. And you have SO many options. Whole grain mustard. Some sweet jammy preserve. Homemade easy pickled onions. A fresh pesto. And, of course, don't forget THE HUMMUS. Specifically, Sabra Hummus!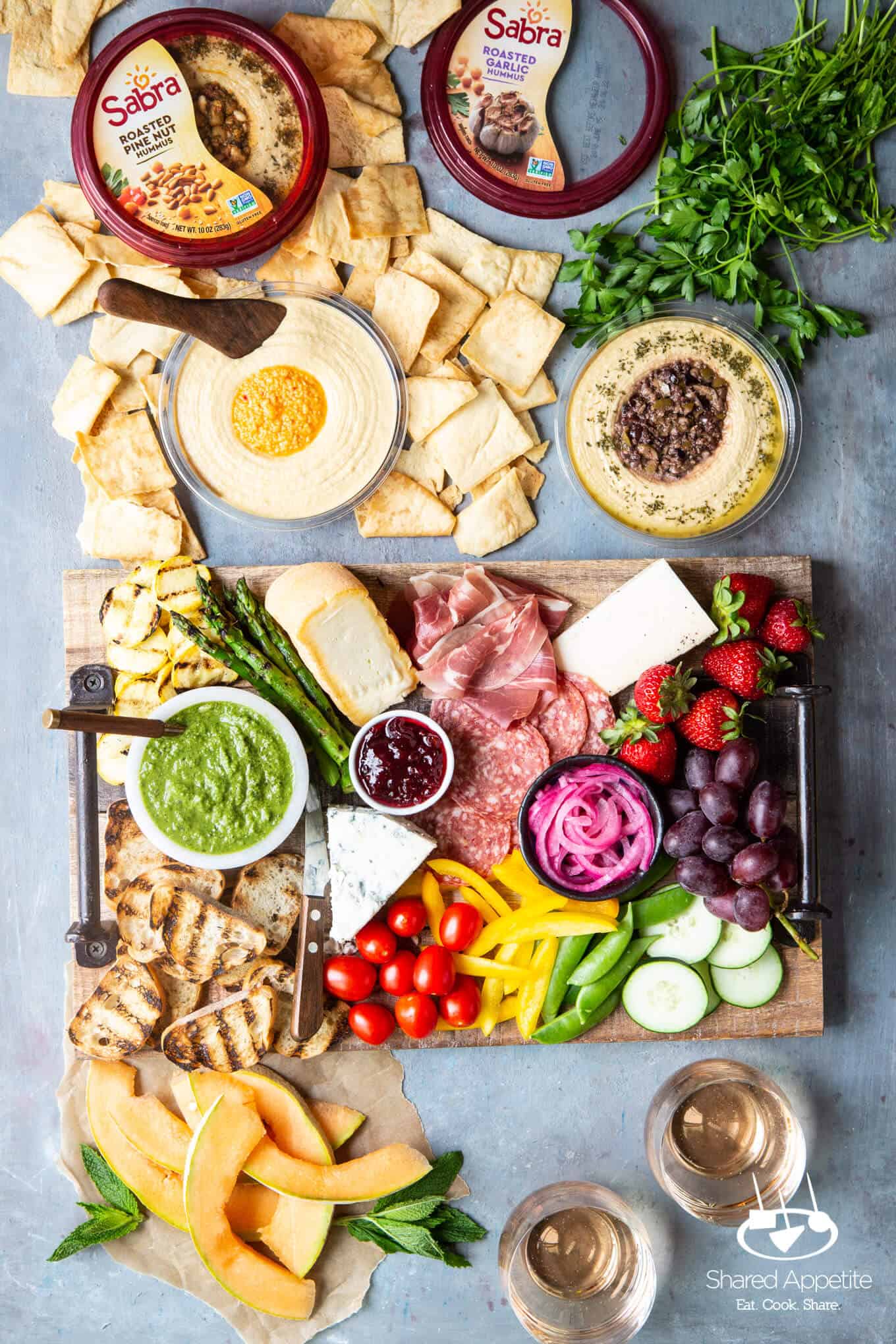 Sabra Hummus is the perfect addition for any summer entertaining occasion, and it's essential to this summer charcuterie board! There are so many flavors to choose from, including a limited edition Sweet and Smoky BBQ that would be so awesome for your backyard grilling spread! I went with three classics that I thought would pair really nicely with this summer charcuterie board… Sabra Roasted Pine Nut Hummus, Roasted Garlic Hummus, and Olive Tapenade Hummus.
Sabra Hummus is so smooth and creamy, and the flavors are so on point. Besides using it for my summer charcuterie boards throughout the summer, I love having it on hand for some health-minded snacking. I almost always have a container of Sabra in the fridge to go along with some carrots! Instant snacking for the win!
And with so many varieties of hummus to choose from (there's about 15 flavors to choose from!), you can keep your taste buds happy throughout the summer with Sabra!
Plus, they're offering a promotion this summer – buy 3 Sabra products and submit your reciept to sabrabowl.com, get a free homemade bowl that is the perfect size for Sabra Hummus 10oz tubs! These bowls add serious class to your Summer Charcuterie Board.
The last step to How To Build A Summer Charcuterie Board…
Grab a drink (I pretty much always have some rosé on ice at my house during pool season) and DIG IN!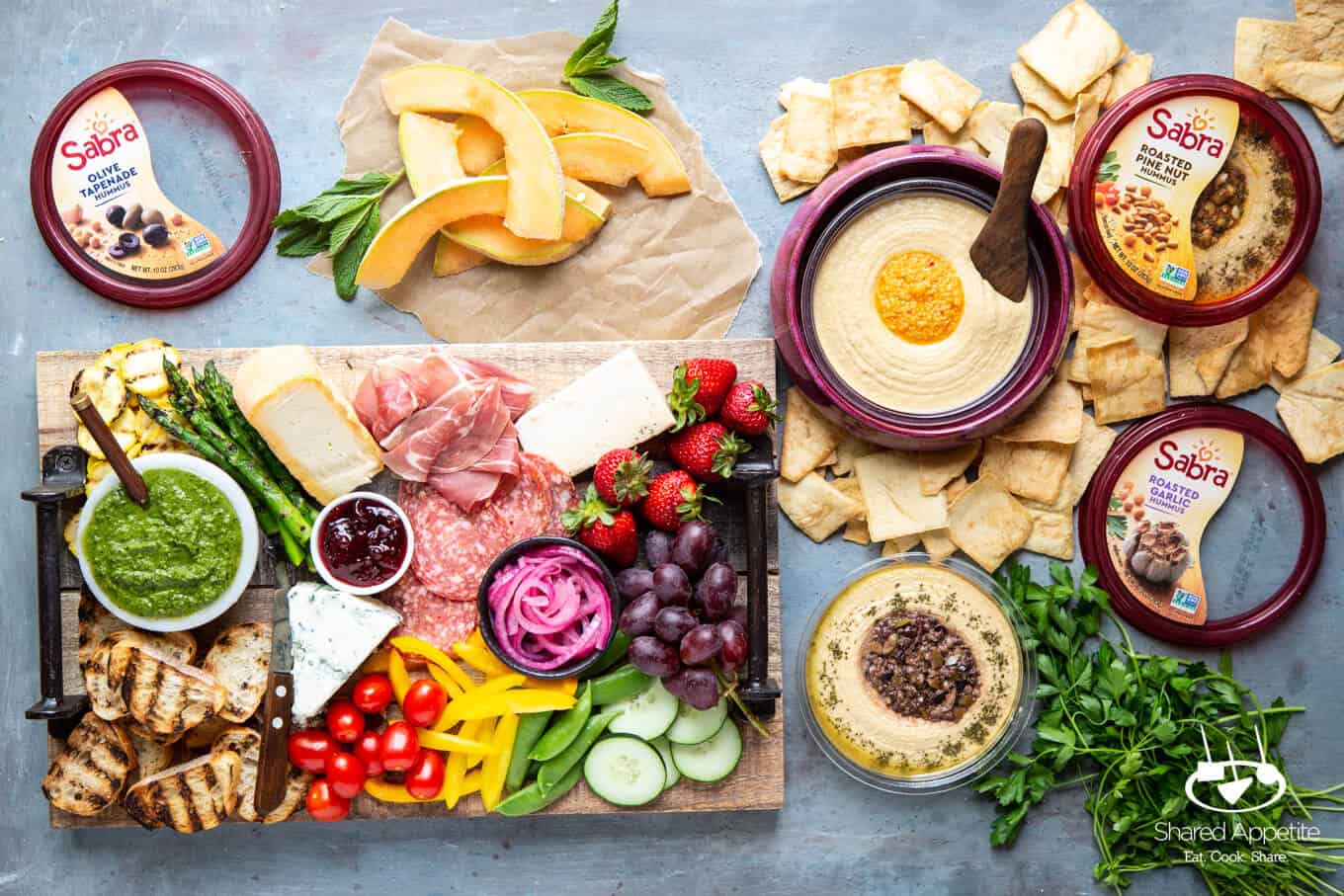 Print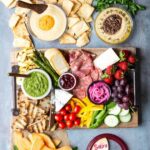 How To Build A Summer Charcuterie Board
---
Sabra Hummus (pick your favorite flavors)
Sliced baguette*
Pita Chips
Sliced vegetables, such as cucumber, bell pepper, cherry tomatoes, and snap peas
Fruit, such as strawberries, red seedless grapes, and sliced canteloupe
Grilled Asparagus
Grilled sliced summer squash
Favorite jam or preserves
Hard and/or Aged Cheese, such as Sheep's Milk Pecorino Toscano
Soft cheese, such as triple cream, goat, or brie
Funky cheese, such as blue cheese
Cured meats, such as prosciutto and spicy salami/sopressata
Pesto
---
Instructions
Place all ingredients on a large platter and allow guests to graze and build their own creations!
Notes
*for bonus points, brush baguette slices with olive oil, season with salt and pepper, and grill on both sides until toasted
**the above ingredients are just suggestions. The beauty of a charcuterie board is to find flavors and textures that work for you and your friends. Mix and match cheeses, meats, and condiments however you would like!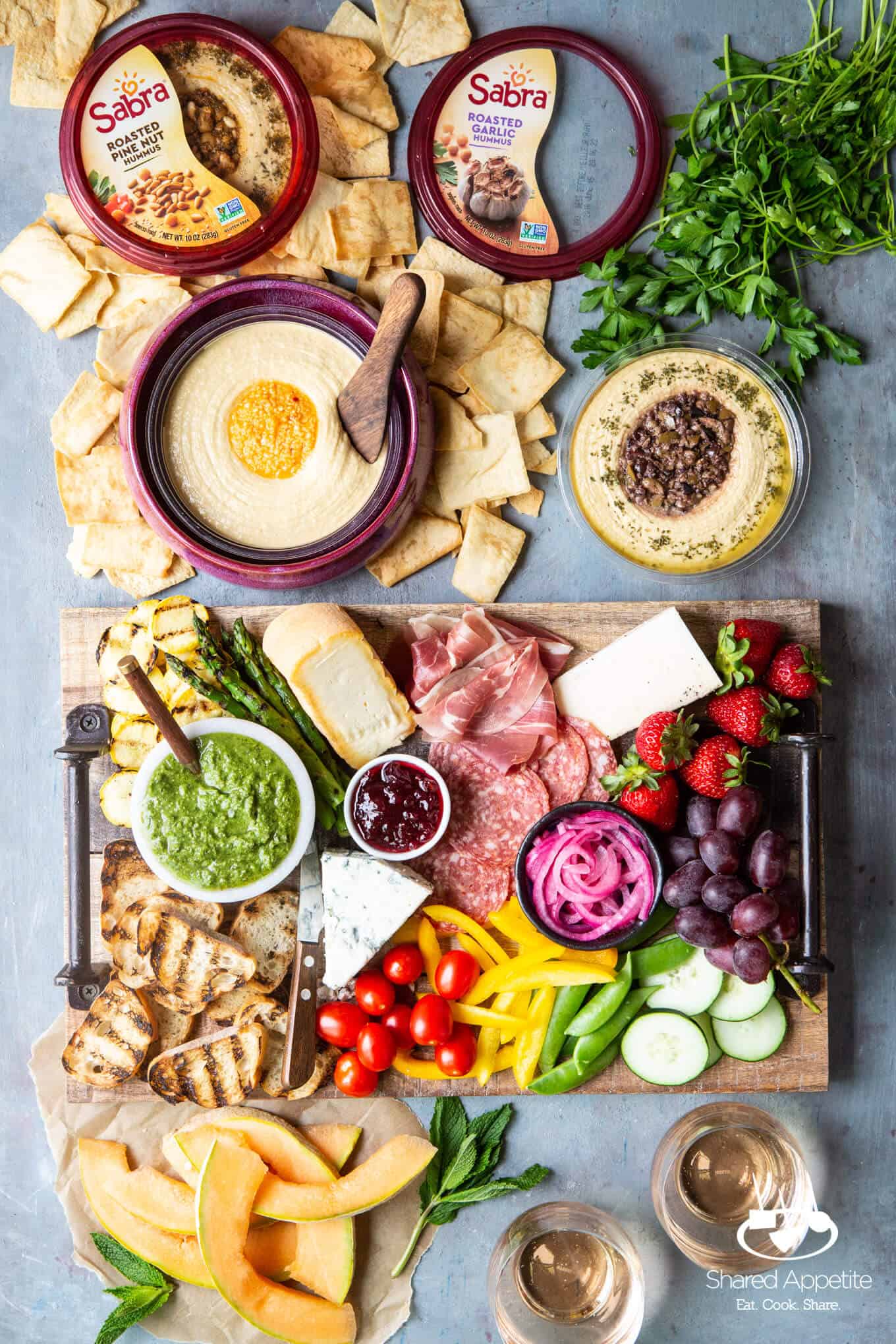 How To Build A Summer Charcuterie Board