These Candied Bacon Brownie Sundaes with Whiskey Caramel Sauce were created in partnership with American Greetings. As always, all opinions and recipes are my own. Thanks for supporting the brands that support Shared Appetite!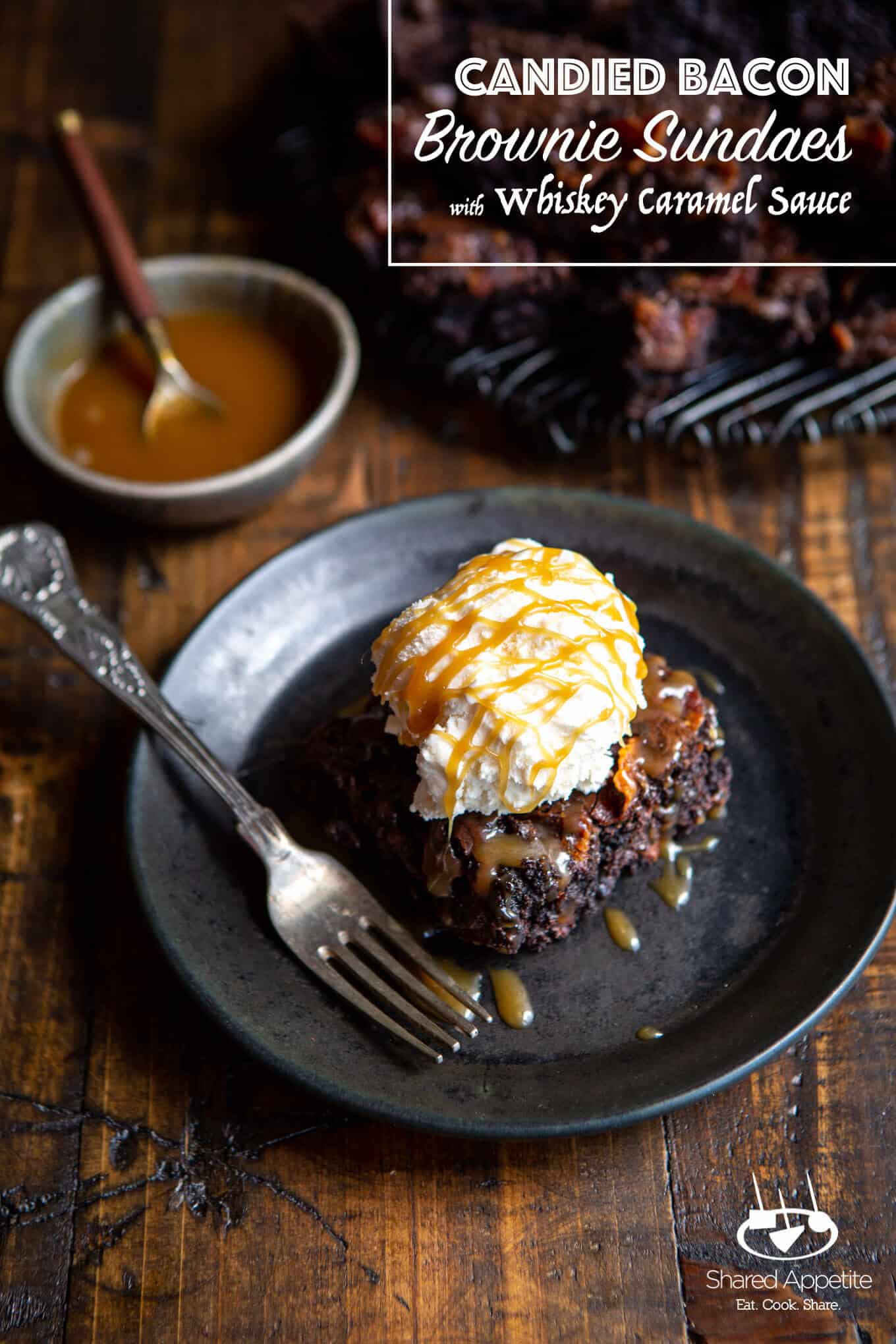 Father's Day is just around the corner. For me this year, it's an extra special day because it's the last day for me as a dad of one. Our second child is due to arrive the day after Father's Day! I have no idea what's in store (I hear having two kids is vastly different than one!), but all I know is being a dad is really, really amazing.
If there's one thing I've learned fairly quickly as a parent, it's that it truly takes a village. Olivia is so incredibly blessed to have a lot of awesome people in her life that love her and care for her. On Father's Day, I want her not to just think of me, but all the special male role models in her life. Her Pop and Grampy (and uncle and great uncle) of course, but also two great friends of mine that have become really close uncles to her.
They don't have kids of their own yet, but they have both been so amazing with Olivia and she is proud to call them uncle. This Father's Day, I want them to know that we appreciate them. Getting stuff is nice, but there's a better gift I know these two guys will really love. And honestly, it's a gift that I think anyone special in your life would really appreciate too.
A greeting card with a heartfelt note (or in Olivia's case, a semi-but-not-really-legible original picture) can encourage someone more than you'll ever know. Let that someone special know what you're feeling. Show your gratitude. Tell them how they've impacted your life. It'll mean more than any trinket you can buy. Pro tip... Target has a legit greeting card section!
And along with that greeting card, we'll be giving Olivia's uncles something we know they'll love. Brownies. But not just any brownies. Candied Bacon Brownies. And Whiskey Caramel Sauce. This way, they can enjoy one heck of an epic dude dessert this Father's Day... Candied Bacon Brownie Sundaes with Whiskey Caramel Sauce!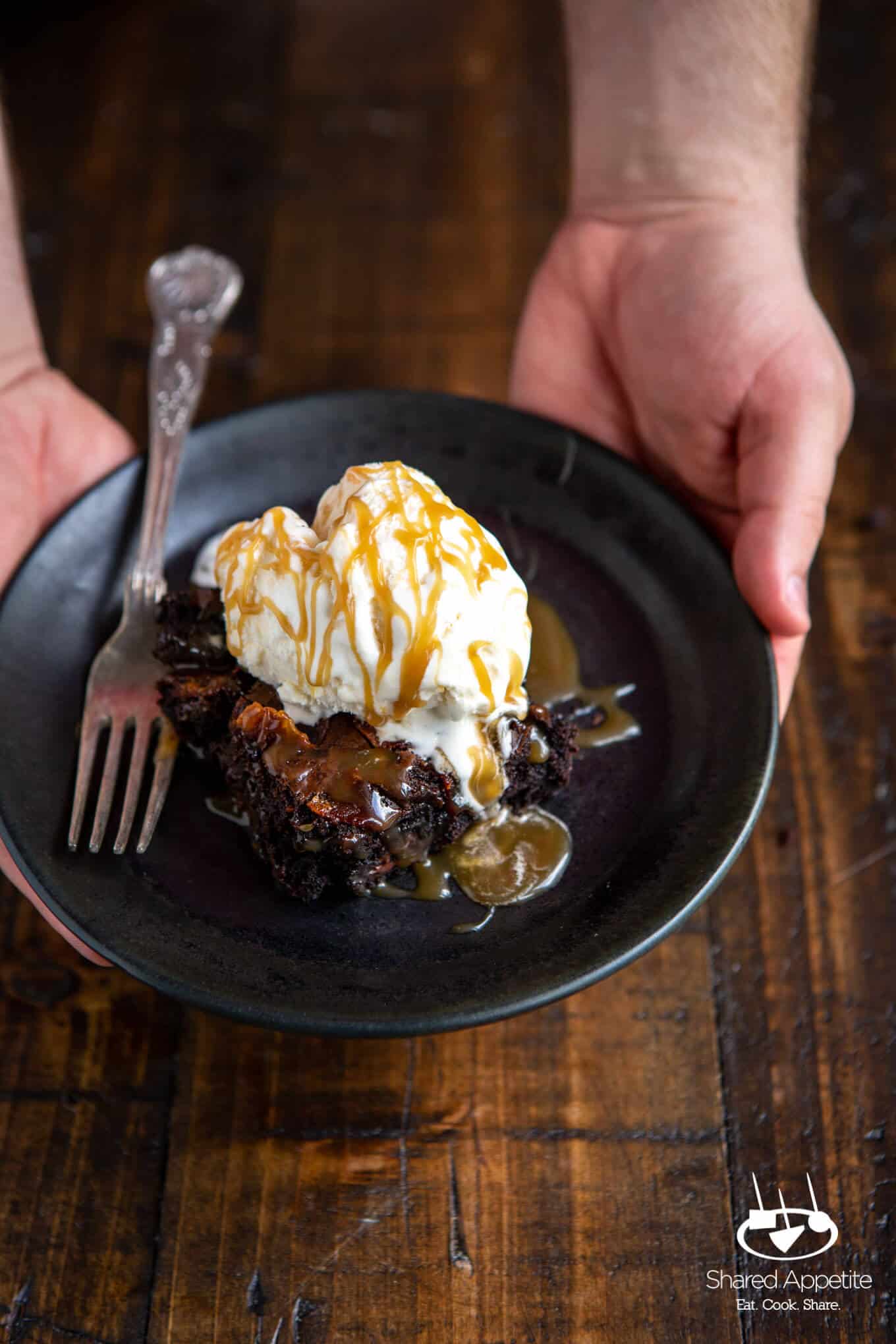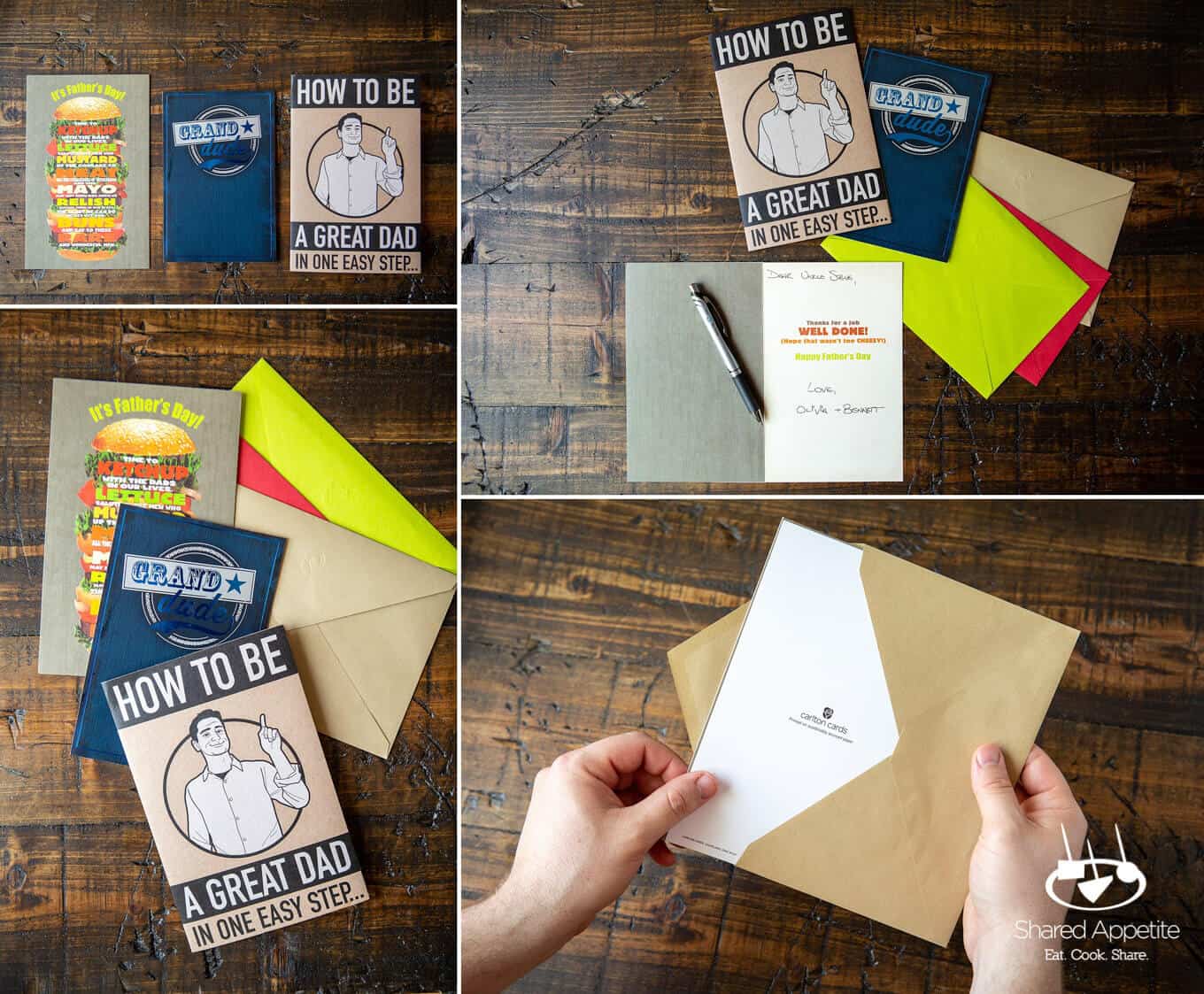 If you're new to Target... I'm sorry. You've been in the dark way too long and it's time to see the light. Target is quite the magical place. It's a one-stop shopping experience for crossing off so many things on your weekly to-do list. Need a few groceries? Target. Light bulb blew out or need some storage options? Target. Got that kid's birthday party to go to this weekend and need a gift? Target. Want to fill your cart with some things you didn't know you needed but then walked through a few aisles and realized oh my gosh how have I not had this in my life all these years? Target.
And yes, Target is my #1 go-to store for greeting cards. Remember when you'd have to go to a specific store just to buy a card way back when. How inefficient. With Target, I can get all my greeting cards AND do some grocery shopping (including almost everything I need for these Candied Bacon Brownie Sundaes with Whiskey Caramel Sauce). Oh, and I can pick up those summer pajamas for Olivia I had to remember to buy.
Like I said. Magical.
Oh, and psst. Be sure to check out the Target App for a Cartwheel offer on Father's Day greeting cards between 5/27 - 6/17. Find a Target near you!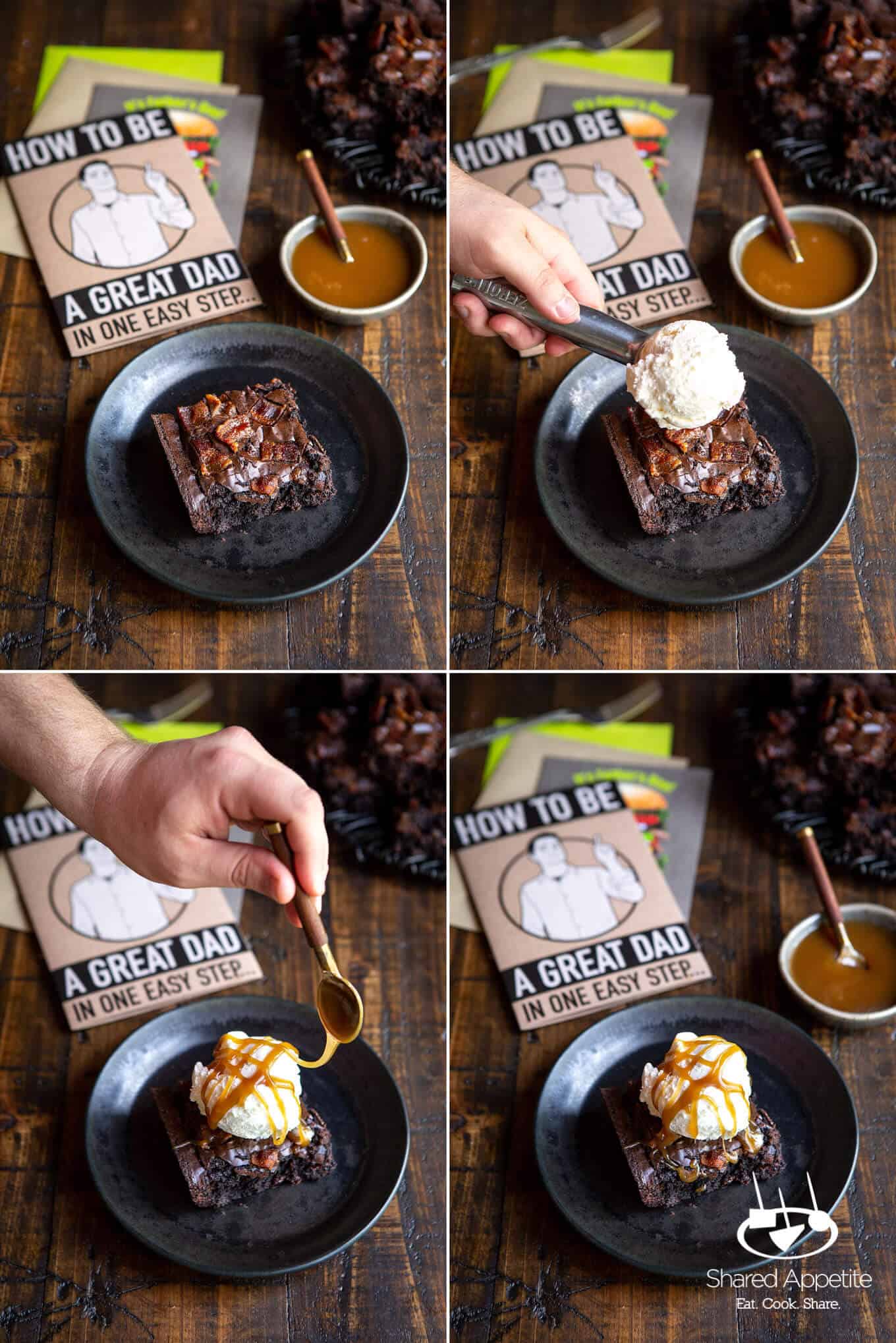 These Candied Bacon Brownie Sundaes with Whiskey Caramel Sauce. Ermagherd everyone. Want to impress that special guy in your life? MAKE THESE NOW.
Just when you thought brownies couldn't get any better... yup. They do. I actually got the idea for these Candied Bacon Brownie Sundaes with Whiskey Caramel Sauce from one of Olivia's uncles. At a recent get-together, I was serving up some brownies and he noticed there was some leftover bacon from one of the appetizers. He made himself a sundae with the bacon and it was AMAZING.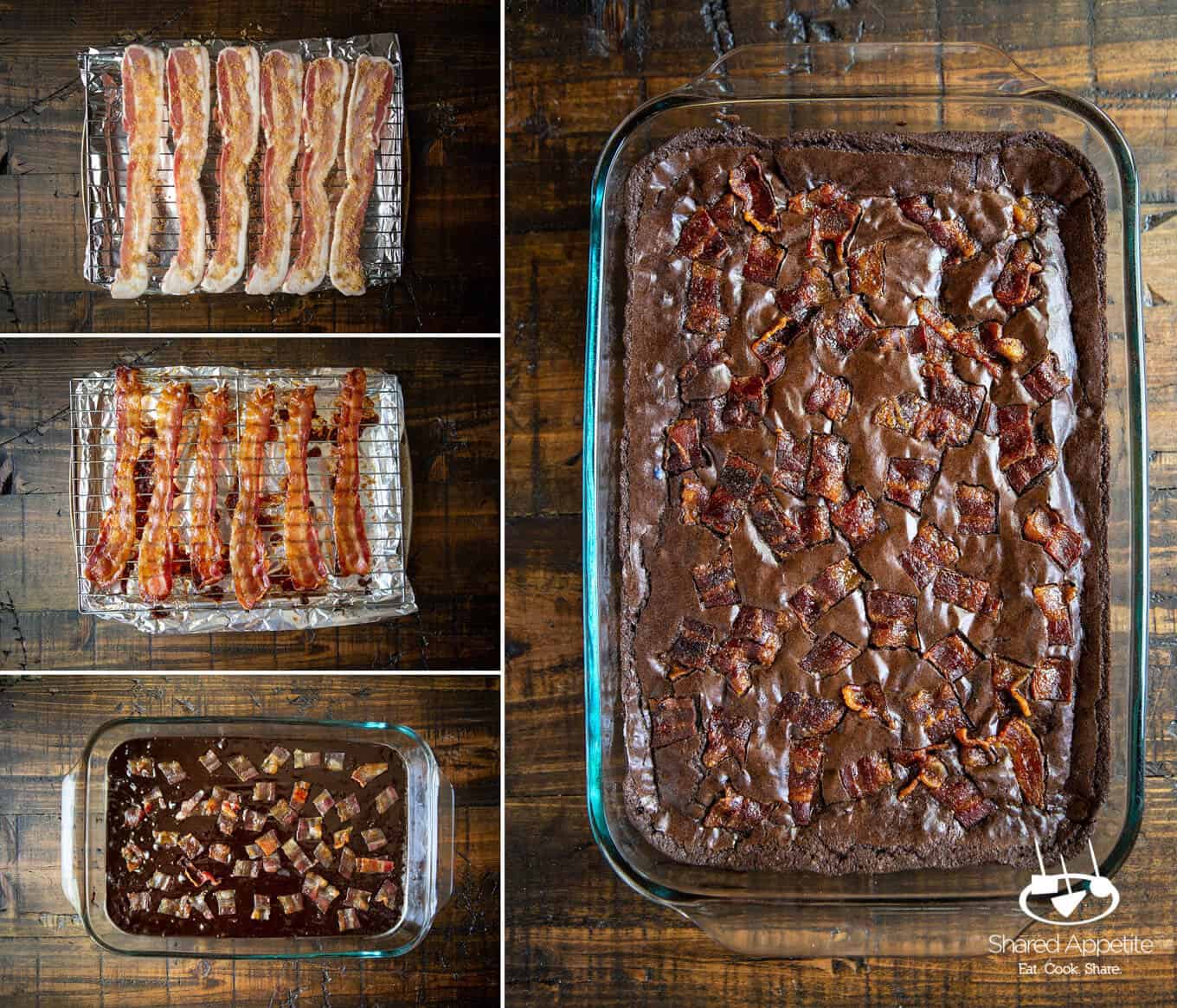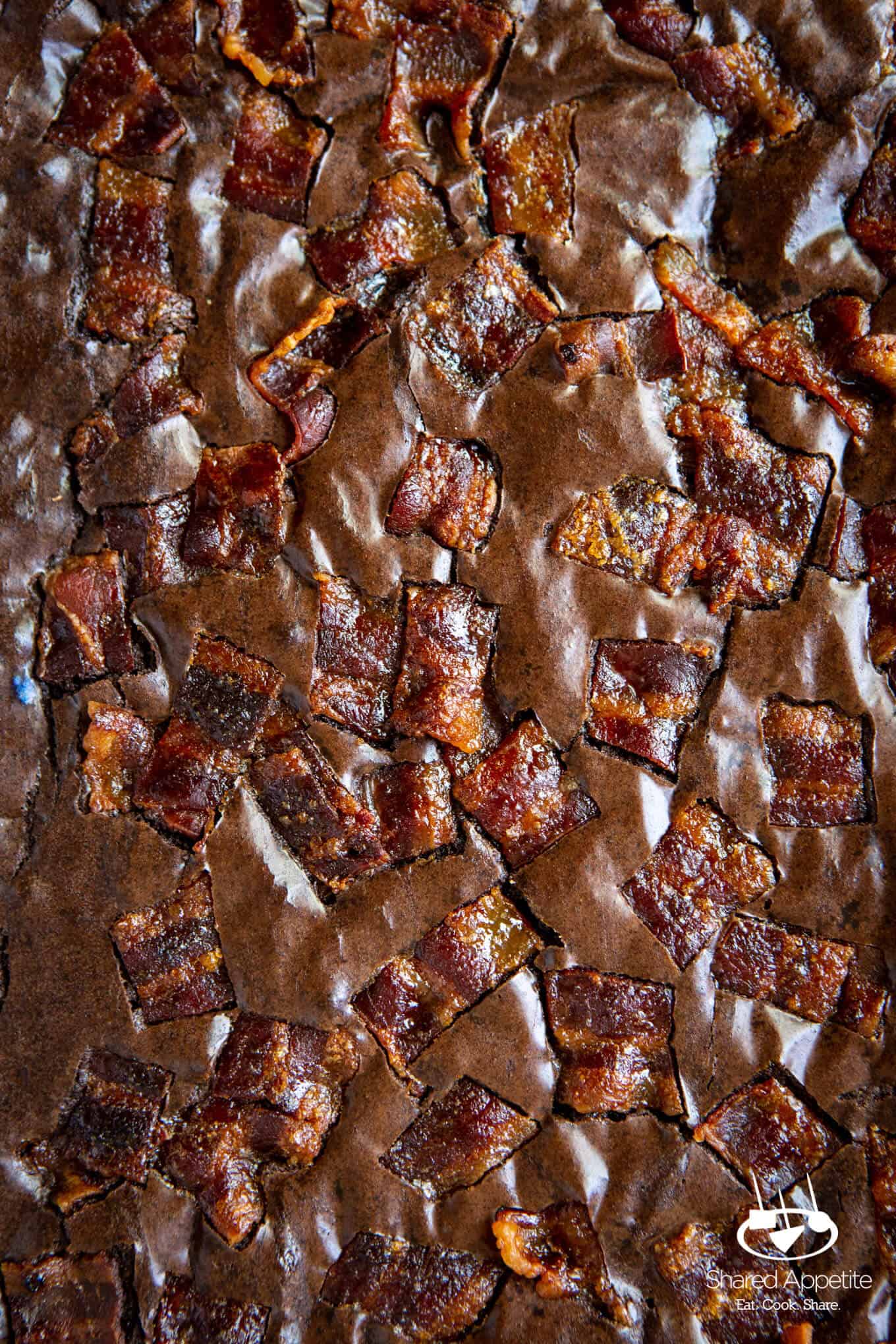 Making candied bacon brownies is way easier than it sounds. Just whip up a batch of your favorite brownie mix and add in some chopped up candied bacon (which, by the way, is just bacon cooked up with brown sugar). See, I told you. Easy.
Olivia loved helping me measure everything out and mixing up the brownies. Her favorite part? Cracking the egg. She LOVES cracking eggs.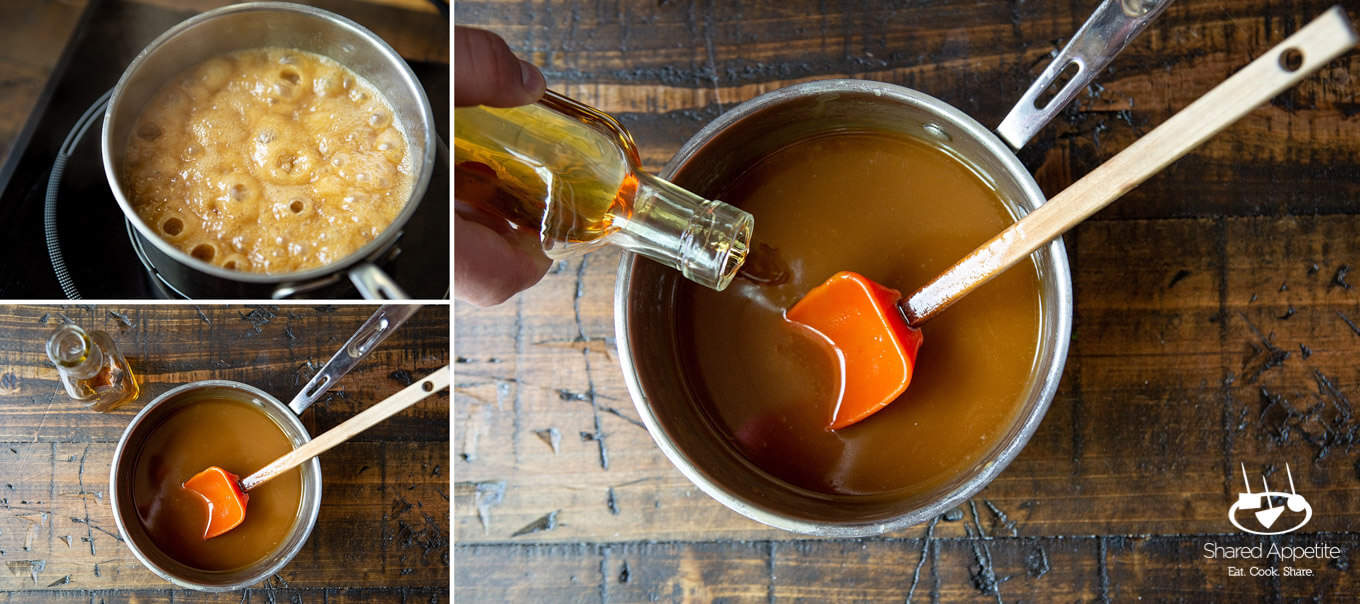 Usually making caramel can be a bit tricky, but this whiskey caramel sauce is pretty close to foolproof. Simply dump some ingredients into a pan, cook for a few minutes, and boom. Instant caramel sauce.
Olivia was able to help me with measuring all the ingredients, but I took care of the cooking process. Because you know, boiling hot sugar and everything.
I can't wait to wrap up some of these brownies and caramel sauce for Olivia's uncles. I know they are going to love this legit delicious gift (and making themselves some candied bacon brownie sundaes) but more importantly, I know they're really going to appreciate Olivia giving it to them with a greeting card from Target.
Happy Father's Day to all those dads, grandpas, uncles, and dudes that help be a part of the village. You rock... and I hope someone makes you these Candied Bacon Brownie Sundaes with Whiskey Caramel Sauce!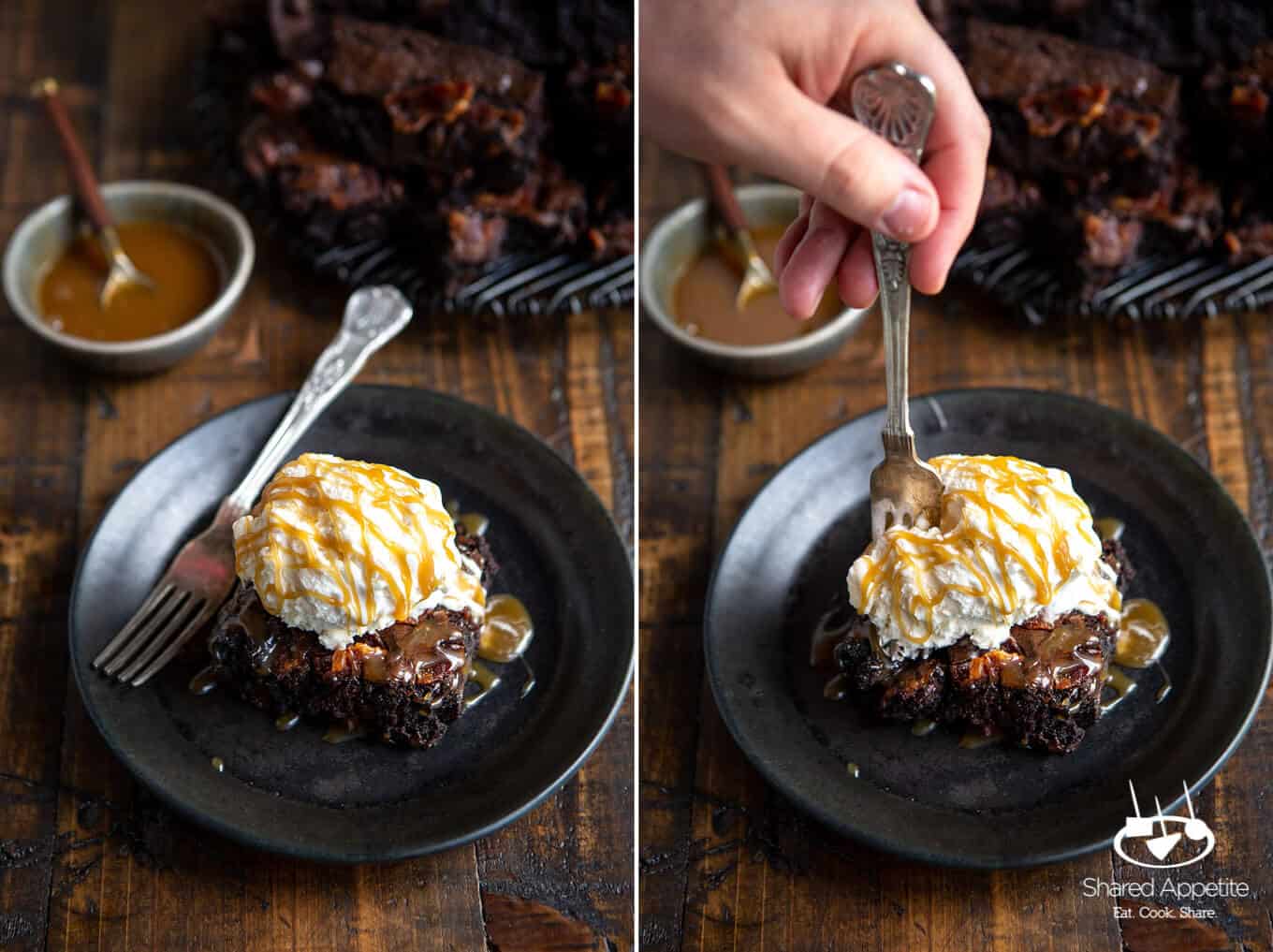 Print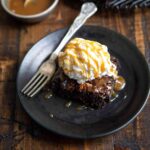 Candied Bacon Brownie Sundaes with Whiskey Caramel Sauce
---
Author:

Chris Cockren

Total Time:

60 minutes

Yield:

8

-

12

servings

1

x
Favorite brownie mix, prepared according to package directions

4

strips thick cut bacon

1 cup

plus 3 tablespoons brown sugar, divided

½ cup

unsalted butter

½ cup

heavy cream
Pinch kosher salt

2 tablespoons

whiskey
Vanilla Ice Cream
---
Instructions
Preheat oven to 375°F.  Place metal wire cooling rack on top of a baking tray.  Place bacon on cooling rack and spread 3 tablespoons of the brown sugar over the top.  Cook in oven for 15-20 minutes, until bacon is almost cooked through (you don't want it to be completely cooked through because it's going to cook more in oven on the brownies).  Chop candied bacon into small bite-sized pieces.
 Pour prepared brownie batter in baking dish and top with chopped up candied bacon.  Bake according to package directions.  Let cool and slice into squares.
While the brownies bake, make the whiskey caramel sauce.  Place butter, remaining 1 cup of brown sugar, heavy cream, and a pinch of Kosher salt in a small/medium saucepan.  Heat ingredients over medium heat, , stirring frequently, until butter is melted.  Turn heat up to medium-high and bring the caramel to a boil.  Lower heat to maintain a gentle boil and cook for 3 minutes.  Remove from heat and stir in whiskey.  Mixture will bubble violently, so stir constantly.  Let cool completely and then whiskey caramel sauce can be refrigerated for up to one week.  Warm caramel sauce slightly before serving.
To make sundaes, place a scoop of ice cream on top of brownie and top with a generous drizzle of whiskey caramel sauce.  Devour.
Prep Time:

20 minutes

Cook Time:

40 minutes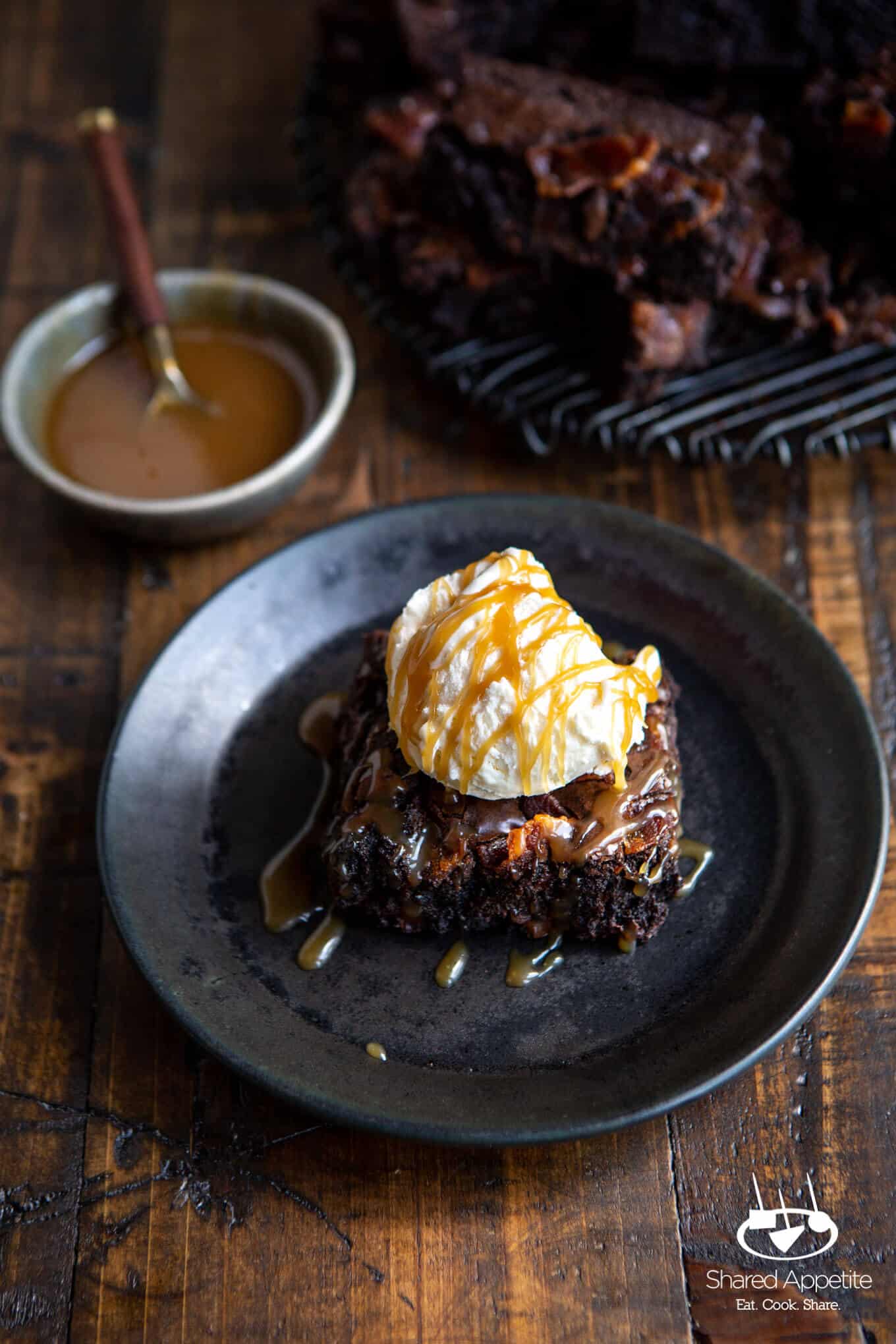 Candied Bacon Brownie Sundaes with Whiskey Caramel Sauce