These Mini Caramel Pretzel Ice Cream Trifles were created in partnership with Edy's Ice Cream. As always, all opinions and recipe are my own. Thanks for supporting the brands that support Shared Appetite!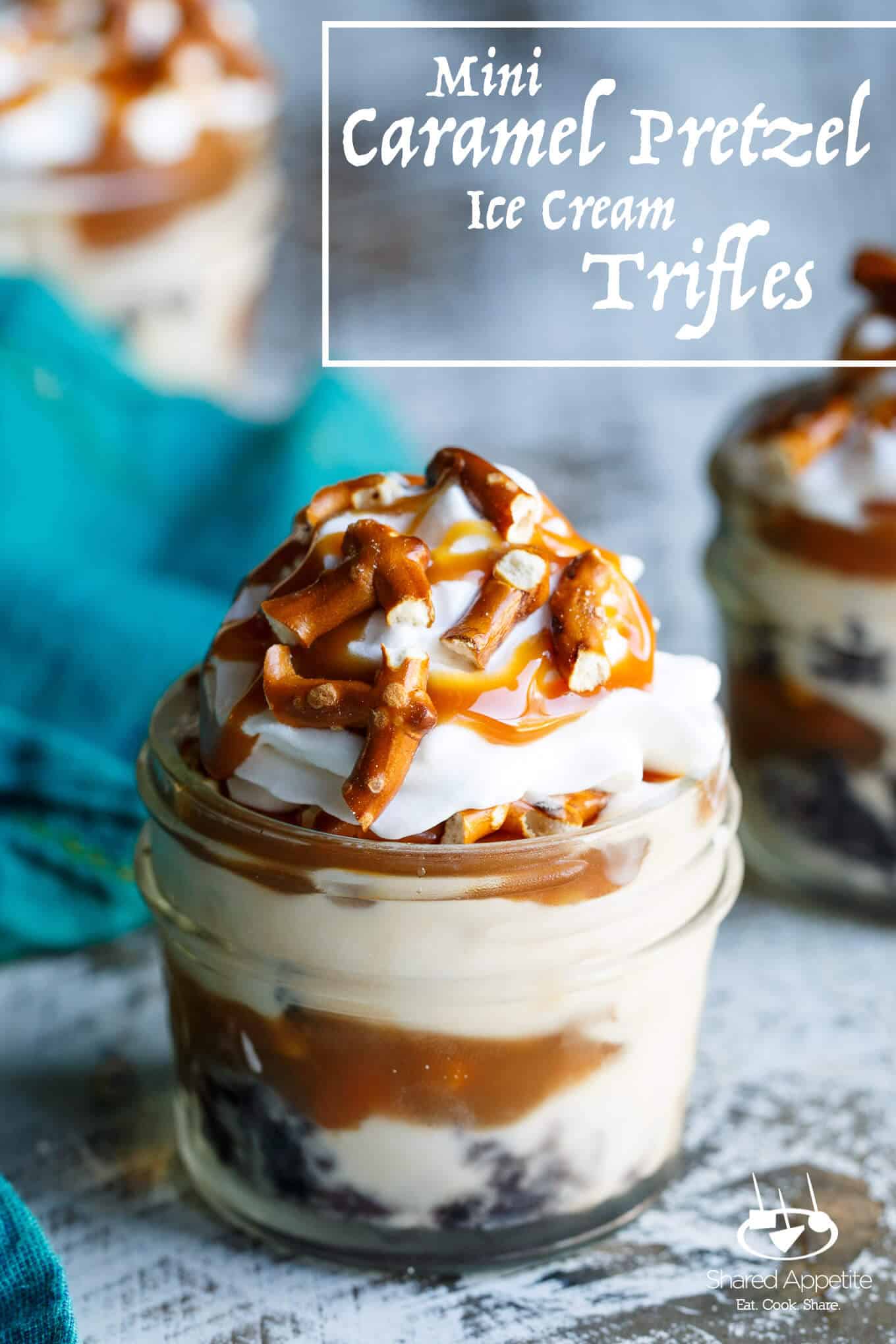 Man, I love the summer.
I don't even know what day it is today. Honestly! And I don't care. Being a teacher, every day over the summer feels like Friday. Well, that is, until back to school commercials start up. Then fear and panic starts to set in.
The best part of summer? Impromptu get togethers. Family and friend time no longer has to be planned out months in advance and crammed into the precious little weekend time we have during the school year. Our backyard patio and pool are filled throughout the week now, whether it be a last minute play date with one of Olivia's friends or a late evening grill session with some of mommy and daddy's peeps.
So here's the thing with summer entertaining. I don't want to work too hard. Less time cooking, more time enjoying being together. I've been finding lately that it's the simple things in life that bring me the most joy. Watching Olivia laugh in the pool as the jets splash her in the face. Watching her problem solve a very simple obstacle but finding so much satisfaction in seeing that she did it all by herself. Watching a movie with Asheley on a ::gasp:: weeknight… a luxury usually reserved only for weekends.
Dessert. Anyone that truly knows me will tell you that I am obsessed with ice cream. I love the stuff. It doesn't matter if it's -10°F outside, I still crave ice cream. So when it comes time for summer dessert, you know my freezer is stocked with the good stuff. When I have guests over, I love making super quick and easy ice cream desserts… like these Mini Caramel Pretzel Ice Cream Trifles, featuring Edy's Slow Churned Caramel Delight light ice cream.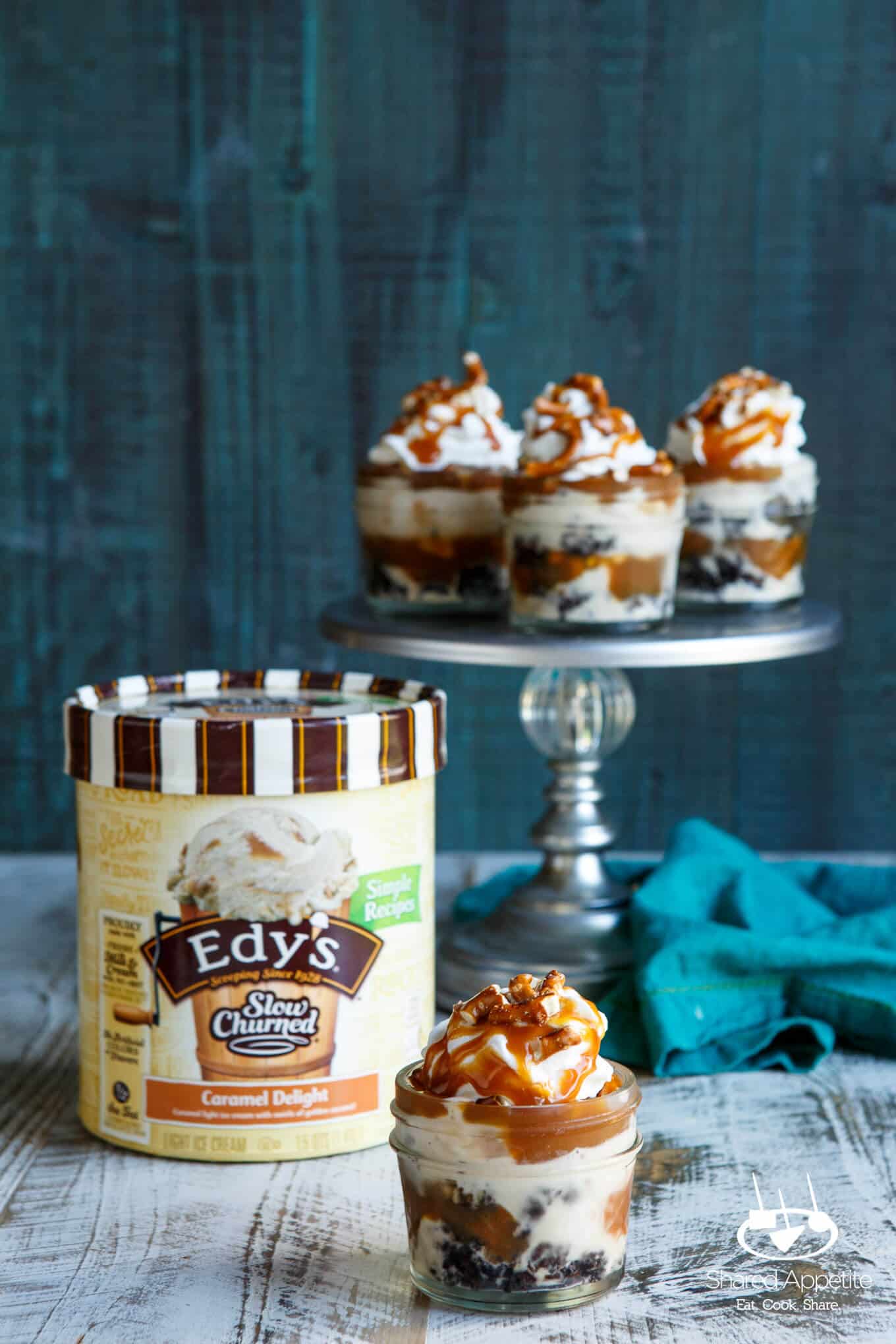 Mmm hmm, these Mini Caramel Pretzel Ice Cream Trifles are amazing. There's something so perfect about a salty sweet combo in dessert, and I'm totally digging the flavor party happening between creamy ice cream, luscious caramel, chewy chocolatey brownies, and the salty crunch of pretzels.
And let's talk trifles for a second. You may be thinking that these Mini Caramel Pretzel Ice Cream Trifles kinda resemble a brownie sundae. You're right. They do. There's nothing wrong with a sundae. I enjoy them regularly, trust me. But a trifle is a little bit more refined and composed in my mind. I love that you get all the flavors in each bite, because the dessert is divided into perfect little layers.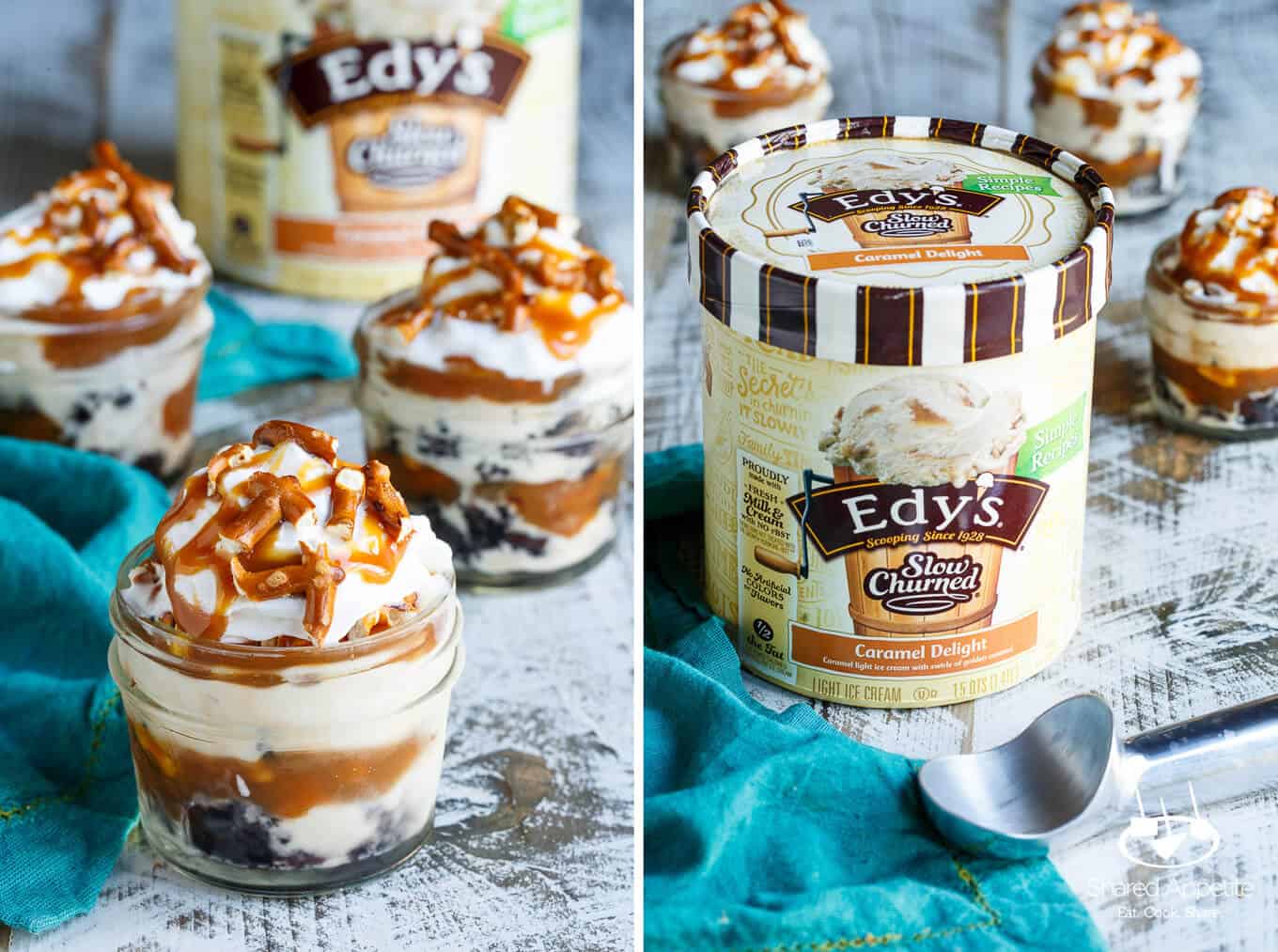 These Mini Caramel Ice Cream Trifles come together in under 10 minutes. Yes, you read that right. 10 MINUTES!
They look elegant and well thought out, but actually are perfect for last minute "whoops, what's for dessert" moments. You can even have your family and friends help make these trifles, making it a fun and interactive experience. And really, throughout the summer, it's all about experiences.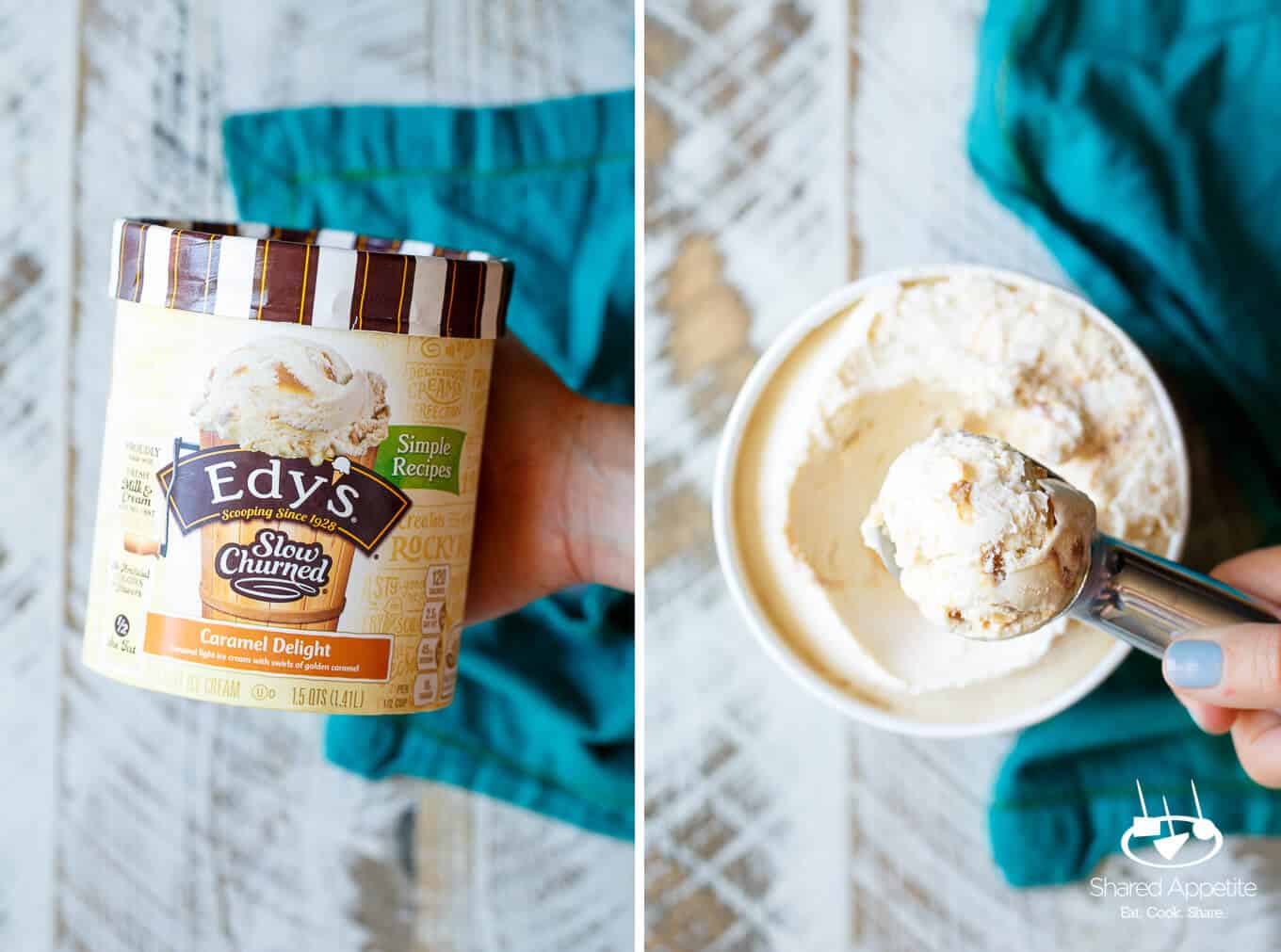 The star of these Mini Caramel Ice Cream Trifles? Edy's Slow Churned Caramel Delight Light Ice Cream. Just look at the stuff. It's smooth and creamy. It's rich tasting. And oh my word those caramel swirls. Hello beautiful, come home to daddy and get in my belly.
Added bonus. Since it's slow churned, the ice cream has ½ the fat and 1/3 fewer calories! BOOM. Gotta love that!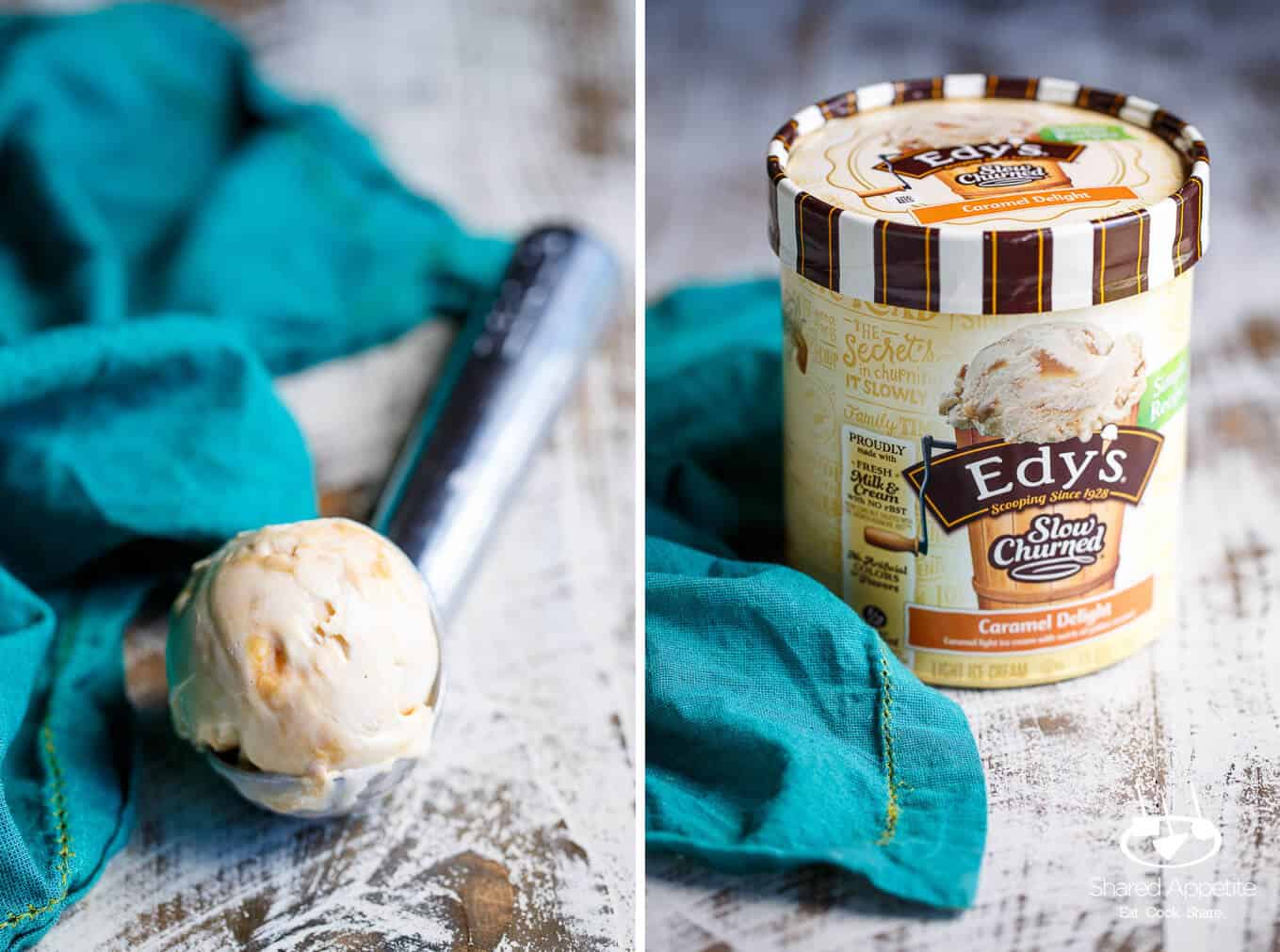 Edy's has a TON of different flavors available, and they have some serious ice cream inspiration on their Pinterest page for future get togethers! But let's not rush things. For this get together, you need to make these Mini Caramel Pretzel Ice Cream Trifles!!!
And hey, did I mention these Mini Caramel Pretzel Ice Cream Trifles are kid friendly and perfect for the whole family? Olivia loved helping me add the pretzels to the top of each trifle. Just look at those little fingers. Ahhh, love that kid so freaking much.
She can seriously be playing with her absolute favorite toy in the other room, but if I yell out Olivia do you want to help daddy? she will drop everything and run into the kitchen. LOVE that. She's my little sous chef 🙂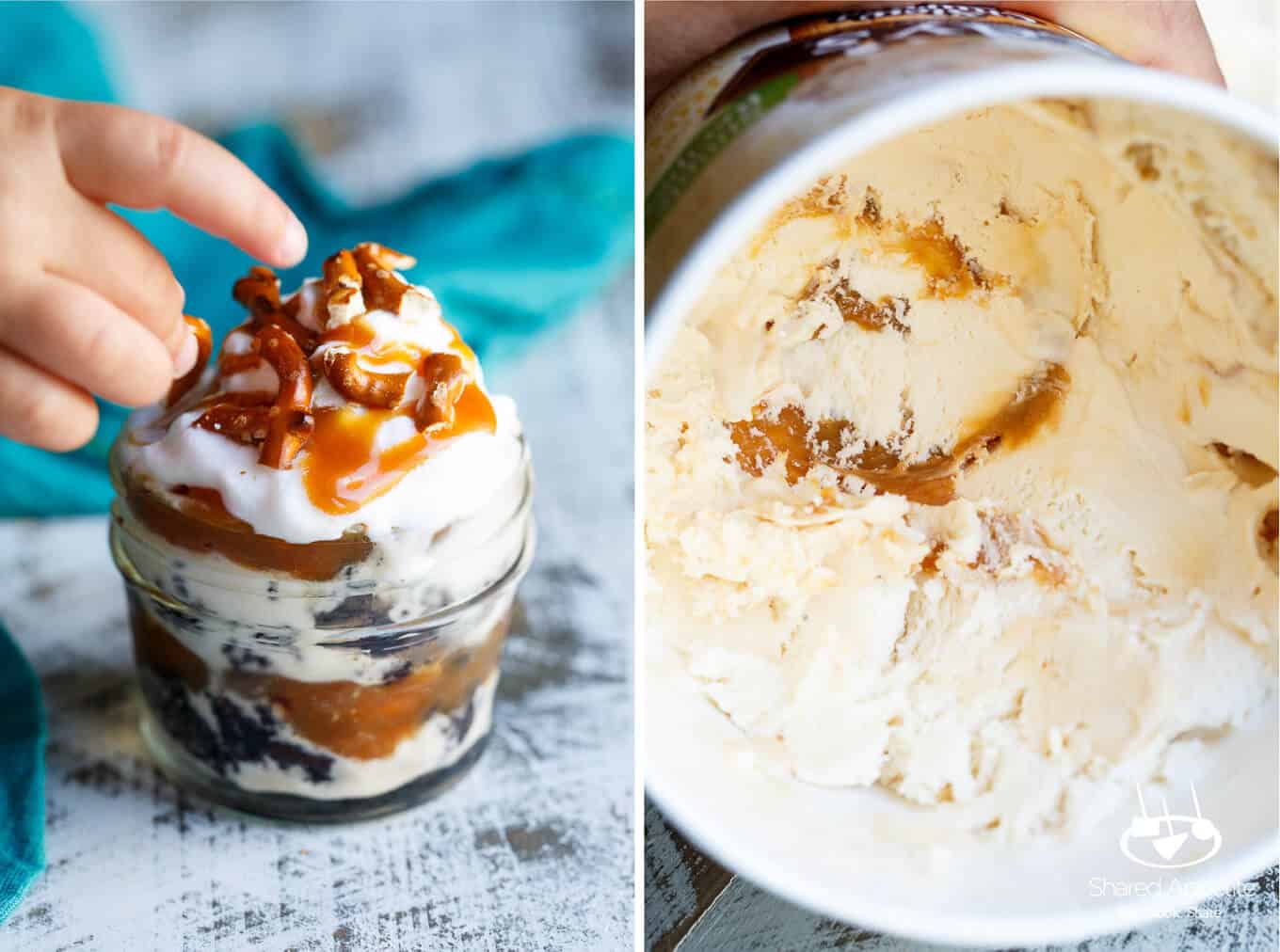 Print
Mini Caramel Pretzel Ice Cream Trifles
---
Author:

Chris Cockren

Total Time:

10 minutes

Yield:

8

Servings

1

x
4 cups

Edy's Slow Churned Caramel Delight Ice Cream

2 cups

chopped brownies

1 1/4 cups

caramel sauce

48

mini salted pretzels, slightly crushed

1 cup

whipped cream
---
Instructions
 In very small glass bowls or 4 ounce canning jars, layer 2 tablespoons chopped brownies, 1/4 cup ice cream, 1 tablespoon caramel sauce, and two crushed pretzels.  Repeat with one more layer of each, and then top with 2 tablespoons whipped cream and remaining caramel sauce and crushed pretzels.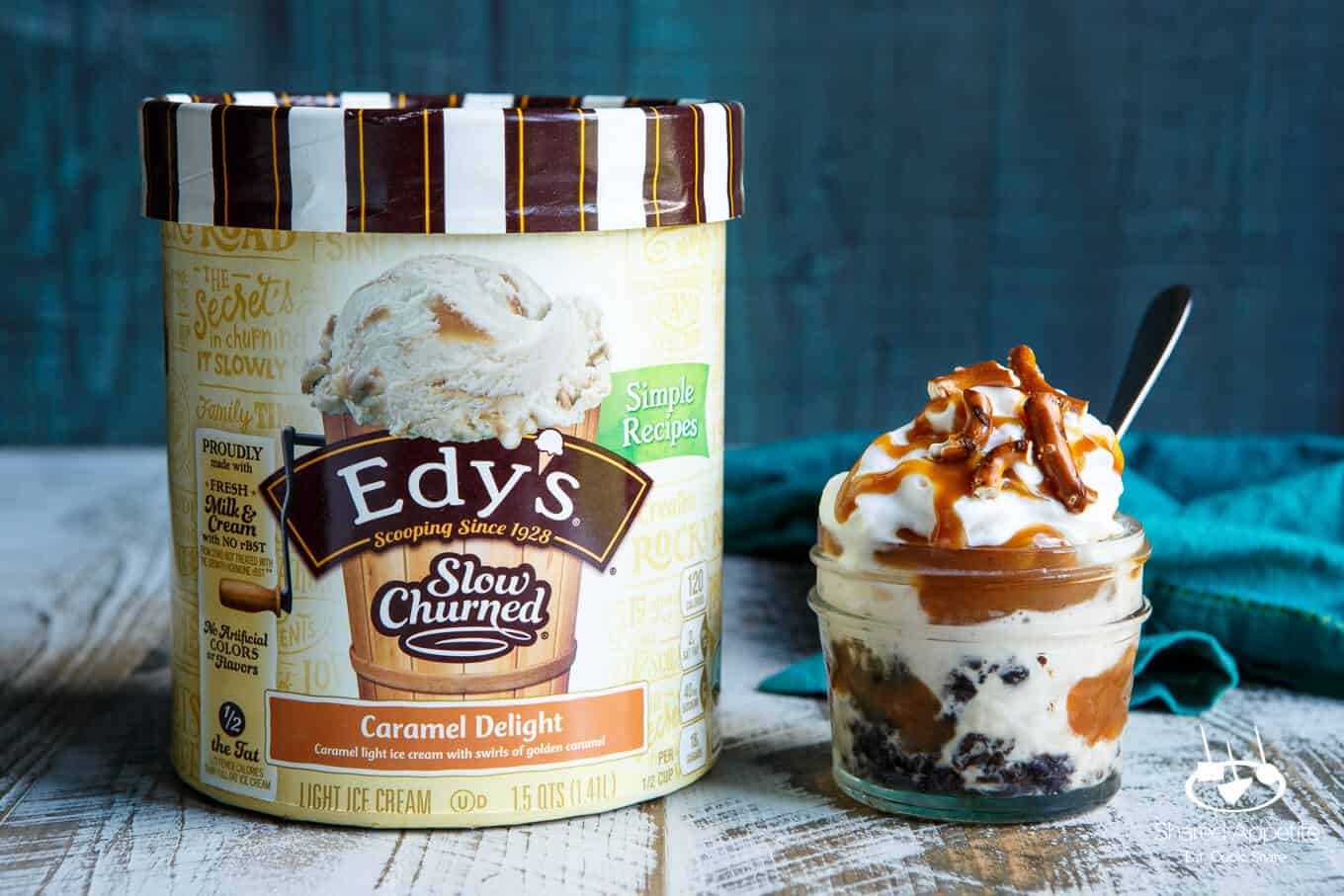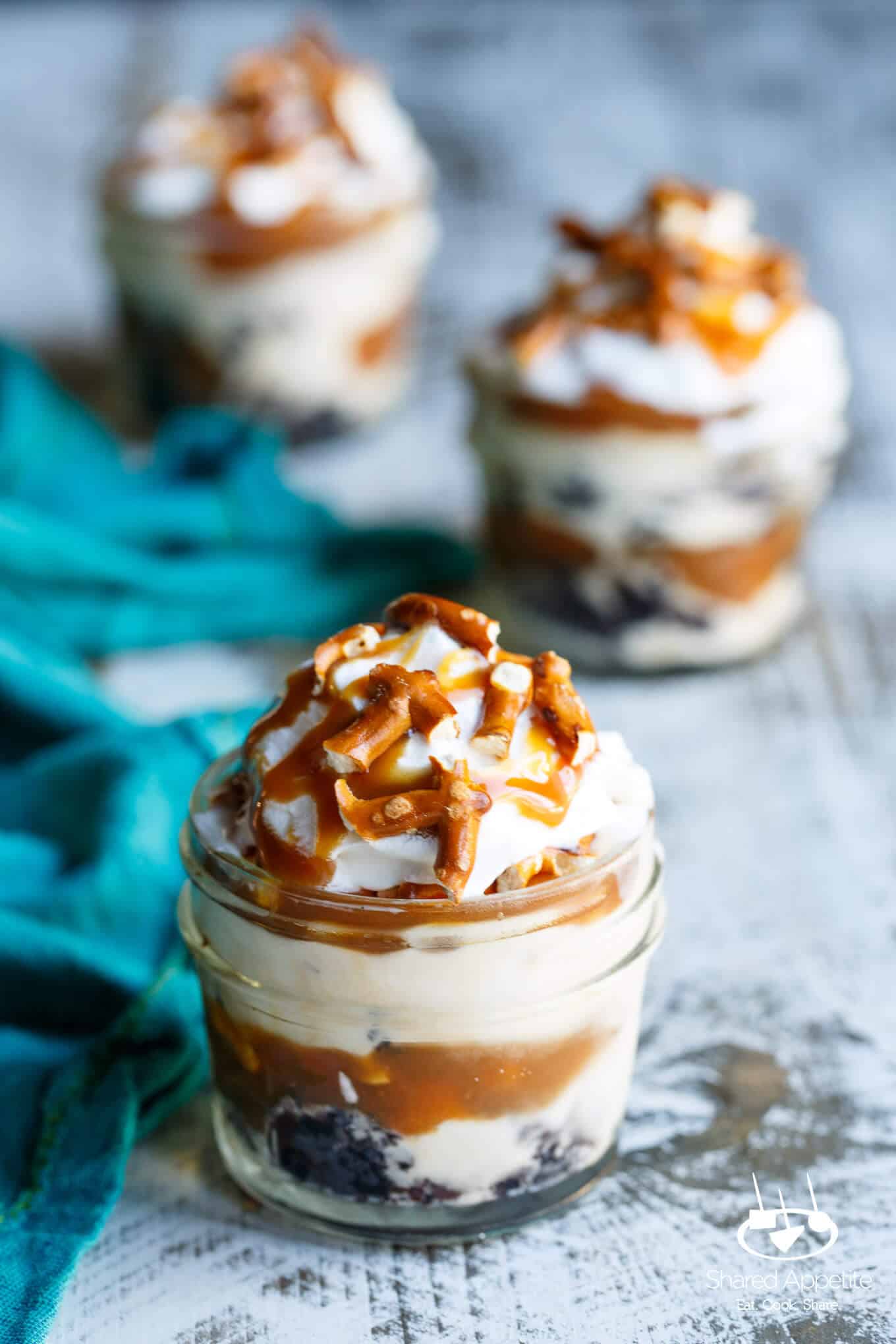 Mini Caramel Pretzel Ice Cream Trifles