These Orange Ginger Chicken Kebabs were created in partnership with ShopRite Supermarkets.  As always, all opinions and recipes are my own. Thanks for supporting the brands that support Shared Appetite!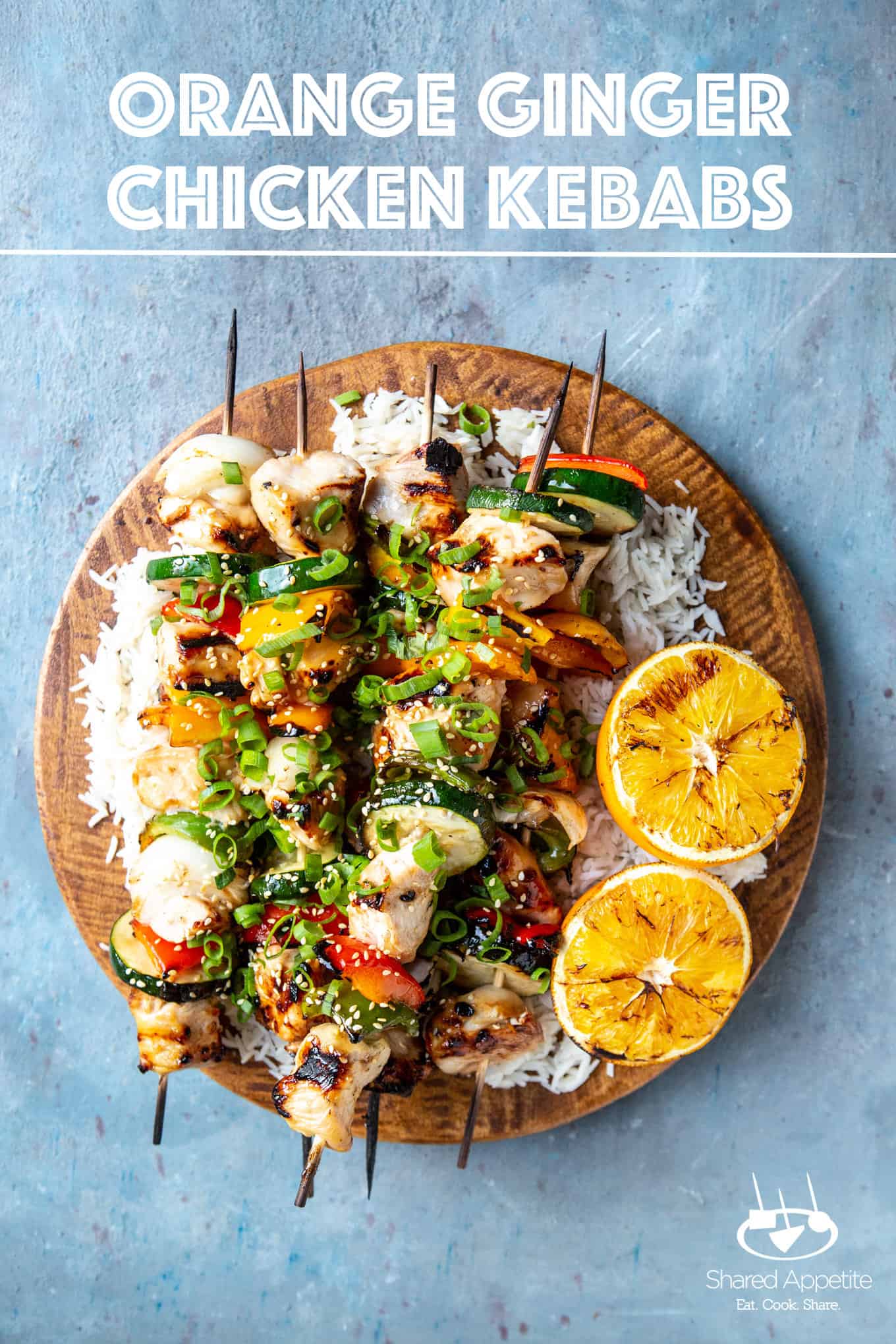 Well, it's official.  School is 100% back in session and we are in full swing.  I've taught elementary school band for the last 12 years, so I'm used to easing into the school year with inventory, setting up instruments for the kids, and creating lesson schedules.  This is my first year getting the opportunity to move up to the high school band, and it's wildly different.  There is no slow transition period.  The pace is non-stop and I'm constantly busy.  We've already had a ton of marching band performances and it's only the 3rd week of school.
And you know what... I kinda love it!
Not going to lie, though.  I'm tired. The combination of having a new job, a newborn, and the fall wedding season being crazy busy (remember I also photograph weddings in my "free" time) has me a wee bit overwhelmed.  Oh, and did I mention that our 3 year old is now doing dance class, gymnastics, and soccer?  
Yeah... getting dinner on the table this past month has been tough.  Thankfully, quick and easy weeknight dinners like these Orange Ginger Chicken Kebabs have been saving my life (and sanity).  It's a dinner I can feel good about serving up to my family AND it features the big and bold flavors I constantly crave.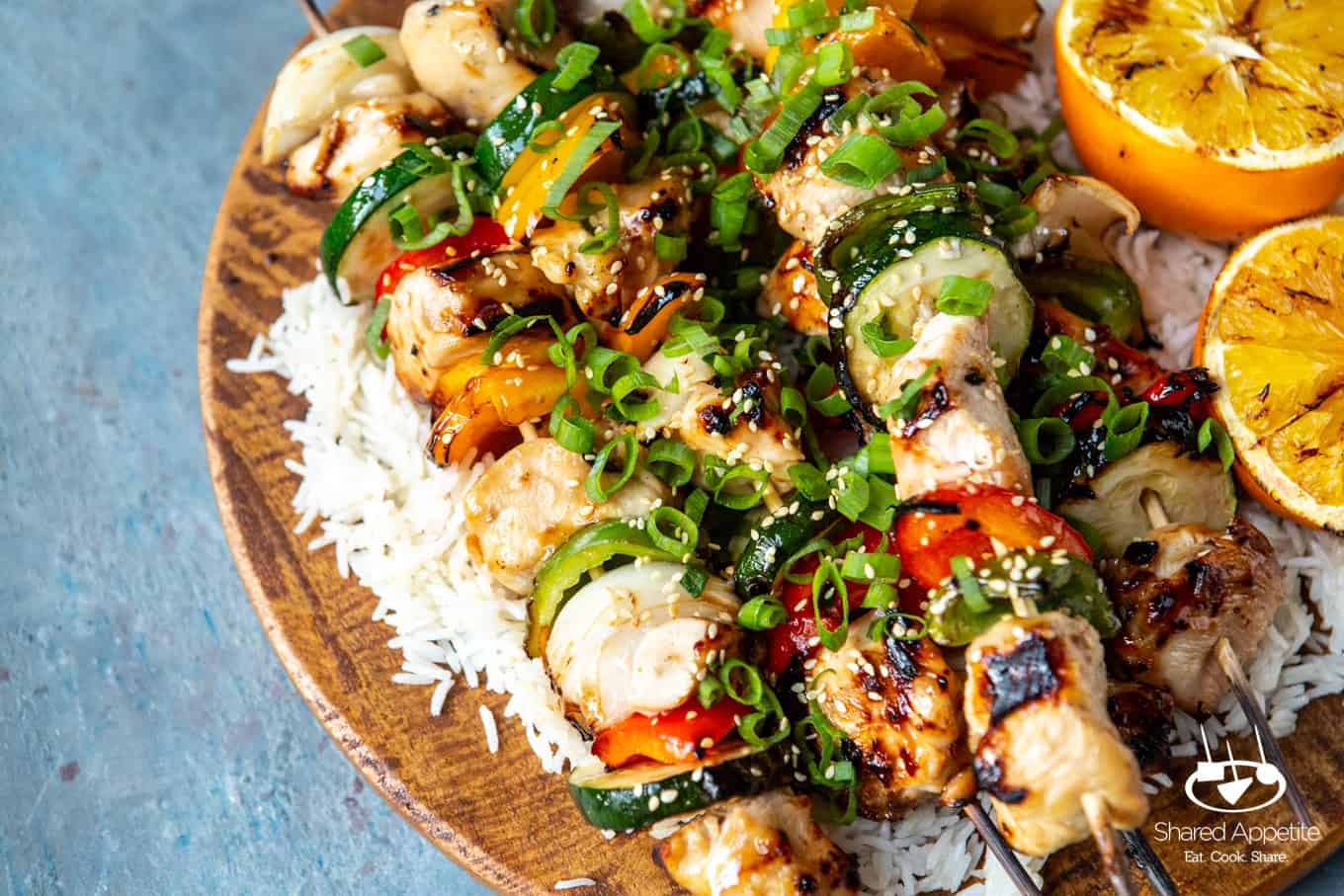 Do you have a go-to supermarket?  I actually have a few I rotate between, and I'm super excited because ShopRite Supermarket just opened right by my house!  Side note... to find out where the nearest ShopRite Supermarket is to your home, check out their store locator.
I'm one of those people that loves food shopping.  I get so excited exploring and finding new products to try.  Perusing through ShopRite is always a great experience.  Their produce department is consistently fresh, and they have a great private label line of ShopRite Trading Company products that consist of premium, artisanal foods inspired by a variety of world cuisines.
Grilled chicken kebabs have been a big win in our house lately.  Olivia loves the colorful veggies and is always down with grilled juicy chicken.  And rice... she LOVES rice. When I came across a bunch of ShopRite Trading Company Asian-inspired sauces, I was so excited to show Olivia.  I brought home the STC Asian Style Sweet and Sour Sauce, STC Asian Style Orange Ginger Sauce, and STC Asian Style Garlic Sesame Sauce.  After showing all three to Olivia, she picked the Orange Ginger for dinner. That's the one I was secretly craving that day and may have coaxed her into picking it!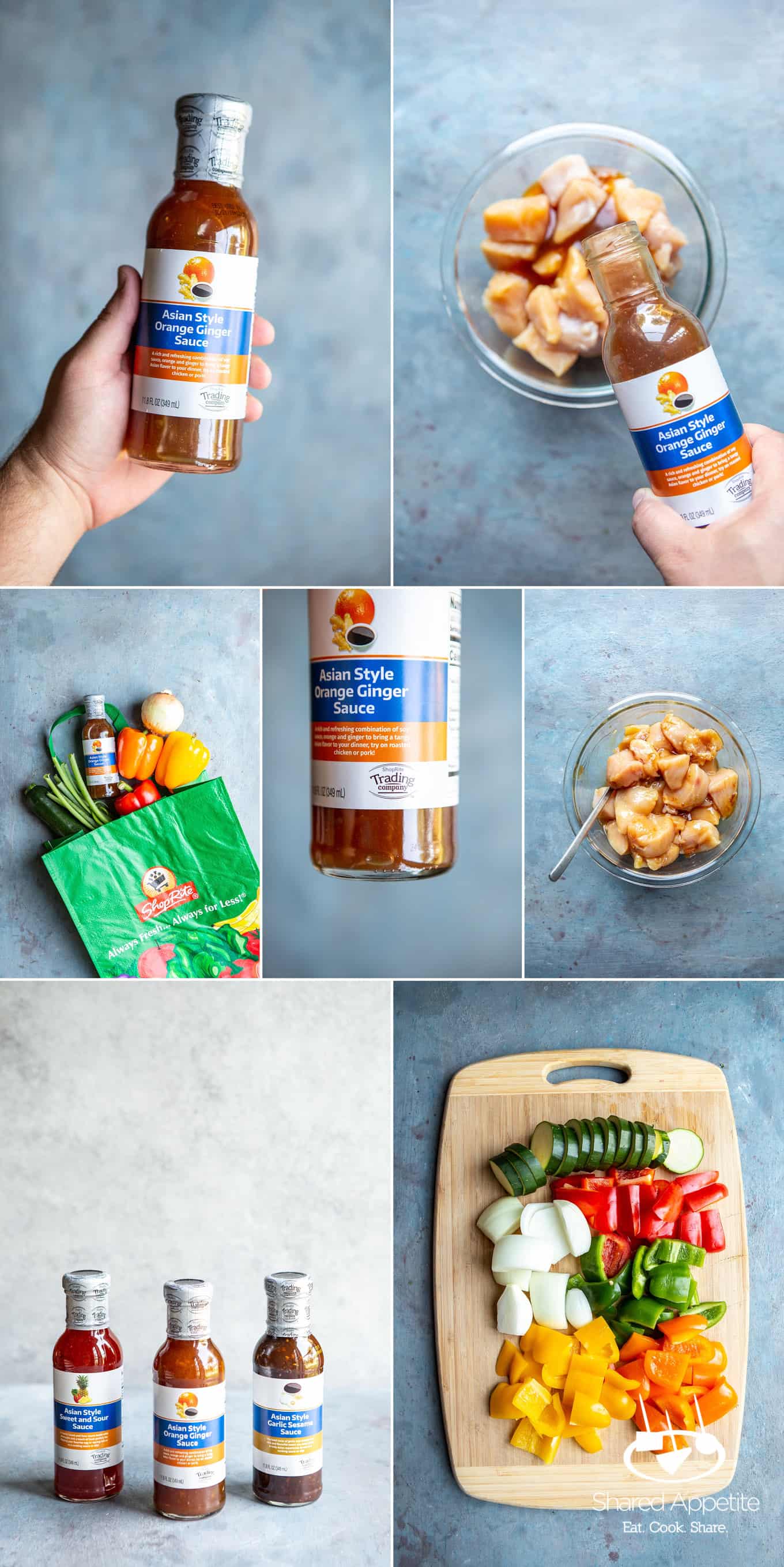 The beauty of these Orange Ginger Chicken Kebabs is that it takes such a minimal amount of prep and cooking time!  Simply cube up some chicken, toss in a bunch of the ShopRite Trading Company Asian Style Orange Ginger Sauce, and let it marinate for about 4-6 hours.  You can easily marinate it before you leave for work and leave it in the fridge until you get home as well!
Cut up some veggies, skewer in whatever pattern you like, and then grill until cooked through.  Serve up with some of your favorite ShopRite Trading Company Basmati Rice and BOOM. Instant dinner!
Pro tip for these Orange Ginger Chicken Kebabs: try to cut your chicken breast into uniform pieces.  That will make sure they all cook at the same rate so you don't have some small pieces super overcooked by the time your large pieces are cooked through.  Also, make sure you reserve some of that ShopRite Trading Company Asian Style Orange Ginger Sauce in the bottle for brushing on during the last minute of grilling!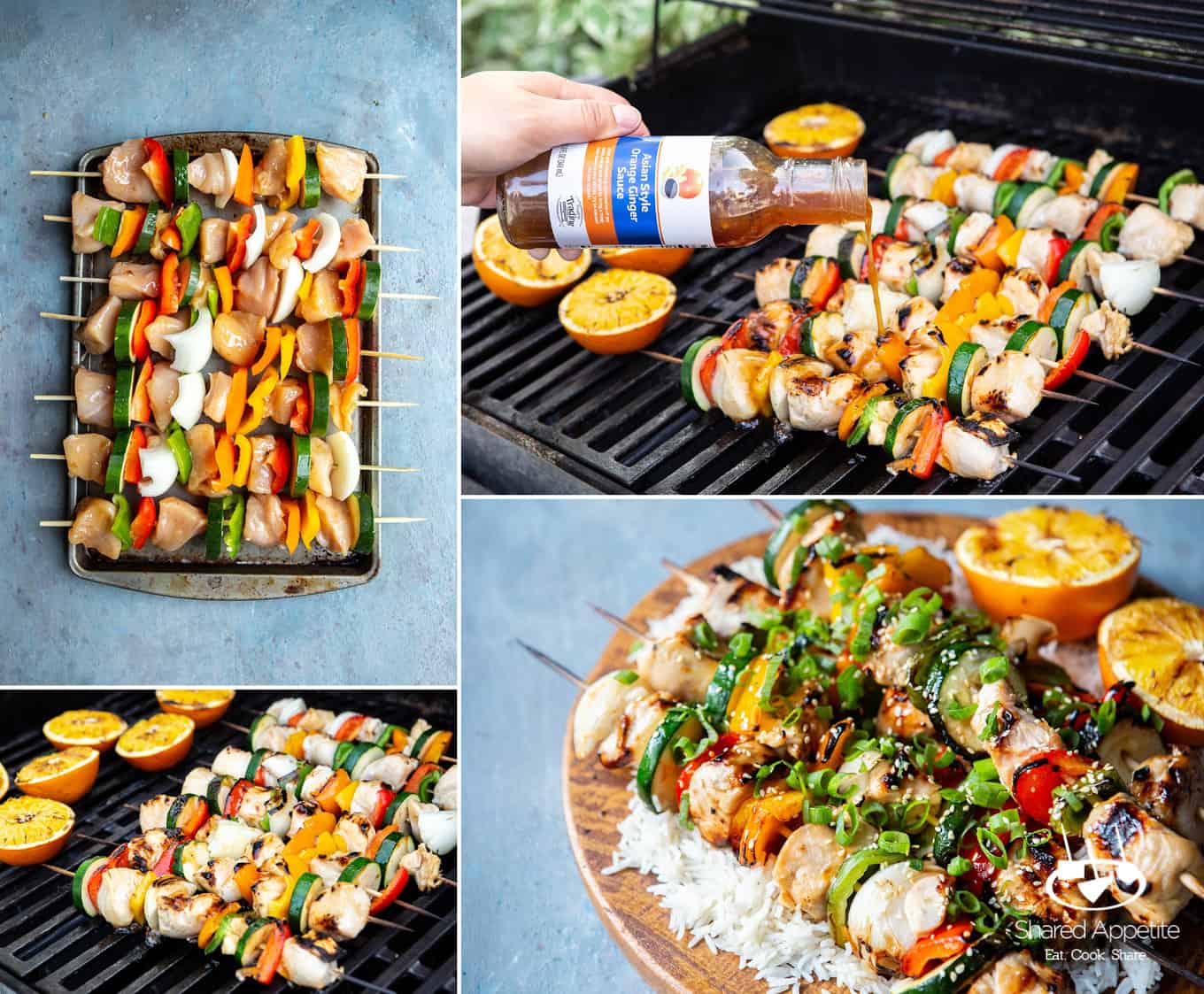 Another pro tip?  Cut up a couple oranges, brush the cut side with a little bit of oil, and grill them up along with these Orange Ginger Chicken Kebabs.  Grilled citrus is amazing, has a subtly smoky flavor, and is super juicy!
Oh and while you have that oil out, make sure to oil your grill grates before cooking up these kebabs.  The sugar in the marinade will want to stick to the grates unless you create a nonstick surface first! The easiest way I like to oil the grates is by pouring a little bit of oil onto a folded up paper towel and then quickly brushing it back and forth over the grill grates.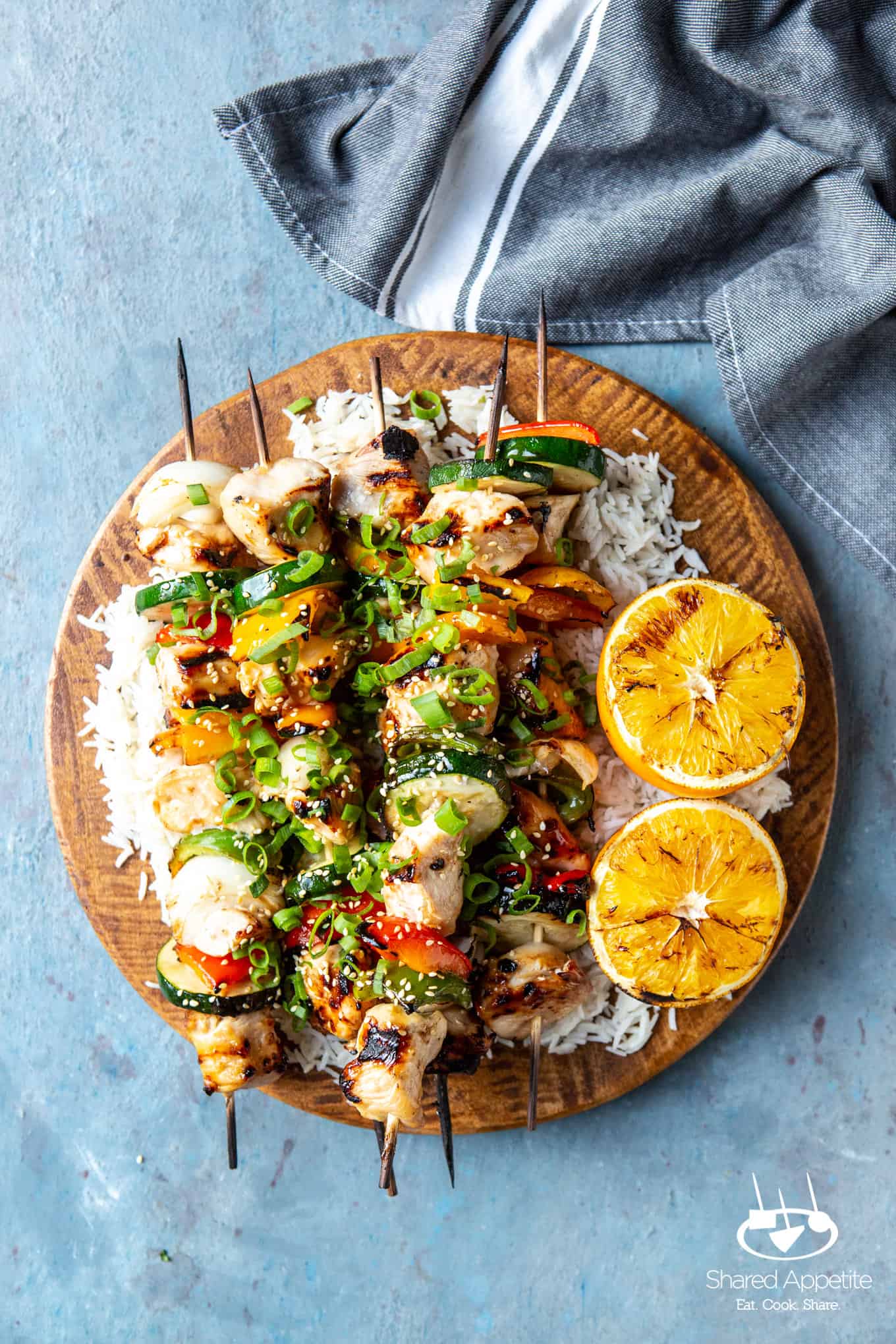 Print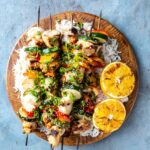 Orange Ginger Chicken Kebabs
---
Author:

Chris Cockren

Total Time:

20 minutes (active)

Yield:

4

servings

1

x
1

bottle ShopRite Trading Company Orange Ginger Chicken Sauce

3

boneless, skinless chicken breasts

3

bell peppers, assorted colors

1

large onion

1

zucchini

2

oranges, halved
Cooked ShopRite Trading Company Basmati Rice, for serving
Chopped scallions, for garnish
Sesame seeds, for garnish
---
Instructions
Cube chicken breasts into 1" uniform pieces.  Combine chicken with ⅔ of the bottle of ShopRite Trading Company Orange Ginger Chicken Sauce in a medium bowl and let marinate for at least 4-6 hours in the refrigerator.
Slice zucchini and chop peppers and onion into skewer-sized pieces.  Skewer chicken a veggies (I like to alternate one piece of chicken with 3 assorted veggies).
Brush grill grates very lightly with oil.  Grill skewers over medium-high heat, turning occasionally, until chicken is cooked through.  Brush the cut-side of the orange halves with oil and grill until slightly caramelized.
Served chicken kebabs over rice with the grilled oranges and garnish with scallions and sesame seeds.  Devour!
Prep Time:

10 minutes (active)*

Cook Time:

10 minutes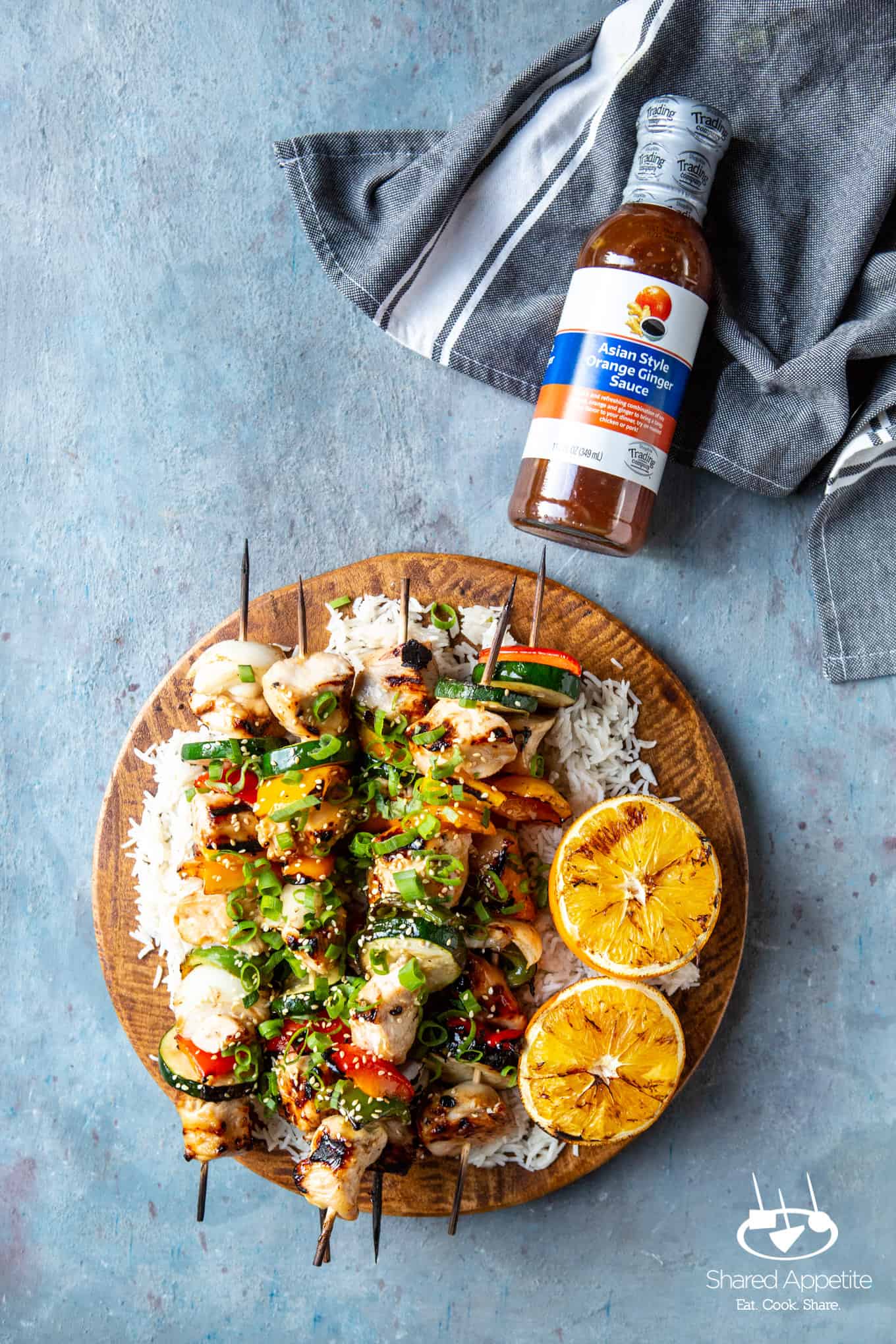 Orange Ginger Chicken Kebabs