This post was sponsored by The Cheesecake Factory. As always, all opinions are my own. Thanks for supporting the brands that support Shared Appetite!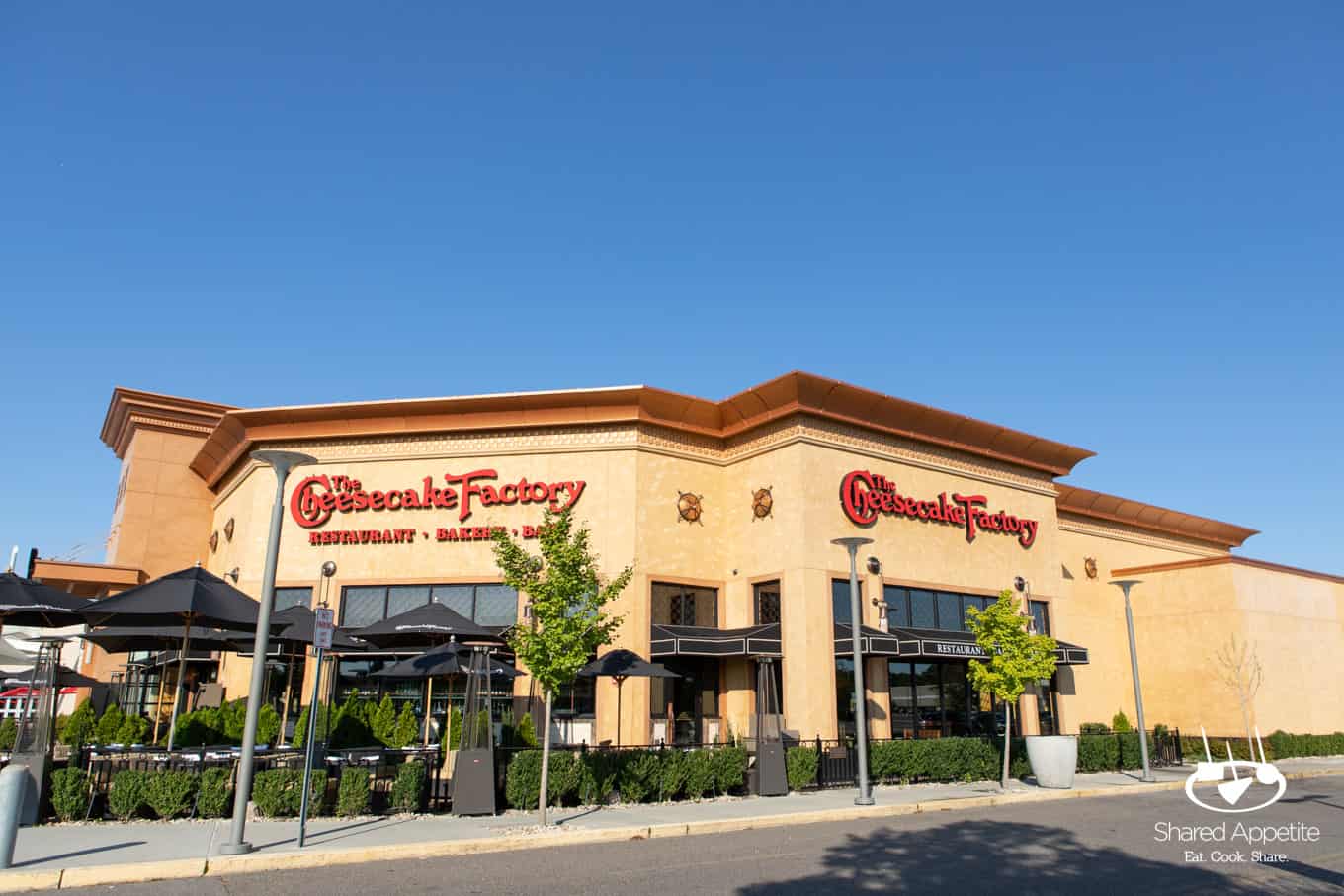 Although I don't love the term foodie, I've been classified as such by my family, circle of friends, and pretty much any and all acquaintances along the way. I love food, and I really love going out to eat. It's pretty much a daily occurrence at this point that I get asked for restaurant recommendations. Readers email me asking for my top spots to eat in NYC (I send them here), friends text me asking for NYC neighborhood-specific recommendations, and a lot of times fellow Long Island residents message me on Instagram asking for my favorite places to eat out locally. My answer always shocks them.
There are some very fine local restaurants on Long Island. I'm happy to recommend them. But there's one restaurant that never... and I mean never in all my years going there... disappoints when it comes time for a date night, meal out with some friends, or a special family dinner.
The Cheesecake Factory. Yup, a chain restaurant. Gasp. At this point I always get the same reaction. How can YOU... this huge foodie that eats at some of the best restaurants IN THE WORLD... recommend The Cheesecake Factory?!?!
Easily. The menu is huge. There's literally something for everyone there. And no matter what I order on the incredibly expansive menu, it's always good. Quite possibly most impressive is that the food is consistent, not just on multiple visits to the same location, but to experiences across various Cheesecake Factory locations around Long Island.
So here's where I always got stumped, because my gut reaction to explain The Cheesecake Factory's impeccable consistency had to be that they (spoiler alert: they don't) use pre-packaged and pre-prepared foods that are simply reheated and served. Just one problem with that theory... the food tastes way too good and fresh for it to be pre-made.
Friends. Prepare to have your minds blown as I take you BEHIND THE SCENES at The Cheesecake Factory. Please forgive the lengthy post that follows, but I'm so freaking excited to share everything I learned as I toured my local Cheesecake Factory kitchen and came to the realization that their 250+ menu items are cooked fresh from scratch every day!!!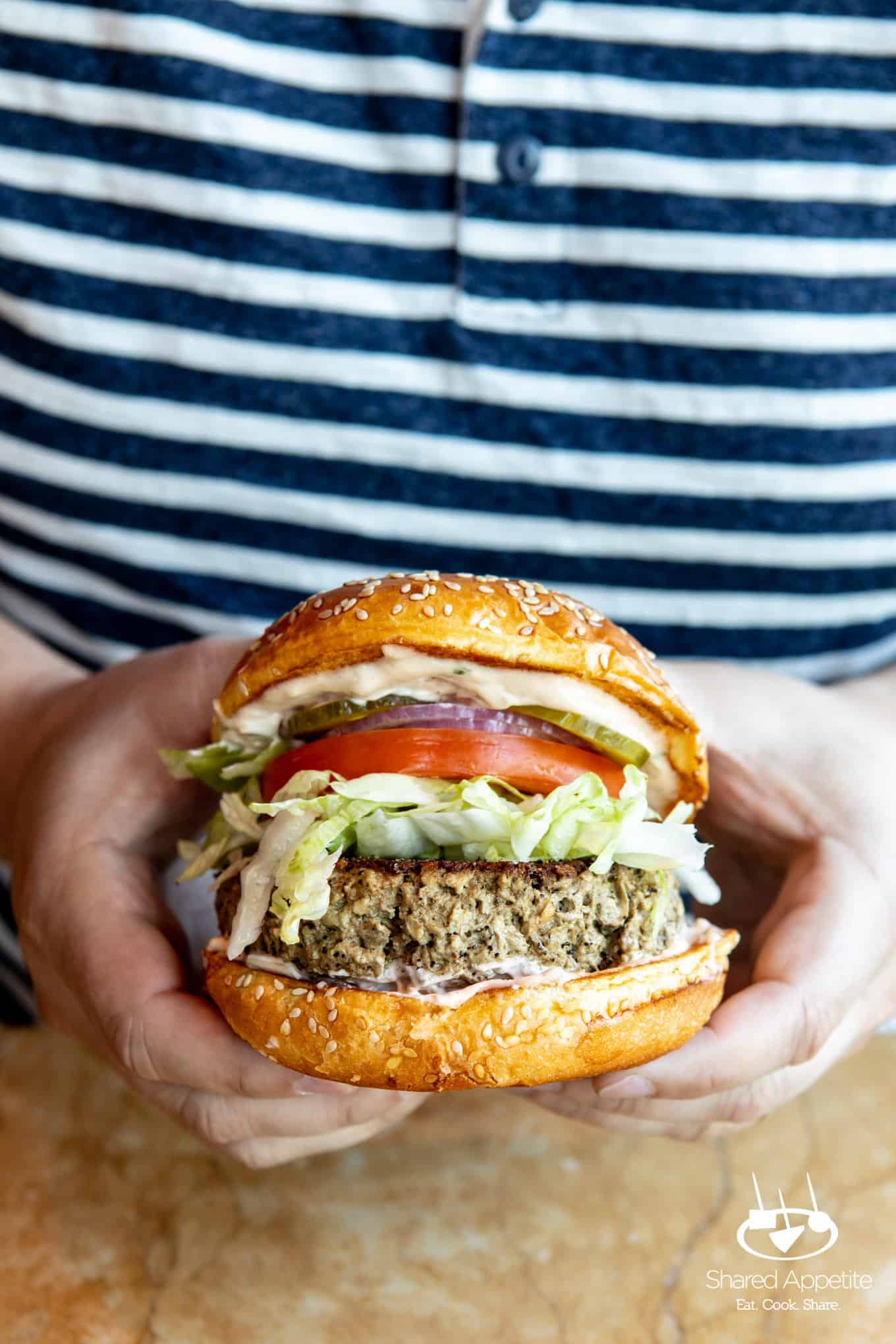 As Dana and Anthony, this location's General Manager and the Area Director of Operations, respectively, graciously welcomed me into their The Cheesecake Factory, I was honestly equal parts excited and worried. Excited because I was hopeful that I could report back to you all what I suspected to be true all this time... that The Cheesecake Factory is a restaurant that's worthy of your faithful patronage (even famed and award-winning chef David Chang named it the most important dining establishment in the country). But I was also worried... that seeing behind the curtain would ruin it for me and that the magic was just some cheap trick.
I hope you're sitting down, because this is going to blow your mind.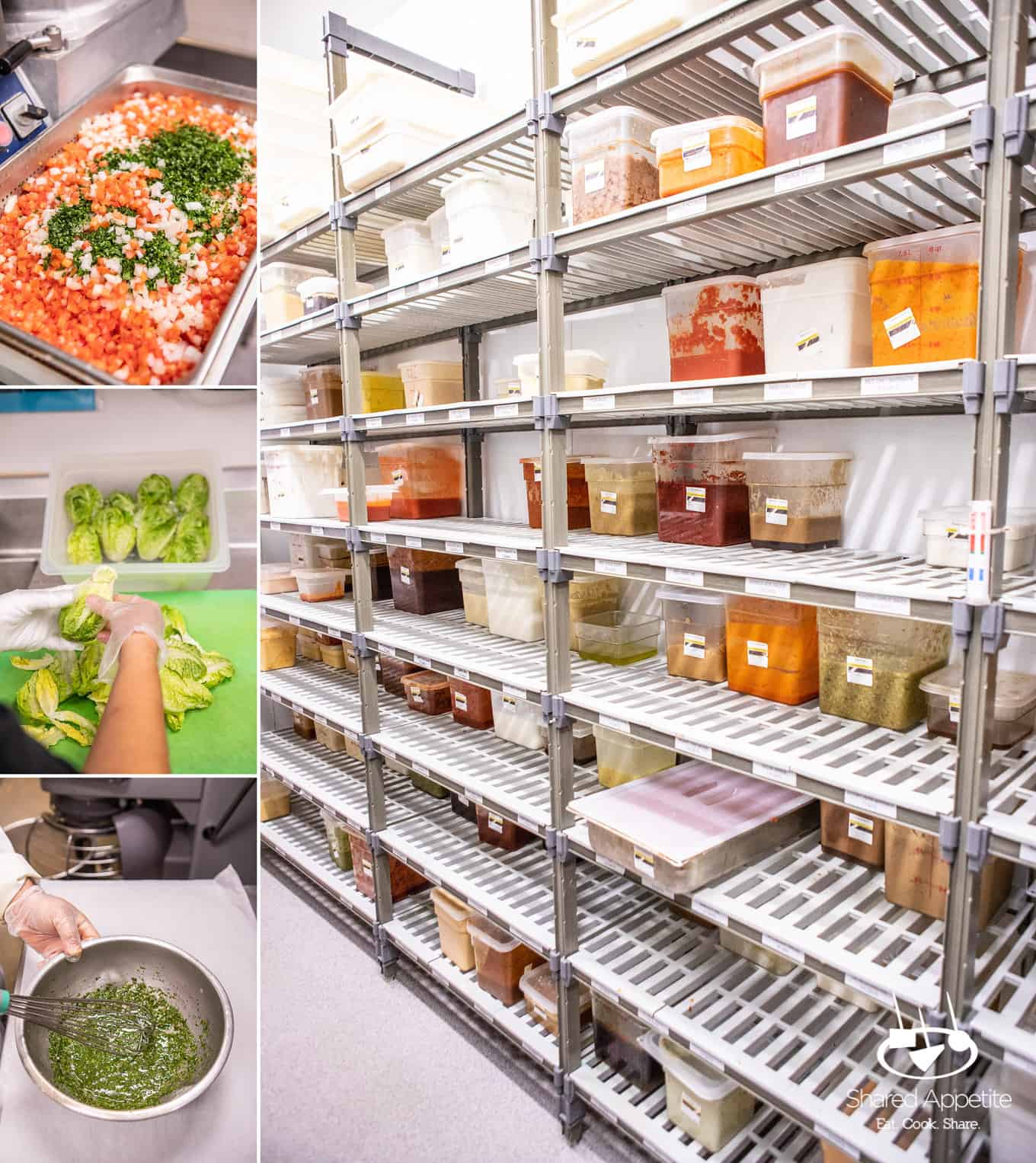 As I walked through the prep kitchen at The Cheesecake Factory, I saw that this wasn't just a heat + serve operation. It's a LEGIT kitchen where actual cooking is taking place. There are no microwaves. There's no reheating. Everything I saw was being made FROM SCRATCH.
Every marinade. Every dressing. Every sauce. MADE FROM SCRATCH. That's 160 sauces & dressings... made from scratch. During my time in the kitchen before service, I watched as prep cooks prepared the spicy caesar dressing for their new Spicy Caesar Salad and the sauce for the new Tuna Poke. I walked into the refrigerated walk-in pantry, where I saw all the freshly prepared marinades, sauces, and dressings neatly lined up on shelves.
I saw the pico de gallo being made with the same wholesome ingredients and process that I use in my own kitchen. I even watched as a prep cook painstakingly separated baby gem lettuce into their individual leaves for the Spicy Caesar Salad. That's when I learned that all the vegetables (which are delivered daily to each restaurant) are cut and chopped by hand in the prep kitchen. That shredded lettuce on your tacos? Yup, it was cut by hand.
Even the cheese is grated by hand! I mean heck... even I use pre-shredded cheese at home for convenience. Not at The Cheesecake Factory.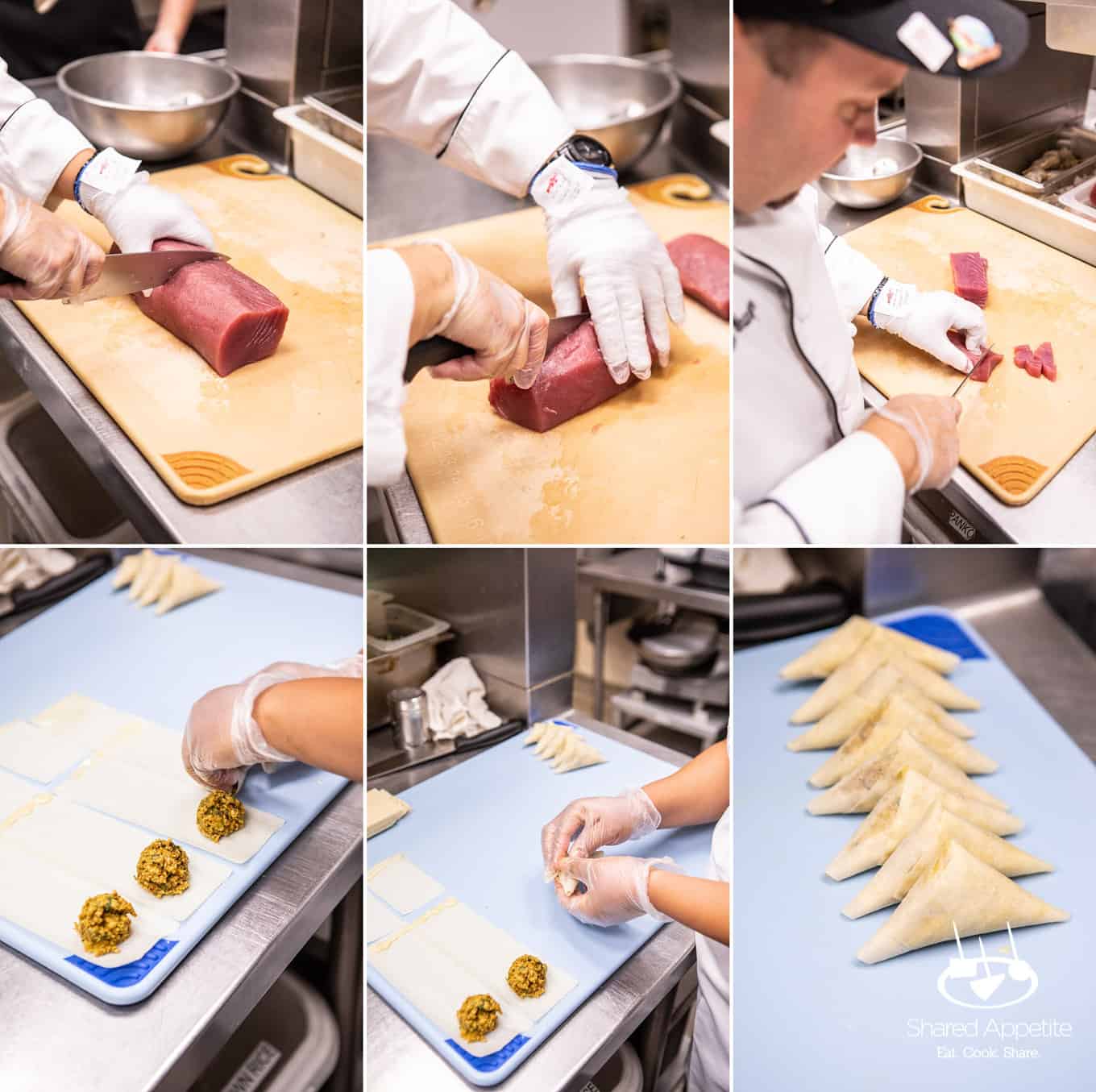 I was in awe as I watched the head chef break down a stunning fresh loin of ahi tuna for the new Tuna Poke bowl. He explained how different sections of the loin get used for different dishes, and how he gets frequent deliveries of both seafood and meat (several each week) in order to give each guest the best, freshest experience possible.
It was at that moment I almost fainted. I turned around to see another prep cook hand forming samosas. COME THE HECK ON. Anyone who's every made eggrolls, dumplings, or pot stickers before knows what a huge pain in the you know what it is to prepare even a small batch of them. I can't even imagine preparing enough for the day's service. But yeah... they hand roll and hand form each and every eggroll, dumpling, and pot sticker that comes through that kitchen. Psst... the fillings are made from scratch as well.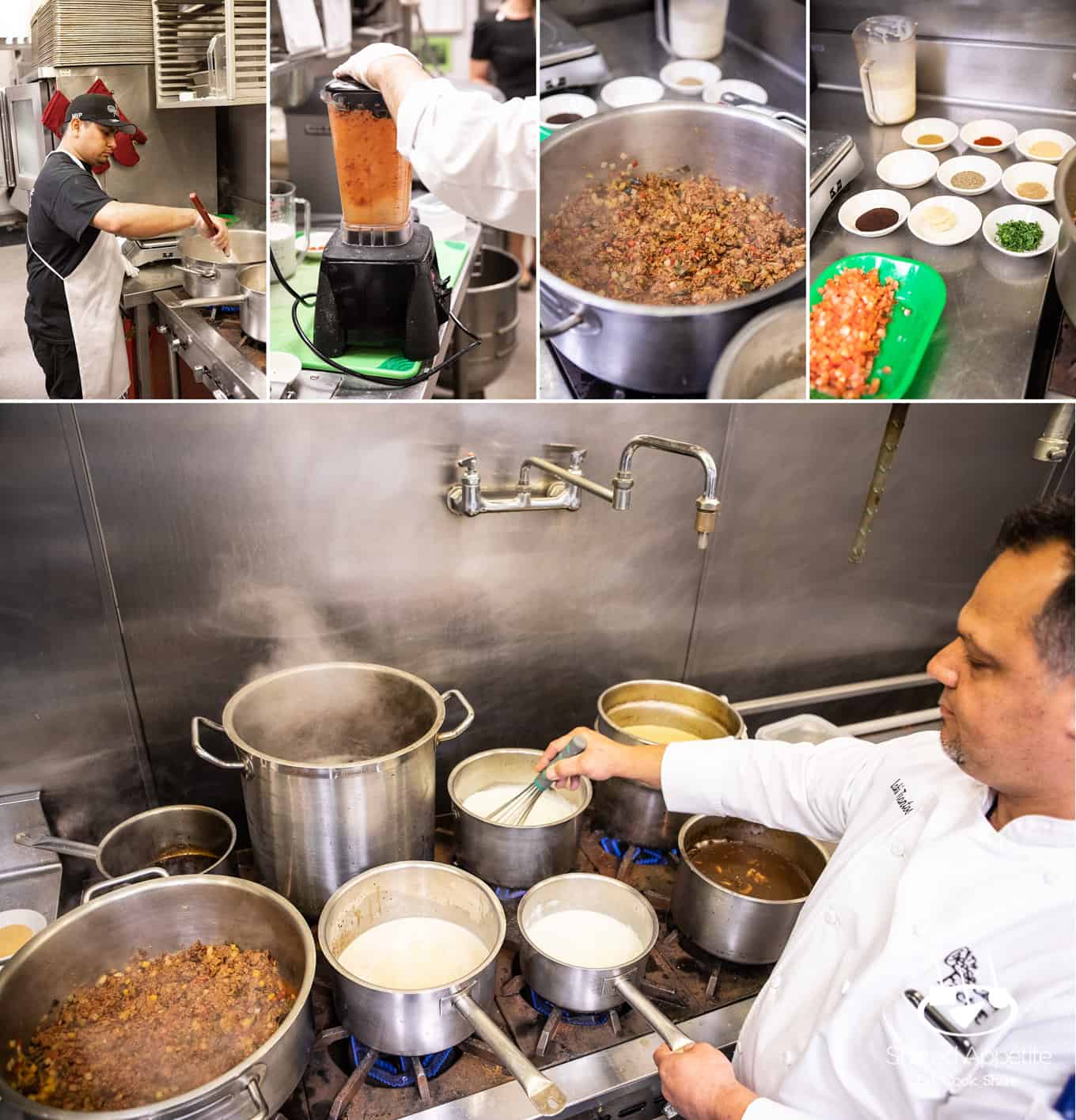 Are you seeing what I'm seeing?
Whole ingredients. Real cooking. This is the level of cooking I would expect from one of the fancy Michelin starred restaurants I frequent in NYC, not a nation-wide restaurant with over 200 locations and 250 menu items!
As you can imagine, all this prep takes a tremendous amount of time, and that's why the prep cooks begin each day at 6am!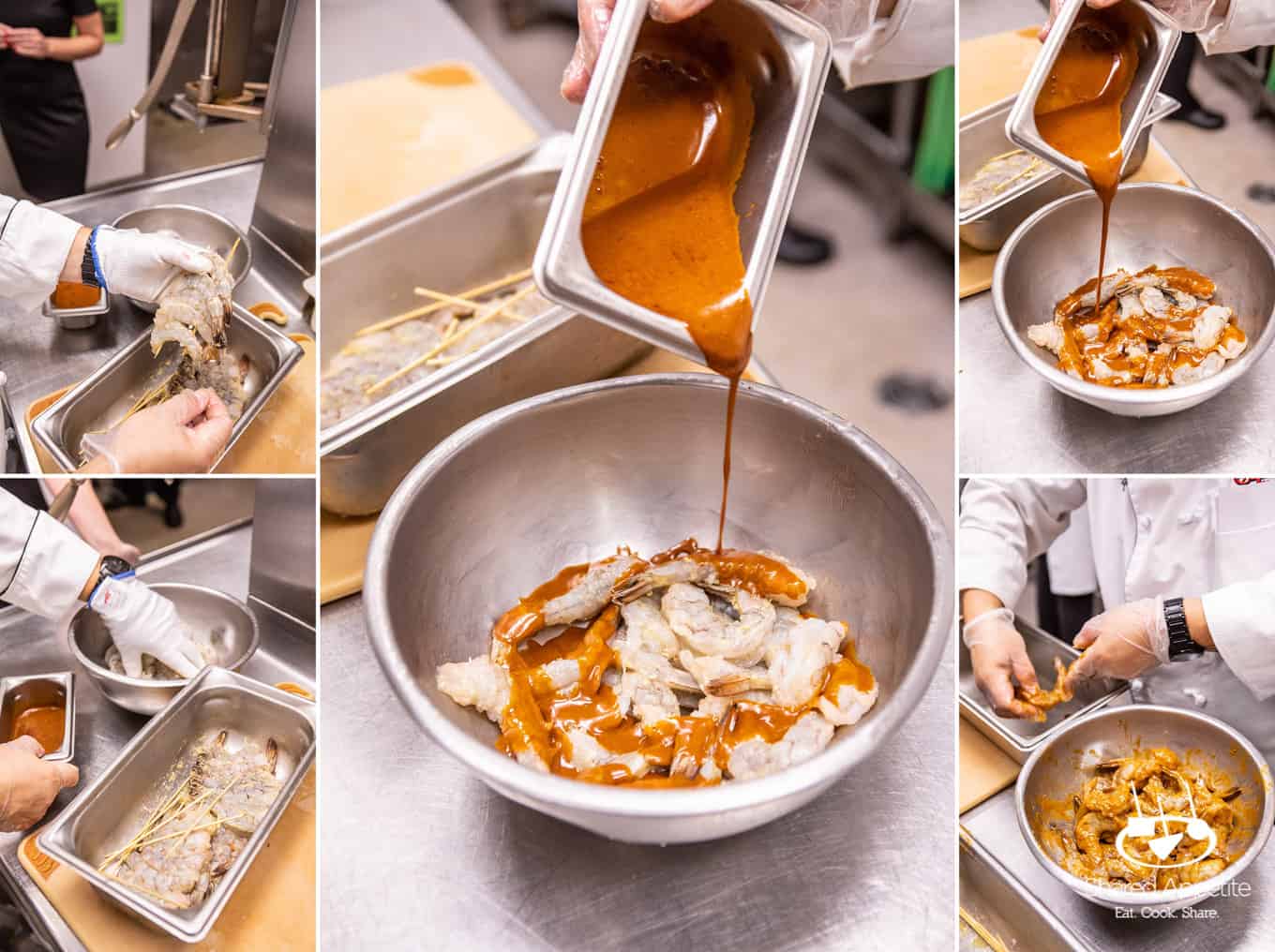 As Dana and Anthony invited me to the line (where you'll find the saute, grill, and fry stations), I continued to be ridiculously impressed. The Chicken Madeira, which is one of The Cheesecake Factory's most popular dishes, features thin-sliced chicken breast. I expected that the chicken breast would come into the restaurant like that (just like you and I could go to the grocery store right now and get thin-sliced chicken breast). NOPE. They prep that by hand as well.
The burgers? Hand-formed as well.
There simply is no cutting corners at The Cheesecake Factory. Everything is done correctly, every time. And that, my friends, is why the food tastes so freaking good when you visit.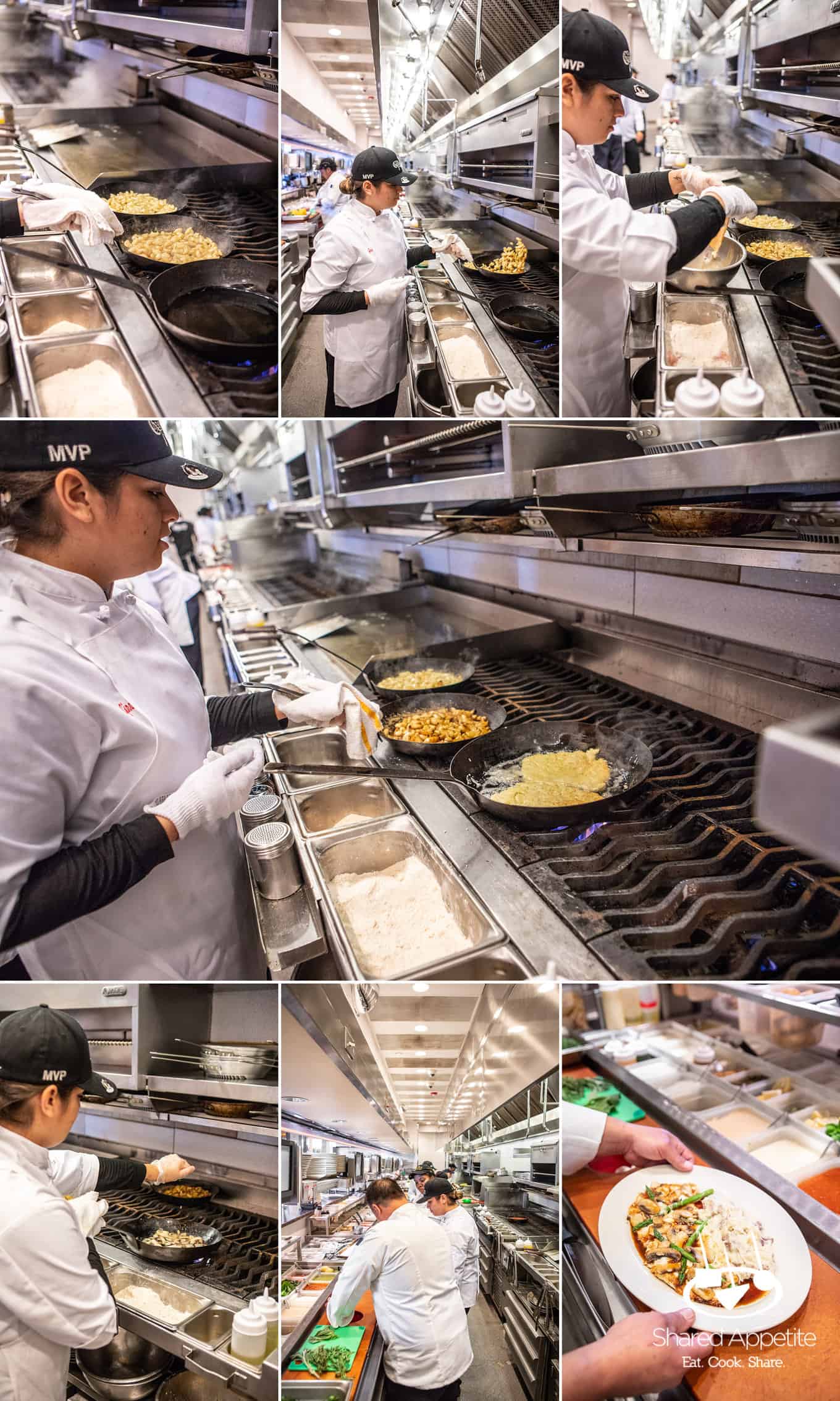 You see that mixed platter of eggrolls below? That's a daily test ritual to make sure that every eggroll, potsticker, mozzarella stick, and the like are made and fried to the highest of standards. I watched as the head chef carefully inspected every roll to make sure the fry quality was just right and that the filling was cooked through and maintained the integrity he wanted for each dish.
There was a question that I couldn't wait to ask as I finished my tour of the kitchen. How does The Cheesecake Factory maintain it's consistency not just from day to day, but across all locations, especially considering that everything is made from scratch and the menu is so expansive?!?!
It would be so easy to be consistent if all the food was just prepackaged. That's the typical business model for fast food and casual chain restaurants. It's what I thought was the only way to achieve such consistent results. I mean, I've been to top rated Michelin starred restaurants that don't nail consistency as well as they do at The Cheesecake Factory. How the heck do they do it?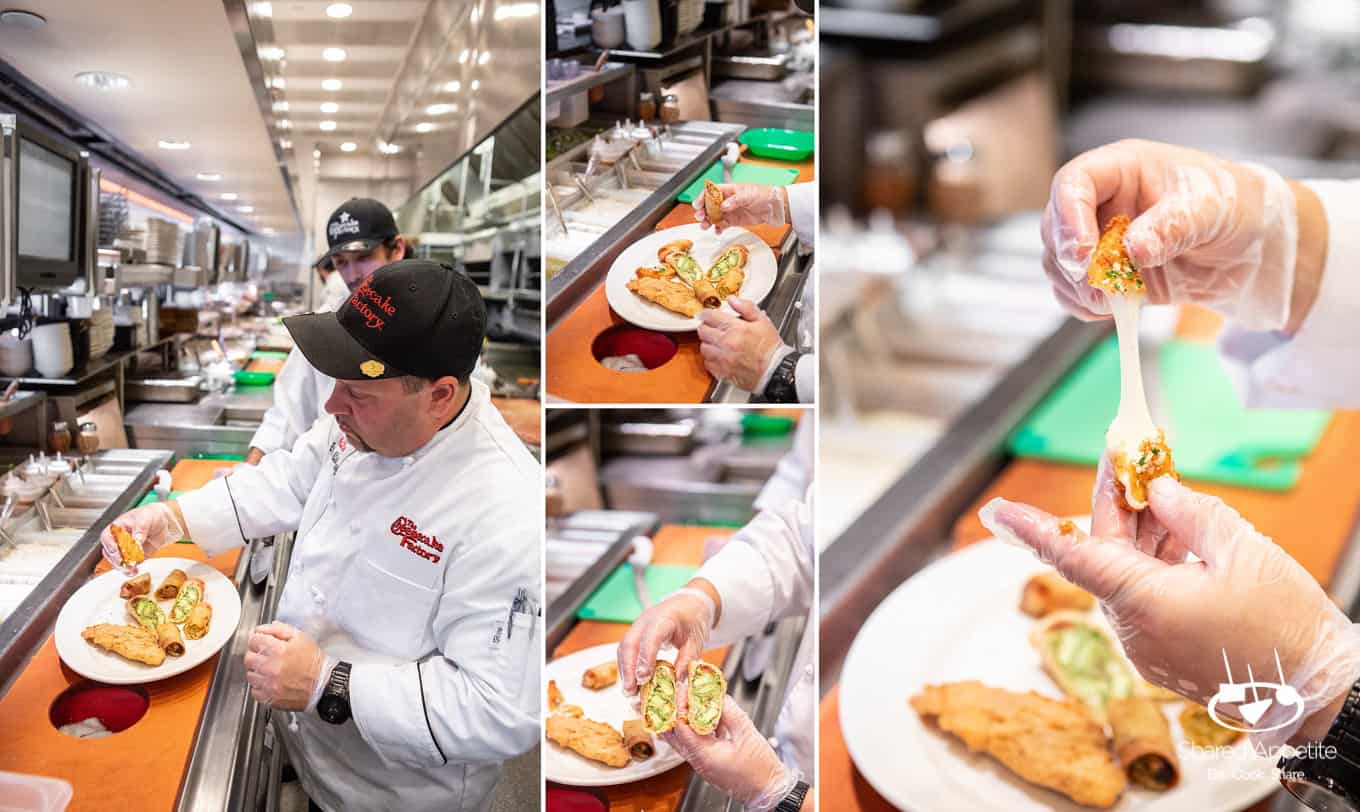 Three things that I learned:
Prep Validation: just as the head chef did with all those fried samplers, everything prepared in the prep kitchen must be validated... EVERY SINGLE TIME. That batch of famous mashed potatoes? A manager or head chef tested and validated that it was prepared correctly and is allowed to be served. Every sauce, every dressing, every marinade? It must be validated, every batch, every time. And yes, I was happy to help validate those mashed potatoes with the chef as I walked through the kitchen 🙂
Training and Education: as I suspected, The Cheesecake Factory takes it's training extremely seriously. Every during my short time in the kitchen, I watched as more senior cooks instructed and guided the new staff in the kitchen.
Ridiculous Retention: cooks and chefs stay at The Cheesecake Factory for a long time. They take care of their employees, and they create an environment where they can succeed and grow. The manager knows all of the employees (this location has over 150 employees on staff) and even when she thought I wasn't paying attention, I watched as she conversed with the staff about their lives and had a genuine interest in how they were doing.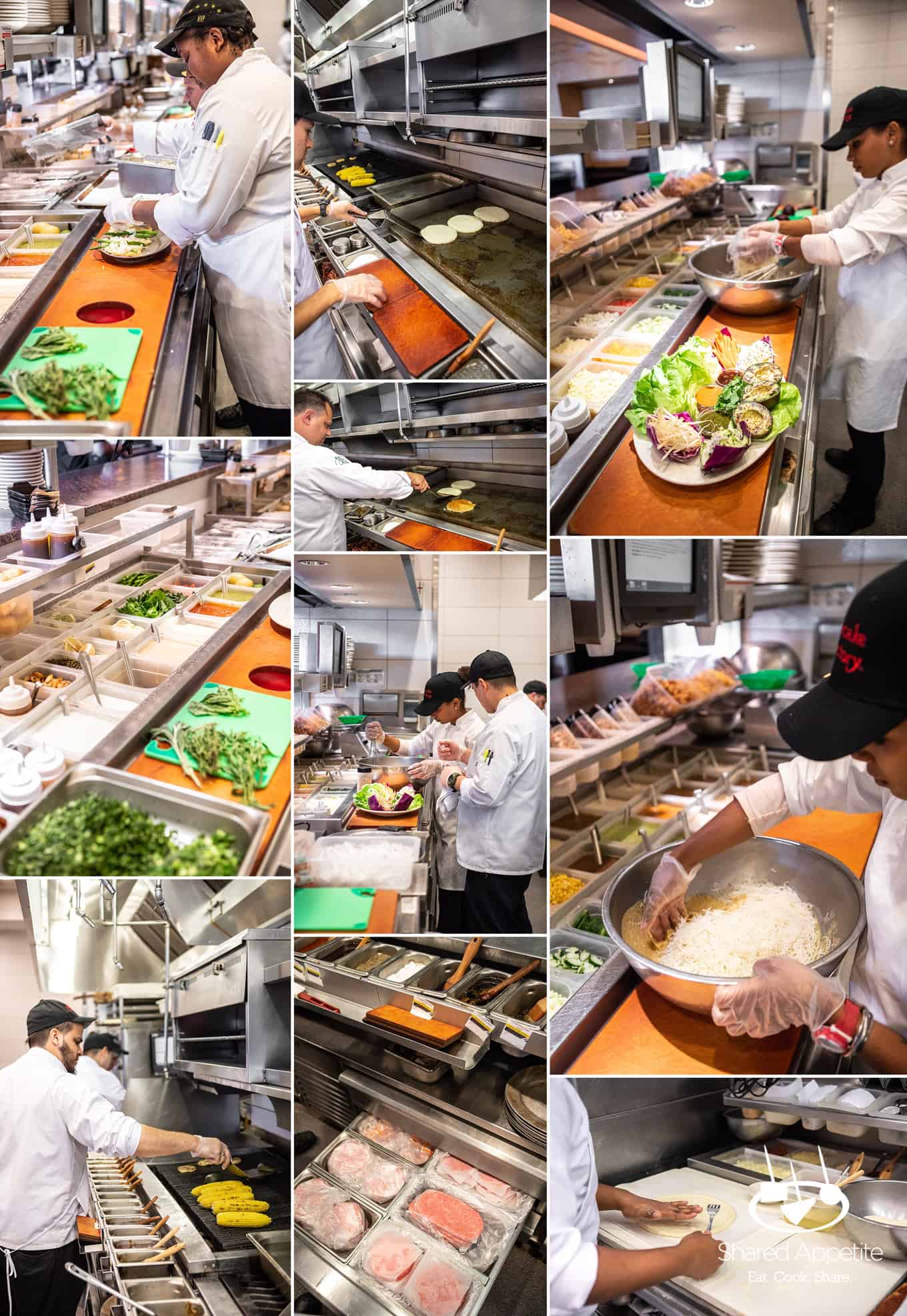 Not going to lie. After this amazing immersive culinary experience and education, I was beyond excited to sample some of The Cheesecake Factory's all new FALL MENU!
First up, the drinks. I'm not really a cucumber fan, but the Cucumber Martini was really refreshing and not overly (in a great way) cucumber.
The non-alcoholic Passion Mint Fizz was AMAZING (passion fruit, agave nectar, and fresh mint topped with soda), and my friend Tyler was obsessed with the Pineapple Cherry Limeade!
Also pictured is the Strawberry Lemonade, which is not new but so freaking good... I get it every time!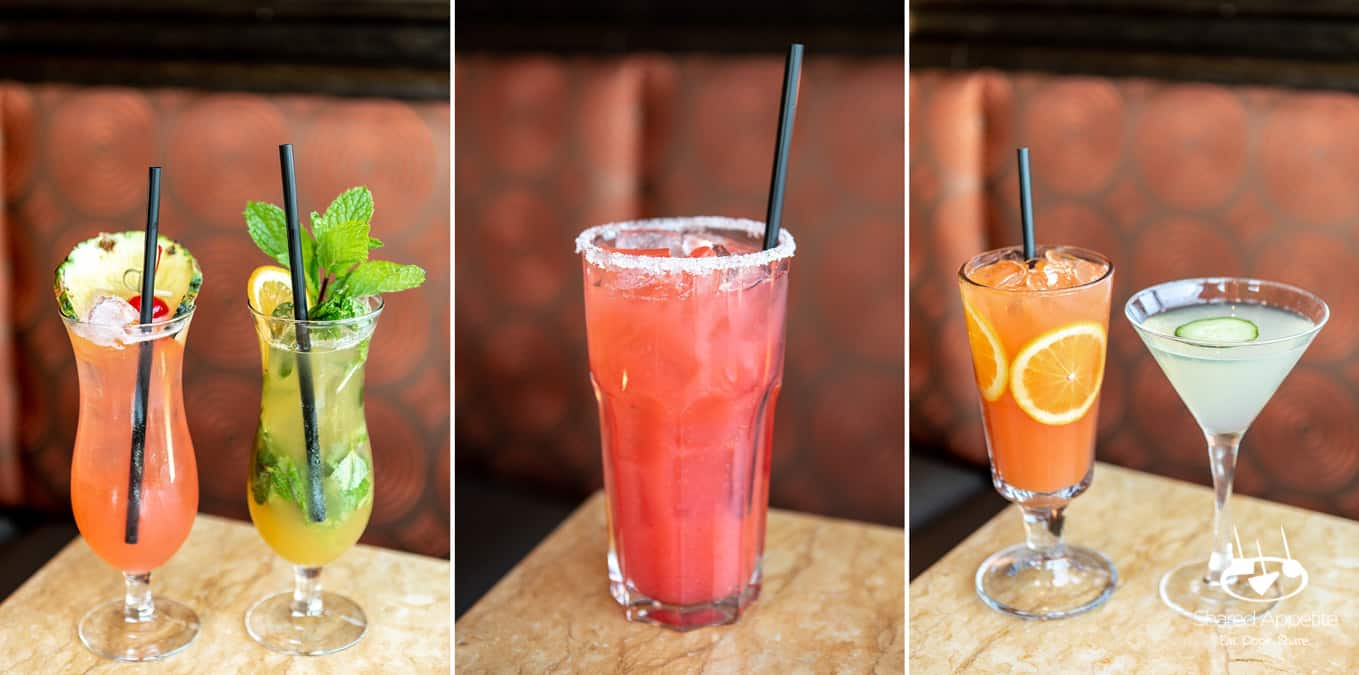 Say it with me.
Peanut Butter & Banana Waffles!
Ermagherd.
This Belgian waffle was covered in creamy PB, fresh banana, Nutella®, and Crispy Almond-Toffee! Everyone at the table was floored by these waffles and we had no regrets about licking the plate clean.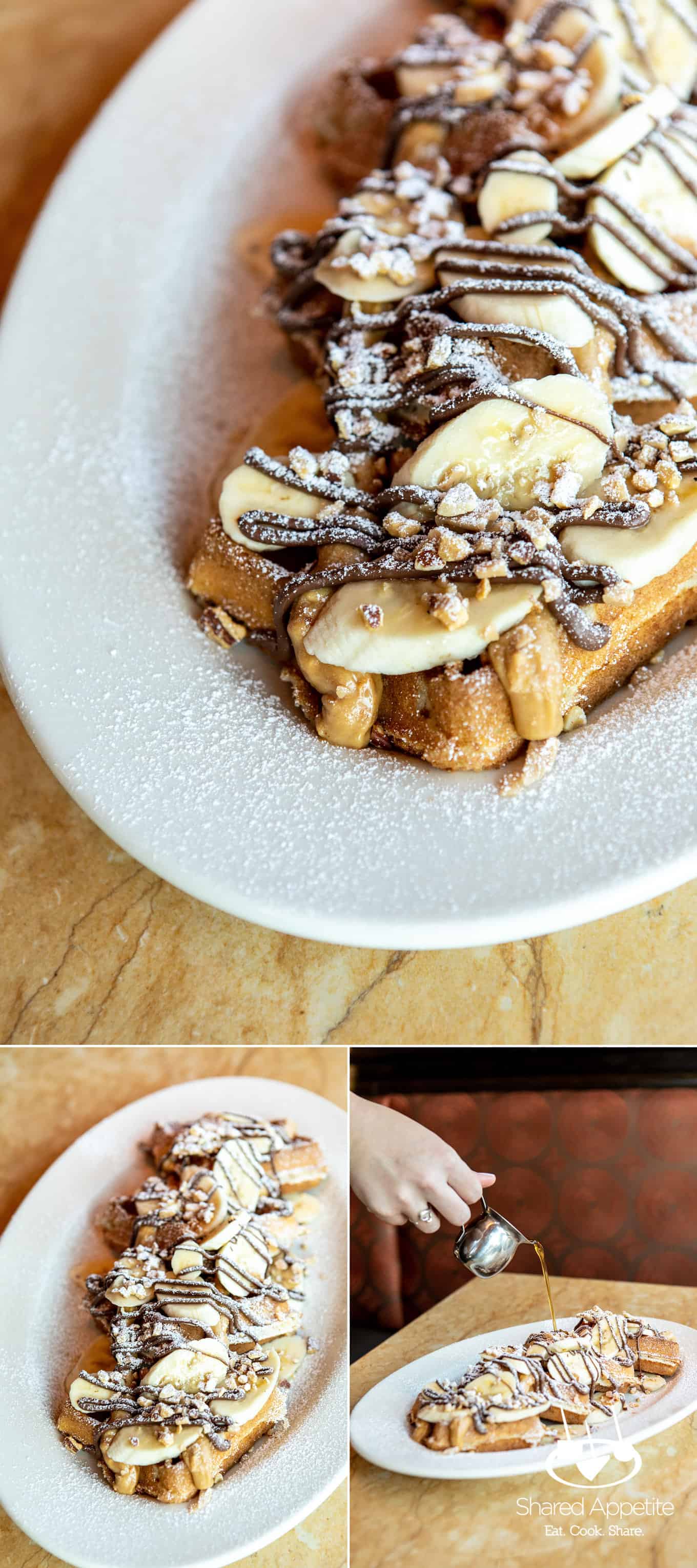 The Tuna Poke Bowl wasn't just pretty to look at... it delivered HUGE on fresh, delicious flavor. The fresh raw ahi tuna was dressed with an extremely flavorful soy-sesame, garlic, onion, and ginger vinaigrette. It's served over white rice (or a Kale-Cashew Salad) with Avocado, Edamame, Shiitake Mushrooms, Cucumber, and Sriracha Aioli. We were fighting over who got the last helping at that table!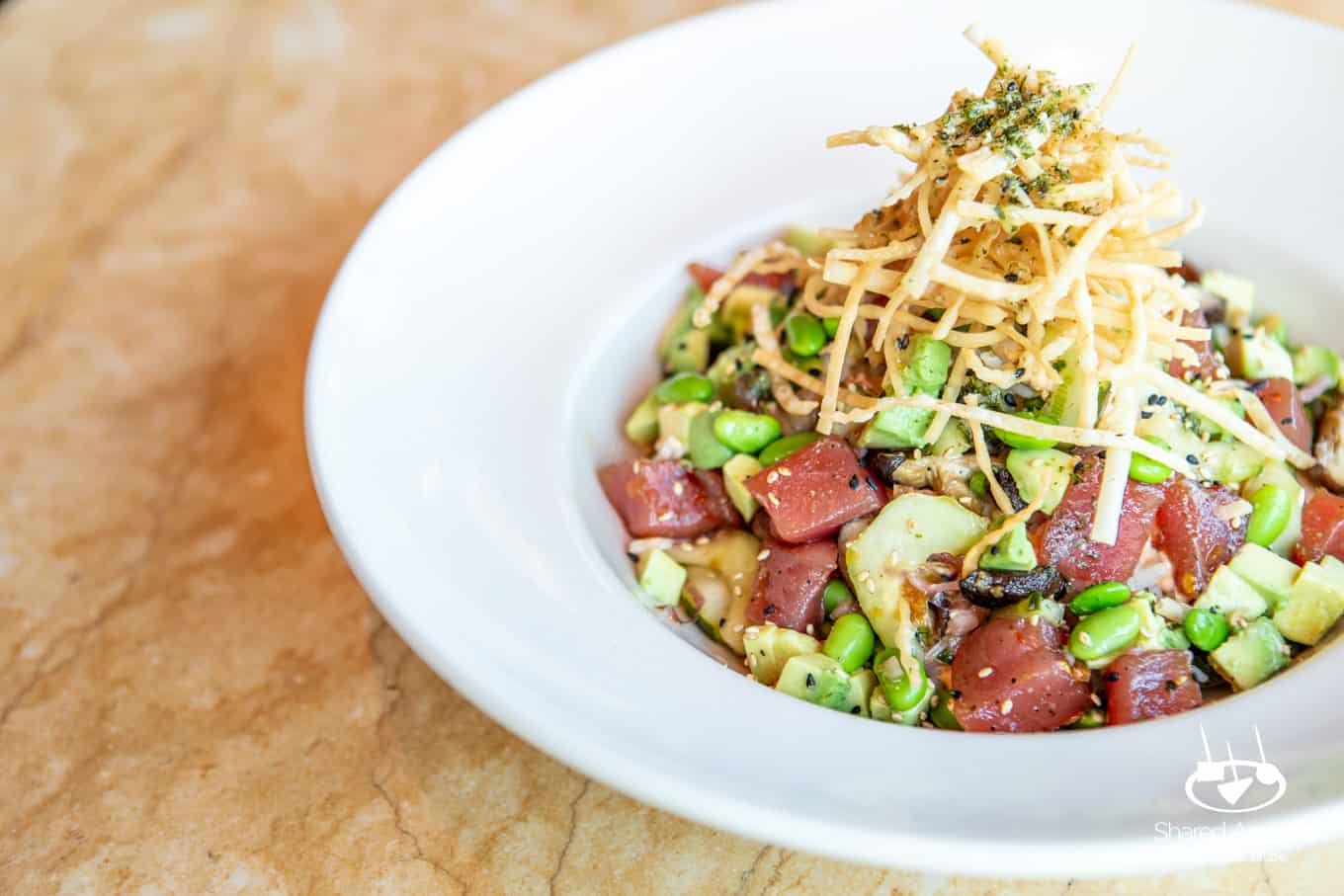 I'm not a shrimp fan, like at all. It's not something I ever order. But this Chipotle Grilled Shrimp Salad. It's legit. With a warm grain salad of quinoa, farro, avocado, corn, black beans, peppers, onion, feta cheese and cilantro-lime dressing, it's a meal I was happy to devour.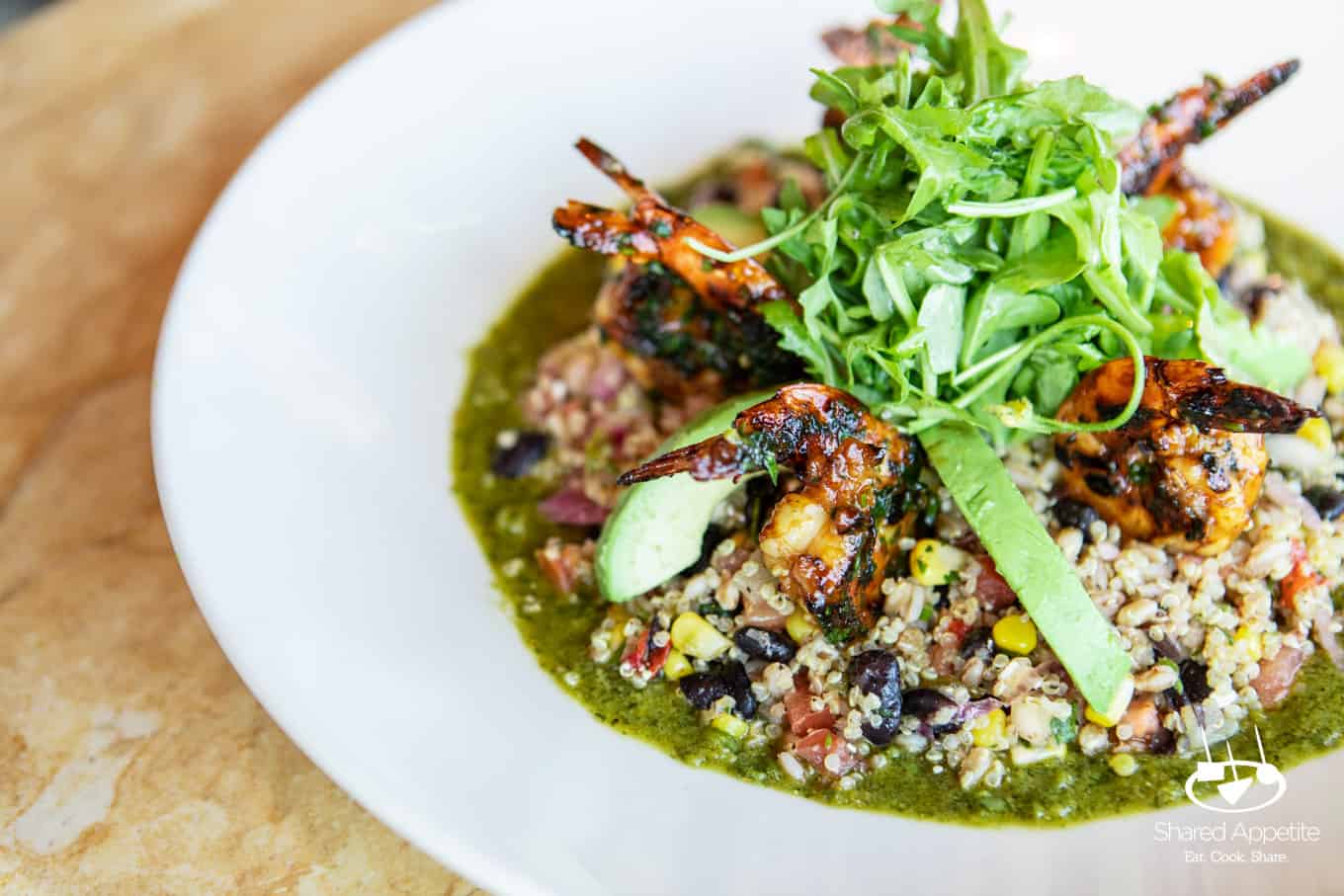 Quite possibly the winner of the day for me were these Breakfast Tacos. Not only did I watch them prepare the chicken chorizo and pico de gallo from scratch, these tacos hit a home run in the flavor department. It's how I want every single morning to start from this point forward.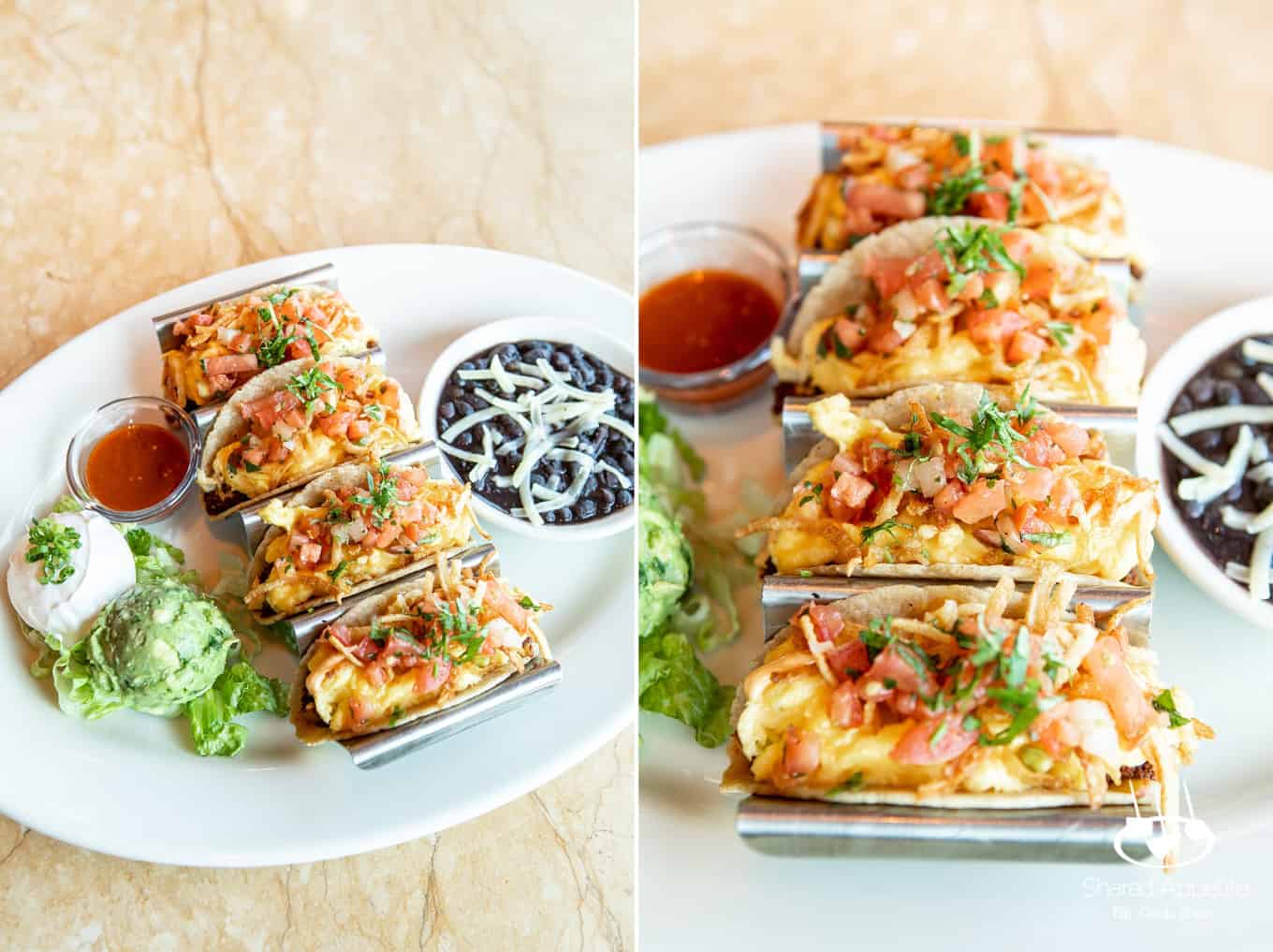 I'm never one to be excited about a Caesar Salad. It's just underwhelming to me. NEVER AGAIN. This Spicy Caesar Salad surprised the heck out of all of us, and we found ourselves talking about it for days after our meal.
Remember that photo above of the prep cook separating the baby gem lettuce by hand? That was for this salad, as was the spicy caesar salad dressing I helped validate for service with the head chef. Something else I learned about this humble yet rockstar salad? The croutons are made FROM SCRATCH. Who does that? I sure don't. And not only are they made from scratch... they are exclusive to this salad. The other homemade croutons at The Cheesecake Factory were found to be slightly too big for this salad, so they decided to make custom-sized ones just for this Spicy Caesar Salad.
Attention to detail? Check.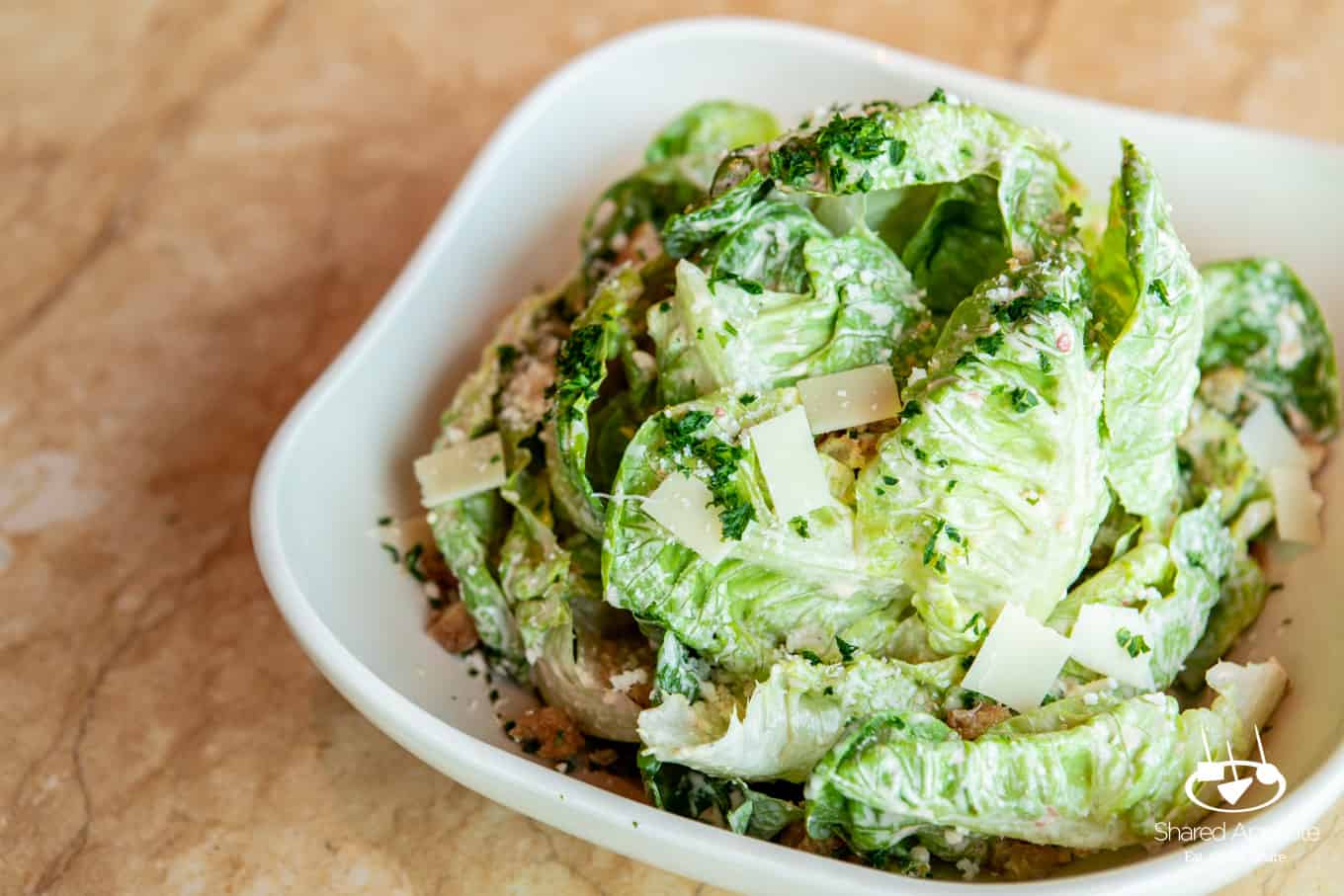 Crispy Roasted Brussels Sprouts with Bacon and Vermont Maple Butter Glaze? Yup. I dig it.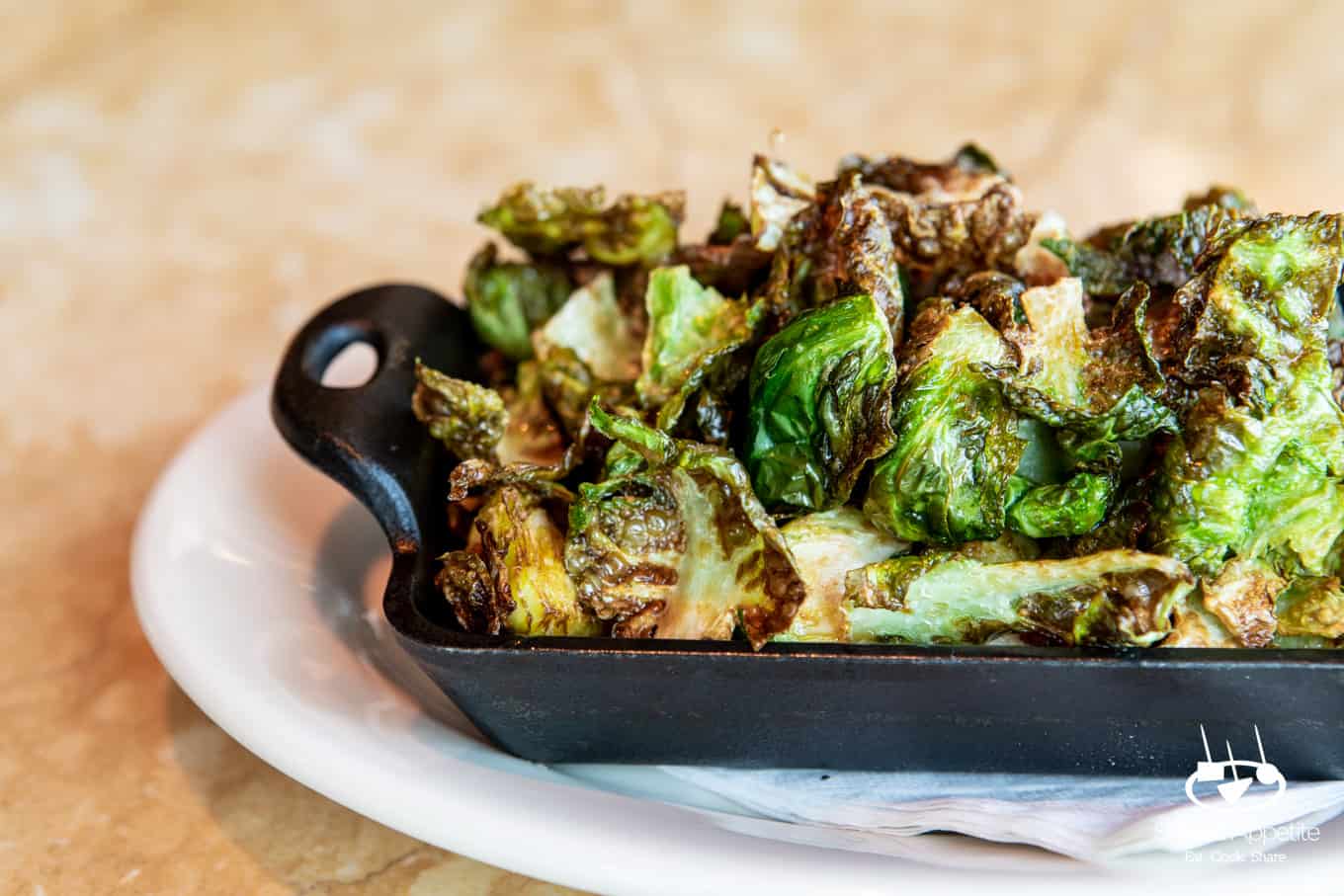 Pictured at the top of this post is the Impossible Burger, which is a PLANT BASED burger (calling all vegetarians!) that left even this meat-loving eater more than satisfied!
Of course, any meal at The Cheesecake Factory isn't complete without cheesecake.
The Pumpkin Pecan Cheesecake is an annual seasonal favorite, but the two Fall Menu exclusive cheesecakes were also bonkers great.
I'm looking at you Very Cherry Ghirardelli Chocolate Cheesecake and also the Cinnabon Cinnamon Swirl Cheesecake. Our table was very divided between which one was better. There were some very convincing arguments for both cheesecakes. In the end we voted that you need to try both. I mean, life is too short to have to choose just one piece of cheesecake.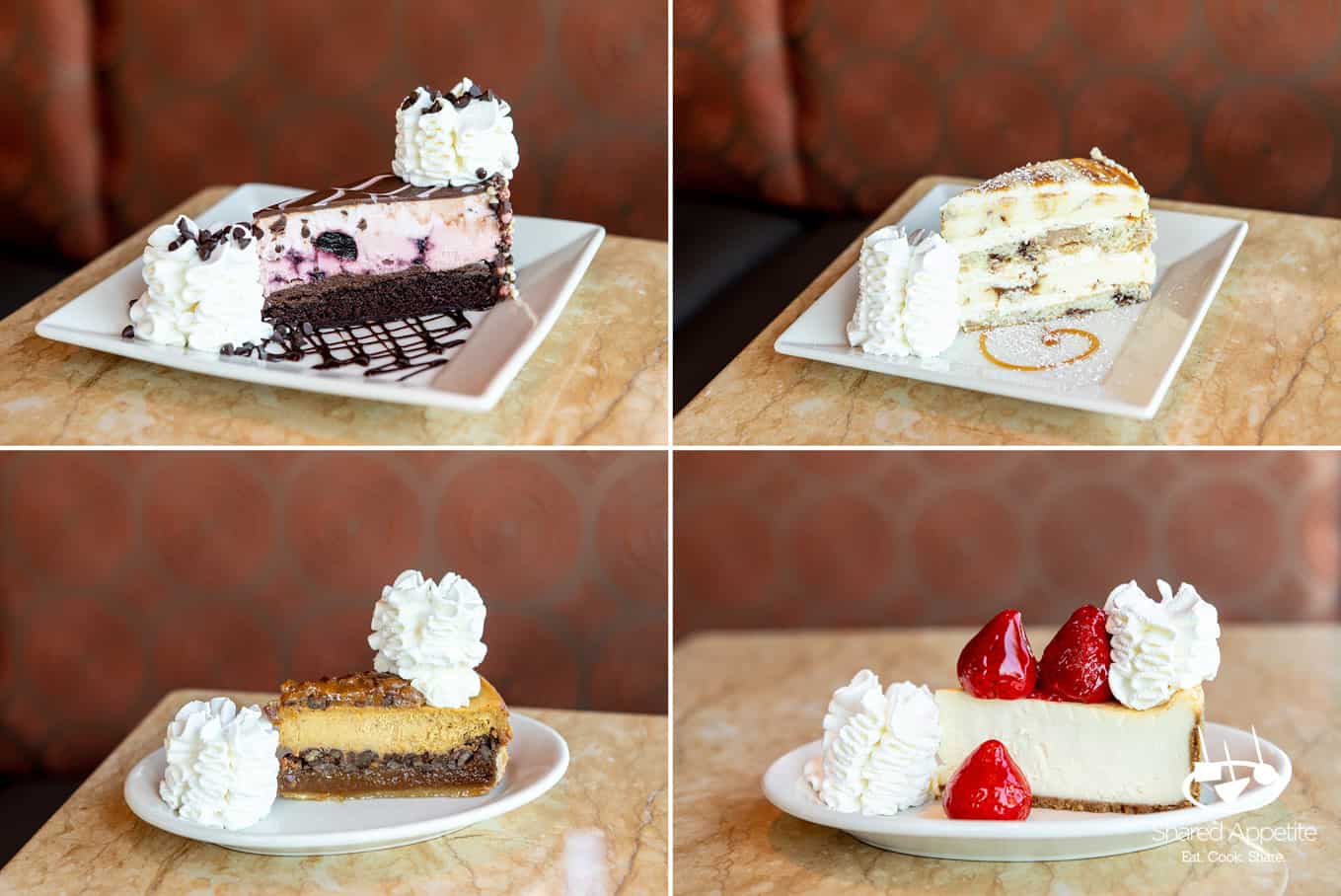 A big thank you to The Cheesecake Factory for inviting me behind the scenes to share your passion for excellence in cooking from scratch and providing an amazing experience for all of your guests. You definitely have a fan for life, and you better believe I'll continue recommending The Cheesecake Factory to any and every one! The level of detail you bring to your 250+ made from scratch dishes is unforgettably impressive!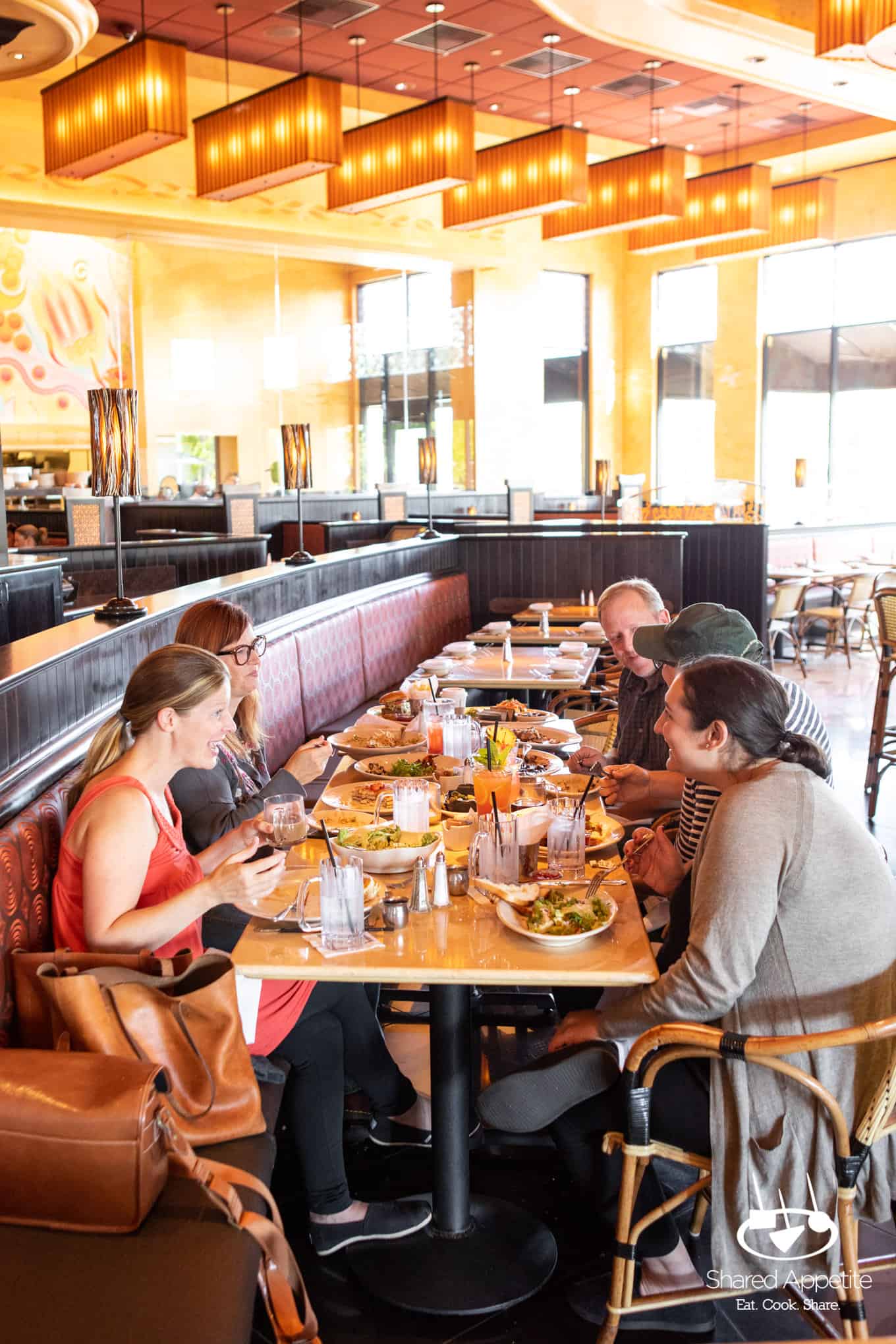 Why I Love The Cheesecake Factory