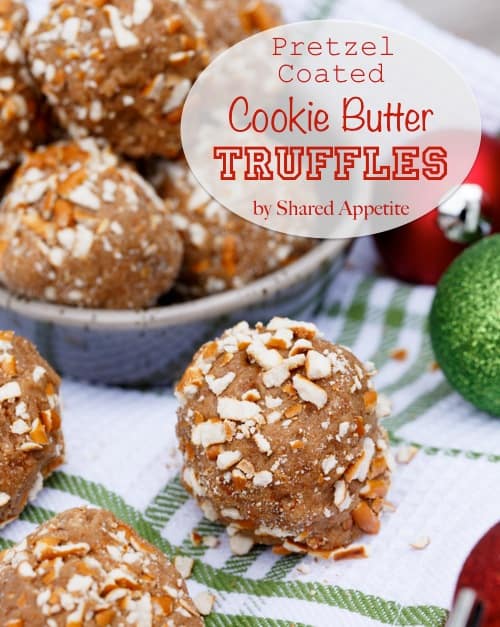 The sweet, addictive flavor of cookie butter gets a salty sidekick in these Pretzel-Coated Cookie Butter Truffles.
How did we go from Thanksgiving being just last week to all of a sudden having less than 3 weeks until Christmas? I'm freaking out a bit, mostly because I want to enjoy a whole lot of quality holiday baking time (well that and I need to start Christmas shopping immediately). Good news. The butter and sugar is already stockpiled in my kitchen. The recipe ideas are all floating around within the scary abyss that is my head. Now it's just a matter of having enough time to get baking. I can do this. Tell me I can do this.
Cookie butter has been on my mind. Big time. I love the stuff. It's addictive quality is pure sorcery. And ever since my first experience with cookie butter at the Wafels & Dinges food truck here in NYC, I've been hooked. Only they call it speculoos. Which is also the same as biscoff spread. Three names… same ridiculousness.
Cookie Butter, how I adore thee. I was super proud of myself when I made Speculoos Crack Pie last year around this time. And then I just saw Pamela over at Brooklyn Farm Girl make this crazy good-looking Swirled Cookie Butter Cheesecake (by the way, you should totally start reading her blog… it's really awesome).
And now I'm probably going to be crazy obsessed with cookie butter recipes for the next month and start adding it into anything and everything. So I apologize in advance for my current state of fixation.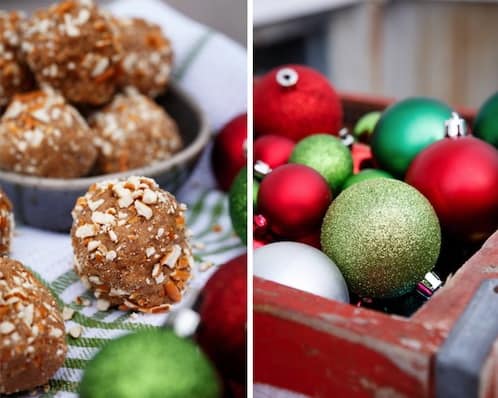 Let's take a step back, because it could be possible, no matter how unfortunate, that some of you may have never had the pleasure of meeting its acquaintance. So if you don't know what cookie butter (i.e. speculoos) (i.e. biscoff spread) is, let's just say you're missing out in pretty much the biggest way possible. Like, it's pretty much the greatest culinary achievement of our time. If the apocalypse occurs tomorrow and all that survived was one jar of this stuff, and that's all our human race was remembered for, I would be content.
It has the consistency of peanut butter and has the flavor of slightly caramelized and finely crushed up gingerbreadish-shortbread cookies. It's something that you just need to try. It will literally change your life. Kind of like when you first tried Nutella… but like 1,000 times better than that experience. I know that's a bold claim. And I stand by that claim.
Note: there have been some questions about where you can obtain cookie butter/speculoos/biscoff spread. Cookie Butter is sold exclusively at Trader Joe's, but can also be found online (just do a quick google search). I've never seen speculoos or biscoff spread in grocery stores near me, but it is readily available online also.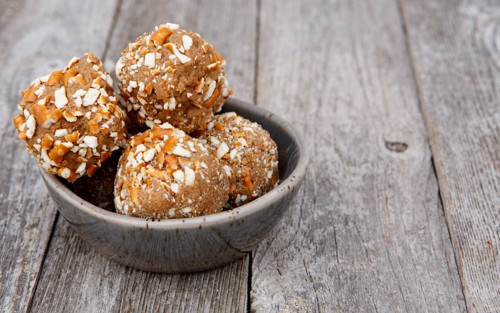 If you choose to bring these to a party, be prepare to become best friends with everyone there. They'll all love you and possibly want your autograph. It's the whole salty-sweet thing. We all love salty-sweet. Well I guess there are people that don't love that combo. But can they really be trusted? And would you want to be friends with them anyway?
Just kidding. We love you non salty-sweet peeps too 🙂 You can feel free to coat these truffles in some melted chocolate instead.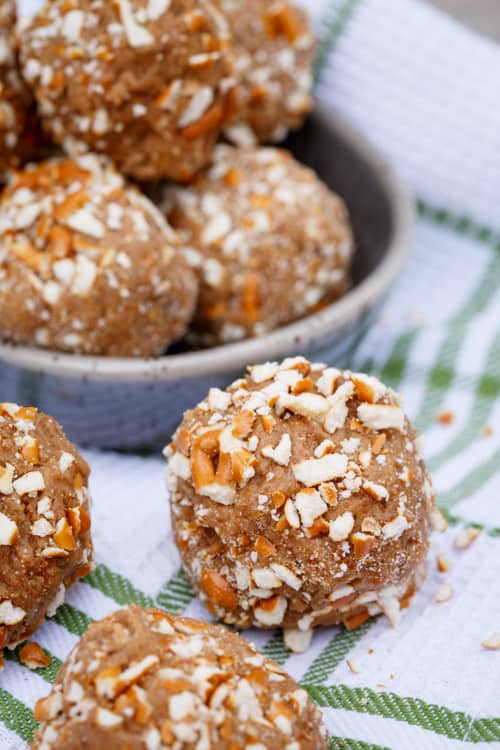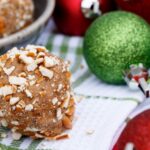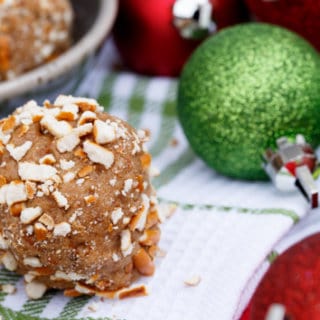 Pretzel Coated Cookie Butter Truffles
---
Yield:

Approximately

12

truffles

1

x
4 tablespoons

unsalted butter, softened

1/4 cup

brown sugar

1/2 teaspoon

vanilla
Pinch Kosher salt

1/2 cup

cookie butter

1/2 cup

speculoos cookies (or graham crackers), finely ground*

1/3 cup

cinnamon chips (or substitute white/dark chocolate chips if needed)

1/2 cup

pretzels, crushed**
*finely grind cookies in a food processor
**crush pretzels in a ziploc bag using a rolling pin or carefully pulse in food processor.
---
Instructions
Using a stand mixer fitted with the paddle attachment (or a medium mixing bowl with an electic mixture), thoroughly combine butter and brown sugar. Add in vanilla, salt, cookie butter, and ground cookies. Fold in cinnamon chips.
Chill for 30 minutes in refrigerator. Scoop into small truffle-size shaped balls and roll around in the crushed pretzels to coat. Freeze for 30 minutes and serve.
Want to win a $250 gift card from Walmart. Of course you do. Who doesn't like winning things? To enter….
1. Follow Land O'Lakes on Pinterest
2. Enter your email in the form below and click "Enter"
3. Pin the image to any of your Pinterest Boards
4. Visit the CB Social Holiday Treats Board and share your favorites
One winner will be selected at random. One entry per person. Contest runs 11/25/13-1/14/14.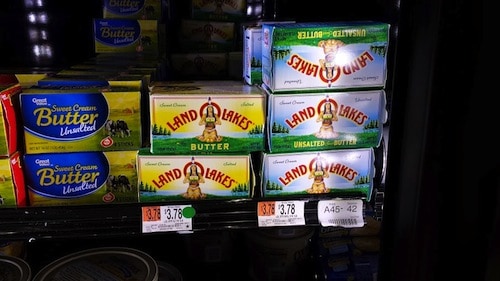 A look at the Land O' Lakes Butter I bought at Walmart. I took the upside down one 🙂 Oh, and I always buy unsalted. That way I can control the amount of salt I add to the recipe.