These Fajita Burgers are brought to you by Everywhere Agency on behalf of Char-Broil. As always, all opinions and recipe are my own. Thanks for supporting the brands that support Shared Appetite!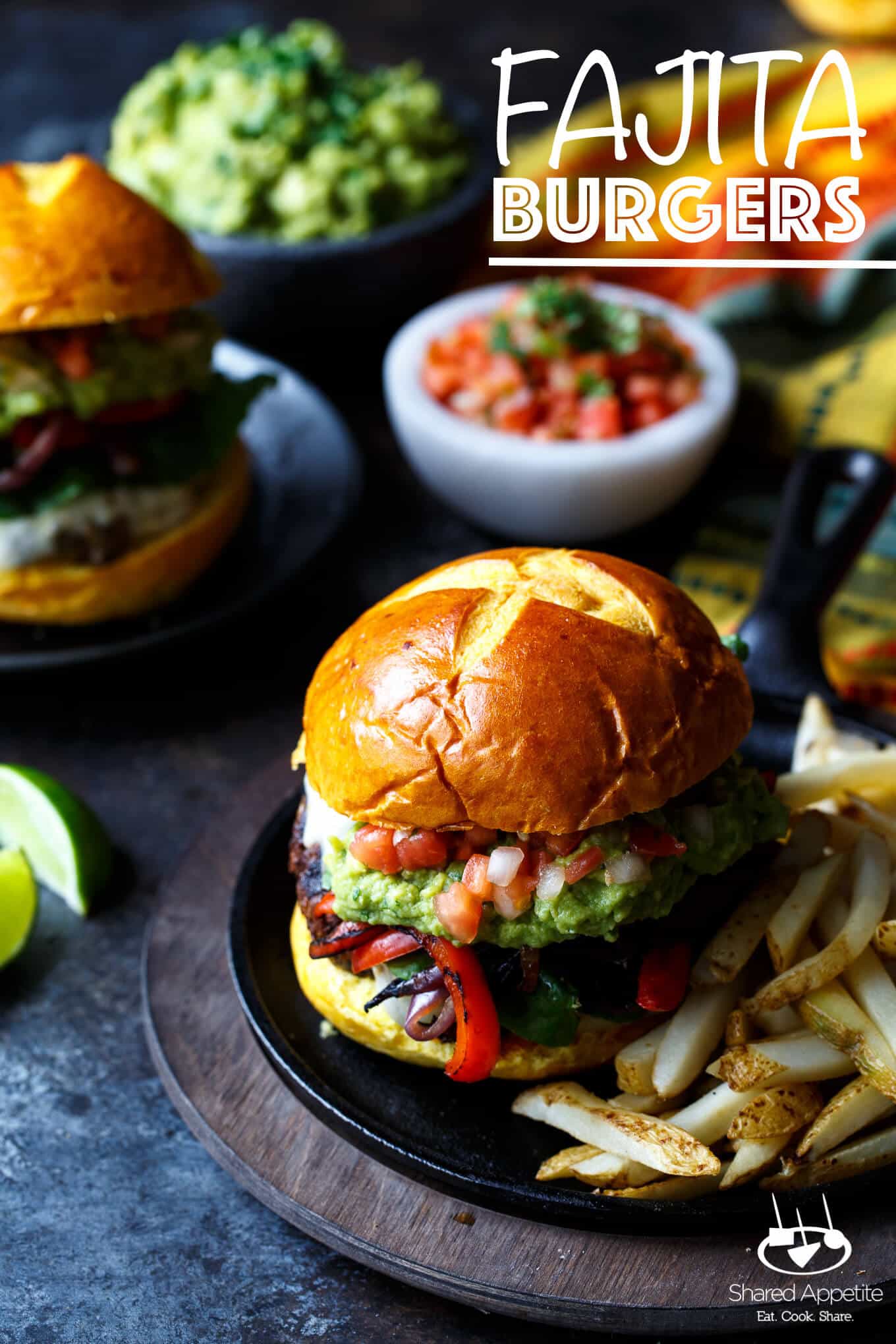 NOW it's spring. I know it technically started about a month ago, but now it actually feels like spring is here. I'm enjoying my final day of a generous 11-day spring break (every day of which I've spent at the park with Olivia… she's certifiably obsessed with slides), and the weather has been nothing short of perfection. I even got to break out my shorts for a few days.
And then it happened. I got the grilling itch. You know, when you suddenly want to abandon the kitchen you've been hibernating in all winter long and enjoy your entire meal outside. Warm weather + shorts = it's grilling season baby!
Grilling is, by far, my favorite way to cook. There is no greater feeling on earth than being on my back patio with a drink in hand… cooking up all sorts of legit eats for my family and friends. Hosting backyard BBQs is the highlight of my entire year, so you better believe it happens often. For the next several months, I'm happy to say goodbye to my kitchen and hello to the grill.
My secret sauce to a throwing an epic outdoor party? Get the music pumping, the drinks on ice, and most importantly, make sure your menu is on point. Because duh, the meal is the most important part of any party. I'll cook up a ton of make-ahead sides way before the party starts (like my famous Sweet Potato Bacon Salad and super popular Watermelon, Feta, and Arugula Salad, so that I'm free to man the grill all the while hanging out next to my peeps outside.
What am I grilling up? The usual stuff always makes an appearance, but my rule is always to have one signature item. One thing that comes off the grill and makes that huge impact. The thing that people go home thinking about… like my Bacon Wrapped Jalapeno Popper Hot Dogs or Whiskey Glazed Burgers with Spicy Brown Sugar Bacon and a Fried Egg.
And now there's a new player in town. These spice-crusted Fajita Burgers with a melted pepper jack cheese, grilled onions and peppers, pico de gallo, and guacamole. Heck to the yes.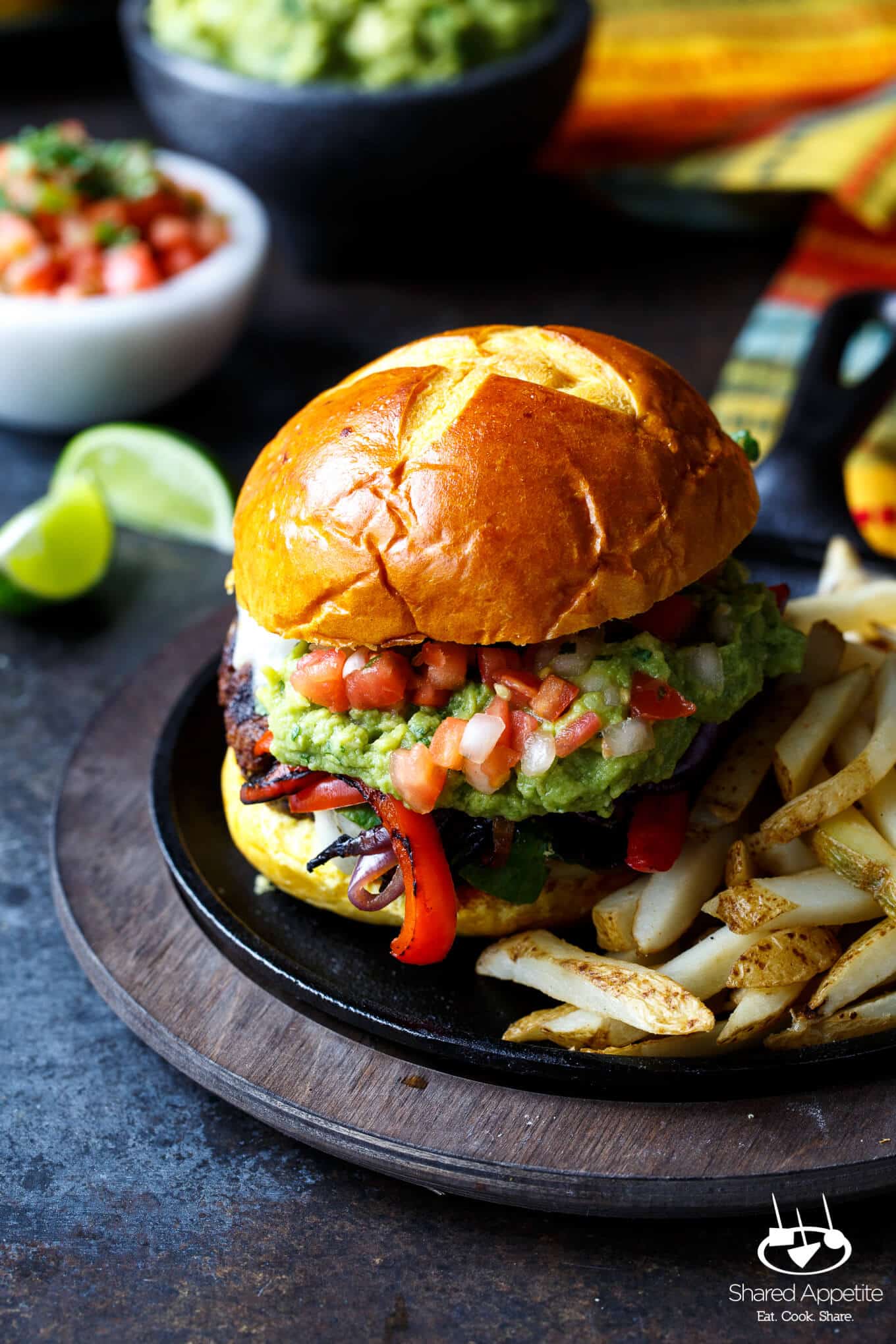 You know I'm slightly obsessed with Mexican and Southwest flavors. They are on my mind extra hard right now because my all-time favorite holiday is right around the corner. Cinco de Mayo!
Yes, my favorite. It's a day that encourages the mass consumption of chips with guac and pitchers of margaritas. What more could you want in a holiday?
I always whip up a huge batch of these Foolproof Carnitas for my annual Cinco de Man-o party (dudes only party), and I'm thinking these Fajita Burgers will also be joining the menu this year. If there's anything that my friends love… it's meat and grilling. It's something we all do together. The grill literally becomes the focal point of the party. And this year, they will all be gawking at my brand new Char-Broil Commercial Series TRU-Infrared 3-Burner Gas Grill.
Guys, it's beyond legit.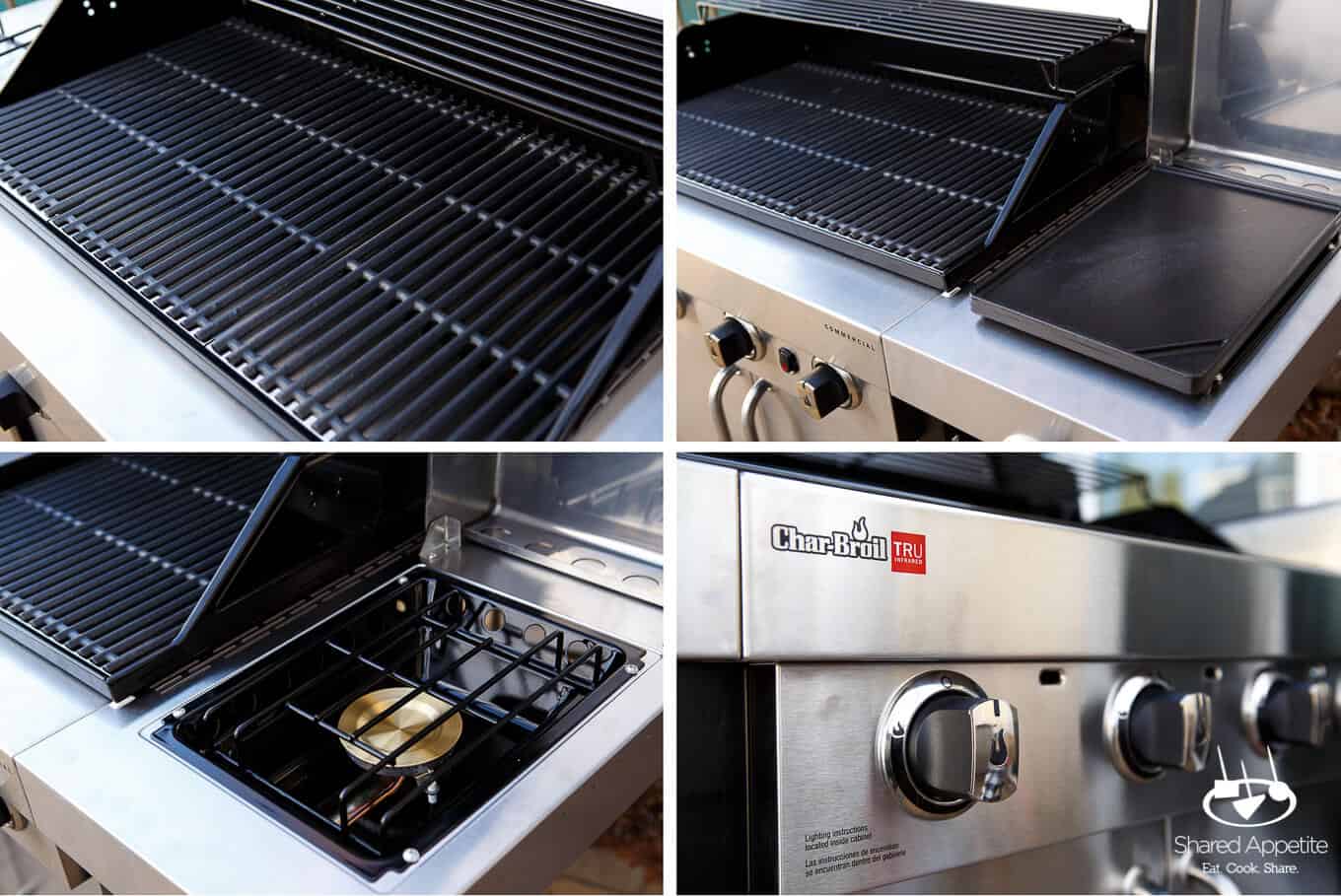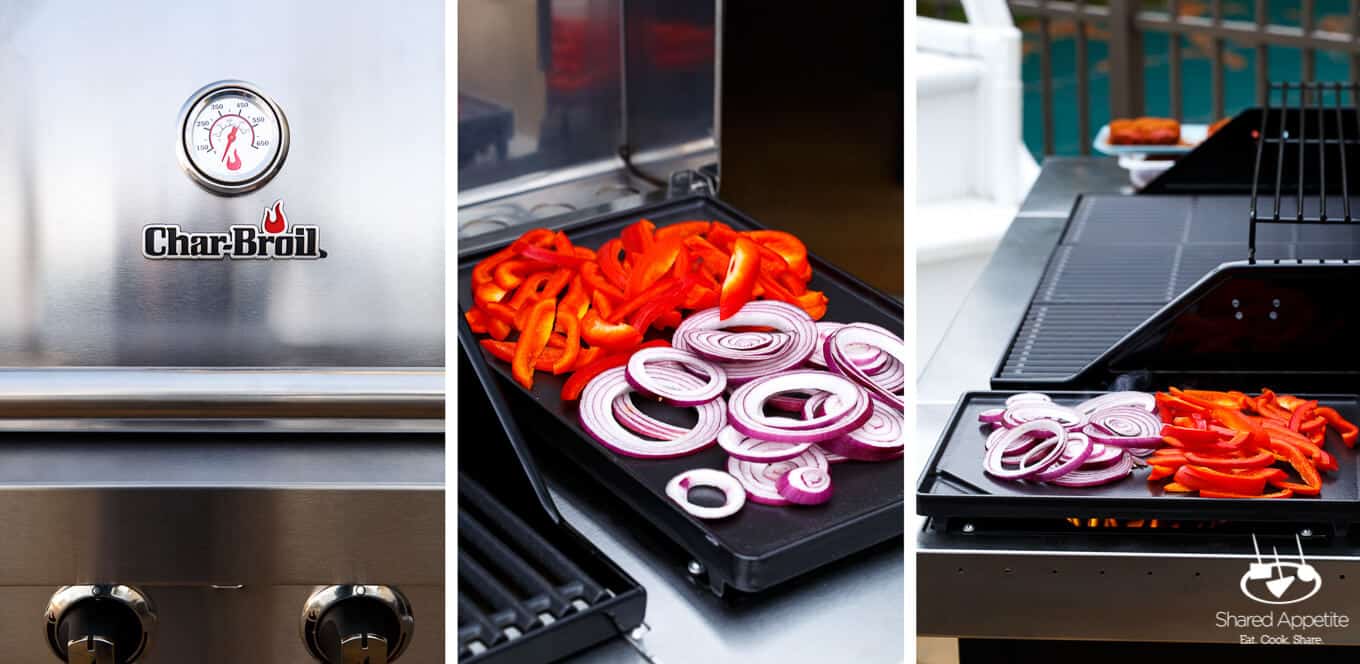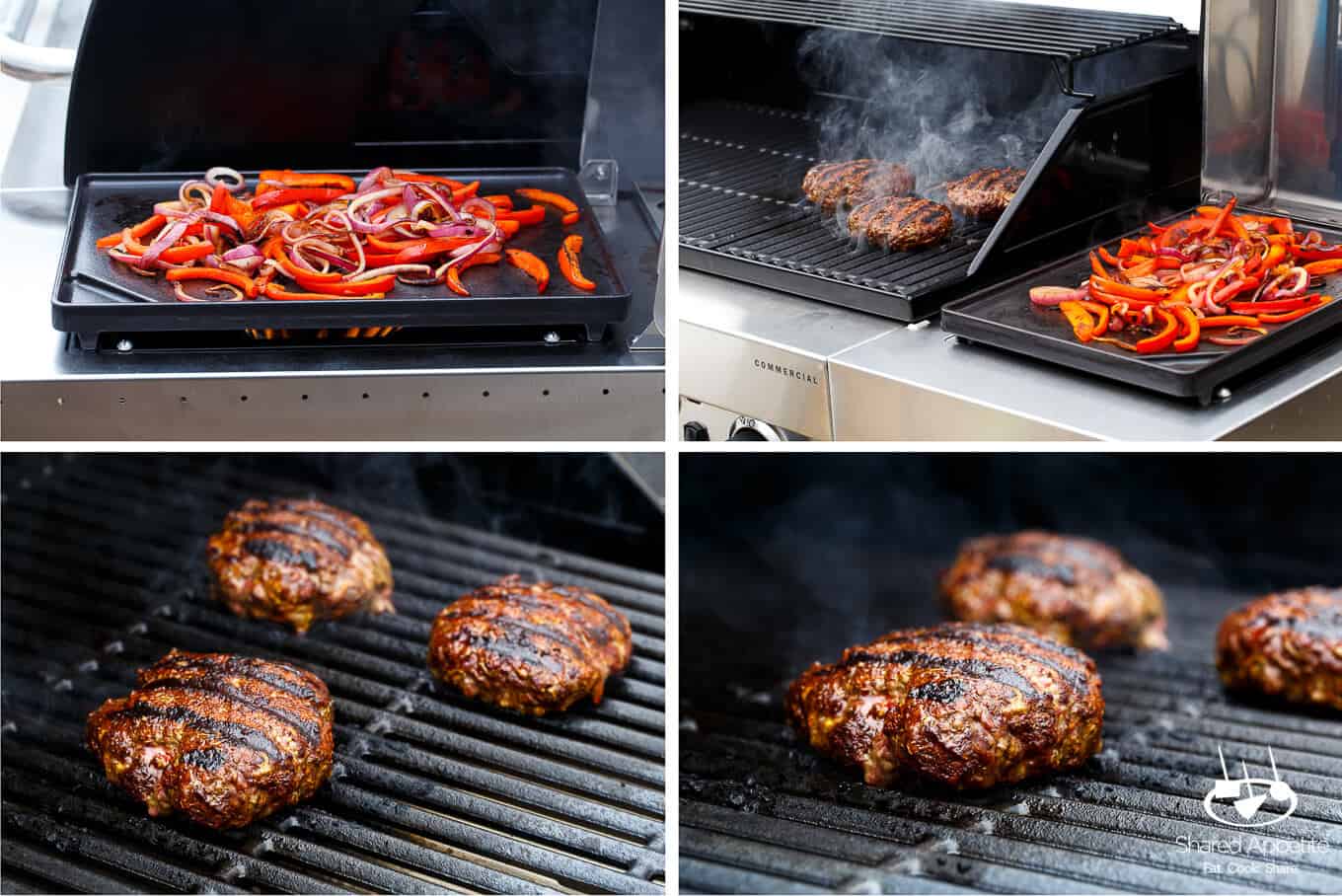 I've cooked on many grills in my life, and the one thing that always bums me out are those annoying flare-ups. They must annoy Char-Broil too, because they totally revolutionized the grilling game with their anti-flare-up technology. Seriously, no flare-ups on this Char-Broil bad boy!
I also am totally in love with how evenly distributed the heat is on this Char-Broil Commercial Series TRU-Infrared 3-Burner Gas Grill. I can put food anywhere I want and it'll all cook at the same pace. Glorious grilling victory!
Quite possibly my favorite feature of this new Char-Broil grill is the sideburner. It's got a rack if you want to heat up a side dish like baked beans or this unreal Spicy Southwest Corn, or you can use the included cast iron griddle to cook up things like bacon and fried eggs (hello epic burger toppings) and also these grilled peppers and onions that I used in the Fajita Burgers.
Usually when I grill up vegetables, I have to worry about them falling through the grates into the inferno below. Not any more. Boom. And I seriously couldn't believe how quickly they cooked up. It was grilling magic.
And really, this Char-Broil is so easy to use. I love the Surefire® Electronic Igniter… one push and the grill is ready to use. Perfect for foolproof entertaining!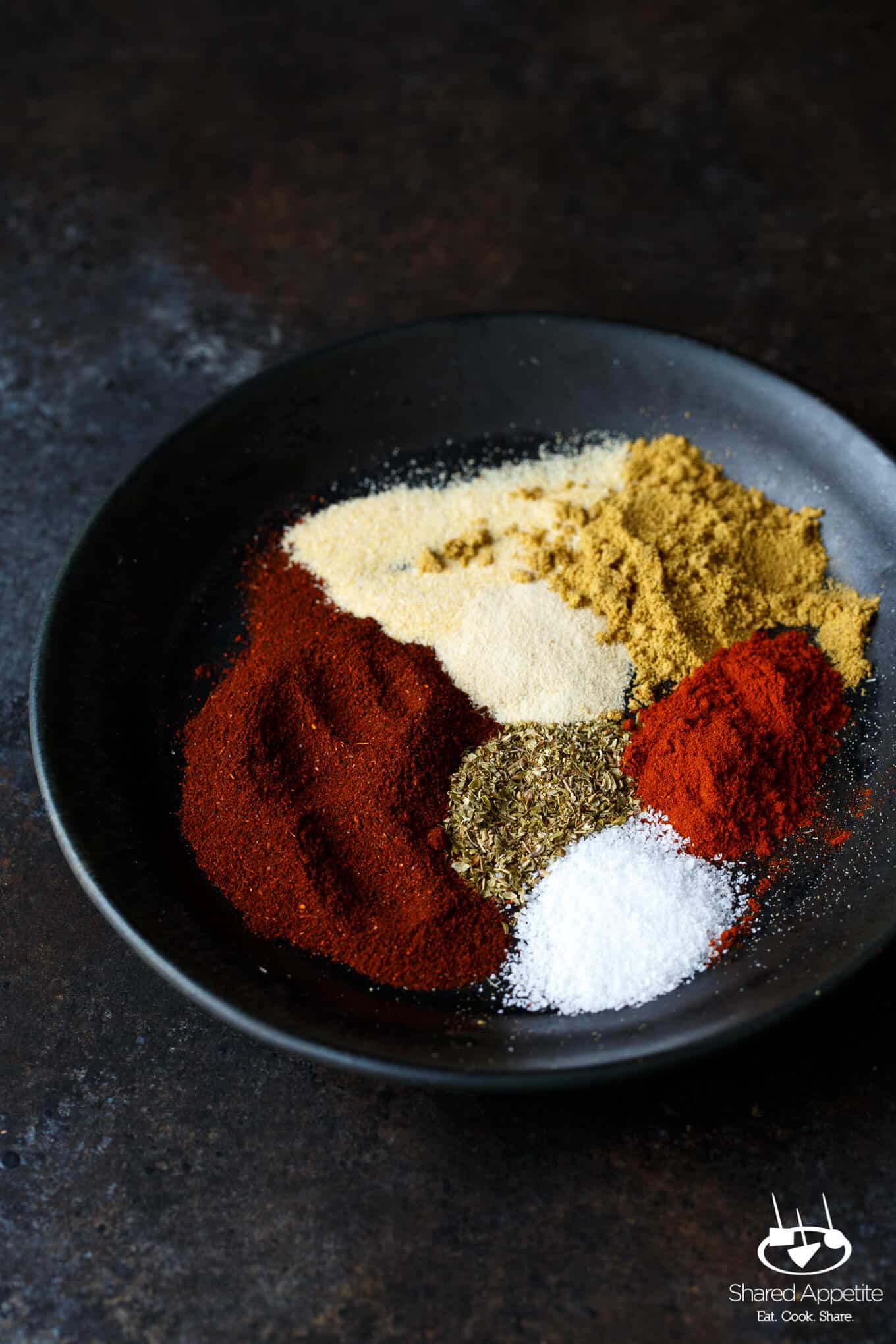 Back to these burgers. The spice crust is your typical taco spice mix. Feel free to use a store-bought taco seasoning packet if you are feeling especially lazy. I love how much flavor these spices impart on the fajita burger.
I used spicy pepperjack cheese on my burgers here, but you can feel free to swap in cheddar or Monterey jack if you've got that on hand. And of course feel free to use any salsa if you don't want to make pico de gallo or can't find it at the store.
The one thing you can't skimp on? The guacamole. I'm talking like a 1 to 1 ratio of burger to guac here. Okay, maybe not that much, but pretty darn close.
Let's review. The next time you want to throw one heck of a party? Get outside and start grilling. Fajita Burgers… for the win!
Print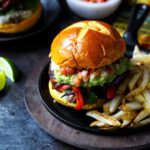 Fajita Burgers
---
Total Time:

20 minutes

Yield:

4

1

x
4

burger patties (approximately

1/3

pound each)

1 tablespoon

chili powder

1 teaspoon

cumin

1 teaspoon

paprika

1 teaspoon

Kosher salt

1/2 teaspoon

garlic powder

1/2 teaspoon

onion powder

1/2 teaspoon

oregano

2

red bell peppers, sliced

1

large red onion, sliced

1 teaspoon

vegetable oil

4

burger buns

4

slices PepperJack Cheese

4

pieces of lettuce
---
Instructions
Preheat grill to medium-high and side burner* to medium heat.
Mix together spices (chili powder, cumin, paprika, salt, garlic powder, onion powder, and oregano) in a small bowl. Coat burger patties in spice blend.
Grill burgers to desired doneness. One minute before they are done, top each burger with a slice of cheese and allow to melt.
Meanwhile, drizzle sliced peppers and onions with oil and season generously with Kosher salt. Cook, stirring occasionally to avoid burning, until peppers and onions are softened and charred in spots.
Place cheeseburgers on buns and top with lettuce, grilled peppers and onions, guacamole, and pico de gallo. Devour immediately.
Notes
*if you don't have a griddle side burner, feel free to grill peppers and onions in a cast-iron skillet on the grill or just cook in a skillet inside on the stove.
Prep Time:

10 mins

Cook Time:

10 mins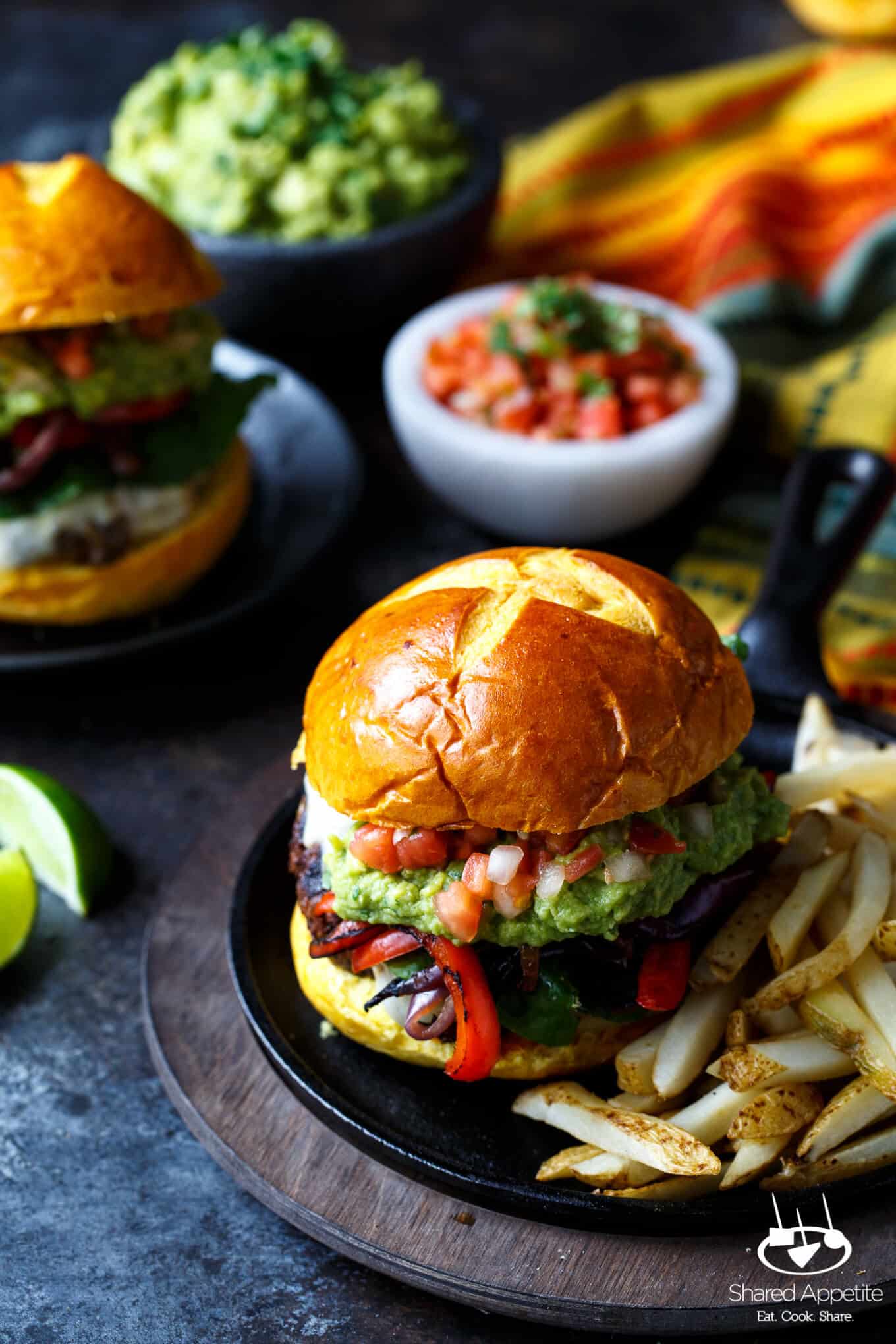 Fajita Burgers
Need More Grilling Ideas?
Lamb Kefta Burgers with Spicy Whipped Feta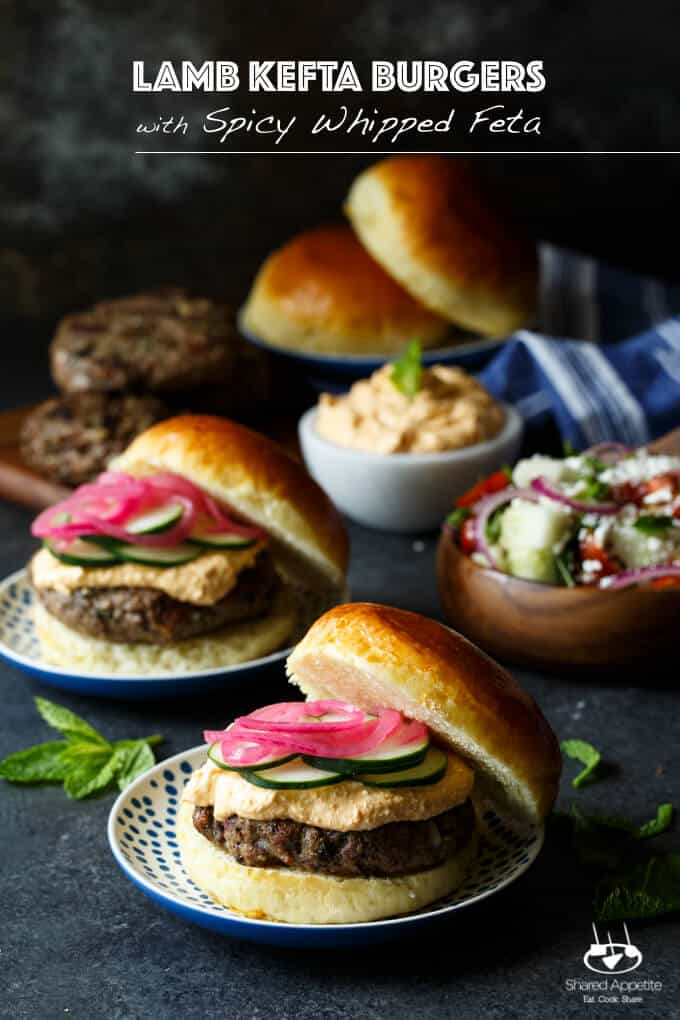 Whiskey Glazed Burgers with Spicy Brown Sugar Bacon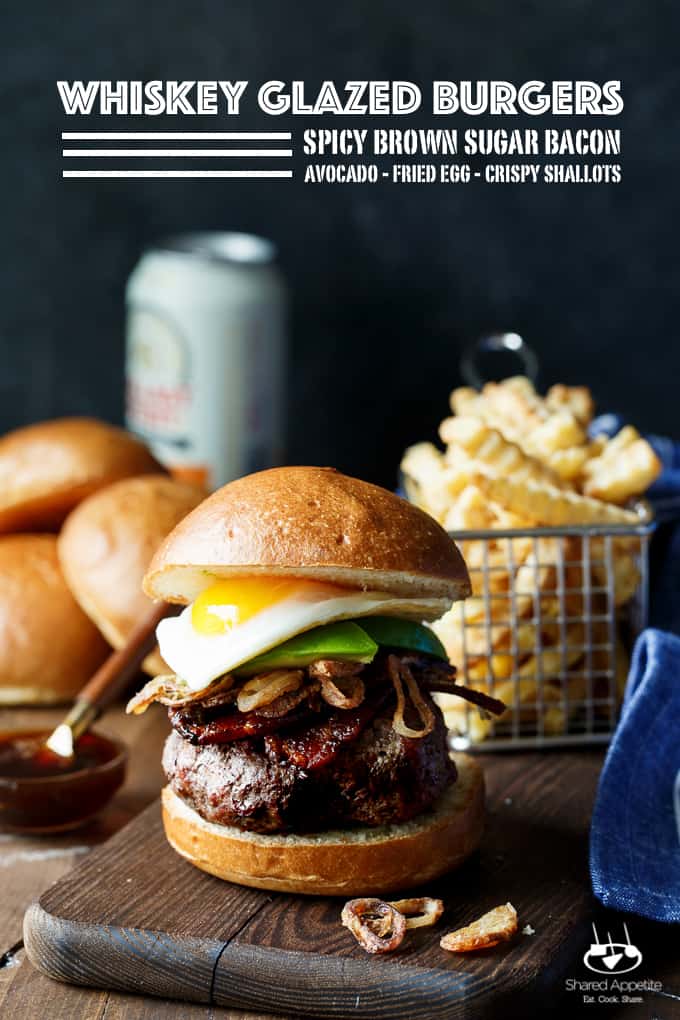 Spicy Roasted Pineapple and Avocado Bacon Burgers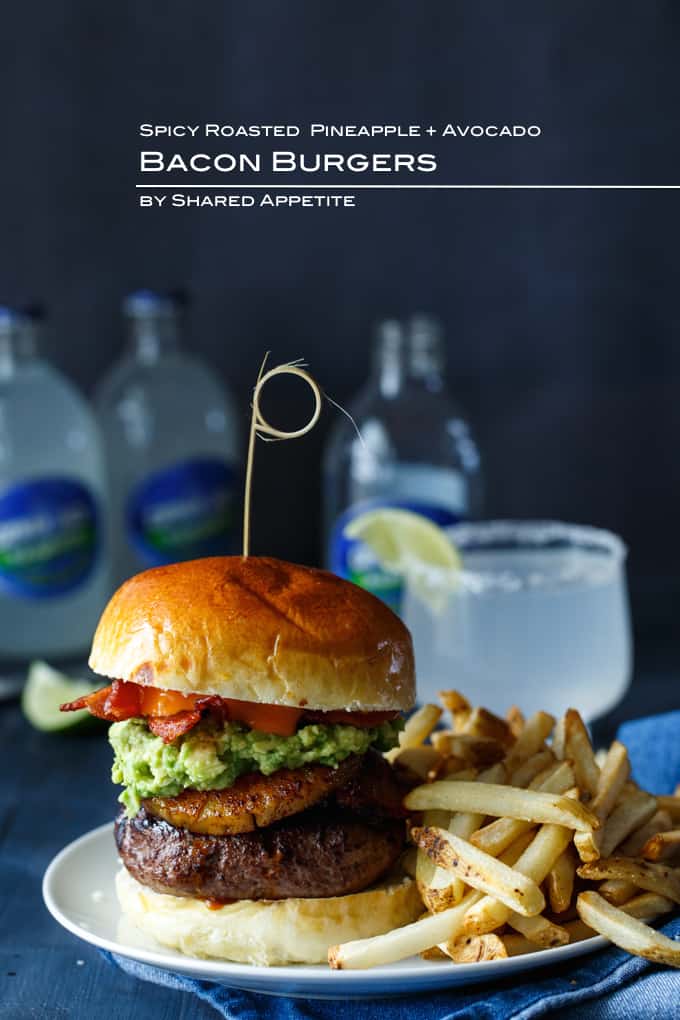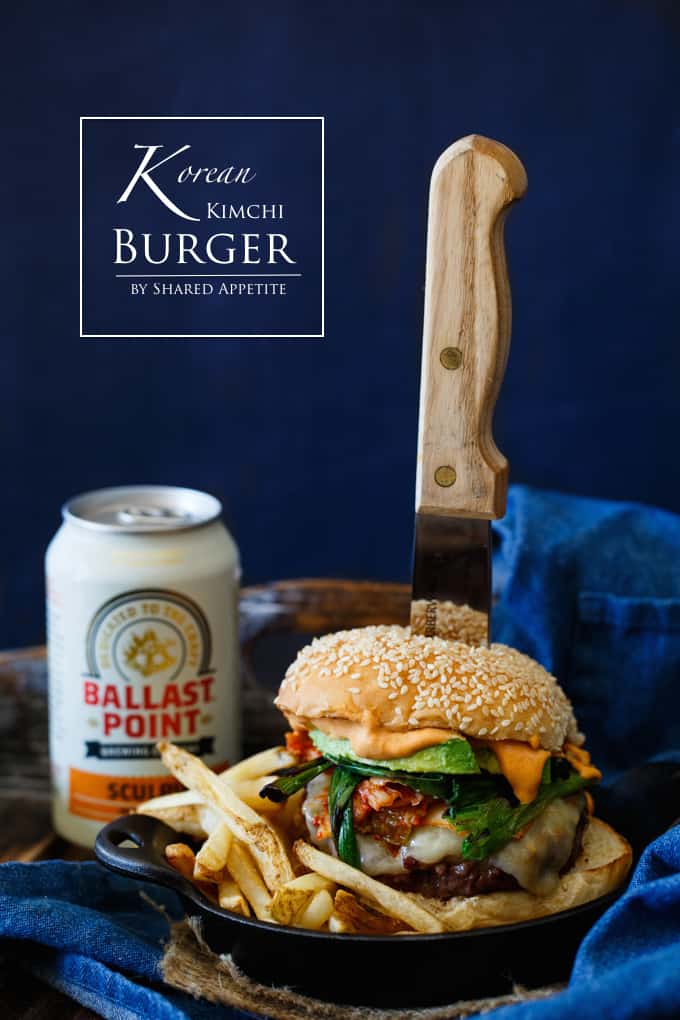 Jalapeno Popper Stuffed Bacon Cheeseburgers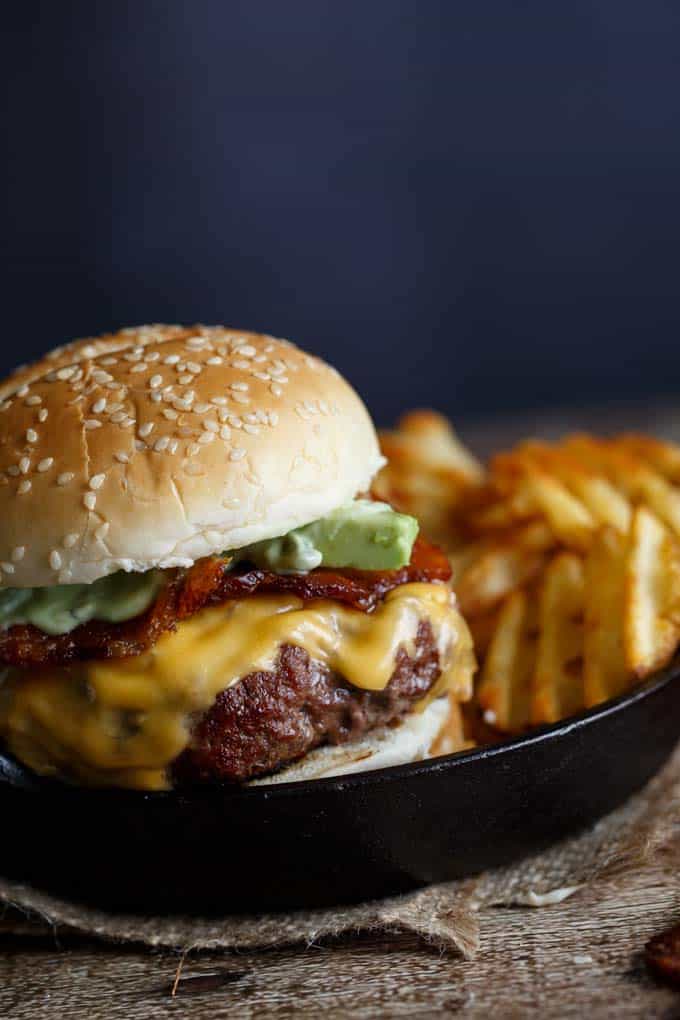 Pineapple, Bacon, and Teriyaki Hot Dogs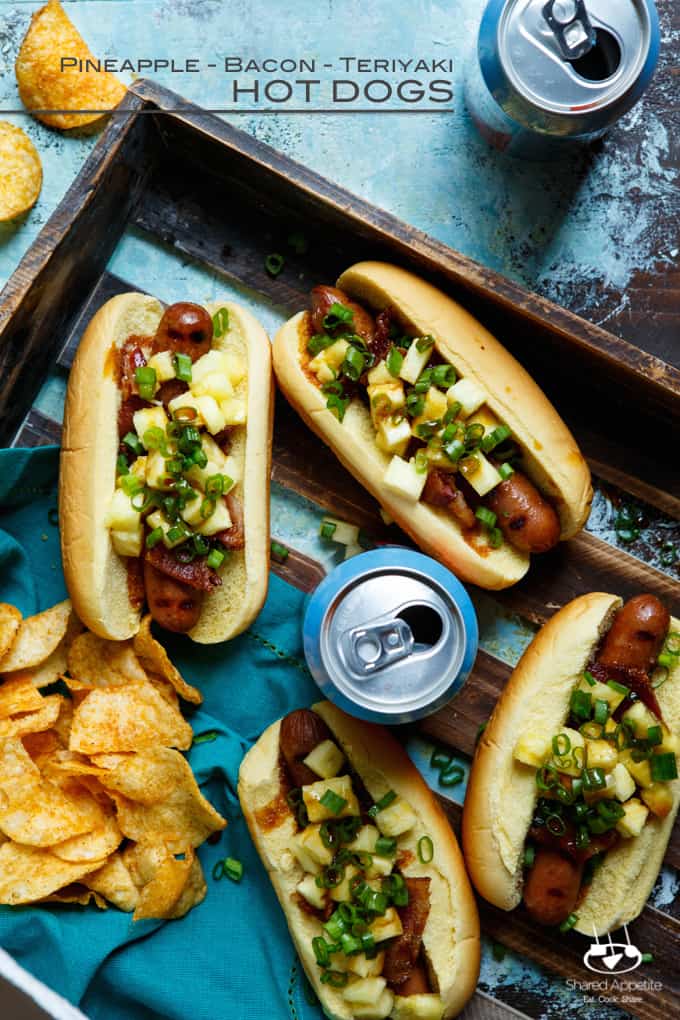 Bacon Mexican Street Corn Hot Dogs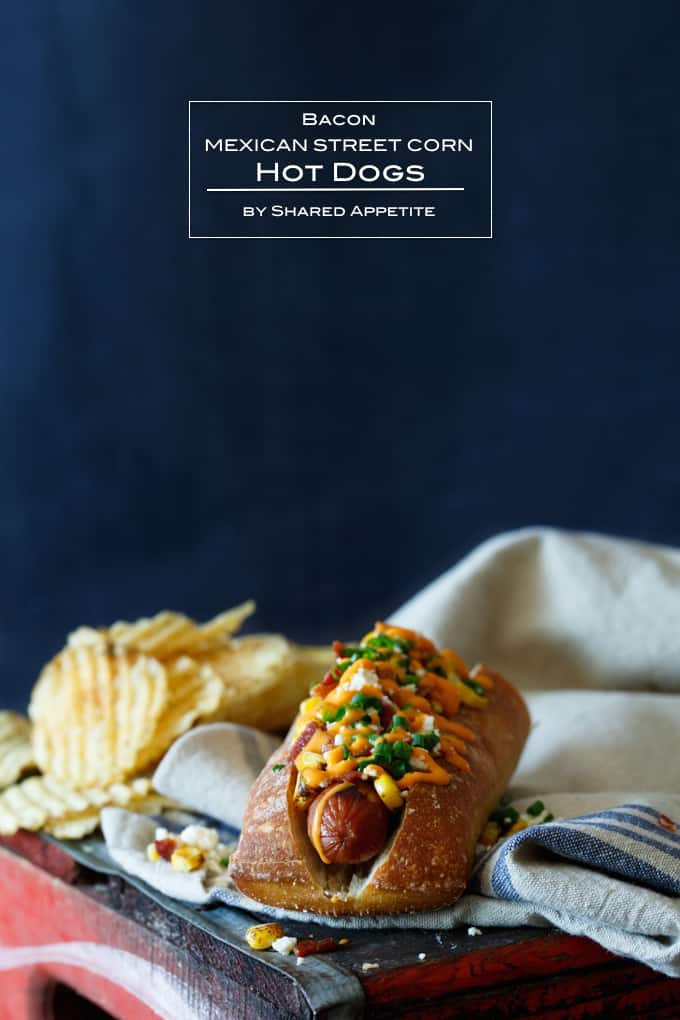 Bacon Wrapped Jalapeno Popper Hot Dogs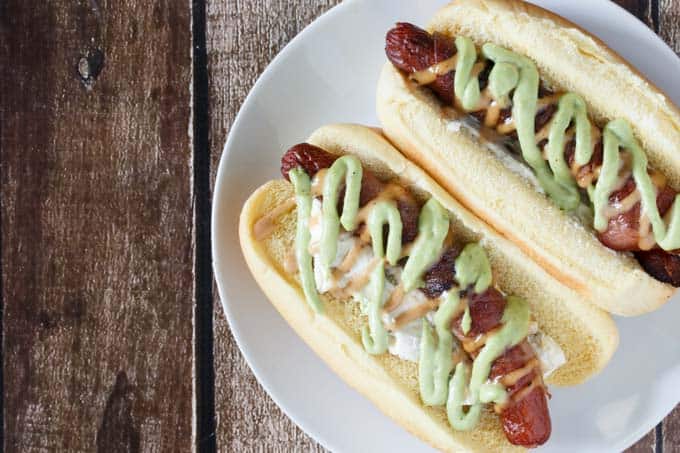 Grilled Corn, Plum, and Avocado Grain Salad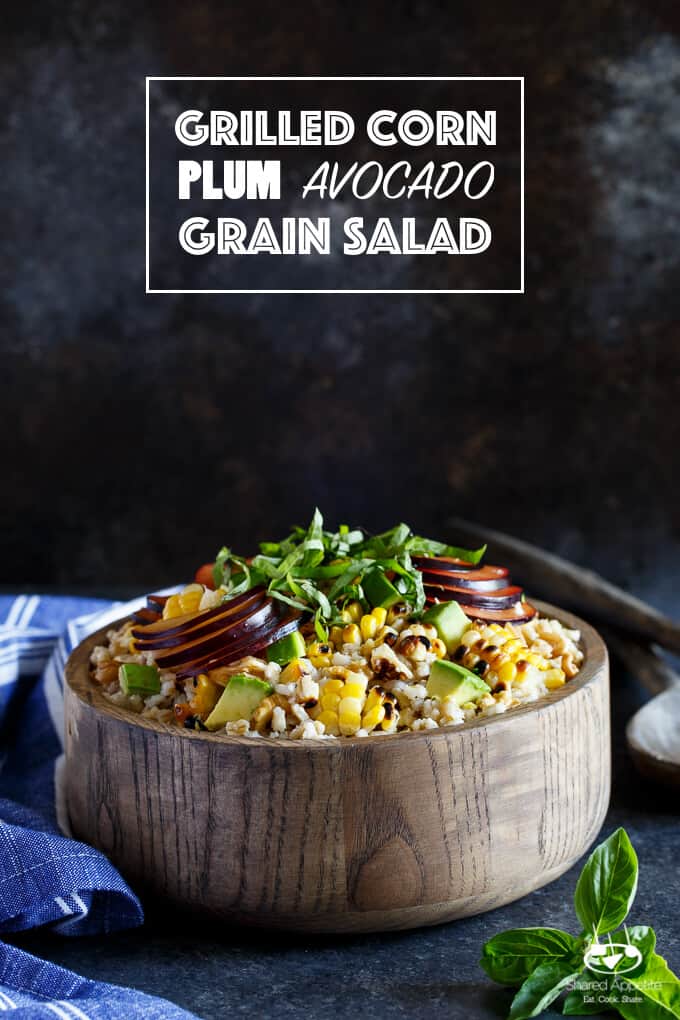 Corn, Blueberry, and Halloumi Salad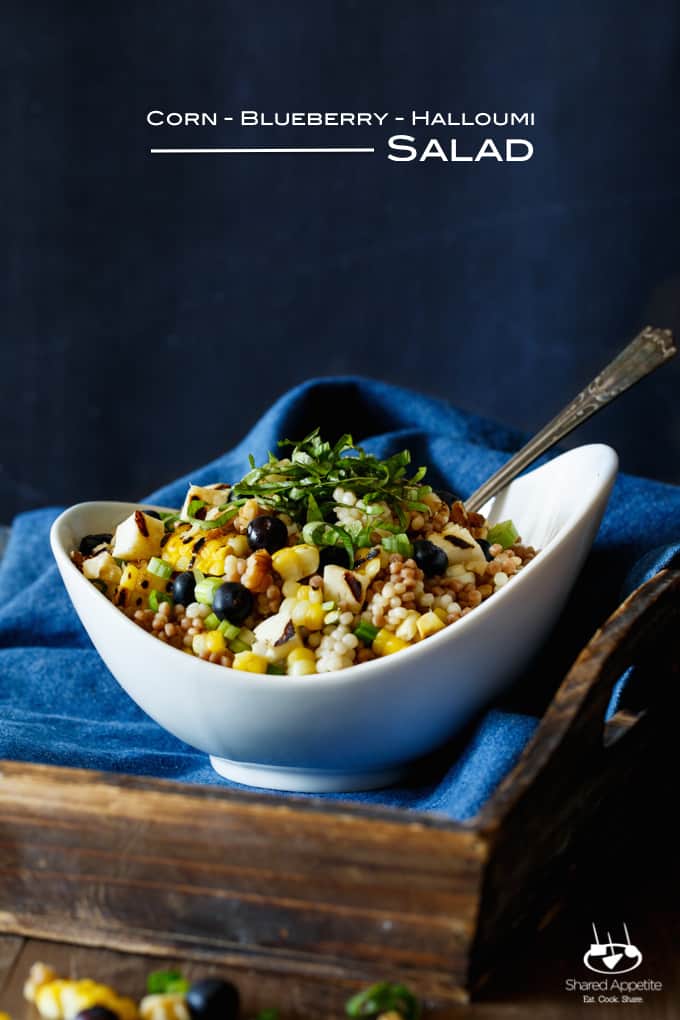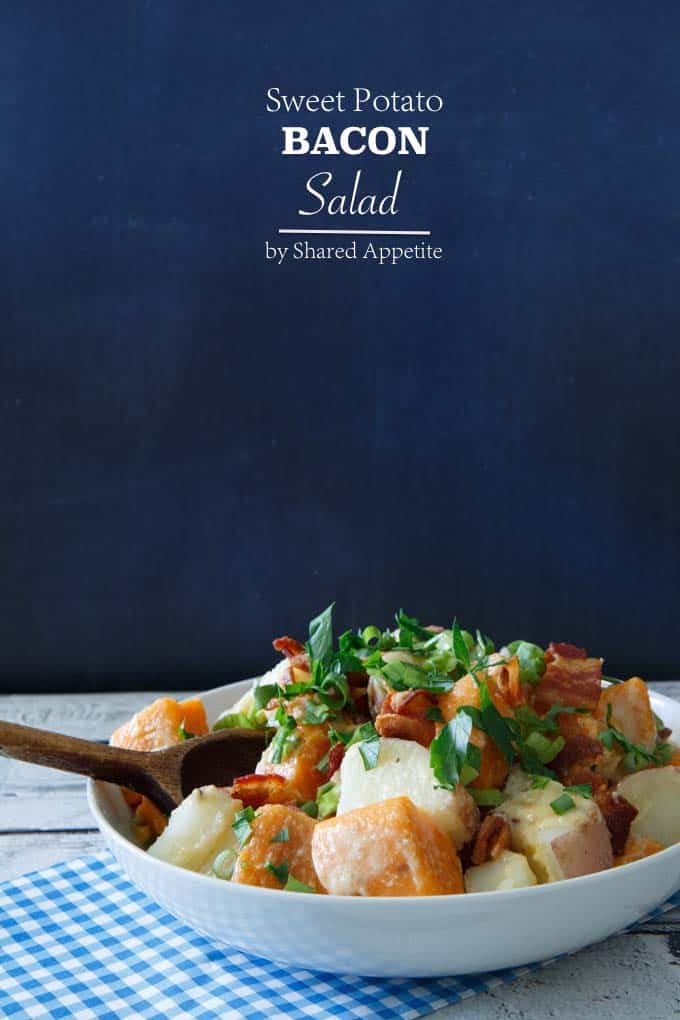 Watermelon, Feta, and Arugula Salad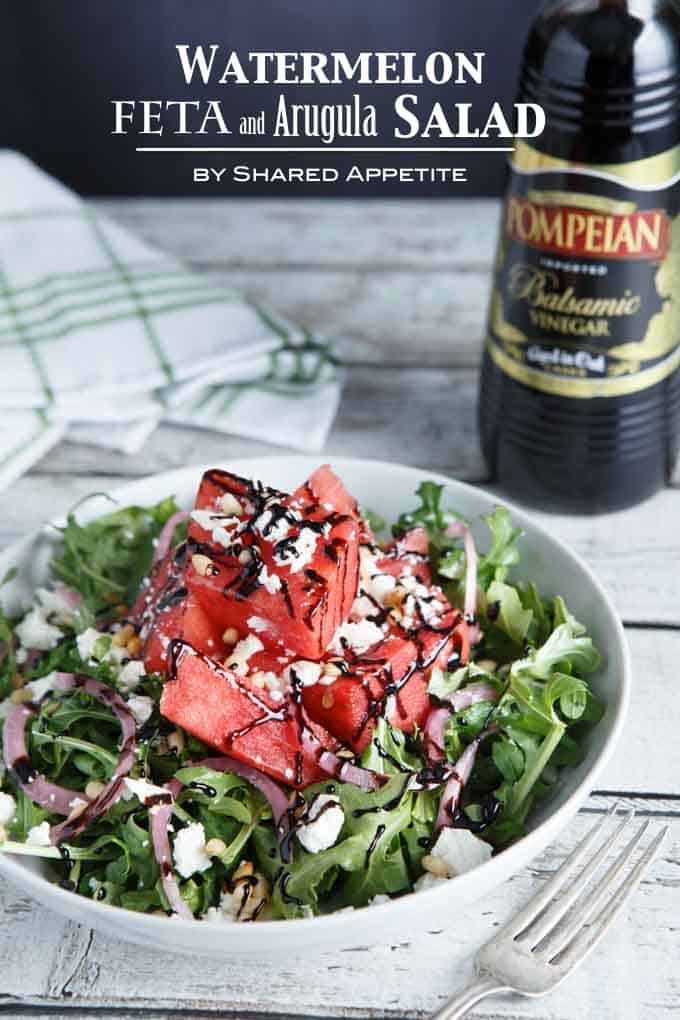 Roasted Corn with Sriracha Avocado Butter