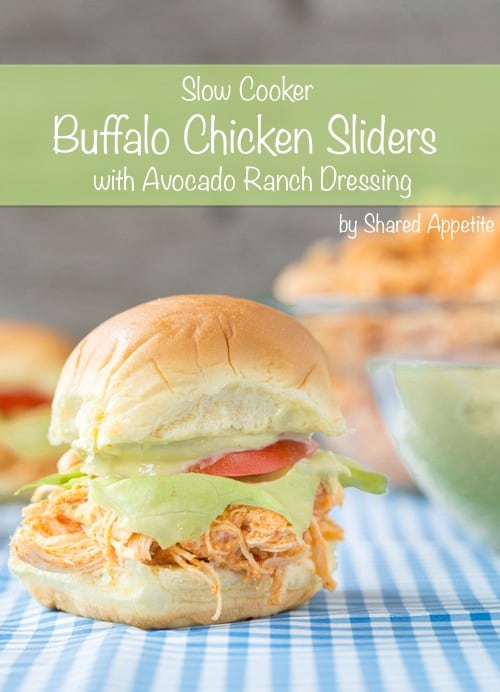 So you have a big old pot of Slow Cooker Buffalo Chicken. Now what? Well, if you're like me, you try to stretch it out into as many weeknight meals as possible. With a full time job as a music teacher, plus the many private lessons I run around doing until the late evening, the last thing on my mind is making some elaborate dinner. That's reserved for my days off 🙂
Once you've got your buffalo chicken, assembling these sliders literally takes all of 5 minutes. That, even on a crazy busy weeknight, I can do.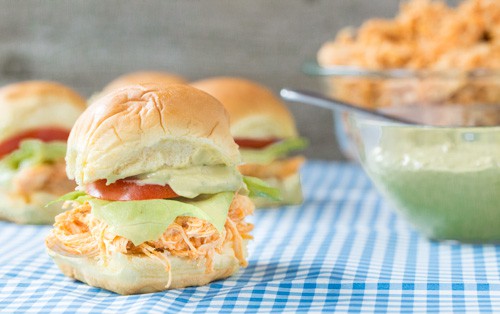 These little sliders are also a perfect game day recipe or for entertaining made easy. And listen, feel free to change up these sliders depending on your mood. I had some lettuce and tomato still laying around from our weekly CSA. But I can see some other fabulous combinations being winners as well.
Like what, Chris? Tell me, tell me!
I'm so happy you asked!
Instead of that healthy lettuce and tomato stuff, wouldn't it be fun to replace it with artery-clogging potato chips and bacon? I think so. Or if you want to keep with the buffalo chicken theme, what about some blue cheese (although I despise the stuff) and some pickled carrots and/or pickled celery?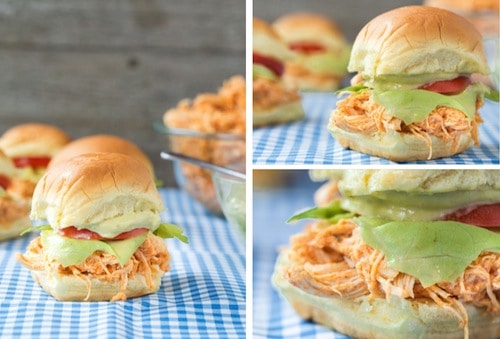 And if you're feeling extra rushed (or lazy), feel free to just use ranch or blue cheese (bleh) dressing… or take a short cut to the Avocado Ranch Dressing and just blend an avocado with some store bought stuff. But really, making the Avocado Ranch Dressing takes all of 3 minutes. So do it.
And I've found the key to maximizing enjoyment of these sliders is to include a healthy dose of the avocado ranch dressing slathered on the bun. Don't skimp out.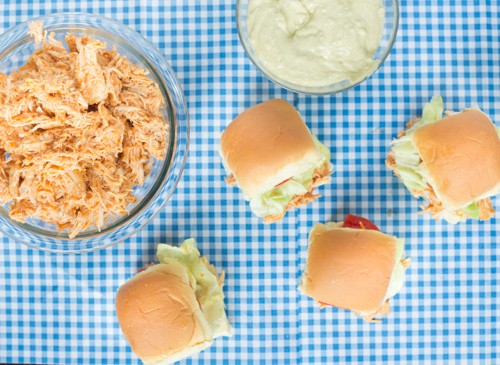 Print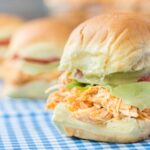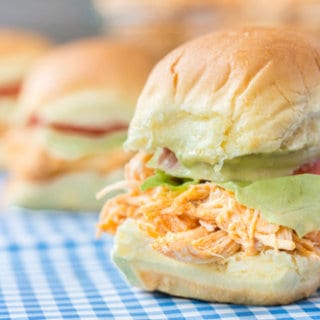 Slow Cooker Buffalo Chicken Sliders with Avocado Ranch Dressing
---
Yield:

As many as your want to make!
Slider Buns
Lettuce
Tomato, sliced
Avocado Ranch Dressing
for the Avocado Ranch Dressing
1

ripe avocado, roughly chopped

1/3 cup

sour cream

1/4 cup

mayonnaise

1

clove garlic, roughly chopped

1/2 tsp

Worchestershire sauce

1/2 tsp

white vinegar

1/2 tsp

paprika

1/4 tsp

onion powder
Kosher salt
Freshly ground black pepper
---
Instructions
Assemble sliders with some slow cooker buffalo chicken, a little lettuce, tomato slice, and a generous spoonful of avocado ranch dressing.
for the Avocado Ranch Dressing
place all ingredients into a food processor and puree until smooth. Store extra dressing in refrigerator with plastic wrap pressed directly onto the dressing. This will help keep the avocado from oxidizing and turning brown.
A Couple Variations:
-for extra indulgence, replace the lettuce and tomato with cooked bacon and potato chips.
-to keep with the buffalo chicken theme, top sliders with pickled carrots and/or pickled celery… or maybe some Blue Cheese (although I'm not a fan of the stuff).