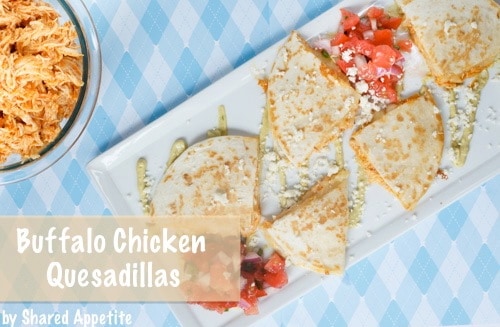 You are down to the last little bit of Slow Cooker Buffalo Chicken. Definitely enough to warrant a snack, but it's totally not going to cut it at the dinner table. Or will it. From afar, just when you abandoned all hope and are dialing for take-out pizza, comes your knight in shining armor. The one that can transform the dregs of all your leftovers into a complete and utterly fantastic meal that everyone at the table will be excited to devour.
That's right people. Quesadillas are our best friend. I always make sure to keep the fridge locked and loaded with flour tortillas and some shredded cheese for just these types of occasions. And you totally should too.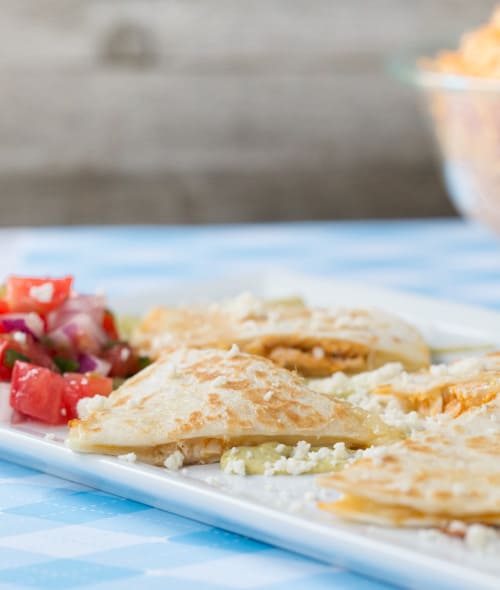 What's not to love about buffalo chicken surrounded by melty, ooey gooey cheese? And if you already made those Buffalo Chicken Sliders, you already have the Avocado Ranch Dressing.
And parents. Psst. You can totally get away with throwing in some healthy veggie stuff into the quesadillas too. The kids will be so excited by the melted cheese that you'll probably slip that nutrition right past them.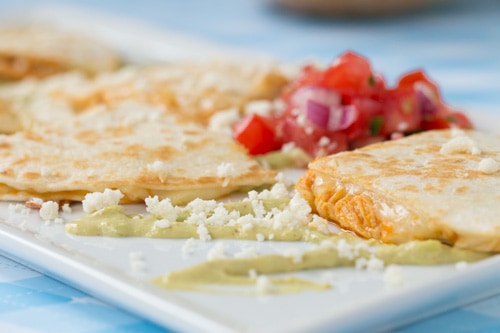 Just a note about the recipe. It doesn't really call for specific amounts because really, it's up to you how much cheese and chicken you stuff the things with. Go conservative, go crazy, just go.
And listen, if you are cooking up your quesadillas and the tortillas get all nice and golden brown on the outside but the cheese on the inside isn't quite melted, here's a little trick. Some people may call it cheating. Just pop it in the microwave for like 10-15 seconds. That should be enough time for the cheese to quickly melt without sacrificing the integrity of that crispy golden brown tortilla 🙂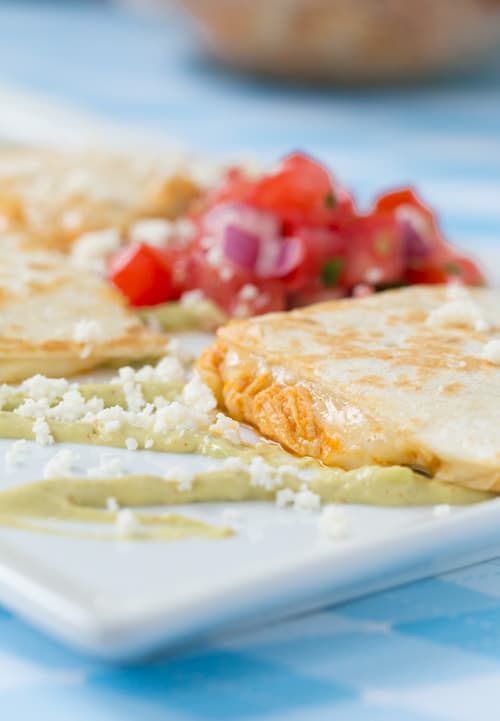 Next time you're in a bind for dinner and a bunch of leftovers are staring you in the face, just remember... quesadillas are your friend.
Print
Buffalo Chicken Quesadillas
---
[Slow Cooker Buffalo Chicken|
slow-cooker-buffalo-chicken/]
White cheddar cheese, shredded
Monterey jack cheese, shredded
Flour Tortillas
[Avocado Ranch Dressing|
slow-cooker-buffalo-chicken-sliders-with-avocado-ranch-dressing/]
[Pico de Gallo|
Queso Fresco, crumbled
---
Instructions
Heat a pan (big enough to fit your tortillas) over medium heat. I like to spray a little bit of non-stick spray into the pan as well.
Meanwhile,assemble your quesadillas. On one tortilla, sprinkle a bit of white cheddar cheese and monterey jack cheese, followed by some of the buffalo chicken, and then a final sprinkle of both cheeses. Top with the other tortilla and place in heated pan.
Cook for about 1-2 minutes, until tortilla is golden brown, and then carefully flip and cook 1-2 minutes more.
Cut into wedges and serve immediately with pico de gallo, avocado ranch dressing, and crumbled queso fresco.
Prep Time:

5 minutes

Cook Time:

5 minutes