This post for Spring Ravioli with Roasted Asparagus, Peas, and Lemon Butter is sponsored by Kitchen PLAY and Frigidaire Professional®. As always, all opinions and recipe are my own. Thanks for supporting the brands that support Shared Appetite!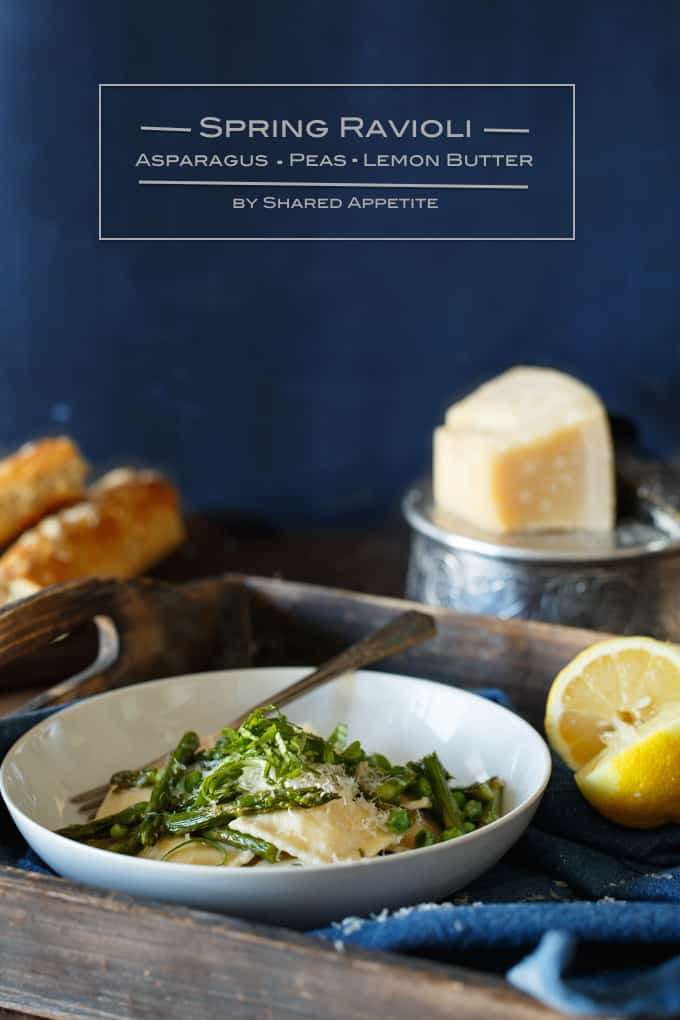 Want a quick and easy upgrade to your standard weeknight cooking? Boom. Spring Ravioli with Roasted Asparagus, Peas, and Lemon Butter!
Upgrades. That's a word we typically get excited about, isn't it? Sadly I've never been hooked up with any kind of sweet upgrades at an airport or hotel, and quite frankly, the only time I can remember getting one was like a decade ago when the guy taking my order at a fast food joint asked if I wanted to upgrade my combo to a large (yes, by the way).
But when it comes time to cook, I'm all about the upgrades. Take weeknight dinner for instance. No one has time to cook a serious gourmet meal after working all day, but I'm always way too excited about eating dinner to succumb to a lame, boring meal. That's when it's all about elevating your everyday cooking at home.
Like this ravioli. Who's got time to make fresh pasta dough on a week night? Not this guy. But with some store-bought ravs and some in-season flavors (hey there asparagus and peas, I'm looking at you), an upgraded weeknight dinner is a piece of freaking cake. Mmmm, cake.
Your typical run of the mill ravioli dinner... upgraded. Spring Ravioli with Roasted Asparagus, Peas, and Lemon Butter.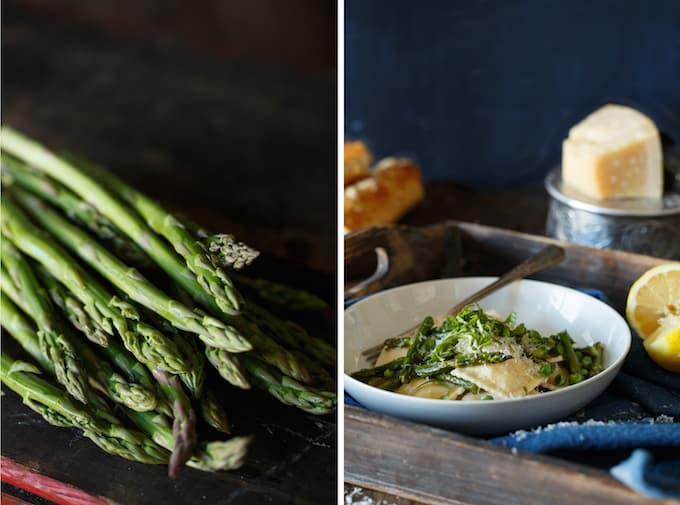 There are few things that give me greater happiness in spring than roasting up some fresh asparagus. Most times it doesn't even make it off the pan and into what I'm serving. Asheley and I just attack the baking sheet and start downing the little suckers. So basically what I'm saying is actually getting the roasted asparagus into this ravioli dish took great restraint on our parts. You're welcome.
And sure, you could do the typical red sauce thing with your ravioli, but hey, doesn't a bright lemon butter sauce with fresh Parmigiano-Reggiano cheese sound a little more elegant and appropriate for Spring? Bet your donkey it does.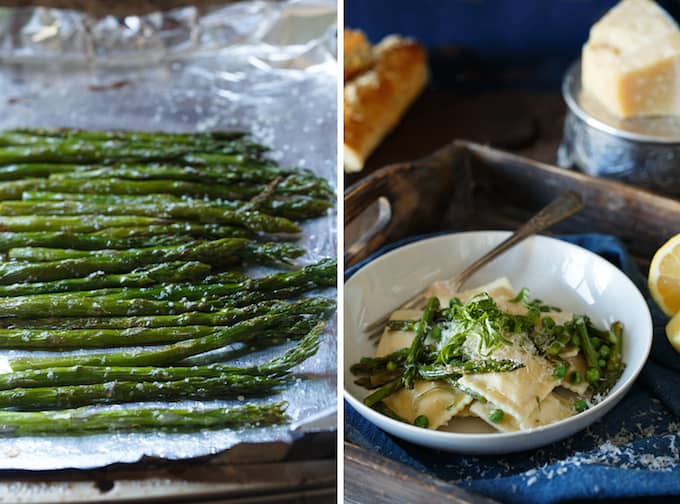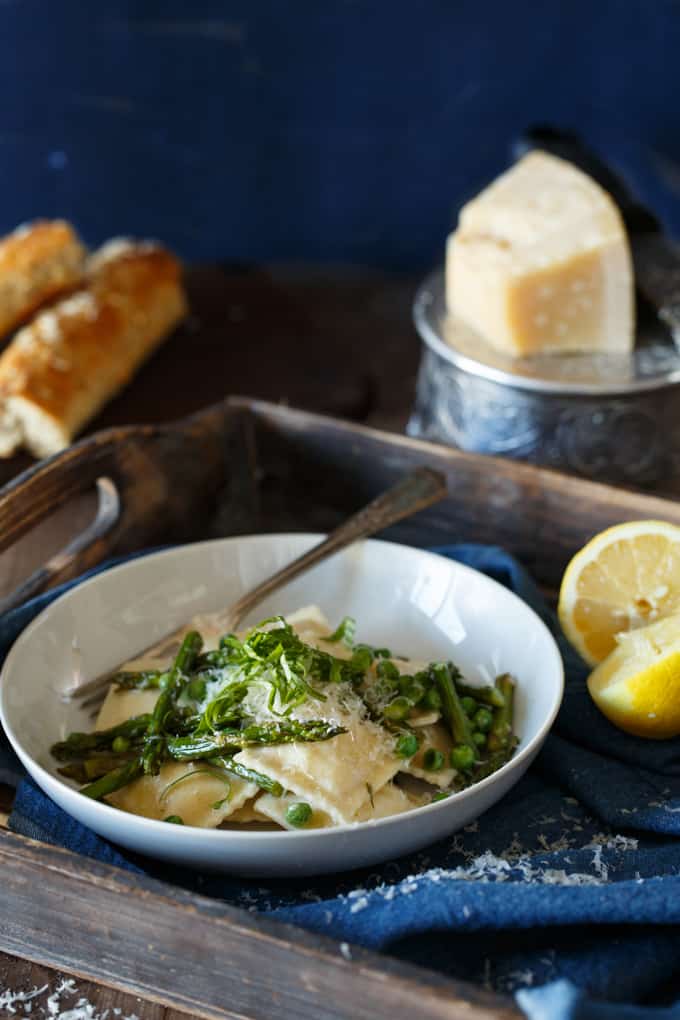 So this past summer, Asheley and I moved into our new home, and one thing that really sold us on it was the kitchen. It's pretty amazing and we totally love it. And by we, I especially mean me. Although she can whip up a mean chili, most of the cooking (and eating) is my domain. So the kitchen is kind of a big deal in my book.
The previous owners did a really fantastic job updating the kitchen a handful of years ago, but let's be honest. Even in a space that's pretty great already, don't we all dream about updating this or changing that?
Don't say it's just me.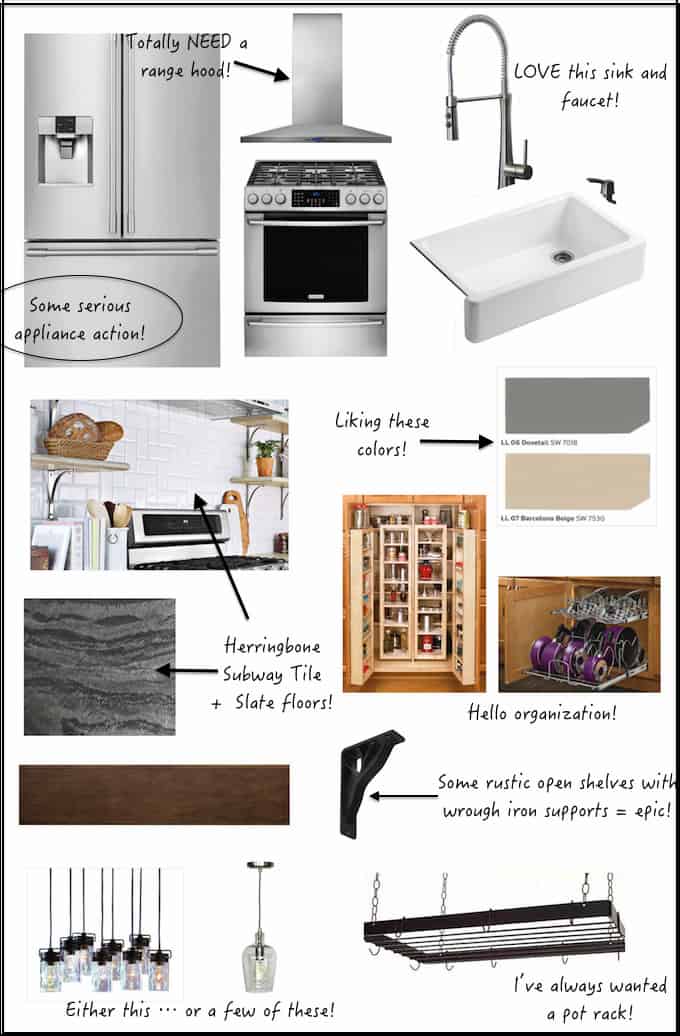 Here are some things that are totally on my radar to improve the look of my kitchen and deliver performance that elevates everyday cooking (everything on this list is available at Lowe's).
Frigidaire 5-Burner Stainless Steel Convection Gas Range
Frigidaire Convertible Wall-Mounted Stainless Steel Range Hood (I

need

a hood. Like, bad).
Frigidaire Professional French Door Refrigerator
Kohler Whitehaven White Farmhouse Kitchen Sink
Delta Cassidy Arctic Stainless Pull-Down Kitchen Faucet
HGTV Home by Sherwin Williams in Dovetail and/or Barcelona Beige
allen + roth Sable Wood Closet Shelf (hello open shelving!)
Ekena Millwork Wrought Iron Bracket
Rev-A-Shelf Swing Out Pantry Kit (woot for organization!)
Rev-A-Shelf 2-Tier Metal Pull Out Cabinet Basket (holy cow I can organize my pots/pans!)
Grace Collection Rectangle Pot Rack (I've always wanted one of those!)
Emser Silver Gray Natural Slate Floor Tile
American Olean Starting Line White Subway Wall Tile in Herringbone Pattern
allen + roth Vallymede Bronze Standard Multi-Pendant Light with Clear Glass Shade [OR]
a few of these allen + roth Brushed Nickel Mini Pendant Lights with Clear Glass Shade
Let's be honest, though. Asheley and I have a baby on the way. There's no way we are doing a major renovation project any time soon. But a quick weekend update? That's doable. And with Frigidaire Professional® line of appliances, that's totally possible.
Take my stove, for instance. It gets a lot of action. Professional appliances, though, typically take up more room than the standard spaces we have in our existing kitchens. With Frigidaire Professional® appliances, we can be legit with heavy duty, professional grade appliances that fit our current kitchen - without having to do an entire remodel. Boom.
Let's talk about how upgrading my kitchen with the Frigidaire Professional® Range and French Door Refrigerator would help me elevate my Spring Ravioli with Roasted Asparagus, Peas and Lemon Butter for just a second...
When roasting up some asparagus, I know I'm going to get even heating thanks to the PowerPlus® True Convection Bake and Roast.
My current stovetop takes forever to boil water. A total drag when you're in a rush. The PowerPlus® 18,000 BTU burner quickly boils like a champ.
You know what's a major bummer? When that fresh produce you bought gets all wilted and sad-looking in the fridge. This French Door Refrigerator preserves freshness and taste with the innovative PureAir® Ultra Filtration System.
Asheley and I love stainless steel, but not so much the cleaning part. Those darn things smudge like it's their job. Good news for us: the Frigidaire Professional® line of appliances are all available in Smudge-Proof™ Stainless Steel!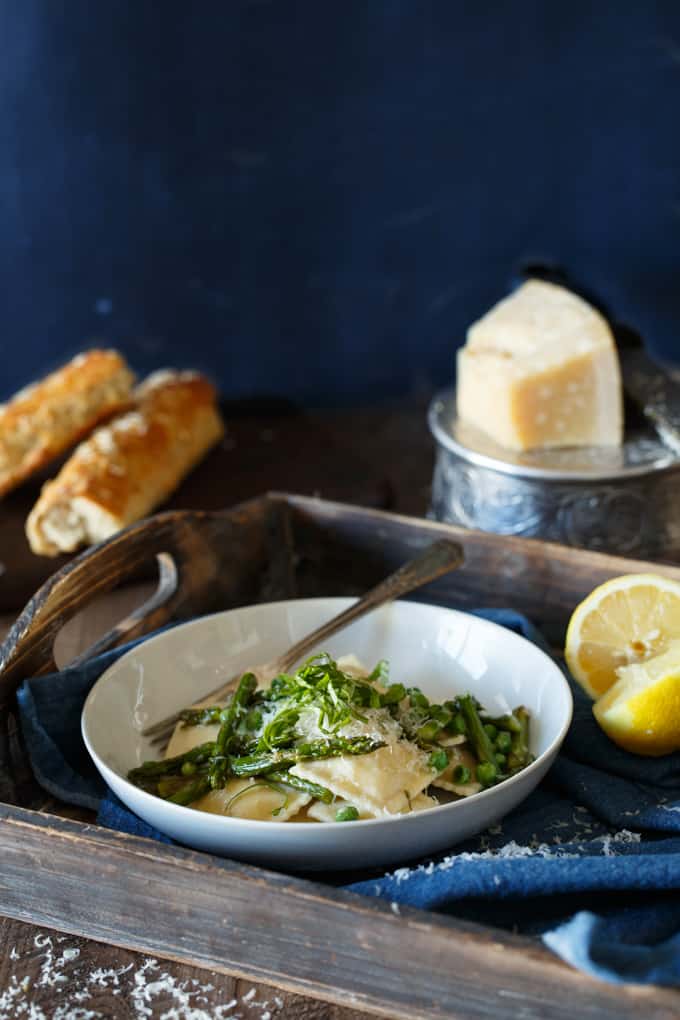 Print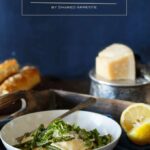 Spring Ravioli with Roasted Asparagus, Peas, and Lemon Butter
---
Total Time:

35 minutes

Yield:

4

Servings

1

x
1

package store-bought cheese ravioli

1 cup

frozen peas, thawed

1

bunch (approximately 1 pound) asparagus
Olive oil
Kosher salt

½ cup

(

1

stick) unsalted butter

1

small shallot, finely chopped

1

clove garlic, minced

1

lemon, zested and juiced

¾ cup

shredded Parmigiano Reggiano cheese
Basil, for garnish
---
Instructions
Preheat oven to 400°F. Break off tough ends of asparagus and arrange in a single layer on an aluminum foil lined baking sheet. Drizzle lightly with olive oil and sprinkle generously with Kosher salt. Toss to coat. Roast in oven for 20-25 minutes, until asparagus is tender but still crisp. Chop roasted asparagus into bite-size pieces.
Heat butter over medium heat in a medium skillet. Add shallot and cook, stirring occasionally, until softened, about 3-4 minutes. Add garlic and cook, stirring occasionally, for 1 minute. Using a microzester, zest lemon and add, along with juice of the lemon, to skillet. Season with Kosher salt and cook for 2-3 minutes. Remove from heat and strain through a fine mesh sieve. Discard solids and return lemon butter sauce to skillet. Stir in ½ cup of the shredded Parmigiano Reggiano cheese.
Meanwhile, bring a large pot of water to a boil. Season generously with Kosher salt and cook ravioli according to package directions. Drain ravioli and add to skillet with lemon butter sauce, along with peas and roasted asparagus. Toss to coat.
Divide between 4 bowls and top with remaining Parmigiano Reggiano cheese and basil. Devour.
Prep Time:

10 mins

Cook Time:

25 mins
Check out Frigidaire and Lowe's on social media:
Frigidaire @Frigidaire on Pinterest, Facebook, Twitter
Lowe's @Lowes on Pinterest, Facebook, Twitter