I love guacamole.  It is the perfect accompaniment to many of my favorite foods:   fajitas, quesadillas, nachos, tacos.  There's not much that guacamole doesn't improve.   It's also just insanely addictive with a big 'ole bowl of tortilla chips.
I have to admit, I'm also the sucker that always has to order guacamole when dining out.  If the restaurant has guacamole on the menu, I'll order it.  And almost always, Asheley and I are severely disappointed.  Many lack basic seasoning, while some fall flat due to a lack of acidity from enough lime juice.
Good thing guacamole is really easy to make.  I think you are really going to enjoy this recipe.  I know Asheley does 🙂
This recipe is has been slightly adapted from Alton Brown.  He adds cumin to his guacamole, which really adds a nice earthy flavor to the finished product.
Removing the pit from avocados is one of my favorite things to do in the kitchen.  It's so much freaking fun.  Give the pit a good whack with your chef's knife, twist, and it should pop right out.
Here's the part where you need to be careful: removing the pit from the knife without cutting yourself.  Use a kitchen towel or your fingers and push off the pit from the non-sharpened side of your knife.  Don't try to pull it off from the sharpened side... you're just asking for trouble.
Sure, you can just use a spoon and scoop out the pit.  But really, where's the fun in that? 🙂
To make mashing a bit easier, I like to give the avocado a quick chop while it's still in it's skin.
Then go to town with a fork and mash it all up.
As an aside, after reading a post on Amateur Gourmet's blog about "Authentic Guacamole", I totally realize all these ingredients (garlic, cumin...) may not be completely authentic.  I'm okay with that, because it tastes good.  And good is good, authentic or not.
One interesting thought the Amateur Gourmet mentioned was that if you don't like the flavor of lime, lemons are a great substitute.  I never tried it, but hey, you never know.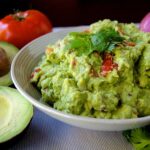 The Best Guacamole
---
½

medium sized red onion, finely minced

2

small to medium cloves garlic, finely minced (or

1

large clove)

1

jalapeno, seeded and deveined, finely minced

¼

-

½

teaspoon cumin

3

ripe Haas avocados*

1

to

2

limes

1

medium tomato, diced

½ cup

frozen corn, thawed (optional)

⅛

to

¼

c. cilantro, finely chopped
Kosher salt
Freshly ground pepper
*Many places sell avocados that are still rock hard. Hard, unripe avocados will need a couple days at room temperature to ripen. If the avocado yields to slight pressure, it is ripe. Normally these ripe avocados will have brownish skin. If it feels too squishy, it is overripe, with spoiled darkened flesh.
---
Instructions
Add red onion, garlic, jalapeno, and cumin into a small mixing bowl.
Halve the avocados and remove the pit by either scooping it out with a spoon or giving it a careful, firm whack and twist with a chefs knife. Be careful when removing the pit from your knife that you don't cut yourself! Use a dish towel or keep your hand on the non-sharpened side of the knife and push the pit off the knife with your fingers.
While still in it's skin, cut the avocado into small cubes. This will make the mashing of the avocado in the next step a little easier. Using a spoon, scoop avocado out of skin and into the bowl.
Using medium pressure, roll 1 lime back and forth under the heel of your hand on the countertop, which will help release its juices. Cut the lime in half and squeeze the juice into the bowl.
Using a fork, mash the avocado mixture to desired consistency. I like to leave the avocado just a little chunky in the guacamole.
Fold in the tomato, cilantro, and corn if you are using. Corn adds a some great sweetness that I personally love. Season guacamole with Kosher salt and freshly ground pepper, to taste.
Let guacamole rest for at least 30 minutes before serving so the flavors can meld. Feel free to make several hours ahead of time. To avoid avocados turning brown, place plastic wrap directly onto the guacamole, sealing off all outside air. Store in refrigerator until ready to serve.
When you are ready to serve, taste the guacamole and if needed, add more salt and the juice from the other lime.