These guilt-free Healthy Cauliflower Rice Burrito Bowls taste just like your favorite Chipotle takeout, just without all the calories!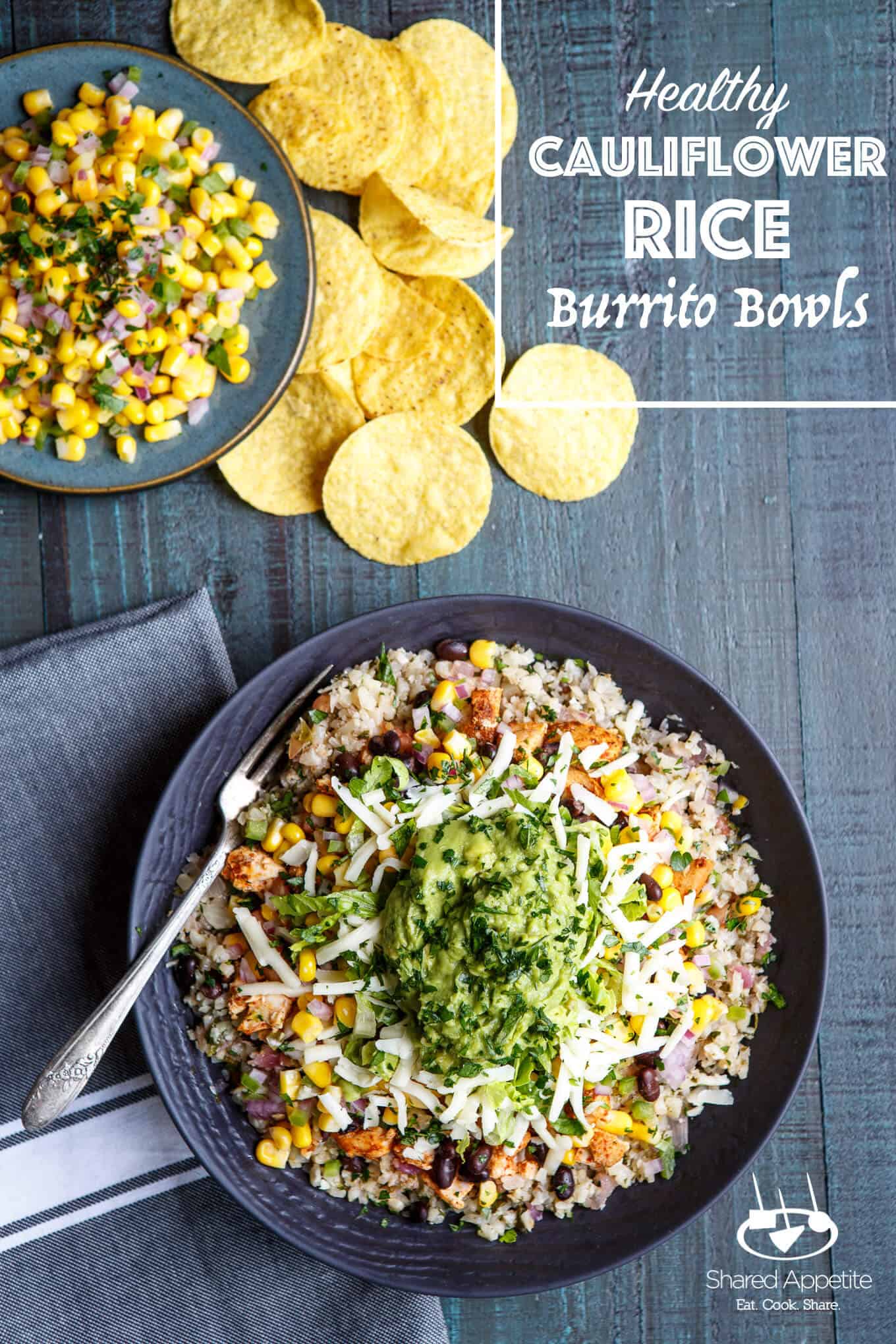 2 days. Just 48 hours before another school year begins. The beginning of each school year usually coincides with a need to go on a bit of a diet. Summers filled with lots of parties, ice cream, and elastic shorts don't really equate to a body that can fit into clothes with a defined waistline.
However, this year is a bit different. I started the diet during the summer, at the very beginning of August. Now, I have to admit. I'm a bit of a master at dieting. Oddly enough, I'm also a master at gaining weight… but I digress. Dieting for me, always, has been one where I eat super well for a few months and my body loses weight very well (the converse is also unfortunately true). But this time, I really want it to be different. I don't want to lose only to gain again. I truly and fully want this to be a permanent lifestyle change.
What does that mean? Not only am I working hard to make better food choices (with the occasional indulgence, of course), but I am also doing the thing I hate the most. Exercising. Specifically, the worst form of exercising. Running. I loathe running. However, I made a commitment to run every day, and so far I've kept it. And you know what? I actually kind of enjoy it now. Not really enjoy… more like tolerate, but a good tolerate. And I'm happy to report that in the first month, I'm down 20 pounds. Boom.
The secret to eating well, of course, is to still eat well. It's important not just to eat healthy, but to eat absolutely DELICIOUS food… like these Healthy Cauliflower Rice Burrito Bowls. They pack in so much unbelievably bold, healthy flavor.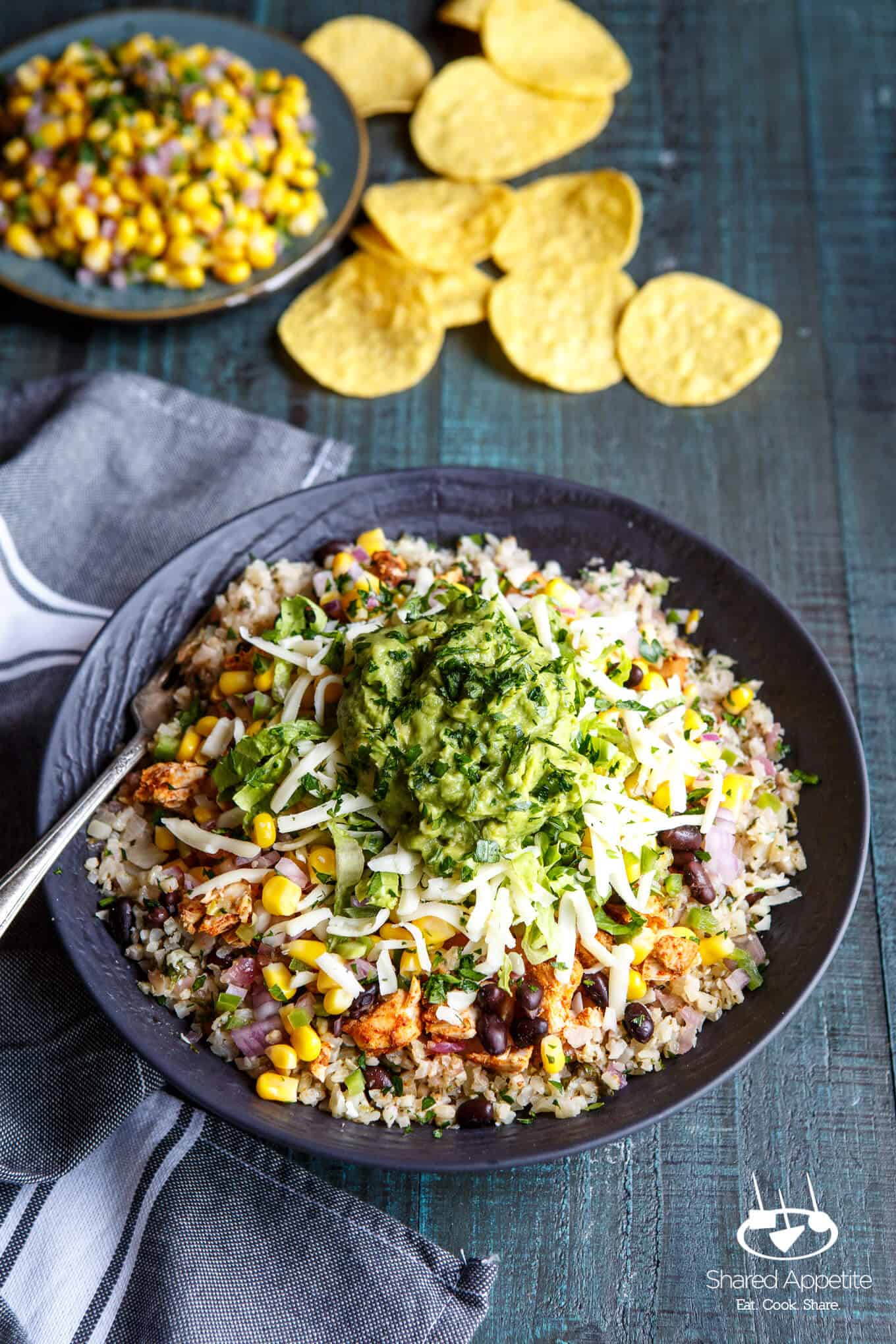 Is anyone else kinda obsessed with Chipotle? I'm pretty sure Asheley and I grab takeout from there at least once a week. I love that I can feel pretty healthy about grabbing a salad or burrito bowl. But I always feel a little bit guilty about all that rice. I know it's not great for me. So these Healthy Cauliflower Rice Burrito Bowls are the PERFECT solution.
It's just like the Chipotle bowls, but with a much more nutritious base.
Gotta admit. I've always been a bit skeptical about cauliflower rice. I mean, it's still cauliflower. Just because it's in a cute little rice shapes doesn't mean it's going to taste like rice.
And it's definitely not rice. But… and this is a HUGE but… this Cilantro Lime Cauliflower Rice is actually really, really great. It's got an incredible flavor and the texture definitely mimics the feeling of the rice in a burrito bowl.
All the flavor and texture… with almost none of the calories. That's a big win!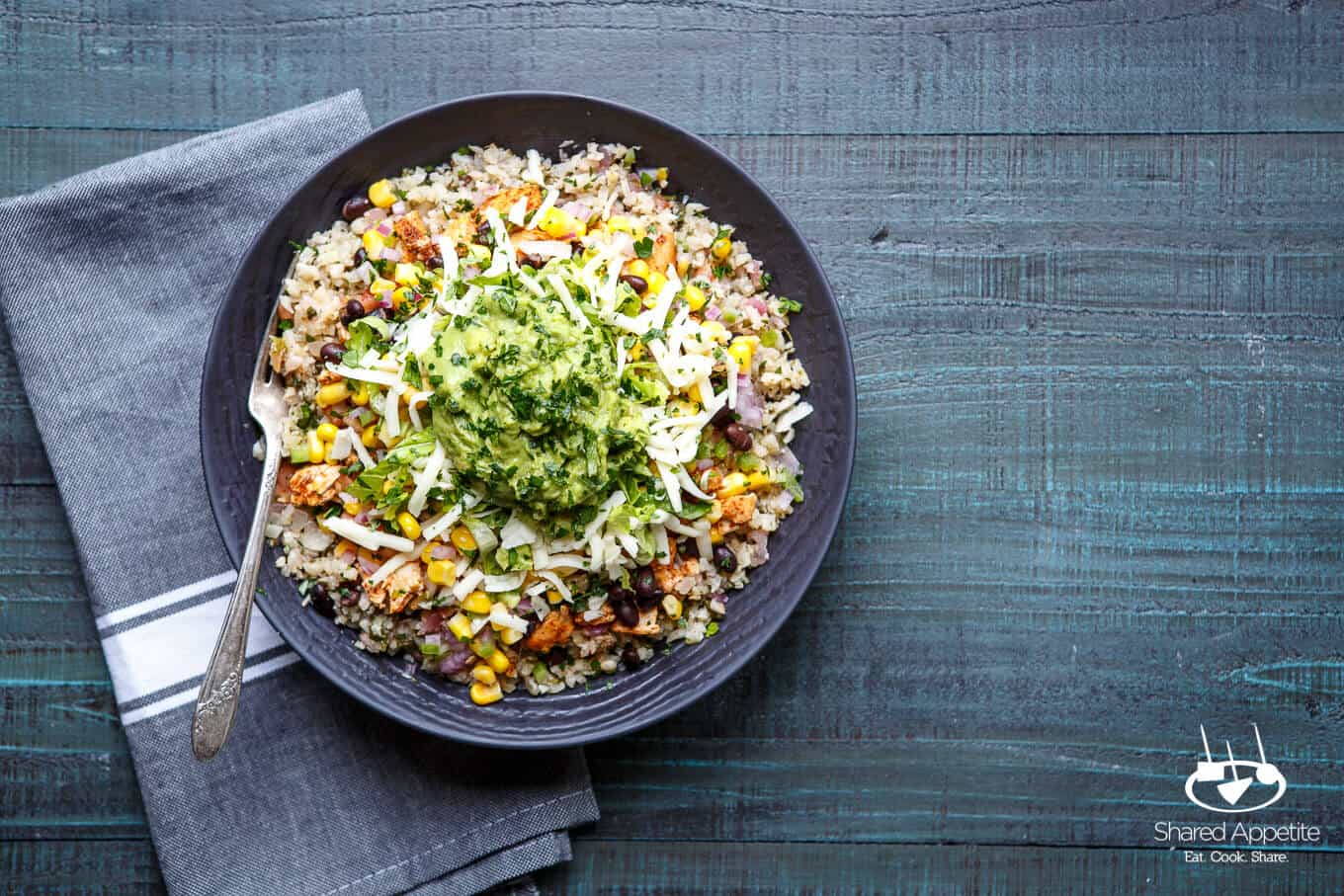 The best part of these Healthy Cauliflower Rice Burrito Bowls? The toppings, of course.
C'mon. Anyone that's gone down that iconic Chipotle line knows the beauty of getting to customize your bowls with a variety of toppings as far as the eye can see.
And to do any epic burrito bowl at home… you need to do it right. Bring on THE TOPPINGS.
A can of black or pinto beans. A quick corn salsa (just like the one at Chipotle). A super simple and fresh Pico de Gallo. My famous guacamole. And of course some lettuce and cheese to top it off. That's how you take an ordinary dinner into the land of extraordinary.
Bonus points if you have some legit hot sauce on hand.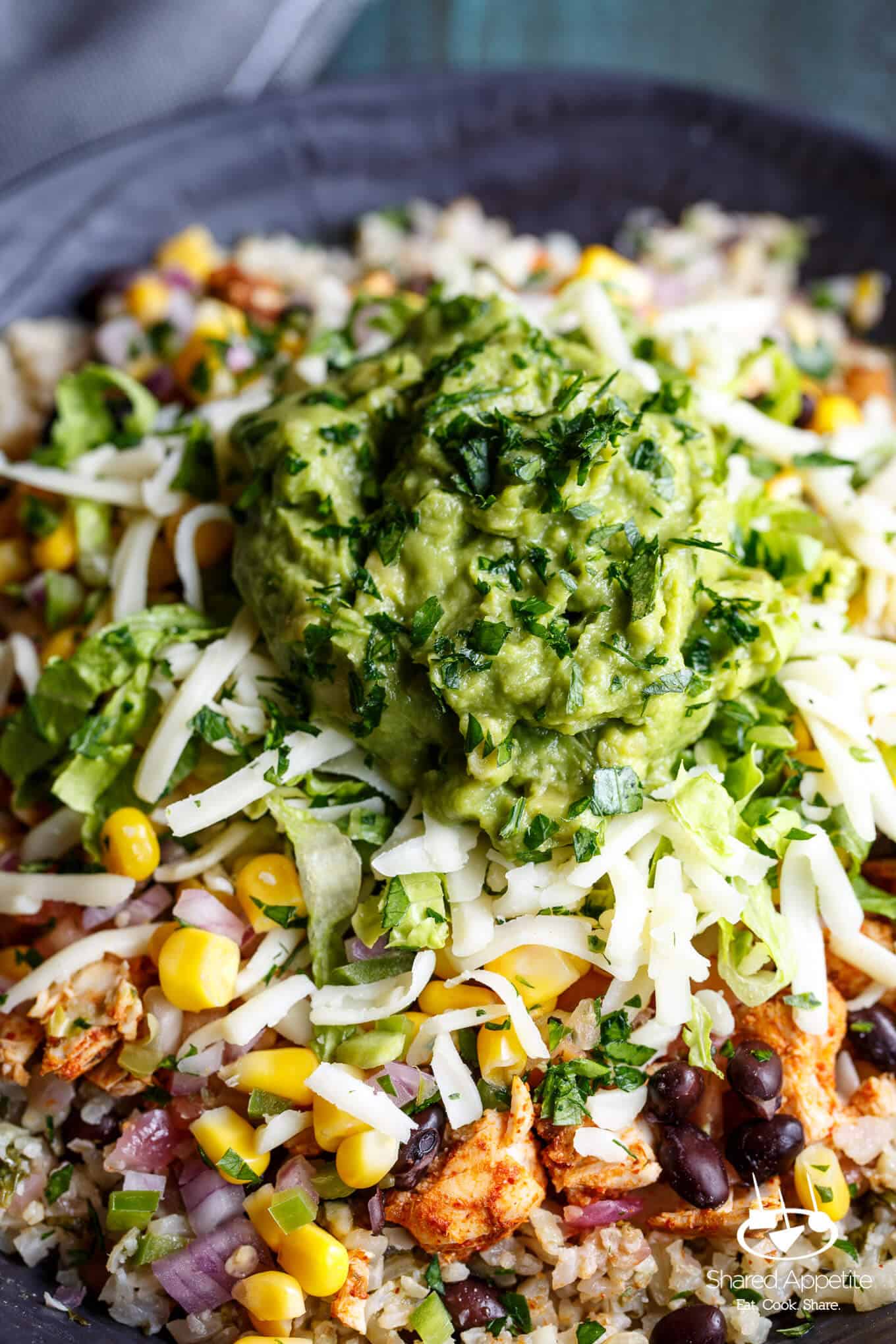 Just look at all that topping goodness. And that Cilantro Lime Cauliflower Rice. Doesn't it look just like actual rice?! Best of all, this cauliflower rice actually takes way less time than making the real stuff. It's done in under 15 minutes! BAM.
And go ahead… eat as much of these Healthy Cauliflower Rice Burrito Bowls as you want. They are absolutely GUILT-FREE and I love it!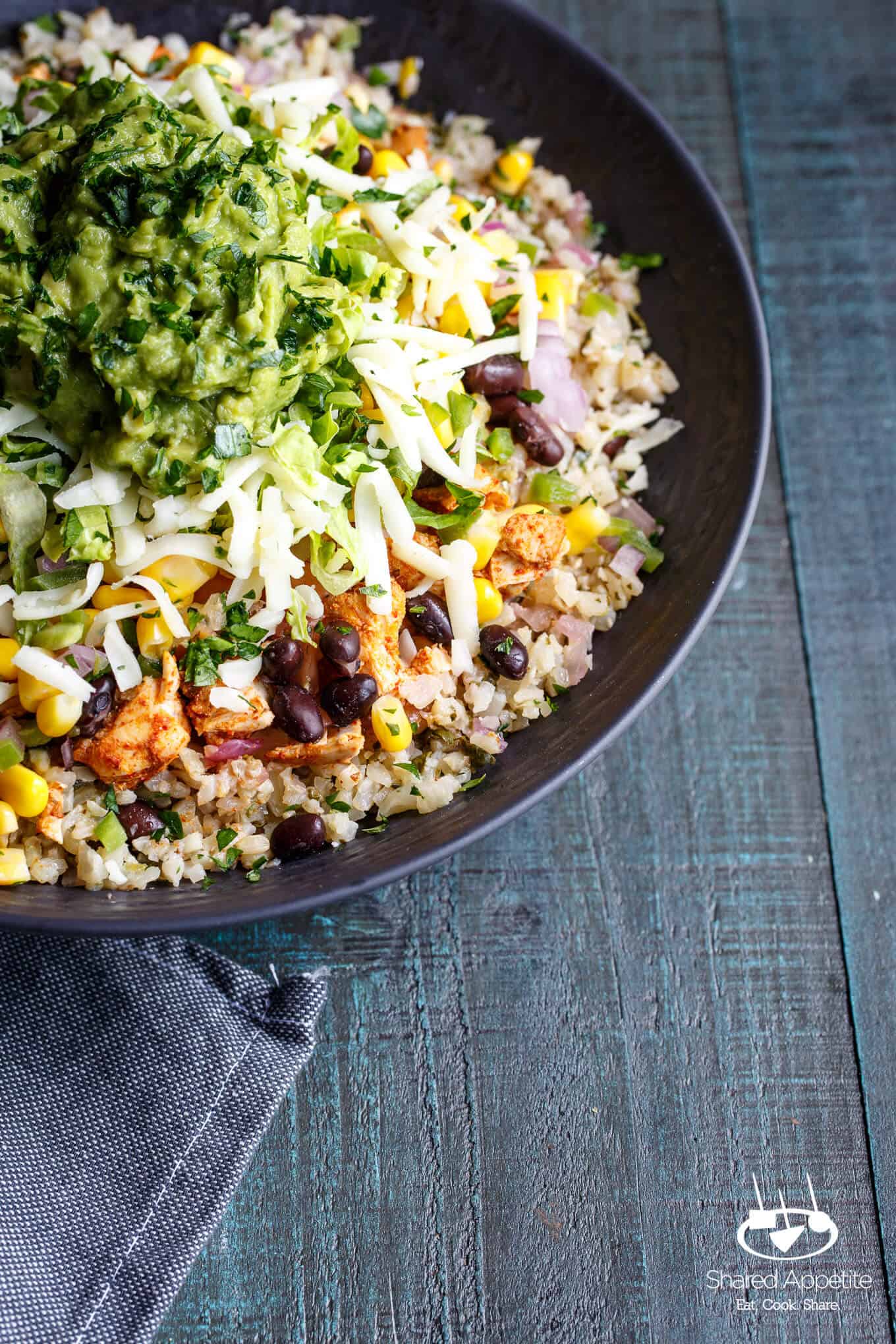 Print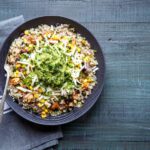 Healthy Cauliflower Rice Burrito Bowls
---
Cilantro Lime Cauliflower Rice (recipe below)
Chipotle Chicken (recipe below)
Canned Black Beans, drained and rinsed
Corn or Corn Poblano Salsa (recipe below)
Shredded Lettuce
Shredded Cheddar or Monterey Jack Cheese
for the Cilantro Lime Cauliflower Rice
1/2

red onion, chopped

3 tablespoons

olive oil

2

cloves garlic, minced

1

head cauliflower, riced*
Kosher salt

1/4 cup

chopped cilantro

1

lime, zested and juiced
for the Chipotle Chicken
1

pound boneless, skinless chicken breast

2 tablespoons

olive, canola, or vegetable oil

2 teaspoons

adobo sauce (from a can of chipotles in adobo sauce)**

1 tablespoon

ancho chili powder

1 teaspoon

Kosher salt

1/2 teaspoon

onion powder

1/2 teaspoon

dried oregano

1/2 teaspoon

cumin

1/2 teaspoon

pepper

1/4 teaspoon

garlic powder
for the Corn Poblano Salsa
2 cups

frozen corn, thawed

1/3 cup

finely chopped red onion 

1

poblano pepper, seeds removed, finely chopped

¼

 

cup

 

fresh cilantro

 

finely chopped

1

lime, juiced
Kosher salt
Chopped cilantro
---
Instructions
Layer bowls with cilantro lime cauliflower rice, chipotle chicken, beans, corn salsa, pico de gallo, guacamole, lettuce, and cheese (or whatever toppings you'd like).  Devour!
for the Cilantro Lime Cauliflower Rice
Heat olive oil in a skillet over medium heat.  Cook onions, stirring occasionally, until softened, about 4-5 minutes.  Add garlic and cook, stirring frequently, for 1 minute.  Add riced cauliflower, season generously with Kosher salt, and cook, stirring occasionally to avoid sticking, 5-7 minutes or until cauliflower is softened to a "rice" consistency.  Remove from heat and stir in cilantro, lime zest, and lime juice.
for the Chipotle Chicken
Add all ingredients except chicken to a medium mixing bowl or ziploc bag and combine.  Add chicken and coat in marinade.  Let marinate in fridge for at least 4-6 hours, preferably overnight.  Cook according to desired method (grill, bake, etc.) and chop into bite-sized pieces.
for the Corn Poblano Salsa
Combine all ingredients in a medium mixing bowl and season with Kosher salt.  Allow to sit for at least 30 minutes (up to 1-2 days in the refrigerator) to allow flavors to meld.
Notes
*you can "rice" cauliflower a few different ways.  The easiest, by far, is to go to a store like Trader Joe's and buy it already riced.  To do it yourself, you can either grate a head of cauliflower on a box grater or give it a whirl in a food processor until it resembles rice sized kernels.
**you can freeze the rest of can of chipotles in adobo for future use!
Prep Time:

30 (plus marinating time)

Cook Time:

20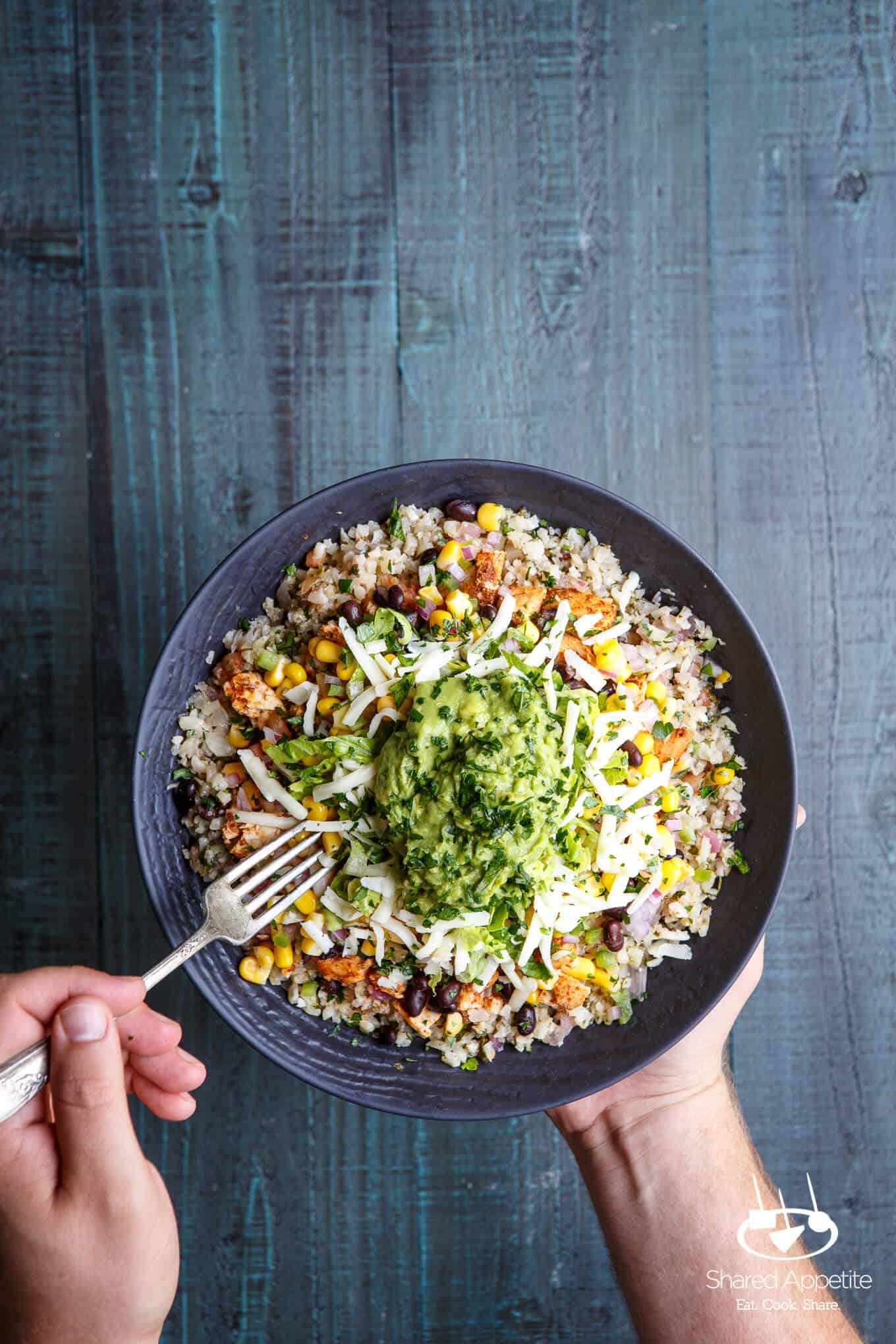 Healthy Cauliflower Rice Burrito Bowls