These Healthy Southwest Tuna Salad Wraps are brought to you by Flatout Bread. As always, all opinions and recipe are my own. Thanks for supporting the brands that support Shared Appetite!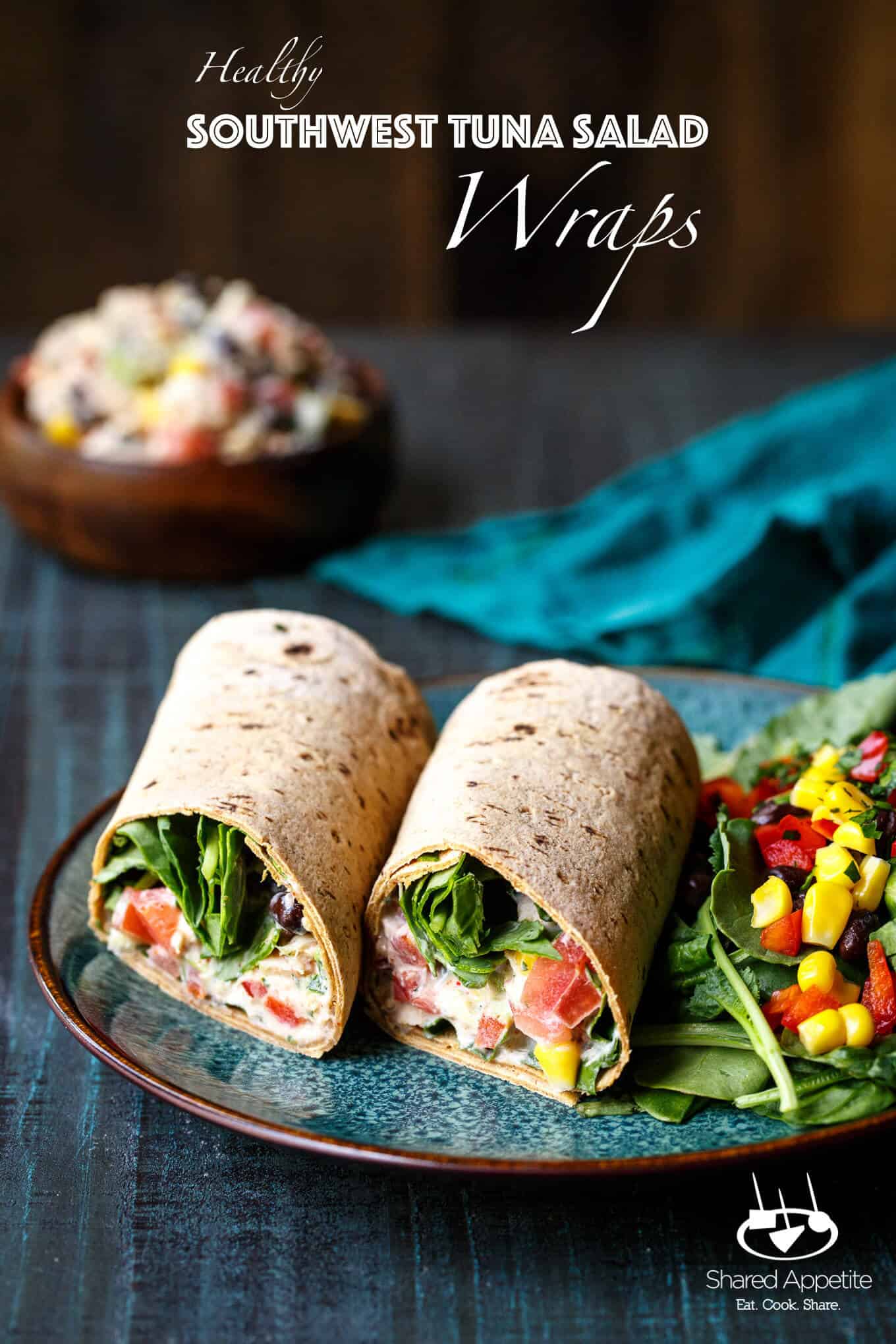 It's 3am. Yes, you read that right. 3. AM. Ugh.
Our fire alarm decided to malfunction, so I got up to try and fix it (or at least stop that incessant ear-piercing beeping right outside our bedroom). And now I'm wide awake, 3 hours before I'm supposed to wake up for the FIRST DAY OF SCHOOL.
If I was a coffee drinker, I'd say I need a crap ton later. But I don't drink the stuff, so who knows how I'm going to make it through a full day of teacher meetings.
Thankfully, I have something to look forward to at lunch time today. Usually my middle meal of the day is pretty boring, especially at work. I keep it simple and low key… usually just a few rice cakes with PB+J. But nope… not today. A new school year needs to start off better than that. Thankfully this lunch recipe requires minimal effort and delivers huge on flavor. And maybe the hope of these legit Healthy Southwest Tuna Salad Wraps for lunch will actually keep me alert and awake throughout the day.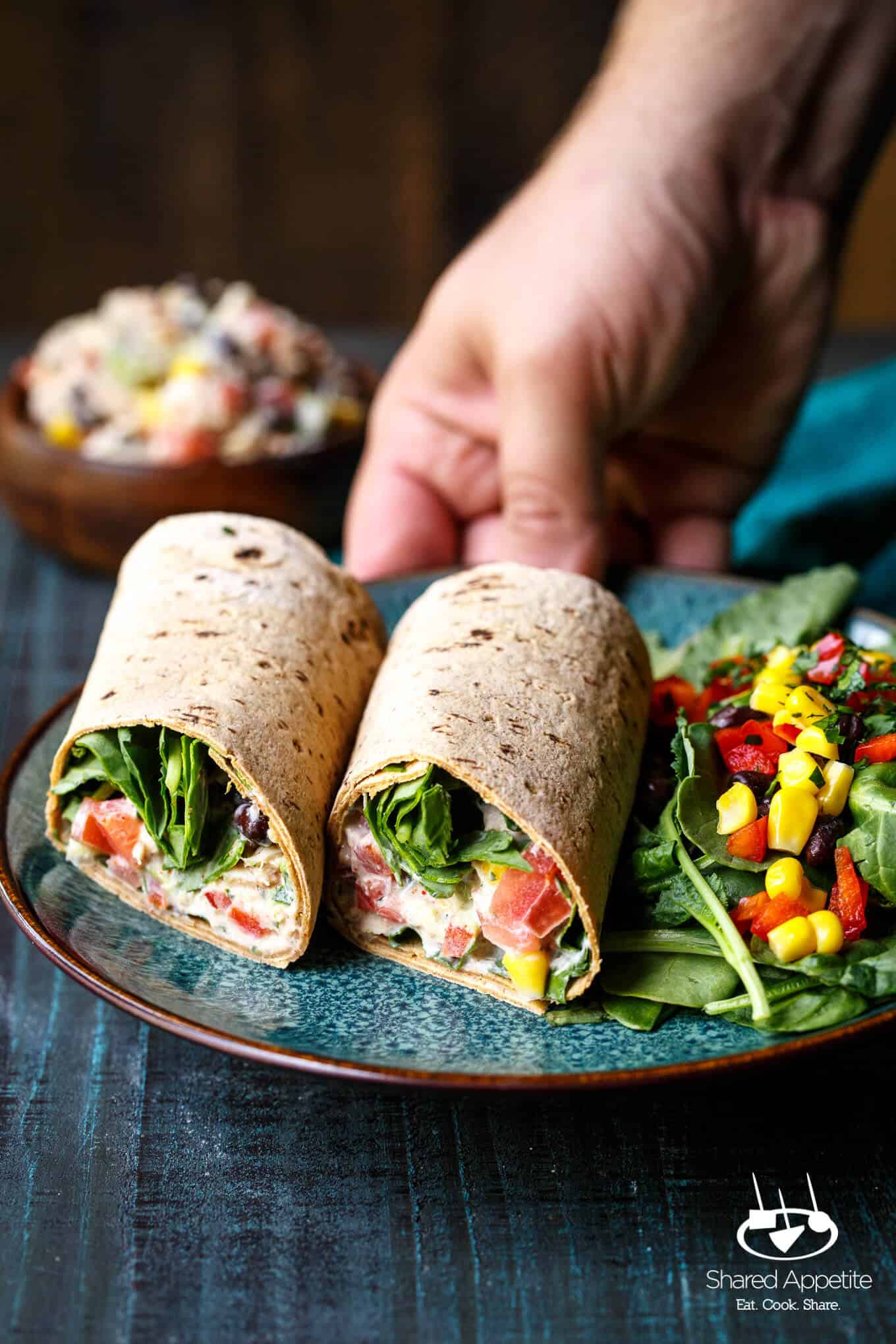 One of my favorite lunches growing up was when my mom would make tuna salad on toast. If things got real crazy, she added a slice of melty cheese into the mix. There was something so divine about the simplicity of her tuna sandwiches. The tuna salad itself was barely a recipe. Tuna, mayo, salt. That's it. But gosh it's good.
The nostalgia of her tuna salad has stayed with me to this day, and every time I whip some up I'm instantly transported right back to childhood.
But here's the problem. I'm on a pretty big health kick right now. Mayo really isn't something I want be loading up on right now. I need to unload some of the extra poundage preventing me from fitting into my fitted clothing (i.e. not elastic shorts and t-shirts). The last month of eating healthy and exercising has been going very well. I'm down 20 pounds and made a commitment to go for a run every single day (and anyone that knows me understands how much I detest exercising, especially running).
So I did what anyone would do in this predicament. I made a healthy tuna salad… but had to make sure it was full of big, bold flavors. These Healthy Southwest Tuna Salad Wraps were born.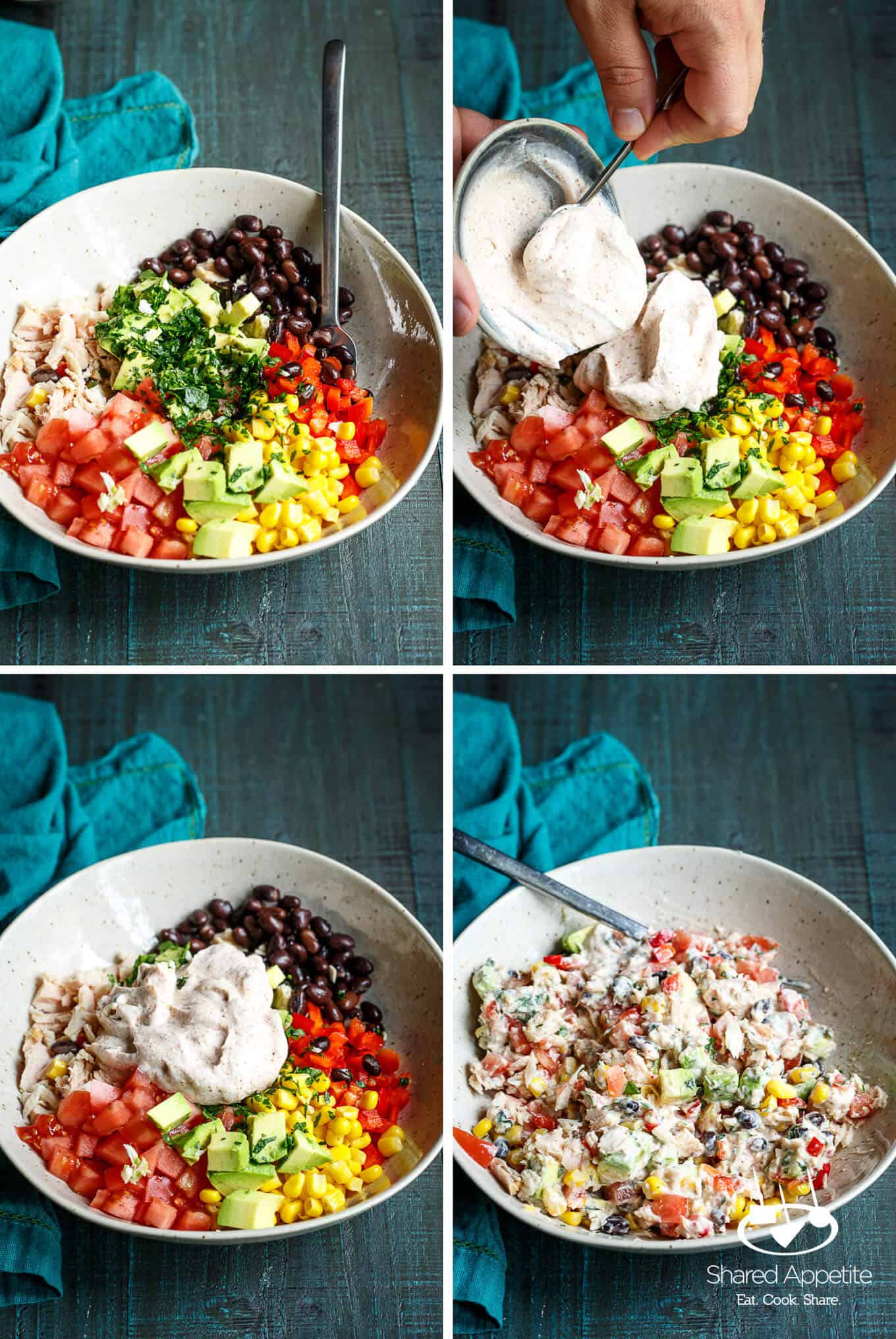 Just look at all that delicious flavor. Tuna, black beans, red bell pepper, corn, avocado, tomato, and cilantro. HECK yes. And the mayo? It's been replaced with guilt-free Greek yogurt, spiked with a few southwest spices to give it some serious flavor.
This definitely isn't my mom's tuna salad. And I'm okay with it. All the flavors. It gets my taste buds going, and I don't miss the mayo even for a second. You honestly can't even tell it's not mayo. Greek yogurt is my #1 favorite way to keep chicken salads and tuna salads healthy and guilt-free. It's super creamy and has a slight tanginess that plays so well into these Healthy Southwest Tuna Salad Wraps.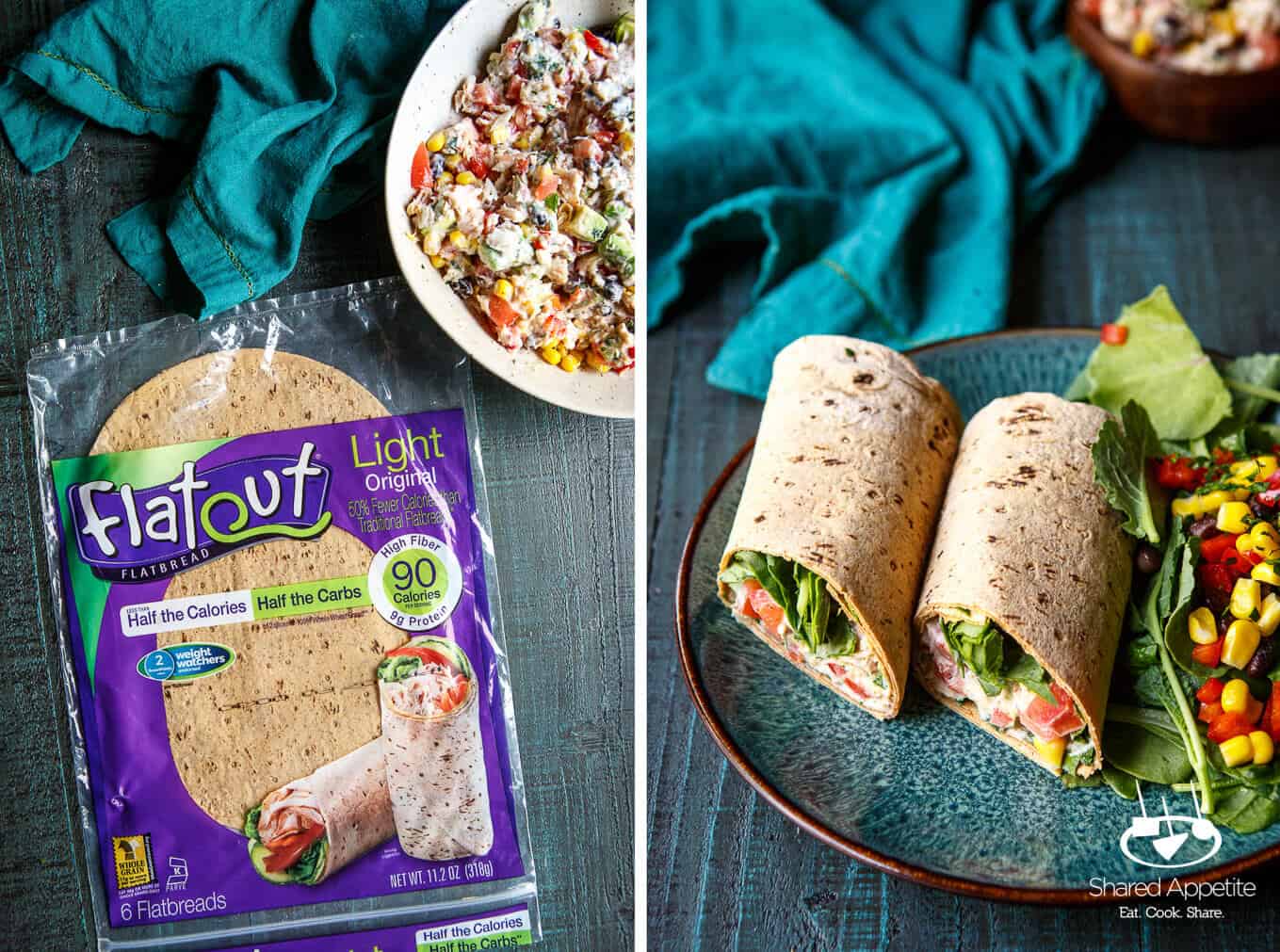 A wrap, however, is only as good as the wrap itself. Thankfully, I'm covered in that department with Flatout Bread.
I'm no stranger to the greatness that is Flatout Bread. They literally have permanent real estate in my pantry, and for good reason. Their full lineup of flatbread wraps, fold-its (think pita sandwich bread), and thin crust pizza crusts have saved breakfast, lunch, and dinner for me over the years. When I'm at a loss of what to make and look in the pantry, I can always count on Flatout for some inspiration. And if you need some, here's a look at all of the recipes I've created with Flatout Bread over the last couple years.
What I love about Flatout Bread? It's got great flavor, is a perfect canvas to build on tons of flavors, and they are all right around the 100 calorie mark. These Flatout Light Original Flatbread Wraps are just 90 calories each, low in carbs, and high in fiber! Boom.
Make sure to look for Flatout Bread in the deli aisle of your local grocery story. You can make check out which stores in your area carry Flatout Bread by using their store locator. Make sure to be on the lookout for it the next time your shopping so you can make these Healthy Southwest Tuna Salad Wraps for lunch this week!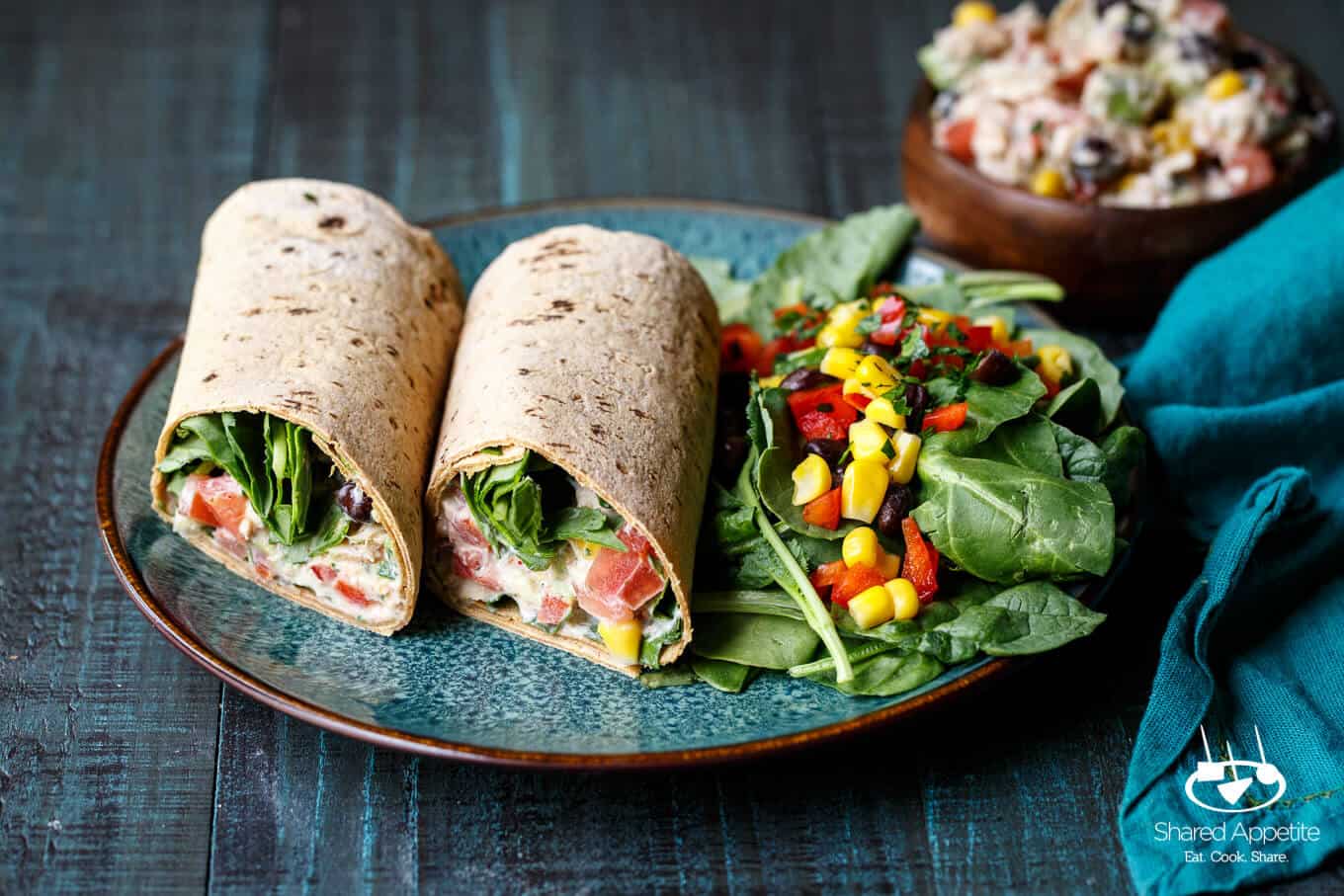 Print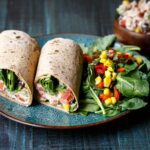 Healthy Southwest Tuna Salad Wraps
---
4

Flatout Bread flatbread wraps

1

can tuna in water, drained and flaked with a fork

1/4 cup

finely diced red bell pepper

1/4 cup

canned black beans, drained and rinsed

1/4 cup

frozen corn, thawed

1/4 cup

chopped plum tomato

1/2

avocado, chopped

1 tablespoon

chopped cilantro

1/2 cup

non-fat Greek yogurt

1/2 teaspoon

Kosher salt

1/2 teaspoon

chili powder

1/4 teaspoon

cumin

1/4 teaspoon

onion powder
small pinch garlic powder
lettuce
---
Instructions
Combine tuna, pepper, black beans, corn, tomato, avocado, and cilantro in a bowl.  In a separate small bowl stir together Greek yogurt with spices.  Add Greek yogurt sauce to tuna salad and gently stir to combine.
Add lettuce to each wrap and top with this Healthy Southwest Tuna Salad.  Wrap up, cut in half, and devour!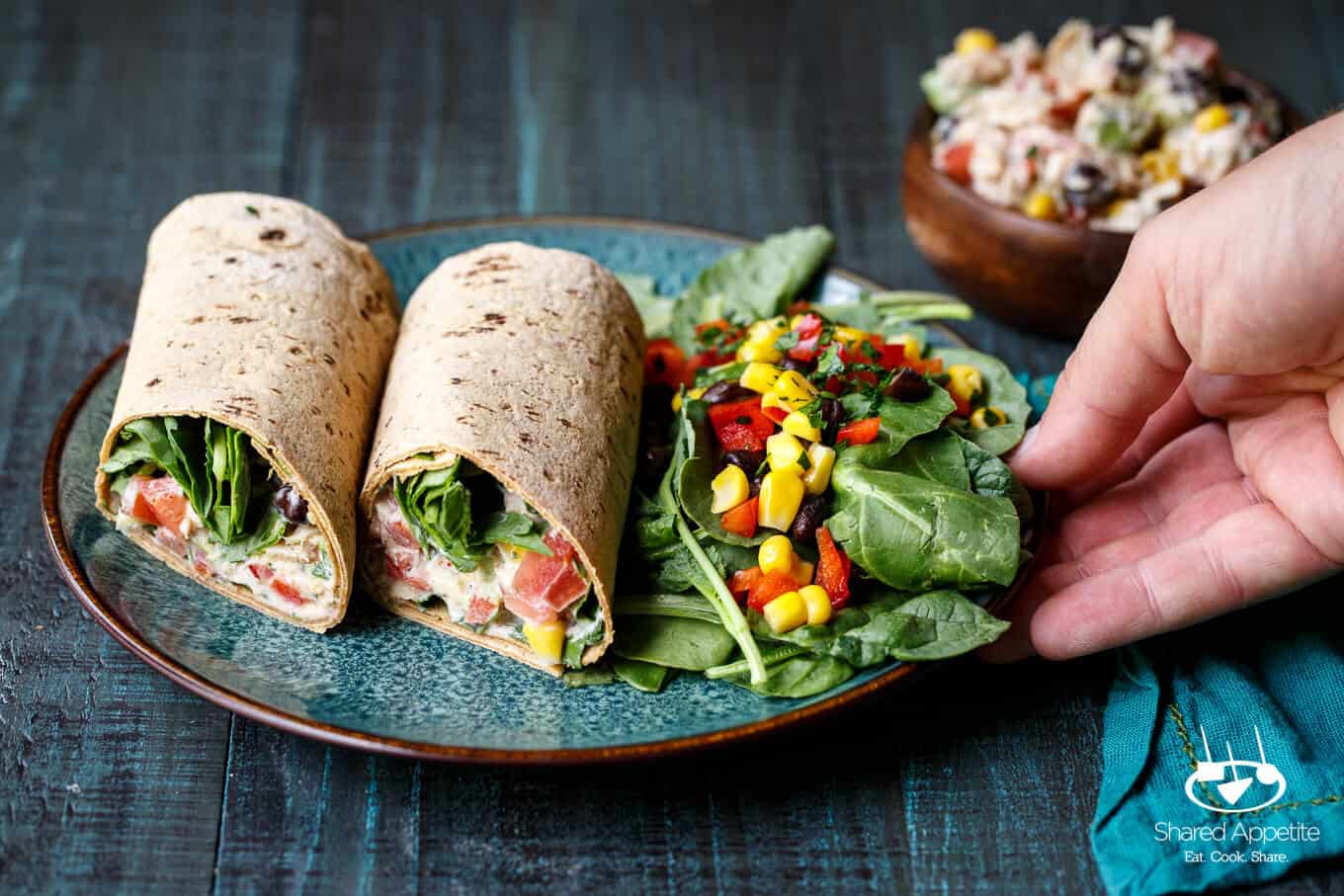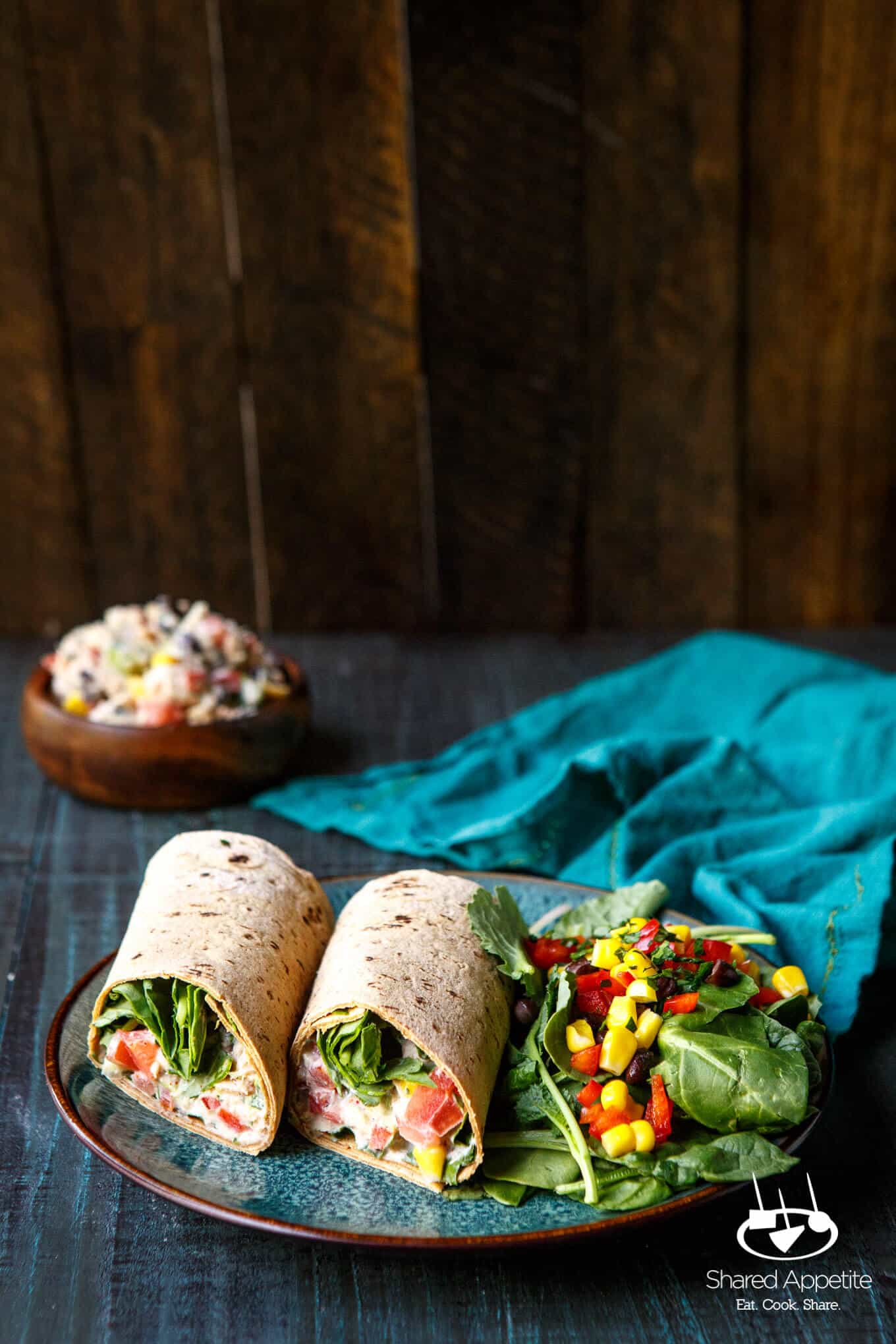 Healthy Southwest Tuna Salad Wraps